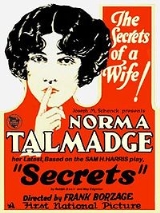 Secrets (1924 film)
Secrets
is a
silent film
Silent film
A silent film is a film with no synchronized recorded sound, especially with no spoken dialogue. In silent films for entertainment the dialogue is transmitted through muted gestures, pantomime and title cards...
directed by
Frank Borzage
Frank Borzage
Frank Borzage was an American film director and actor.-Biography:Frank Borzage's father, Luigi Borzaga, was born in Ronzone, in 1859. As a stonemason, he sometimes worked in Switzerland; he met his future wife, Maria Ruegg , where she worked in a silk factory...
. The film is based upon a 1872
opera
Opera
Opera is an art form in which singers and musicians perform a dramatic work combining text and musical score, usually in a theatrical setting. Opera incorporates many of the elements of spoken theatre, such as acting, scenery, and costumes and sometimes includes dance...
called
Don César de Bazan
Don César de Bazan
Don César de Bazan is an opéra comique in four acts by Jules Massenet to a French libretto by Adolphe d'Ennery, Jean Henri Dumanoir and Jules Chantepie, based on the drama Ruy Blas by Victor Hugo...
and was
remade in 1933
Secrets (film)
Secrets is a 1933 Western film directed by Frank Borzage and starring Mary Pickford in her last film role. The film is a remake of Secrets , a silent film starring Norma Talmadge....
with
Mary Pickford
Mary Pickford
Mary Pickford was a Canadian-born motion picture actress, co-founder of the film studio United Artists and one of the original 36 founders of the Academy of Motion Picture Arts and Sciences...
in the leading role. Although the film was never released on video or DVD, copies still exist.
Plot
The films opens in present. 75-year-old Mary Carlton is depressed over her husband John's illness. She feels her life has no use if he dies. She starts reading her diary, after which the film jumps to 1865 in the time she fell in love with John. She feels she has to hide her love for her strict mother, fearing she will disapprove because of their social class differences. Mary lives within the very wealthy Marlowe family and grows up to be a lady with manners, while John is a working class employee.
When her parents find out about the affair, they are outrageous. They forbid her from ever seeing John again. However, Mary tells them she only loves John and will never marry anybody if she can't see him anymore. Her father William locks her into her own room until she stops being a rebel. Meanwhile, she receives a letter from John, who announces he has been fired over their love affair. Later that night, John sneaks into her room by the balcony and announces he will leave for America. Despite knowing her parents won't ever talk to her again, she decides to go with him.
Before they can leave, William comes in. He tells Mary he will send her to Scotland to live with her grandmother. After he leaves the room, Mary writes a farewell letter and sneaks off with John. By the time it's 1870, she lives with John in a poor house. He works all day, while Mary is giving birth to a son. One day, a gang threatens to kill John. He wants to surrender so they won't kill Mary and the baby as well, but Mary demands him to fight. He does as his wife tells him and eventually defeats the gang.
Years pass by. In 1888, Mary celebrates her 39th birthday and is having contact with her family again. She finds out John is having a mistress, Estelle. Mary feels humiliated, but Estelle makes things worse when she confronts Mary with the fact she can't make her husband happy. Mary grants her husband a divorce, but he doesn't want to leave her. He admits he has had an affair with Estelle, but that it didn't mean anything. They reunite, although John announces he has lost all of his money. The film goes back to present, where Mary is told her husband has recovered from his illness.
Cast
Norma Talmadge

Norma Talmadge

Norma Talmadge was an American actress and film producer of the silent era. A major box office draw for more than a decade, her career reached a peak in the early 1920s, when she ranked among the most popular idols of the American screen.Her most famous film was Smilin' Through , but she also...


as Mary Carlton
Eugene O'Brien as John Carlton
Winter Hall

Winter Hall

Winter Hall was a New Zealand actor of the silent era. He appeared in 127 films between 1916 and 1938.He was born in Christchurch, New Zealand and died in Los Angeles, California.-Selected filmography:...


as Dr. Arbuthnot
Frank Elliott

Frank Elliott (actor)

Frank Elliott was an English film actor. He appeared in 77 films between 1915 and 1966.He was born in Cheshire.-Selected filmography:* The Impossible Mrs. Bellew * Easy Virtue -External links:...


as Robert Carlton
George Cowl as John Carlton Jr.
Clarissa Selwynne as Audrey Carlton
Florence Wix as Lady Lessington
Patterson Dial

Patterson Dial

Patterson Dial was a writer and silent film actress of the 1920s who became the wife of novelist Rupert Hughes. She was born Elizabeth Patterson Dial in Madison, Florida.- Screen Actress :...


as Susan
Emily Fitzroy

Emily Fitzroy

Emily Fitzroy was a British film actress who eventually became an American citizen. She made her film debut in 1915 and retired in 1944, with exactly 100 films to her resume...


as Mrs. Marlowe
Claire McDowell

Claire McDowell

Claire McDowell was an American actress of the silent era. She appeared in 360 films between 1908 and 1945. Still somewhat of a youthful beauty when she started in early silent films she appeared in numerous short & early feature films. She graduated to playing character and mother types...


as Elizabeth Channing
George Nichols

George Nichols (actor)

George Nichols was an American actor and director. He appeared in 221 films between 1908 and 1928. He also directed 103 films between 1911 and 1916.He was born in Rockford, Illinois and died in Hollywood, California....


as William Marlowe
Harvey Clark

Harvey Clark (actor)

Harvey Clark was an American actor on stage and screen. He appeared in 198 films between 1915 and 1938.He was born in Chelsea, Massachusetts, and died in Hollywood, California, from a heart attack....


as Bob
Charles Stanton Ogle

Charles Stanton Ogle

Charles Stanton Ogle was an American silent film actor.-Biography:Born in Steubenville, Ohio, Ogle first performed in live theatre, making his first appearance on Broadway in 1905. He embarked on a career in film with Edison Studios in The Bronx, New York in 1908, appearing in The Boston Tea Party...


as Dr. McGovern
Donald Keith

Donald Keith (actor)

Donald Keith born Francis Feeney was an American silent film actor remembered for costarring with Clara Bow in several films in the 1920s...


as John Carlton Jr. (1888)
Alice Day

Alice Day

Alice Day was a film actor who began her career as of the Sennett Bathing Beauties....


as Blanche Carlton (1888)
Mae Giraci

Mae Giraci

Mae Georgia Giraci , also known as May Giraci, May Garcia, May Geraci, May Giracci, May Giracia and Tina Rossi, was an American child actress who appeared in silent films between 1915 and 1929. She was discovered by director Cecil B. DeMille and worked with him and his brother William C. DeMille. ...


as Audrey Carlton (1888)
Gertrude Astor

Gertrude Astor

Gertrude Astor was an American motion picture character actress, who began her career playing trombone on a riverboat.-Career:...


as Mrs. Estelle Manwaring