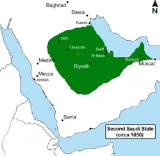 Second Saudi State
The
Second Saudi State
existed during the 19th century when the rule of the
House of Saud
House of Saud
The House of Saud , also called the Al Saud, is the ruling royal family of Saudi Arabia and one of the wealthiest and most powerful dynasties in the world. The family holds thousands of members...
was restored to central and eastern Arabia after having previously been brought down by an
Ottoman
Ottoman Empire
The Ottoman EmpireIt was usually referred to as the "Ottoman Empire", the "Turkish Empire", the "Ottoman Caliphate" or more commonly "Turkey" by its contemporaries...
-
Egypt
Egypt
Egypt , officially the Arab Republic of Egypt, Arabic: , is a country mainly in North Africa, with the Sinai Peninsula forming a land bridge in Southwest Asia. Egypt is thus a transcontinental country, and a major power in Africa, the Mediterranean Basin, the Middle East and the Muslim world...
ian invasion in 1818. Compared to the
First Saudi State
First Saudi State
The First Saudi State was established in the year 1744 when imam Muhammad ibn Abd al-Wahhab and Prince Muhammad ibn Saud formed an alliance to establish a religious & political sovereignty determined to cleanse the Arabian Peninsula of heretical practices and deviations from orthodox Islam...
, the second Saudi period was marked by less territorial expansion and less religious zeal, although the Saudi leaders continued to go by the title of
Imam
and still employed Wahhabist religious scholars.
It was also marked by severe internal conflicts within the Saudi family, eventually leading to the dynasty's downfall.
Turki ibn Abdallah
Turki ibn Abdallah
*Fahd bin Turki*Jiluwi bin Turki*Faisal bin Turki*Abdallah bin TurkiTurki bin Abdullah bin Muhammad was the founder of the Second Saudi State and ruled the area of Najd during the period from 1821-1834 following administration by the Ottoman Empire.-Kingship:Leadership of the House of Saud passed...
's reconquest of
Riyadh
Riyadh
Riyadh is the capital and largest city of Saudi Arabia. It is also the capital of Riyadh Province, and belongs to the historical regions of Najd and Al-Yamama. It is situated in the center of the Arabian Peninsula on a large plateau, and is home to 5,254,560 people, and the urban center of a...
from Egyptian forces in 1824 is generally regarded as the beginning of the Second Saudi State, while the end was marked by the
Battle of Mulayda
Battle of Mulayda
Battle of Mulayda was the last major battle during the existence of the Second Saudi State. Following problems over Zakat and the arrest of the Rashidi leader, Ibn Sabhan, Rashidies planned to end the Saudi State and conquer both Qassim region and Riyadh...
in 1891, between the forces loyal to the last Saudi imam, Abdul Rahman ibn Faisal ibn Turki, and the Al Rashid dynasty of
Ha'il
Ha'il
Ha'il , also spelled Hail, Ha'yel, or Hayil, is an oasis city in Nejd in northwestern Saudi Arabia. It is the capital of the Ha'il Province. The city has a population of 356,876 according to Ha'il Province....
.
The rulers of the second state:
Imam Turki ibn Abdallah ibn Muhammad

Turki ibn Abdallah

*Fahd bin Turki*Jiluwi bin Turki*Faisal bin Turki*Abdallah bin TurkiTurki bin Abdullah bin Muhammad was the founder of the Second Saudi State and ruled the area of Najd during the period from 1821-1834 following administration by the Ottoman Empire.-Kingship:Leadership of the House of Saud passed...


(first time) 1819–1820
Imam Turki ibn Abdallah ibn Muhammad

Turki ibn Abdallah

*Fahd bin Turki*Jiluwi bin Turki*Faisal bin Turki*Abdallah bin TurkiTurki bin Abdullah bin Muhammad was the founder of the Second Saudi State and ruled the area of Najd during the period from 1821-1834 following administration by the Ottoman Empire.-Kingship:Leadership of the House of Saud passed...


(second time) 1824–1834
Imam Mushari ibn Abd al-Rahman ibn Mushari 1834–1834
Imam Faisal ibn Turki ibn Abdallah

Faisal bin Turki bin Abdullah Al Saud

*Abdallah*Saud*Muhammad*Abdul RahmanImam Faisal was the second ruler of the Second Saudi State and seventh Head of the House of Saud. He is the son of Imam Turki. He ruled from 1834 to 1838. Then was forced into exile by the Ottomans...


(first time) 1834–1838
Imam Khalid ibn Saud ibn Abd al-Aziz 1838–1841
Imam Abdallah ibn Thunayyan ibn Ibrahim 1841–1843
Imam Faisal ibn Turki

Faisal bin Turki bin Abdullah Al Saud

*Abdallah*Saud*Muhammad*Abdul RahmanImam Faisal was the second ruler of the Second Saudi State and seventh Head of the House of Saud. He is the son of Imam Turki. He ruled from 1834 to 1838. Then was forced into exile by the Ottomans...


(second time) 1843–1865
Imam Abdallah ibn Faisal ibn Turki (first time) 1865–1871
Imam Saud ibn Faisal ibn Turki

Saud ibn Faisal

*Muhammad*Abdul-Aziz*Sad*Abdallah*Abdul-RahmanImam Saud was a ruler of the Second Saudi State in 1871 and 1873-75. He joined alliances with foreign tribes and revolted against his half-brother Abdullah. His rule was short-lived and he was overthrown by Abdullah bin Turki. He gained power again in...


1871–1871 (first time)
Imam Abdallah ibn Faisal ibn Turki (second time) 1871–1873
Imam Saud ibn Faisal ibn Turki

Saud ibn Faisal

*Muhammad*Abdul-Aziz*Sad*Abdallah*Abdul-RahmanImam Saud was a ruler of the Second Saudi State in 1871 and 1873-75. He joined alliances with foreign tribes and revolted against his half-brother Abdullah. His rule was short-lived and he was overthrown by Abdullah bin Turki. He gained power again in...


(second time) 1873–1875
Imam Abd al-Rahman ibn Faisal ibn Turki

Abdul Rahman bin Faisal

*Muhammad*Abdul-Aziz*Saad*Saud*Abdallah*Musaid*Faysal*Abdul-Muhsin*Fahd*Ahmad*Saad*sixteen daughtersAbdul-Rahman bin Faisal was the last ruler of the Second Saudi State. He was the youngest son of Faisal bin Turki...


(first time) 1875–1876
Imam Abdallah ibn Faisal ibn Turki (third time) 1876–1889
Imam Abd al-Rahman ibn Faisal ibn Turki

Abdul Rahman bin Faisal

*Muhammad*Abdul-Aziz*Saad*Saud*Abdallah*Musaid*Faysal*Abdul-Muhsin*Fahd*Ahmad*Saad*sixteen daughtersAbdul-Rahman bin Faisal was the last ruler of the Second Saudi State. He was the youngest son of Faisal bin Turki...


(second time) 1889–1891
See also