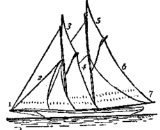 Schooner
A schooner is a type of
sailing vessel
Sailing ship
The term sailing ship is now used to refer to any large wind-powered vessel. In technical terms, a ship was a sailing vessel with a specific rig of at least three masts, square rigged on all of them, making the sailing adjective redundant. In popular usage "ship" became associated with all large...
characterized by the use of
fore-and-aft
Fore-and-aft rig
A fore-and-aft rig is a sailing rig consisting mainly of sails that are set along the line of the keel rather than perpendicular to it. Such sails are described as fore-and-aft rigged....
sails on two or more
mast
Mast (sailing)
The mast of a sailing vessel is a tall, vertical, or near vertical, spar, or arrangement of spars, which supports the sails. Large ships have several masts, with the size and configuration depending on the style of ship...
s with the forward mast being no taller than the rear masts.
Such vessels were first used by the
Dutch
Netherlands
The Netherlands is a constituent country of the Kingdom of the Netherlands, located mainly in North-West Europe and with several islands in the Caribbean. Mainland Netherlands borders the North Sea to the north and west, Belgium to the south, and Germany to the east, and shares maritime borders...
in the 16th or 17th century (but may not have been called that at the time - see etymology, below). The development of the schooner is connected with that of the
Bermuda sloop
Bermuda sloop
The Bermuda sloop is a type of fore-and-aft rigged sailing vessel developed on the islands of Bermuda in the 17th century. In its purest form, it is single-masted, although ships with such rigging were built with as many as three masts, which are then referred to as schooners...
. In
Bermuda
Bermuda
Bermuda is a British overseas territory in the North Atlantic Ocean. Located off the east coast of the United States, its nearest landmass is Cape Hatteras, North Carolina, about to the west-northwest. It is about south of Halifax, Nova Scotia, Canada, and northeast of Miami, Florida...
, countless vessels of otherwise identical description were built with between one and three masts, carrying Gaff or
Bermuda rig
Bermuda rig
The term Bermuda rig refers to a configuration of mast and rigging for a type of sailboat and is also known as a Marconi rig; this is the typical configuration for most modern sailboats...
.