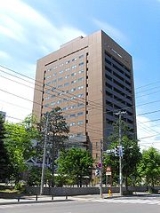 Sapporo Medical University
is a
public university
Public university
A public university is a university that is predominantly funded by public means through a national or subnational government, as opposed to private universities. A national university may or may not be considered a public university, depending on regions...
in
Chūō-ku, Sapporo
Chūō-ku, Sapporo
is one of the ten wards in Sapporo city, Japan. Chūō-ku means "central ward" in Japanese. As its name suggests, city administration and entertainment facilities are centred in this ward.- History :...
,
Hokkaidō
Hokkaido
, formerly known as Ezo, Yezo, Yeso, or Yesso, is Japan's second largest island; it is also the largest and northernmost of Japan's 47 prefectural-level subdivisions. The Tsugaru Strait separates Hokkaido from Honshu, although the two islands are connected by the underwater railway Seikan Tunnel...
,
Japan
Japan
Japan is an island nation in East Asia. Located in the Pacific Ocean, it lies to the east of the Sea of Japan, China, North Korea, South Korea and Russia, stretching from the Sea of Okhotsk in the north to the East China Sea and Taiwan in the south...
. The precursor of the school was founded in 1945, and it was chartered as a university in 1950.
History
The , the precursor of the university, was founded in 1945. The Sapporo Medical University was established in 1950 with the School of Medicine, and the Graduate School of Medicine was also founded in 1956, as part of Hokkaidō's development project.
In 1968, Jurō Wada, one of the pioneers of heart surgery, performed a heart transplant for the first time in Japan, which was later accused of a failure in the Wada Heart Transplant Incident. The Sapporo Medical University Hygiene Junior College was established in 1983, and it was reorganized and incorporated to its current School of Health Science in 1993.
Overview
The University has a hospital in affiliation, called Sapporo Medical University Hospital, and has performed a number of surgeries including organ transplant. It hosts the Bilomedical Research Center, the Marine Biological Institute, Biomedical Center and Animal Research Center. The university also has some laboratories and institutes which affiliated with
Hokkaidō University
Hokkaido University
Hokkaido University is one of the most prestigious universities in Japan. It can be seen in the several rankings such as shown below.-General Rankings:...
and
Otaru University of Commerce
Otaru University of Commerce
is one of the most difficult University in Japan--also --- national universities in Japan. Most of graduate get a job in elite companies. The main campus of the university is located in Otaru, Hokkaidō, Japan, and the satellite campus is located in Chūō-ku, Sapporo.- History :The origin of the...
.
Notable alumni
Hisashi Kazama

Hisashi Kazama

is a Japanese politician of the New Komeito Party, a member of the House of Councillors in the Diet . A native of Kamikawa District, Hokkaidō and graduate of Sapporo Medical University, he was elected for the first time in 1992....


- a politician
Junichi Watanabe

Junichi Watanabe

is a Japanese writer, known for his portrayal of extra-marital affairs of middle aged people. His 1997 novel A Lost Paradise became a bestseller in Japan and over Asia, and was made into a film and a TV miniseries...


- a novelist, a winner of Naoki Prize

Naoki Prize

The Naoki Prize is a Japanese literary award presented semiannually. The official name is Naoki Sanjugo Prize. It was created in 1935 by Kikuchi Kan, then editor of the Bungeishunjū magazine, and named in memory of novelist Naoki Sanjugo...