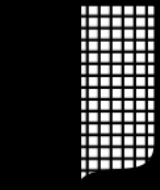 Sable (heraldry)
In
heraldry
Heraldry
Heraldry is the profession, study, or art of creating, granting, and blazoning arms and ruling on questions of rank or protocol, as exercised by an officer of arms. Heraldry comes from Anglo-Norman herald, from the Germanic compound harja-waldaz, "army commander"...
,
sable
is the
tincture
Tincture (heraldry)
In heraldry, tinctures are the colours used to emblazon a coat of arms. These can be divided into several categories including light tinctures called metals, dark tinctures called colours, nonstandard colours called stains, furs, and "proper". A charge tinctured proper is coloured as it would be...
black
Black
Black is the color of objects that do not emit or reflect light in any part of the visible spectrum; they absorb all such frequencies of light...
, and belongs to the class of dark tinctures, called "colours". In
engraving
Engraving
Engraving is the practice of incising a design on to a hard, usually flat surface, by cutting grooves into it. The result may be a decorated object in itself, as when silver, gold, steel, or glass are engraved, or may provide an intaglio printing plate, of copper or another metal, for printing...
s and line drawings, it is sometimes depicted as a region of crossed horizontal and vertical lines or else marked with
sa.
as an abbreviation.
The name derives from the black fur of the
sable
Sable
The sable is a species of marten which inhabits forest environments, primarily in Russia from the Ural Mountains throughout Siberia, in northern Mongolia and China and on Hokkaidō in Japan. Its range in the wild originally extended through European Russia to Poland and Scandinavia...
, an animal.
Sable is said to represent the following:
Of jewels, the diamond

Diamond

In mineralogy, diamond is an allotrope of carbon, where the carbon atoms are arranged in a variation of the face-centered cubic crystal structure called a diamond lattice. Diamond is less stable than graphite, but the conversion rate from diamond to graphite is negligible at ambient conditions...



Of heavenly bodies, Saturn

Saturn

Saturn is the sixth planet from the Sun and the second largest planet in the Solar System, after Jupiter. Saturn is named after the Roman god Saturn, equated to the Greek Cronus , the Babylonian Ninurta and the Hindu Shani. Saturn's astronomical symbol represents the Roman god's sickle.Saturn,...




(The planet Saturn is further associated with the metal lead in traditional alchemical/occultistic lore

Classical planets in western alchemy

Alchemy in the Western World and other locations where it was widely practiced was allied and intertwined with traditional Babylonian-Greek style astrology; in numerous ways they were built to complement each other in the search for hidden knowledge...


)
Sable in Central Europe

Sable is considered a
colour
in British and French heraldry, and contrasts with lighter
metals
,
argent
Argent
In heraldry, argent is the tincture of silver, and belongs to the class of light tinctures, called "metals". It is very frequently depicted as white and usually considered interchangeable with it...
and
Or
Or (heraldry)
In heraldry, Or is the tincture of gold and, together with argent , belongs to the class of light tinctures called "metals". In engravings and line drawings, it may be represented using a field of evenly spaced dots...
. However, in the heraldry of
Germany
Germany
Germany , officially the Federal Republic of Germany , is a federal parliamentary republic in Europe. The country consists of 16 states while the capital and largest city is Berlin. Germany covers an area of 357,021 km2 and has a largely temperate seasonal climate...
,
Polish heraldry
Polish heraldry
Polish heraldry is a branch of heraldry focused on studying the development of coats of arms in the lands of historical Poland , as well as specifically-Polish traits of heraldry. The term is also used to refer to Polish heraldic system, as opposed to systems used elsewhere, notably in Western Europe...
and other parts of central
Europe
Europe
Europe is, by convention, one of the world's seven continents. Comprising the westernmost peninsula of Eurasia, Europe is generally 'divided' from Asia to its east by the watershed divides of the Ural and Caucasus Mountains, the Ural River, the Caspian and Black Seas, and the waterways connecting...
, sable is not infrequently placed on colour fields. As a result, a sable cross may appear on a red shield, or a sable bird may appear on a blue or a red field, as in the arms of
Albania
Albania
Albania , officially known as the Republic of Albania , is a country in Southeastern Europe, in the Balkans region. It is bordered by Montenegro to the northwest, Kosovo to the northeast, the Republic of Macedonia to the east and Greece to the south and southeast. It has a coast on the Adriatic Sea...
. In this regard, it is probably useful to remember the origin of the term sable, which would have placed it among heraldic furs and not colours.
In
Hungary
Hungary
Hungary , officially the Republic of Hungary , is a landlocked country in Central Europe. It is situated in the Carpathian Basin and is bordered by Slovakia to the north, Ukraine and Romania to the east, Serbia and Croatia to the south, Slovenia to the southwest and Austria to the west. The...
, for example, one can find examples of sable on gules and azure fields as early as the sixteenth century in the arms of the family Kanizsai (granted in 1519): "álló, csücskös talpú tárcsapajzs kék mezejében, lebegő arany saslábon fekete sasszárny, jobbról ezüst félholdtól, balról nyolcágú arany csillagtól kísérve." (That is:
Azure, an eagle's wing sable taloned Or between a decrescent argent and a sun Or.
) Another early Hungarian example was granted in 1628 to the family Karomi Bornemisza : "álló, tojásdad pajzs vágott, felső vörös mezejében jobbra fordult fejű, vágásvonalon álló, koronás fekete sas, az alsó kék mezőben fekete bölényfej, szájában hallall." (That is:
Per fess gules, an eagle displayed sable crowned Or, and azure, a buffalo's head cabossed sable maintaining in its mouth a fish (argent?)
).
Polish
Poland
Poland , officially the Republic of Poland , is a country in Central Europe bordered by Germany to the west; the Czech Republic and Slovakia to the south; Ukraine, Belarus and Lithuania to the east; and the Baltic Sea and Kaliningrad Oblast, a Russian exclave, to the north...
examples abound as early as the fifteenth century. Józef Szymański includes no fewer than seven examples of sable primary charges on either gules or azure fields out of the approximately 200 shields from this period whose blazons are known. These include the arms of Corvin: "Azure, a raven sable with a circlet or in its beak."; Kownaty: "Gules, a trumpet sable with a cord or, a Passion cross of the same issuing from its opening."; and Słońce: "Gules, a sphere radiant sable, its centre argent.". In addition to the seven major examples, he describes occasional variants for the arms of some rody which also use sable charges on azure or gules fields.
Sable charges on gules fields also appear in the armory used in
Lithuania
Lithuania
Lithuania , officially the Republic of Lithuania is a country in Northern Europe, the biggest of the three Baltic states. It is situated along the southeastern shore of the Baltic Sea, whereby to the west lie Sweden and Denmark...
. This is not surprising, since a significant fraction of Lithuania's personal coats of arms are of Polish origin, so there is a certain similarity of style. Among these coats are those of
Great Žemaitija
Eldership of Samogitia
The Duchy of Samogitia had been the administrative unit of the Grand Duchy of Lithuania from 1422 . Between 1422 to 1441 it was known as the Eldership of Samogitia...
: "a black bear with an argent chain on its neck on a field gules."