 Russian avant-garde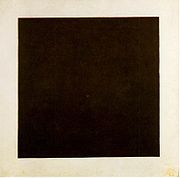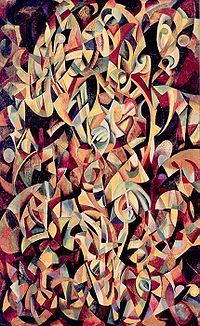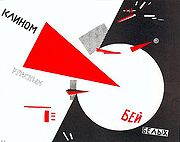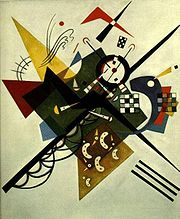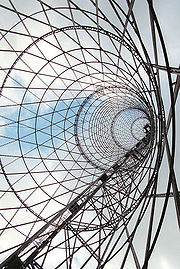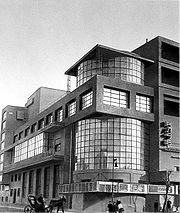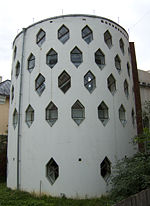 The
Russian avant-garde
is an umbrella term used to define the large, influential wave of
modern art
Modern art
Modern art includes artistic works produced during the period extending roughly from the 1860s to the 1970s, and denotes the style and philosophy of the art produced during that era. The term is usually associated with art in which the traditions of the past have been thrown aside in a spirit of...
that flourished in
Russia
Russia
Russia or , officially known as both Russia and the Russian Federation , is a country in northern Eurasia. It is a federal semi-presidential republic, comprising 83 federal subjects...
(or more accurately, the Russian Empire and the Soviet Union) approximately 1890 to 1930 - although some place its beginning as early as 1850 and its end as late as 1960. The term covers many separate, but inextricably related,
art movement
Art movement
An art movement is a tendency or style in art with a specific common philosophy or goal, followed by a group of artists during a restricted period of time, or, at least, with the heyday of the movement defined within a number of years...
s that occurred at the time; namely
Neo-primitivism
Neo-primitivism
Neo-primitivism was a Russian art movement which took its name from the book Neo-primitivizm , by Aleksandr Shevchenko. In the book Shevchenko proposes a new style of modern painting which fuses elements of Cézanne, Cubism and Futurism with traditional Russian 'folk art' conventions and motifs,...
,
suprematism
Suprematism
Suprematism was an art movement focused on fundamental geometric forms which formed in Russia in 1915-1916. It was not until later that suprematism received conventional museum preparations...
,
constructivism
Constructivism (art)
Constructivism was an artistic and architectural philosophy that originated in Russia beginning in 1919, which was a rejection of the idea of autonomous art. The movement was in favour of art as a practice for social purposes. Constructivism had a great effect on modern art movements of the 20th...
, and
futurism
Futurism (art)
Futurism was an artistic and social movement that originated in Italy in the early 20th century. It emphasized and glorified themes associated with contemporary concepts of the future, including speed, technology, youth and violence, and objects such as the car, the airplane and the industrial city...
. Given that many of these avant-garde artists were born or grew up in what is present day
Belarus
Belarus
Belarus , officially the Republic of Belarus, is a landlocked country in Eastern Europe, bordered clockwise by Russia to the northeast, Ukraine to the south, Poland to the west, and Lithuania and Latvia to the northwest. Its capital is Minsk; other major cities include Brest, Grodno , Gomel ,...
and
Ukraine
Ukraine
Ukraine is a country in Eastern Europe. It has an area of 603,628 km², making it the second largest contiguous country on the European continent, after Russia...
(including
Kazimir Malevich
Kazimir Malevich
Kazimir Severinovich Malevich was a Russian painter and art theoretician, born of ethnic Polish parents. He was a pioneer of geometric abstract art and the originator of the Avant-garde Suprematist movement.-Early life:...
,
Aleksandra Ekster
Aleksandra Ekster
Aleksandra Aleksandrovna Ekster was a Russian-French painter and designer.-Biography:-Childhood:...
,
Vladimir Tatlin
Vladimir Tatlin
Vladimir Yevgrafovich Tatlin was a Russian and Soviet painter and architect. With Kazimir Malevich he was one of the two most important figures in the Russian avant-garde art movement of the 1920s, and he later became the most important artist in the Constructivist movement...
,
Wassily Kandinsky
Wassily Kandinsky
Wassily Wassilyevich Kandinsky was an influential Russian painter and art theorist. He is credited with painting the first purely-abstract works. Born in Moscow, Kandinsky spent his childhood in Odessa. He enrolled at the University of Moscow, studying law and economics...
,
David Burliuk
David Burliuk
David Davidovich Burliuk was a Russian avant-garde artist of Ukrainian origin , book illustrator, publicist, and author associated with Russian Futurism...
,
Alexander Archipenko
Alexander Archipenko
Alexander Porfyrovych Archipenko was a Ukrainian avant-garde artist, sculptor, and graphic artist.-Biography:...
), some sources also talk about
Ukrainian avant-garde
Ukrainian avant-garde
The term "Ukrainian Avant-Garde" was first introduced by Parisian art historian Andréi Nakov for the exhibition Tatlin's dream, arranged in London, 1973, where works of international standard by avant-garde Ukrainian artists Vasyl Yermylov and Alexander Bogomazov were presented to the Western...
.
The Russian avant-garde reached its creative and popular height in the period between the
Russian Revolution of 1917
Russian Revolution of 1917
The Russian Revolution is the collective term for a series of revolutions in Russia in 1917, which destroyed the Tsarist autocracy and led to the creation of the Soviet Union. The Tsar was deposed and replaced by a provisional government in the first revolution of February 1917...
and 1932, at which point the ideas of the avant-garde clashed with the newly emerged state-sponsored direction of
Socialist Realism
Socialist realism
Socialist realism is a style of realistic art which was developed in the Soviet Union and became a dominant style in other communist countries. Socialist realism is a teleologically-oriented style having its purpose the furtherance of the goals of socialism and communism...
. Notable figures from this era include:
Artists and Designers
Filmmakers
Writers
Theatre Directors
Architects
Preserving Russian avant-garde architecture has become a real concern for historians, politicians and architects. In 2007, the Modern Museum of Art
MoMA
Moma
Moma may refer to:* Moma , an owlet moth genus* Moma Airport, a Russian public airport* Moma District, Nampula, Mozambique* Moma River, a right tributary of the Indigirka River* Google Moma, the Google corporate intranet...
in New York, devoted an exhibition entirely to the *
Lost Vanguard: Soviet Architecture
, featuring the work of American Photographer Richard Pare.
Composers
Many Russian composers that were interested in avant-garde music became members of the Association for Contemporary Music which was headed by Roslavets.
Main Articles
External links