 Rum baba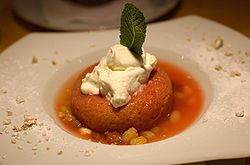 This article is about the pastry; for the cartoon character Rum Baa Baa, see Henry's Cat

Henry's Cat

Henry's Cat is an animated children's television programme, written by Stan Hayward and produced by Bob Godfrey, who was also the producer of Roobarb, a similar cartoon series from the 1970s...


.
A
rum baba
or
baba au rhum
is a small yeast cake saturated in liquor, usually
rum
Rum
Rum is a distilled alcoholic beverage made from sugarcane by-products such as molasses, or directly from sugarcane juice, by a process of fermentation and distillation. The distillate, a clear liquid, is then usually aged in oak barrels...
, and sometimes filled with
whipped cream
Whipped cream
Whipped cream is cream that has been beaten by a mixer, whisk, or fork until it is light and fluffy. Whipped cream is often sweetened and sometimes flavored with vanilla, in which case it may be called Chantilly cream or crème Chantilly ....
or pastry cream. It is most typically made in individual servings (about a 2" tall slightly tapered cylinder) but sometimes can be made in larger forms similar to those used for
Bundt cake
Bundt cake
A bundt cake is a dessert cake that is baked in a bundt pan, shaping it into a distinctive ridged ring. The d in "bundt" is assimilated into the t. The term is used chiefly in North America....
s.
The batter for baba is even richer than that for
brioche
Brioche
Brioche is a highly enriched French pastry, whose high egg and butter content give it a rich and tender crumb. It is "light and slightly puffy, more or less fine, according to the proportion of butter and eggs" It has a dark, golden, and flaky crust, frequently accentuated by an egg wash applied...
, and includes eggs, milk, and butter.
History
The original form of the baba was similar to the babka, a tall cylindrical yeast cake (babka is still cooked in Poland and in Polish communities over the world). The name means 'old woman' or 'grandmother' in the Slavic languages;
babka
is a diminutive of
baba
.
The modern "Baba au Rhum" (Rum Baba), with dried fruit and soaking in rum, was invented in
rue Montorgueil
Rue Montorgueil
Rue Montorgueil is a trendy street in the 2nd arrondissement of Paris, France. Lined with famous restaurants, quaint cafés, bakeries , fish stores, cheese shops, wine shops, produce stands and flower shops, rue Montorgueil has become recognized as one of the best places for hip Parisians to...
(
Paris
Paris
Paris is the capital and largest city in France, situated on the river Seine, in northern France, at the heart of the Île-de-France region...
,
France
France
The French Republic , The French Republic , The French Republic , (commonly known as France , is a unitary semi-presidential republic in Western Europe with several overseas territories and islands located on other continents and in the Indian, Pacific, and Atlantic oceans. Metropolitan France...
) in 1835 or before. Today, the word "Baba" in France and almost everywhere else outside eastern Europe usually refers specifically to the rum baba.
The original Baba was introduced into France in the 18th century via
Alsace
Alsace
Alsace is the fifth-smallest of the 27 regions of France in land area , and the smallest in metropolitan France. It is also the seventh-most densely populated region in France and third most densely populated region in metropolitan France, with ca. 220 inhabitants per km²...
and
Lorraine
Lorraine (province)
The Duchy of Upper Lorraine was an historical duchy roughly corresponding with the present-day northeastern Lorraine region of France, including parts of modern Luxembourg and Germany. The main cities were Metz, Verdun, and the historic capital Nancy....
. This is attributed to Stanislas, the exiled king of Poland. The
Larousse Gastronomique
Larousse Gastronomique
Larousse Gastronomique is an encyclopedia of gastronomy. The majority of the book is about French cuisine, and contains recipes for French dishes and cooking techniques...
reports that Stanislas had the idea of soaking a dried Kugelhopf (a cake roughly similar to the baba and common in Alsace-Lorraine when he arrived there) or a baba with
alcoholic spirit
Distilled beverage
A distilled beverage, liquor, or spirit is an alcoholic beverage containing ethanol that is produced by distilling ethanol produced by means of fermenting grain, fruit, or vegetables...
. Another version is that when Stanislas brought back a baba from one of his voyages it had dried up. Nicolas Stohrer, one of his pâtissiers (or possibly just apprentice pâtissiers at the time), solved the problem by addition of adding Malaga wine, saffron, dried and fresh raisin and crême pâtissière. Courchamps states in 1839 that the descendants of Stanislas served the baba with a saucière containing sweet malaga wine mixed with one sixth of Tanaisie Licquor.
Nicolas Stohrer followed Stanislas' daughter
Maria Leszczyńska
Maria Leszczynska
Marie Leszczyńska was a queen consort of France. She was a daughter of King Stanisław Leszczyński of Poland and Catherine Opalińska. She married King Louis XV of France and was the grandmother of Louis XVI, Louis XVIII, and Charles X. In France, she was referred to as Marie Leczinska...
to Versailles as her pâtissier in 1725 when she married King Louis XV, and founded his Pâtisserie in Paris in 1730. One of his descendants allegedly had the idea of using rum in 1835. While he is believed to have done so on the fresh cakes (right out of the mold), it is a common practice today to let the baba dry a little so that it soaks up better. Later, the recipe was refined by mixing the rum with aromatized sugar syrup.
In 1844, the Julien Brothers, Parisian pâtissiers, invented the "Savarin" which is strongly inspired by the "Baba au Rhum" but is soaked with a different alcoholic mixture and uses a circular (ring) cake mold instead of the simple round (cylindrical) form. The ring form is nowadays often associated with the Baba au Rhum as well, and the name "Savarin" is also sometimes given to the rum-soaked circular cake.
The baba was later brought to Naples by French cooks and became a popular
Neapolitan specialty
Neapolitan cuisine
Neapolitan cuisine has ancient historical roots that date back to the Greco-Roman period, which was enriched over the centuries by the influence of the different cultures that controlled Naples and its kingdoms, such as that of Aragon and France...
under the name babà or babbà.
The pastry has appeared on US restaurant menus since 1899, if not earlier.
Alain Ducasse, one of the world's top chefs, uses Rhum Baba as his signature dessert in his Michelin starred restaurants.
External links