 Roof lantern
A
roof lantern
is a
daylighting
Daylighting
Daylighting is the practice of placing windows or other openings and reflective surfaces so that during the day natural light provides effective internal lighting. Particular attention is given to daylighting while designing a building when the aim is to maximize visual comfort or to reduce energy...
cupola
Cupola
In architecture, a cupola is a small, most-often dome-like, structure on top of a building. Often used to provide a lookout or to admit light and air, it usually crowns a larger roof or dome....
architectural element. Architectural lanterns are atop a larger roof and provide natural light into the space or room below. In contemporary use it is an architectural skylight structure. The term 'roof top lantern' is used to describe the lighted decorative
lantern
Lantern
A lantern is a portable lighting device or mounted light fixture used to illuminate broad areas. Lanterns may also be used for signaling, as 'torches', or as general light sources outdoors . Low light level varieties are used for decoration. The term "lantern" is also used more generically to...
s atop taxi cabs in Japan, designed to reflect the cultural heritage of
Japanese
Japanese people
The are an ethnic group originating in the Japanese archipelago and are the predominant ethnic group of Japan. Worldwide, approximately 130 million people are of Japanese descent; of these, approximately 127 million are residents of Japan. People of Japanese ancestry who live in other countries...
paper lantern
Paper lantern
Paper lanterns come in various shapes and sizes, as well as various methods of construction. In their simplest form, they are simply a paper bag with a candle placed inside, although more complicated lanterns consist of a collapsible bamboo or metal frame of hoops covered with tough paper.-In Asian...
s.
History
The glazed lantern is a development during the Renaissance, of the ancient Roman open
oculus
Oculus
An Oculus, circular window, or rain-hole is a feature of Classical architecture since the 16th century. They are often denoted by their French name, oeil de boeuf, or "bull's-eye". Such circular or oval windows express the presence of a mezzanine on a building's façade without competing for...
, but being weatherproof for the wetter climates of northern Europe. Roof lanterns of masonry and glass were first used in
Renaissance architecture
Renaissance architecture
Renaissance architecture is the architecture of the period between the early 15th and early 17th centuries in different regions of Europe, demonstrating a conscious revival and development of certain elements of ancient Greek and Roman thought and material culture. Stylistically, Renaissance...
, such as in principal
cathedral
Cathedral
A cathedral is a Christian church that contains the seat of a bishop...
s. In 16th century
France
France
The French Republic , The French Republic , The French Republic , (commonly known as France , is a unitary semi-presidential republic in Western Europe with several overseas territories and islands located on other continents and in the Indian, Pacific, and Atlantic oceans. Metropolitan France...
and
Italy
Italy
Italy , officially the Italian Republic languages]] under the European Charter for Regional or Minority Languages. In each of these, Italy's official name is as follows:;;;;;;;;), is a unitary parliamentary republic in South-Central Europe. To the north it borders France, Switzerland, Austria and...
they began usage in
Orangeries
Orangery
An orangery was a building in the grounds of fashionable residences from the 17th to the 19th centuries and given a classicising architectural form. The orangery was similar to a greenhouse or conservatory...
, an early form of a
conservatory
Conservatory (greenhouse)
A conservatory is a room having glass roof and walls, typically attached to a house on only one side, used as a greenhouse or a sunroom...
structure with tall windows and a glazed roof section for wintering
citrus
Citrus
Citrus is a common term and genus of flowering plants in the rue family, Rutaceae. Citrus is believed to have originated in the part of Southeast Asia bordered by Northeastern India, Myanmar and the Yunnan province of China...
trees and other plants in non-temperate climates.
Post-Renaissance roof lanterns were made of timber and glass and were often prone to leaking.

"Initially wood-framed in the 18th and 19th centuries, skylights became even more popular in metal construction with the advent of sheet-metal shops during the Victorian era

Victorian era

The Victorian era of British history was the period of Queen Victoria's reign from 20 June 1837 until her death on 22 January 1901. It was a long period of peace, prosperity, refined sensibilities and national self-confidence...


. Virtually every urban row house of the late-19th and early-20th centuries relied upon a metal-framed skylight to illuminate its enclosed stairwell. More elaborate dwellings of the era showed a fondness for the Roof Lantern, in which the humble ceiling-window design of the skylight is elaborated into a miniature glass-paneled conservatory-style roof cupola

Cupola

In architecture, a cupola is a small, most-often dome-like, structure on top of a building. Often used to provide a lookout or to admit light and air, it usually crowns a larger roof or dome....


or tower"

Present day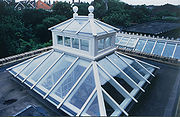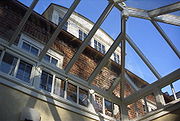 With advancements in
glazing
Glazing
Glazing, which derives from the Middle English for 'glass', is a part of a wall or window, made of glass. Glazing also describes the work done by a professional "glazier"...
and sealing techniques, have the benefits of high performance
insulated glass
Insulated glazing
Insulated glazing also known as double glazing are double or triple glass window panes separated by an air or other gas filled space to reduce heat transfer across a part of the building envelope....
and sealants, which reduce energy loss and provide water-tightness in the same manner as conventional skylights. Today roof lanterns are built of both wood and aluminum.
They serve as an architectural feature, distinguished from commercial manufactured skylights by custom design integration providing unique views to the outdoors. Traditional architectural styles characterize most roof lanterns in the UK. In the U.S., where the term 'custom' skylight is often used, modern styles of roof lanterns are also common in the building vernacular.
See also