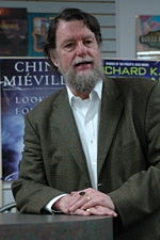 Robert Jordan
Robert Jordan
was the
pen name
Pen name
A pen name, nom de plume, or literary double, is a pseudonym adopted by an author. A pen name may be used to make the author's name more distinctive, to disguise his or her gender, to distance an author from some or all of his or her works, to protect the author from retribution for his or her...
of
James Oliver Rigney, Jr.
(October 17, 1948 – September 16, 2007), under which he was best known as the author of the bestselling
The Wheel of Time
The Wheel of Time
The Wheel of Time is a series of epic fantasy novels written by American author James Oliver Rigney, Jr., under the pen name Robert Jordan. Originally planned as a six-book series, the length was increased by increments; at the time of Rigney's death, he expected it to be 12, but it will actually...
fantasy series. He also wrote under the
pseudonym
Pseudonym
A pseudonym is a name that a person assumes for a particular purpose and that differs from his or her original orthonym...
s
Reagan O'Neal
and
Jackson O'Reilly
.
Jordan was born in
Charleston, South Carolina
Charleston, South Carolina
Charleston is the second largest city in the U.S. state of South Carolina. It was made the county seat of Charleston County in 1901 when Charleston County was founded. The city's original name was Charles Towne in 1670, and it moved to its present location from a location on the west bank of the...
. He served two tours in
Vietnam
Vietnam War
The Vietnam War was a Cold War-era military conflict that occurred in Vietnam, Laos, and Cambodia from 1 November 1955 to the fall of Saigon on 30 April 1975. This war followed the First Indochina War and was fought between North Vietnam, supported by its communist allies, and the government of...
(from 1968 to 1970) with the
United States Army
United States Army
The United States Army is the main branch of the United States Armed Forces responsible for land-based military operations. It is the largest and oldest established branch of the U.S. military, and is one of seven U.S. uniformed services...
as a helicopter gunner.
The Wheel weaves as the Wheel wills.

Tagline in all the books of the series.
All I have is a sword, and a war I cannot win, but I can never stop fighting.

You can either have an hour of hope or an hour of despair.

The Creator made women to please the eyes and trouble the mind.

The grave is no bar to my call.

Duty is heavier than a mountain, death lighter than a feather

I am Rand al'Thor! I am the Dragon Reborn!

I am the Lord of the Morning. I was the Prince of the Dawn.