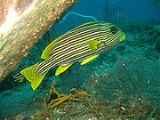 Ribboned sweetlips
The
Ribboned sweetlips
,
Plectorhinchus polytaenia
, a sweetlips of the
family
Family (biology)
In biological classification, family is* a taxonomic rank. Other well-known ranks are life, domain, kingdom, phylum, class, order, genus, and species, with family fitting between order and genus. As for the other well-known ranks, there is the option of an immediately lower rank, indicated by the...
Haemulidae
Haemulidae
The grunts are a family, Haemulidae, of fishes in the order Perciformes. They are numerous and widespread, with about 150 species in 19 genera, found in tropical fresh, brackish and salt waters around the world...
, also known as the
yellow-ribbon sweetlips
, is found in East Indo-West Pacific oceans. Its length is up to 50 cm.
Juveniles have black stripes and live alone on rubble slopes in deep water. As they age, the black is reduced to an outline, and the stripes become more yellow; increasing stripes develop with age. Their bright colors help them blend into the coral they live in.
These fish feed on
crab
Crab
True crabs are decapod crustaceans of the infraorder Brachyura, which typically have a very short projecting "tail" , or where the reduced abdomen is entirely hidden under the thorax...
s,
shrimp
Shrimp
Shrimp are swimming, decapod crustaceans classified in the infraorder Caridea, found widely around the world in both fresh and salt water. Adult shrimp are filter feeding benthic animals living close to the bottom. They can live in schools and can swim rapidly backwards. Shrimp are an important...
s,
sea snail
Gastropoda
The Gastropoda or gastropods, more commonly known as snails and slugs, are a large taxonomic class within the phylum Mollusca. The class Gastropoda includes snails and slugs of all kinds and all sizes from microscopic to quite large...
s and
worms
Polychaete
The Polychaeta or polychaetes are a class of annelid worms, generally marine. Each body segment has a pair of fleshy protrusions called parapodia that bear many bristles, called chaetae, which are made of chitin. Indeed, polychaetes are sometimes referred to as bristle worms. More than 10,000...
.
Ribboned Sweetlips get their name from their large lips.