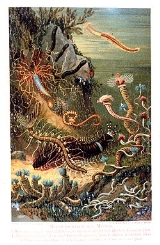 Polychaete
The
Polychaeta
or
polychaetes
are a class of
annelid
Annelid
The annelids , formally called Annelida , are a large phylum of segmented worms, with over 17,000 modern species including ragworms, earthworms and leeches...
worms, generally marine. Each body segment has a pair of fleshy protrusions called parapodia that bear many bristles, called
chaeta
Chaeta
A chaeta or cheta is a chitinous bristle or seta found on an insect, arthropod or annelid worms such as the earthworm, although the term is also frequently used to describe similar structures in other invertebrates. The plural form is chaetae or chetae.In the Polychaeta, they are located on the...
e, which are made of
chitin
Chitin
Chitin n is a long-chain polymer of a N-acetylglucosamine, a derivative of glucose, and is found in many places throughout the natural world...
. Indeed, polychaetes are sometimes referred to as
bristle worms
. More than 10,000 species are described in this class. Common representatives include the
lugworm
Lugworm
The lugworm or sandworm, Arenicola marina, is a large marine worm of the phylum Annelida. Its coiled castings are a familiar sight on a beach at low tide but the animal itself is rarely seen except by those who, from curiosity or to use as fishing bait, dig the worm out of the sand.When fully...
(
Arenicola marina
) and the
sandworm
Sandworm
Sandworm may refer to:Living animals :* Arenicola marina , called "sandworm" in the UK* Nereis virens , called "sandworm" in the US...
or clam worm
Nereis
.
Polychaetes as a class are robust and widespread, with species that live in the coldest ocean temperatures of the
abyssal plain
Abyssal plain
An abyssal plain is an underwater plain on the deep ocean floor, usually found at depths between 3000 and 6000 metres. Lying generally between the foot of a continental rise and a mid-ocean ridge, abyssal plains cover more than 50% of the Earth's surface. They are among the flattest, smoothest...
, to forms which tolerate the extreme high temperatures near
hydrothermal vent
Hydrothermal vent
A hydrothermal vent is a fissure in a planet's surface from which geothermally heated water issues. Hydrothermal vents are commonly found near volcanically active places, areas where tectonic plates are moving apart, ocean basins, and hotspots. Hydrothermal vents exist because the earth is both...
s. Polychaetes occur throughout the Earth's oceans at all depths, from forms that live as
plankton
Plankton
Plankton are any drifting organisms that inhabit the pelagic zone of oceans, seas, or bodies of fresh water. That is, plankton are defined by their ecological niche rather than phylogenetic or taxonomic classification...
near the surface, to a 2–3 cm specimen (still unclassified) observed by the robot ocean probe
Nereus
Nereus (underwater vehicle)
Nereus is a hybrid autonomous underwater vehicle built by the Woods Hole Oceanographic Institution . Constructed as a research vehicle to operate at depths of up to , it was designed to explore Challenger Deep, the deepest surveyed point in the global ocean...
at the bottom of the
Challenger Deep
Challenger Deep
The Challenger Deep is the deepest known point in the oceans, with a depth of to by direct measurement from submersibles, and slightly more by sonar bathymetry . It is located at the southern end of the Mariana Trench near the Mariana Islands group...
, the deepest spot in the Earth's oceans.
Description
Polychaetes are segmented worms, generally less than 10 centimetres (3.9 in) in length, although ranging at the extremes from 1 millimetre (0.0393700787401575 in) to 3 metres (9.8 ft). They are often brightly coloured, and may be iridescent or even luminescent. Each segment bears a pair of paddle-like and highly vascularized parapodia, which are used for movement and, in many species, act as the worm's primary
respiratory
Gas exchange
Gas exchange is a process in biology where gases contained in an organism and atmosphere transfer or exchange. In human gas-exchange, gases contained in the blood of human bodies exchange with gases contained in the atmosphere. Human gas-exchange occurs in the lungs...
surfaces. Bundles of bristles, called setae, project from the parapodia.
However, polychaetes vary widely from this generalised pattern, and can display a range of different body forms. The most generalised polychaetes are those that crawl along the bottom, but others have adapted to many different
ecological niche
Ecological niche
In ecology, a niche is a term describing the relational position of a species or population in its ecosystem to each other; e.g. a dolphin could potentially be in another ecological niche from one that travels in a different pod if the members of these pods utilize significantly different food...
s, including burrowing, swimming, pelagic life, tube-dwelling or boring, commensalism, and parasitism, requiring various modifications to their body structure.
The head, or
prostomium
Prostomium
Prostomium is the first body segment in annelid worms. It is in front of the mouth, being usually a small shelf- or lip-like extension over the dorsal side of the mouth. It sometimes bears antennae and eyes. It often functions like a kind of overlip when the animal is feeding...
, is relatively well developed, compared with other annelids. It projects forward over the mouth, which therefore lies on the animal's underside. The head normally includes two to four pair of eyes, although there are some blind species. These are typically fairly simple structures, capable of distinguishing only light and dark, although some species have large eyes with lenses that may be capable of more sophisticated vision.
The head also includes a pair of
antennae
Antenna (biology)
Antennae in biology have historically been paired appendages used for sensing in arthropods. More recently, the term has also been applied to cilium structures present in most cell types of eukaryotes....
, tentacle-like palps, and a pair of pits lined with cilia, known as "nuchal organs". These latter appear to be chemoreceptors, and help the worm to seek out food.
Internal anatomy and physiology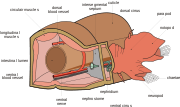 The outer surface of the body wall consists of a simple columnar epithelium covered by a thin
cuticle
Cuticle
A cuticle , or cuticula, is a term used for any of a variety of tough but flexible, non-mineral outer coverings of an organism, or parts of an organism, that provide protection. Various types of "cuticles" are non-homologous; differing in their origin, structure, function, and chemical composition...
. Underneath this, in order, are a thin layer of connective tissue, a layer of circular muscle, a layer of longitudinal muscle, and a
peritoneum
Peritoneum
The peritoneum is the serous membrane that forms the lining of the abdominal cavity or the coelom — it covers most of the intra-abdominal organs — in amniotes and some invertebrates...
surrounding the
body cavity
Coelom
The coelom is a fluid-filled cavity formed within the mesoderm. Coeloms developed in triploblasts but were subsequently lost in several lineages. Loss of coelom is correlated with reduction in body size...
. Additional oblique muscles move the parapodia. In most species, the body cavity is divided into separate compartments by sheets of peritoneum between each segment, but in some species, it is more continuous.
The mouth of polychaetes varies in form depending on their diet, since the group includes predators, herbivores, filter feeders, scavengers, and parasites. In general, however, it possesses a pair of jaws and a
pharynx
Pharynx
The human pharynx is the part of the throat situated immediately posterior to the mouth and nasal cavity, and anterior to the esophagus and larynx. The human pharynx is conventionally divided into three sections: the nasopharynx , the oropharynx , and the laryngopharynx...
that can be rapidly everted, allowing the worm to grab food and pull it into the mouth. In some species, the pharynx is modified into a lengthy
proboscis
Proboscis
A proboscis is an elongated appendage from the head of an animal, either a vertebrate or an invertebrate. In simpler terms, a proboscis is the straw-like mouth found in several varieties of species.-Etymology:...
. The digestive tract is a simple tube, usually with a stomach part way along.
The smallest species, and those adapted to burrowing, lack
gill
Gill
A gill is a respiratory organ found in many aquatic organisms that extracts dissolved oxygen from water, afterward excreting carbon dioxide. The gills of some species such as hermit crabs have adapted to allow respiration on land provided they are kept moist...
s, breathing only through their body surface. Most other species, however, have external gills, generally, although not always, associated with the parapodia.
There is usually a well-developed, if simple, circulatory system. There are two main blood vessels, with smaller vessels to supply the parapodia and the gut. Blood flows forward in the dorsal vessel, above the gut, and returns back down the body in the ventral vessel, beneath the gut. The blood vessels themselves are contractile, helping to push the blood along, so most species have no need of a heart. In a few cases, however, muscular pumps analogous to a heart are found in various parts of the system. Conversely, some species have little or no circulatory system at all, transporting oxygen in the coelomic fluid that fills their body cavity.
The blood itself may be colourless, or have any of three different respiratory pigments. The most common of these is haemoglobin, but some groups have haemerythrin or the green-coloured
chlorocruorin
Chlorocruorin
Chlorocruorin is an oxygen-binding hemeprotein present in the blood plasma of many annelids, particularly certain marine polychaetes. Its affinity for oxygen is weaker than that of most hemoglobins...
instead.
The nervous system consists of a single or double ventral nerve cord running the length of the body, with
ganglia
Ganglion
In anatomy, a ganglion is a biological tissue mass, most commonly a mass of nerve cell bodies. Cells found in a ganglion are called ganglion cells, though this term is also sometimes used to refer specifically to retinal ganglion cells....
and a series of small nerves in each segment. The brain is relatively large, compared with that of other annelids, and lies in the upper part of the head. An endocrine gland is attached to the ventral posterior surface of the brain, and appears to be involved in reproductive activity. In addition to the sensory organs on the head, there may also photosensitive eye-spots on the body,
statocyst
Statocyst
The statocyst is a balance sensory receptor present in some aquatic invertebrates, including bivalves, cnidarians, echinoderms, cephalopods, and crustaceans. A similar structure is also found in Xenoturbella. The statocyst consists of a sac-like structure containing a mineralised mass and numerous...
s, and numerous additional sensory nerve endings, most likely in involved with the sense of touch.
Polychaetes have a varying number of protonephridia or metanephridia for excreting waste, which in some cases can be relatively complex in structure. The body also contains greenish "chloragogen" tissue, similar to that found in oligochaetes, which appears to function in metabolism, in a similar fashion to that of the vertebrate
liver
Liver
The liver is a vital organ present in vertebrates and some other animals. It has a wide range of functions, including detoxification, protein synthesis, and production of biochemicals necessary for digestion...
.
Their cuticle is constructed from cross-linked fibres of
collagen
Collagen
Collagen is a group of naturally occurring proteins found in animals, especially in the flesh and connective tissues of mammals. It is the main component of connective tissue, and is the most abundant protein in mammals, making up about 25% to 35% of the whole-body protein content...
and may be 200 nm to 13mm thick. Their jaws are formed from
sclerotised
Sclerite
A sclerite is a hardened body part. The term is used in various branches of biology for various structures including hardened portions of sponges, but it is most commonly used for the hardened portions of arthropod exoskeletons....
collagen, and their setae from sclerotised
chitin
Chitin
Chitin n is a long-chain polymer of a N-acetylglucosamine, a derivative of glucose, and is found in many places throughout the natural world...
.
Ecology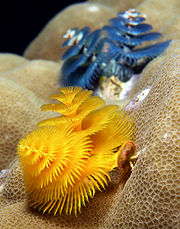 Polychaetes are extremely variable in both form and lifestyle and include a few taxa that swim among the
plankton
Plankton
Plankton are any drifting organisms that inhabit the pelagic zone of oceans, seas, or bodies of fresh water. That is, plankton are defined by their ecological niche rather than phylogenetic or taxonomic classification...
or above the
abyssal plain
Abyssal plain
An abyssal plain is an underwater plain on the deep ocean floor, usually found at depths between 3000 and 6000 metres. Lying generally between the foot of a continental rise and a mid-ocean ridge, abyssal plains cover more than 50% of the Earth's surface. They are among the flattest, smoothest...
. Most burrow or build tubes in the sediment, and some live as commensals. A few are parasitic. The mobile forms (Errantia) tend to have well-developed sense organs and jaws, while the stationary forms (Sedentaria) lack them but may have specialized gills or tentacles used for respiration and deposit or filter feeding, e.g., fanworms.
A few groups have evolved to live in terrestrial environments, like Namanereidinae with many terrestrial species, but are restricted to humid areas. Some have even evolved cutaneous invaginations for aerial gas exchange.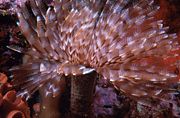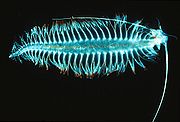 Notable polychaetes
Reproduction
Most polychaetes have separate sexes, rather than being hermaphroditic. The most primitive species have a pair of
gonad
Gonad
The gonad is the organ that makes gametes. The gonads in males are the testes and the gonads in females are the ovaries. The product, gametes, are haploid germ cells. For example, spermatozoon and egg cells are gametes...
s in every segment, but, in most species, there has been some degree of specialisation. The gonads shed immature
gamete
Gamete
A gamete is a cell that fuses with another cell during fertilization in organisms that reproduce sexually...
s directly into the body cavity, where they complete their development. Once mature, the gametes are shed into the surrounding water through ducts or openings that vary between species, or in some cases by the complete rupture of the body wall (and subsequent death of the adult). A few species copulate, but most fertilise the eggs externally.
The fertilised eggs typically hatch into
trochophore
Trochophore
A trochophore is a type of free-swimming planktonic marine larva with several bands of cilia.By moving their cilia rapidly, a water eddy is created. In this way they control the direction of their movement...
larvae, which float among the
plankton
Plankton
Plankton are any drifting organisms that inhabit the pelagic zone of oceans, seas, or bodies of fresh water. That is, plankton are defined by their ecological niche rather than phylogenetic or taxonomic classification...
, and eventually
metamorphose
Metamorphosis
Metamorphosis is a biological process by which an animal physically develops after birth or hatching, involving a conspicuous and relatively abrupt change in the animal's body structure through cell growth and differentiation...
into the adult form by adding segments. A few species have no larval form, with the egg hatching into a form resembling the adult, and in many that do have larvae, the trochophore never feeds, surviving off the yolk that remains from the egg.
Some of the polychaetes exhibit remarkable reproductive strategies. Some species in the genus
Eunicie
reproduce by a process called
epitoky
Epitoky
Epitoky is a form of reproduction observed in polychaete marine worms. The worms undergo a partial or complete transformation into an epitoke, a pelagic morph capable of sexual reproduction....
. For much of the year, these worms look like any other burrow-dwelling polychaete, but as the breeding season approaches the worm undergoes a remarkable transformation as new, specialized segments begin to grow from its rear end until the worm can be clearly divided into two halves. The front half, the atoke, is asexual. The new rear half is responsible for breeding and is known as the epitoke.
Each of the epitoke segments is packed with eggs and sperm and features a single eyespot on its surface. The beginning of the last lunar quarter is the cue for these animals to breed and the epitokes break free from the atokes and float to the surface. The eye spots sense when the epitoke reaches the surface and the segments from millions of worms burst, releasing their eggs and sperm into the water.
Fossil record

The oldest crown-group polychaete fossils come from the
Sirius Passet
Sirius Passet
Sirius Passet is a Cambrian Lagerstätte in Greenland. The Sirius Passet Lagerstätte was named after the Sirius sledge patrol that operates in North Greenland. It comprises six localities located on the eastern shore of J.P. Koch Fjord in the far north of Greenland. It was discovered in 1984 by A....
Lagerstatte
Lagerstätte
A Lagerstätte is a sedimentary deposit that exhibits extraordinary fossil richness or completeness.Palaeontologists distinguish two kinds....
, a rich, sedimentary deposit in Greenland tentatively dated to the late Atdabanian (early
Cambrian
Cambrian
The Cambrian is the first geological period of the Paleozoic Era, lasting from Mya ; it is succeeded by the Ordovician. Its subdivisions, and indeed its base, are somewhat in flux. The period was established by Adam Sedgwick, who named it after Cambria, the Latin name for Wales, where Britain's...
). Many of the more famous
Burgess Shale
Burgess Shale
The Burgess Shale Formation, located in the Canadian Rockies of British Columbia, is one of the world's most celebrated fossil fields, and the best of its kind. It is famous for the exceptional preservation of the soft parts of its fossils...
organisms, such as
Canadia
Canadia (genus)
Canadia is a genus of extinct annelid worm present in Burgess Shale type Konservat-Lagerstätte. It is found in strata dating back to the Delamaran stage of the Middle Cambrian around 505 million years ago, during the time of the Cambrian explosion. It was about 3 centimeters in length...
and
Wiwaxia
Wiwaxia
Wiwaxia is a genus of soft-bodied, scale-covered animals known from Burgess shale type Lagerstätte dating from the upper Lower Cambrian to Middle Cambrian. The organisms are mainly known from dispersed sclerites; articulated specimens, where found, range from to a little over 50.8 millimeters in...
, may also have polychaete affinites. An even older fossil,
Cloudina
, dates to the terminal
Ediacaran
Ediacaran
The Ediacaran Period , named after the Ediacara Hills of South Australia, is the last geological period of the Neoproterozoic Era and of the Proterozoic Eon, immediately preceding the Cambrian Period, the first period of the Paleozoic Era and of the Phanerozoic Eon...
period; this has been interpreted as an early polychaete, although consensus is absent.
Being
soft bodied
Soft-bodied organisms
The term "soft-bodied organism" is used to describe animals without skeleton, roughly corresponding to the group Vermes as proposed by Carl von Linné. All animals have muscles, but since muscles can only pull, never push, a number of animals have developed hard parts that the muscles can pull on,...
, the fossil record of polychaetes is dominated by their fossilized jaws, known as
scolecodonts
Scolecodonts
A scolecodont is the jaw of a polychaete annelid, a common type of fossil-producing segmented worm useful in invertebrate paleontology. Scolecodonts are common and diverse microfossils, which range from the Cambrian period to the present...
, and the
mineral
Mineral
A mineral is a naturally occurring solid chemical substance formed through biogeochemical processes, having characteristic chemical composition, highly ordered atomic structure, and specific physical properties. By comparison, a rock is an aggregate of minerals and/or mineraloids and does not...
ized tubes that some of them secrete . However, their cuticle does have some preservation potential; it tends to survive for at least 30 days after a polychaete's death. Although biomineralisation is usually necessary to preserve soft tissue after this time, the presence of polychaete muscle in the non-mineralised
Burgess shale
Burgess Shale
The Burgess Shale Formation, located in the Canadian Rockies of British Columbia, is one of the world's most celebrated fossil fields, and the best of its kind. It is famous for the exceptional preservation of the soft parts of its fossils...
shows that this need not always be the case. Their preservation potential is similar to that of
jellyfish
Jellyfish
Jellyfish are free-swimming members of the phylum Cnidaria. Medusa is another word for jellyfish, and refers to any free-swimming jellyfish stages in the phylum Cnidaria...
.
Taxonomy and systematics
Taxonomically, polychaetes are thought to be paraphyletic, meaning that the group excludes some descendants of its most recent common ancestor. Groups that may be descended from the polychaetes include the oligochaetes (
earthworm
Earthworm
Earthworm is the common name for the largest members of Oligochaeta in the phylum Annelida. In classical systems they were placed in the order Opisthopora, on the basis of the male pores opening posterior to the female pores, even though the internal male segments are anterior to the female...
s and
leech
Leech
Leeches are segmented worms that belong to the phylum Annelida and comprise the subclass Hirudinea. Like other oligochaetes such as earthworms, leeches share a clitellum and are hermaphrodites. Nevertheless, they differ from other oligochaetes in significant ways...
es),
sipuncula
Sipuncula
The Sipuncula or Sipunculida is a group containing 144-320 species of bilaterally symmetrical, unsegmented marine worms...
ns, and
echiura
Echiura
The Echiura, or spoon worms, are a small group of marine animals. They are often considered to be a group of annelids, although they lack the segmented structure found in other members of that group, and so may also be treated as a separate phylum...
ns. The Pogonophora and Vestimentifera were once considered separate phyla, but are now classified in the polychaete family
Siboglinidae
Siboglinidae
Siboglinidae, also known as the beard worms, is a family of polychaete annelid worms whose members made up the former phyla Pogonophora and Vestimentifera. They are composed of about 100 species of vermiform creatures and live in thin tubes buried in sediments at ocean depths from 100 to 10,000 m...
.
Much of the classification below matches Rouse & Fauchald, 1998, although that paper does not apply ranks above family.
Older classifications recognize many more (sub)orders than the layout presented here. As comparatively few polychaete taxa have been subject to cladistic analysis, some groups which are usually considered invalid today may eventually be reinstated.
These divisions given below were shown to be mostly paraphyletic in recent years.
Subclass Palpata

Palpata

Palpata is a subclass of polychaete worm. Members of this subclass are mostly deposit feeders on marine detritus or filter feeders.-Characteristics:...




Order Aciculata

Aciculata

Aciculata is an order of polychaete worms. These worms are found worldwide in marine environments and brackish water.-Families:Suborder Eunicida*Amphinomidae Savigny in Lamarck, 1818 *Diurodrilidae Kristensen and Niilonen, 1982...




Basal or incertae sedis

Incertae sedis

, is a term used to define a taxonomic group where its broader relationships are unknown or undefined. Uncertainty at specific taxonomic levels is attributed by , , and similar terms.-Examples:*The fossil plant Paradinandra suecica could not be assigned to any...




Family Aberrantidae
Family Nerillidae

Nerillidae

Nerillida is a family of invertebrates containing the following genera:* Meganerilla* Mesonerilla* Nerilla* Nerillidium* Nerillidopsis* Paranerilla* Psammoriedlia* Thalassochaetus* Troglochaetus...



Family Spintheridae

Spintheridae

Spintheridae is a family of invertebrates with a single genus Spinther containing the following species:* Spinther alaskensis Hartman, 1948* Spinther arcticus * Spinther citrinus...




Suborder Eunicida

Family Amphinomidae
Family Diurodrilidae
Family Dorvilleidae
Family Eunicidae

Eunicidae

Eunicidae is a family of polychaetes. Many eunicids reach a considerable size. Their jaws are known from Ordovician sediments. They live throughout the seas; a few species are parasitic....



Family Euphrosinidae
Family Hartmaniellidae
Family Histriobdellidae
Family Lumbrineridae
Family Oenonidae
Family Onuphidae

Suborder Phyllodocida

Phyllodocida

Phyllodocida is an order of polychaete worms in the subclass Aciculata. These worms are mostly marine though some are found in brackish water. Most are active benthic creatures, moving over the surface or burrowing in sediments, or living in cracks and crevices in bedrock. A few construct tubes in...




Family Acoetidae
Family Alciopidae
Family Aphroditidae
Family Chrysopetalidae
Family Eulepethidae
Family Glyceridae

Glyceridae

Glyceridae is a family of polychaete worms. They are commonly referred to as beak-thrower worms or bloodworms. They are bright red, segmented, aquatic worms. The proboscis worm Glycera is sometimes called bloodworm. The Glyceridae are ferocious epi- and infaunal polychaetes that prey upon small...



Family Goniadidae
Family Hesionidae

Hesionidae

Hesionidae are a family of phyllodocid "bristle worms" . They are marine organisms. Most are found on the continental shelf; Hesiocaeca methanicola is found on methane ice, where it feeds on bacterial biofilms.A characteristic apomorphy of the Hesionidae are the cirrophores of the anterior...



Family Ichthyotomidae
Family Iospilidae
Family Lacydoniidae
Family Lopadorhynchidae
Family Myzostomatidae
Family Nautillienellidae
Family Nephtyidae

Nephtyidae

Nephtyidae is a taxonomic family of worms. They are commonly referred to as catworms.-Characteristics:Nephtyidae are pale, clearly segmented polychaetes with a small pentagonal prostomium with two pairs of small antennae...



Family Nereididae

Nereididae

Nereididae are a family of polychaete worms. It contains about 500 – mostly marine – species grouped into 42 genera. They may be commonly called ragworms or clam worms.-Characteristics:...



Family Paralacydoniidae
Family Pholoidae
Family Phyllodocidae
Family Pilargidae
Family Pisionidae
Family Polynoidae

Polynoidae

A family of scaled Polychaete worms known as the "scale worms". Short and flat, specimens reach as much as 20 cm in length and 10 cm width. An almost-constant number of small segments is the norm. They are covered by scales, technically termed elytra....



Family Pontodoridae
Family Sigalionidae
Family Sphaeodoridae
Family Syllidae
Family Typhloscolecidae
Family Tomopteridae

Order Canalipalpata

Canalipalpata

Canalipalpata, also known as bristle-footed annelids or fan-head worms, is an order of polychaete worms, with 31 families in it including the Sabellida and the Alvinellidae, a family of deep-sea worms associated with hydrothermal vents.The Canalipalpata have no teeth or jaws. Most are filter feeders...




Basal or incertae sedis

Incertae sedis

, is a term used to define a taxonomic group where its broader relationships are unknown or undefined. Uncertainty at specific taxonomic levels is attributed by , , and similar terms.-Examples:*The fossil plant Paradinandra suecica could not be assigned to any...




Family Polygordiidae
Family Protodrilidae
Family Protodriloididae
Family Saccocirridae

Saccocirridae

The Saccocirridae are small interstitial polychaetes common in coarse sand, reflective, surf beaches, usually within the zone of retention. The Saccociridae are members of the clade Protodrilida, which is in turn part of the clade Canalipalpata. Saccocirridae have a world wide distribution and it...




Suborder Sabellida

Sabellida

Sabellida is a suborder of annelid worms in the class Polychaeta. They are filter feeders with no buccal organ. The prostomium is fused with the peristomium and bears a ring of feathery feeding tentacles...




Family Oweniidae

Oweniidae

Oweniidae is a family of marine polychaete worms in the suborder Sabellida. The worms live in tubes made of sand and are selective filter feeders, detrivores and grazers.-Characteristics:...



Family Siboglinidae

Siboglinidae

Siboglinidae, also known as the beard worms, is a family of polychaete annelid worms whose members made up the former phyla Pogonophora and Vestimentifera. They are composed of about 100 species of vermiform creatures and live in thin tubes buried in sediments at ocean depths from 100 to 10,000 m...


(formerly the phyla Pogonophora & Vestimentifera)
Family Serpulidae

Serpulidae

Serpulidae is a family of sessile, tube-building annelid worms in the class Polychaeta. The members of this family differ from the sabellid tube worms in that they have a specialized operculum that blocks the entrance of their tubes when they withdraw into the tubes. In addition, serpulids secrete...



Family Sabellidae

Sabellidae

Sabellidae are sedentary marine polychaete tube worms where the head is mostly concealed by feathery branchiae. They build tubes out of parchment, sand, and bits of shell...



Family Sabellariidae

Sabellariidae

Sabellariidae is a family of marine polychaete worms in the suborder Sabellida. The worms live in tubes made of sand and are filter feeders and detrivores.-Characteristics:...



Family Spirorbidae

Suborder Spionida

Spionida

Spionida is a suborder of marine polychaete worms in the order Canalipalpata. Spionids are cosmopolitan and live in soft substrates in the littoral or neritic zones.-Characteristics:...




Family Apistobranchidae
Family Chaetopteridae
Family Longosomatidae
Family Magelonidae
Family Poecilochaetidae
Family Spionidae

Spionidae

Spionidae is a family within the Polychaeta. Spionids are selective deposit feeders that use their two grooved palps to locate prey but some spionids are capable of interface feeding i.e. switching between deposit and suspension feeding. Spionids produce tubes by cementing sand grains and detritus...



Family Trochochaetidae
Family Uncispionidae

Suborder Terebellida

Terebellida

Terebellida make up a suborder of the Polychaeta class, commonly referred to as "bristle worms". Together with the Sabellida, the Spionida and some enigmatic families of unclear taxonomic relationship , they make up the order Canalipalpata, one of the three main clades of polychaetes...




Family Acrocirridae

Acrocirridae

Acrocirridae is a family of polychaete worms. Acrocirrids are detritivores , catching falling particles with numerous long prostomial tentacles. There are eight known genera, and at least 21 described species and subspecies within the Acrocirridae family...


(sometimes placed in Spionida)
Family Alvinellidae

Alvinellidae

The Alvinellidae are a family of small, deep-sea polychaete worms endemic to hydrothermal vents in the Pacific Ocean. Belonging to the order Terebellida, the family contains two genera, Alvinella and Paralvinella; the former genus contains two valid species and the latter eight...



Family Ampharetidae

Ampharetidae

Ampharetidae are a family of terebellid "bristle worm" . As such, they belong to the order Canalipalpata, one of the three main clades of polychaetes. They appear to be most closely related to the peculiar alvinellids which inhabit the deep sea, and somewhat less closely to the well-known trumpet...



Family Cirratulidae

Cirratulidae

Cirratulidae is a family of marine polychaete worms. Members of the family are found worldwide, mostly living in mud or rock crevices. Most are deposit feeders, but some graze on algae or are suspension feeders.-Description:...


(sometimes placed in Spionida)
Family Ctenodrilidae (sometimes own suborder Ctenodrilida)
Family Fauveliopsidae (sometimes own suborder Fauveliopsida)
Family Flabelligeridae (sometimes suborder Flabelligerida)
Family Flotidae (sometimes included in Flabelligeridae)
Family Pectinariidae

Pectinariidae

Pectinariidae, or the trumpet worms or ice cream cone worms, are a family of marine polychaete worms that build sand tubes roughly resembling ice cream cones up to two inches long.-Genera:...



Family Poeobiidae (sometimes own suborder Poeobiida or included in Flabelligerida)
Family Sternaspidae (sometimes own suborder Sternaspida)
Family Terebellidae

Terebellidae

Terebellidae is a family of polychaete worms. They are surface deposit feeders, catching falling particles with numerous elongate prostomial tentacles splayed out on the sea floor. These tentacles, which are the most or only normally visible portion of the animal and are reminiscent of spaghetti,...



Family Trichobranchidae

Subclass Scolecida

Scolecida

Scolecida is a subclass of polychaete worm. Scolecids are mostly unselective deposit feeders on marine detritus.-Characteristics:Scolecids have parapodia with rami that are all alike....




Family Aeolosomatidae
Family Arenicolidae

Arenicolidae

Arenicolidae is a family of marine polychaete worms. They are commonly known as lugworms and the little coils of sand they produce are commonly seen on the beach. Arenicolids are found worldwide, mostly living in burrows in sandy substrates...



Family Capitellidae
Family Cossunidae
Family Maldanidae
Family Opheliidae

Opheliidae

Ophelliidae is a family of small, annelid worms. It contains the following genera:*Ammotrypanella*Antiobactrum*Armandia*Dindymenides*Euzonus*Kesun*Lobochesis*Ophelia*Ophelina*Polyophthalmus*Pygophelia...



Family Orbiniidae

Orbiniidae

Orbiniidae is a family of polychaete worms. Orbiniids are mostly unselective deposit feeders on marine detritus. They can be found from the neritic zone to abyssal depths....



Family Paraonidae
Family Parergodrilidae
Family Potamodrilidae
Family Psammodrilidae
Family Questidae
Family Scalibregmatidae
External links