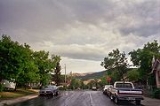 Residential area
A
residential area
is a
land use
Land use
Land use is the human use of land. Land use involves the management and modification of natural environment or wilderness into built environment such as fields, pastures, and settlements. It has also been defined as "the arrangements, activities and inputs people undertake in a certain land cover...
in which housing predominates, as opposed to
industrial
Industrial park
An industrial park is an area zoned and planned for the purpose of industrial development...
and commercial areas.
Housing may vary significantly between, and through, residential areas. These include single family housing,
multi-family residential
Multi-family residential
Multi-family residential is a classification of housing where multiple separate housing units for residential inhabitants are contained within one building or several buildings within one complex. A common form is an apartment building...
, or
mobile home
Mobile home
Mobile homes or static caravans are prefabricated homes built in factories, rather than on site, and then taken to the place where they will be occupied...
s.
Zoning
Zoning
Zoning is a device of land use planning used by local governments in most developed countries. The word is derived from the practice of designating permitted uses of land based on mapped zones which separate one set of land uses from another...
for residential use may permit some services or work opportunities or may totally exclude business and industry. It may permit
high density land use
Urban density
Urban density is a term used in urban planning and urban design to refer to the number of people inhabiting a given urbanized area. As such it is to be distinguished from other measures of population density. Urban density is considered an important factor in understanding how cities function...
or only permit low density uses.