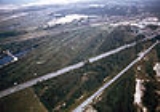 Land use

Land use' is also often used to refer to the distinct land use types in zoning

Zoning

Zoning is a device of land use planning used by local governments in most developed countries. The word is derived from the practice of designating permitted uses of land based on mapped zones which separate one set of land uses from another...


.
Land use is the human use of land. Land use involves the management and modification of
natural environment
Natural environment
The natural environment encompasses all living and non-living things occurring naturally on Earth or some region thereof. It is an environment that encompasses the interaction of all living species....
or
wilderness
Wilderness
Wilderness or wildland is a natural environment on Earth that has not been significantly modified by human activity. It may also be defined as: "The most intact, undisturbed wild natural areas left on our planet—those last truly wild places that humans do not control and have not developed with...
into
built environment
Built environment
The term built environment refers to the human-made surroundings that provide the setting for human activity, ranging in scale from personal shelter and buildings to neighborhoods and cities that can often include their supporting infrastructure, such as water supply or energy networks.The built...
such as fields, pastures, and settlements. It has also been defined as "the arrangements, activities and inputs people undertake in a certain land cover type to produce, change or maintain it" (
FAO
Fão
Fão is a town in Esposende Municipality in Portugal....
, 1997a; FAO/UNEP, 1999).
Land use and regulation
Land use practices vary considerably across the world. The
United Nations
United Nations
The United Nations is an international organization whose stated aims are facilitating cooperation in international law, international security, economic development, social progress, human rights, and achievement of world peace...
'
Food and Agriculture Organization
Food and Agriculture Organization
The Food and Agriculture Organization of the United Nations is a specialised agency of the United Nations that leads international efforts to defeat hunger. Serving both developed and developing countries, FAO acts as a neutral forum where all nations meet as equals to negotiate agreements and...
Water Development Division explains that "Land use concerns the products and/or benefits obtained from use of the land as well as the land management actions (activities) carried out by humans to produce those products and benefits." As of the early 1990s, about 13% of the
Earth
Earth
Earth is the third planet from the Sun, and the densest and fifth-largest of the eight planets in the Solar System. It is also the largest of the Solar System's four terrestrial planets...
was considered arable land, with 26% in pasture, 32% forests and woodland, and 1.5% urban areas.
As Albert Guttenberg (1959) wrote many years ago, "'Land use' is a key term in the language of city planning." Commonly, political
jurisdiction
Jurisdiction
Jurisdiction is the practical authority granted to a formally constituted legal body or to a political leader to deal with and make pronouncements on legal matters and, by implication, to administer justice within a defined area of responsibility...
s will undertake
land use planning
Land use planning
Land-use planning is the term used for a branch of public policy encompassing various disciplines which seek to order and regulate land use in an efficient and ethical way, thus preventing land-use conflicts. Governments use land-use planning to manage the development of land within their...
and regulate the use of land in an attempt to avoid land use conflicts. Land use plans are implemented through land division and use ordinances and regulations, such as zoning regulations.
Management consulting
Management consulting
Management consulting indicates both the industry and practice of helping organizations improve their performance primarily through the analysis of existing organizational problems and development of plans for improvement....
firms and [Non-governmental organizations]] will frequently seek to influence these regulations before they are codified.
Land use and the environment
Land use and
land management
Land management
Land management is the process of managing the use and development of land resources. Land resources are used for a variety of purposes which may include organic agriculture, reforestation, water resource management and eco-tourism projects.-See also:*Sustainable land management*Acreage...
practices have a major impact on
natural resources
Natural Resources
Natural Resources is a soul album released by Motown girl group Martha Reeves and the Vandellas in 1970 on the Gordy label. The album is significant for the Vietnam War ballad "I Should Be Proud" and the slow jam, "Love Guess Who"...
including
water
Water
Water is a chemical substance with the chemical formula H2O. A water molecule contains one oxygen and two hydrogen atoms connected by covalent bonds. Water is a liquid at ambient conditions, but it often co-exists on Earth with its solid state, ice, and gaseous state . Water also exists in a...
,
soil
Soil
Soil is a natural body consisting of layers of mineral constituents of variable thicknesses, which differ from the parent materials in their morphological, physical, chemical, and mineralogical characteristics...
,
nutrient
Nutrient
A nutrient is a chemical that an organism needs to live and grow or a substance used in an organism's metabolism which must be taken in from its environment. They are used to build and repair tissues, regulate body processes and are converted to and used as energy...
s,
plant
Plant
Plants are living organisms belonging to the kingdom Plantae. Precise definitions of the kingdom vary, but as the term is used here, plants include familiar organisms such as trees, flowers, herbs, bushes, grasses, vines, ferns, mosses, and green algae. The group is also called green plants or...
s and
animal
Animal
Animals are a major group of multicellular, eukaryotic organisms of the kingdom Animalia or Metazoa. Their body plan eventually becomes fixed as they develop, although some undergo a process of metamorphosis later on in their life. Most animals are motile, meaning they can move spontaneously and...
s. Land use information can be used to develop solutions for natural resource management issues such as salinity and
water quality
Water quality
Water quality is the physical, chemical and biological characteristics of water. It is a measure of the condition of water relative to the requirements of one or more biotic species and or to any human need or purpose. It is most frequently used by reference to a set of standards against which...
. For instance, water bodies in a region that has been deforested or having erosion will have different water quality than those in areas that are
forest
Forest
A forest, also referred to as a wood or the woods, is an area with a high density of trees. As with cities, depending where you are in the world, what is considered a forest may vary significantly in size and have various classification according to how and what of the forest is composed...
ed.
The major effect of land use on
land cover
Land Cover
Land cover is the physical material at the surface of the earth. Land covers include grass, asphalt, trees, bare ground, water, etc. There are two primary methods for capturing information on land cover: field survey and analysis of remotely sensed imagery....
since 1750 has been
deforestation
Deforestation
Deforestation is the removal of a forest or stand of trees where the land is thereafter converted to a nonforest use. Examples of deforestation include conversion of forestland to farms, ranches, or urban use....
of temperate regions. More recent significant effects of land use include
urban sprawl
Urban sprawl
Urban sprawl, also known as suburban sprawl, is a multifaceted concept, which includes the spreading outwards of a city and its suburbs to its outskirts to low-density and auto-dependent development on rural land, high segregation of uses Urban sprawl, also known as suburban sprawl, is a...
, soil erosion, soil degradation, salinization, and
desertification
Desertification
Desertification is the degradation of land in drylands. Caused by a variety of factors, such as climate change and human activities, desertification is one of the most significant global environmental problems.-Definitions:...
. Land-use change, together with use of
fossil fuel
Fossil fuel
Fossil fuels are fuels formed by natural processes such as anaerobic decomposition of buried dead organisms. The age of the organisms and their resulting fossil fuels is typically millions of years, and sometimes exceeds 650 million years...
s, are the major
anthropogenic
Anthropogenic
Human impact on the environment or anthropogenic impact on the environment includes impacts on biophysical environments, biodiversity and other resources. The term anthropogenic designates an effect or object resulting from human activity. The term was first used in the technical sense by Russian...
sources of carbon dioxide, a dominant
greenhouse gas
Greenhouse gas
A greenhouse gas is a gas in an atmosphere that absorbs and emits radiation within the thermal infrared range. This process is the fundamental cause of the greenhouse effect. The primary greenhouse gases in the Earth's atmosphere are water vapor, carbon dioxide, methane, nitrous oxide, and ozone...
.
According to a report by the
United Nations
United Nations
The United Nations is an international organization whose stated aims are facilitating cooperation in international law, international security, economic development, social progress, human rights, and achievement of world peace...
' Food and Agriculture Organisation, land degradation has been exacerbated where there has been an absence of any land use planning, or of its orderly execution, or the existence of financial or legal incentives that have led to the wrong land use decisions, or one-sided central planning leading to over-utilization of the land resources - for instance for immediate production at all costs. As a consequence the result has often been misery for large segments of the local population and destruction of valuable
ecosystem
Ecosystem
An ecosystem is a biological environment consisting of all the organisms living in a particular area, as well as all the nonliving , physical components of the environment with which the organisms interact, such as air, soil, water and sunlight....
s. Such narrow approaches should be replaced by a technique for the planning and management of land resources that is integrated and holistic and where land users are central. This will ensure the long-term quality of the land for human use, the prevention or resolution of social conflicts related to land use, and the conservation of ecosystems of high
biodiversity
Biodiversity
Biodiversity is the degree of variation of life forms within a given ecosystem, biome, or an entire planet. Biodiversity is a measure of the health of ecosystems. Biodiversity is in part a function of climate. In terrestrial habitats, tropical regions are typically rich whereas polar regions...
value.
Urban growth boundaries
The
urban growth boundary
Urban growth boundary
An urban growth boundary, or UGB, is a regional boundary, set in an attempt to control urban sprawl by mandating that the area inside the boundary be used for higher density urban development and the area outside be used for lower density development.An urban growth boundary circumscribes an...
is one form of land-use regulation. For example, Portland, Oregon is required to have an urban growth boundary which contains at least 20000 acres (80.9 km²) of vacant land. Additionally, Oregon restricts the development of farmland. The regulations are controversial, but an economic analysis concluded that farmland appreciated similarly to the other land.
See also
External links
Guttenberg, Albert Z. 1959. 'A Multiple Land Use Classification System', Journal of the American Planning Association

American Planning Association

The American Planning Association is a professional organization representing the field of city and regional planning in the United States. The APA was formed in 1978 when two separate professional planning organizations, the American Institute of Planners and the American Society of Planning...


, 25: 3, 143 — 150
Land Use Law by Prof. Daniel R. Mandelker

Daniel R. Mandelker

Daniel R. Mandelker is the Howard A. Stamper Professor of Law at the Washington University in St. Louis School of Law. His scholarship has become heavily cited in the fields of land use law, state and local government law and environmental law....


(Washington University in St. Louis School of Law)
Land Use Accountability Project The Center for Public Integrity
Schindler's Land Use Page (Michigan State University

Michigan State University

Michigan State University is a public research university in East Lansing, Michigan, USA. Founded in 1855, it was the pioneer land-grant institution and served as a model for future land-grant colleges in the United States under the 1862 Morrill Act.MSU pioneered the studies of packaging,...


Extension Land Use Team)
Powell, W. Gabe. 2009. Identifying Land Use/Land Cover (LULC) Using National Agriculture Imagery Program

National Agriculture Imagery Program

The National Agriculture Imagery Program acquires aerial imagery during the agricultural growing seasons in the continental United States...


(NAIP) Data as a Hydrologic Model Input for Local Flood Plain Management. Applied Research Project. Texas State University–San Marcos

Texas State University–San Marcos

Texas State University–San Marcos is a doctoral-granting university located in San Marcos, Texas...


. http://ecommons.txstate.edu/arp/296/