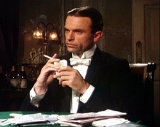 Reilly, Ace of Spies
Reilly, Ace of Spies
is a 1983 television
miniseries
Miniseries
A miniseries , in a serial storytelling medium, is a television show production which tells a story in a limited number of episodes. The exact number is open to interpretation; however, they are usually limited to fewer than a whole season. The term "miniseries" is generally a North American term...
dramatizing the life of
Sidney Reilly
Sidney Reilly
Lieutenant Sidney George Reilly, MC , famously known as the Ace of Spies, was a Jewish Russian-born adventurer and secret agent employed by Scotland Yard, the British Secret Service Bureau and later the Secret Intelligence Service . He is alleged to have spied for at least four nations...
, a Russian Jew who became one of the greatest spies to ever work for the British. Among his exploits in the early 20th century were the infiltration of the German General Staff in 1917 and a near-overthrow of the Bolsheviks in 1918. His reputation with women was as legendary as his genius for espionage.
The miniseries is written by
Troy Kennedy Martin
Troy Kennedy Martin
Troy Kennedy Martin was a Scottish-born film and television screenwriter best known for creating the long running BBC TV police series Z-Cars, and for the award-winning 1985 anti-nuclear drama Edge of Darkness...
, and based on the 1967 book
Ace of Spies
by
Robin Bruce Lockhart
Robin Bruce Lockhart
Robin Bruce Lockhart was a British author.The son of the British spy R. H. Bruce Lockhart, he wrote the 1967 book Ace of Spies about the super-spy Sidney Reilly, which was made into a 1983 television miniseries Reilly: Ace of Spies, starring Sam Neill...
.
Sam Neill
Sam Neill
Nigel John Dermot "Sam" Neill, DCNZM, OBE is a New Zealand actor. He is well known for his starring role as paleontologist Dr Alan Grant in Jurassic Park and Jurassic Park III....
stars as Sidney Reilly. The theme music is the Romance movement from
Dmitri Shostakovich
Dmitri Shostakovich
Dmitri Dmitriyevich Shostakovich was a Soviet Russian composer and one of the most celebrated composers of the 20th century....
's
The Gadfly Suite
The Gadfly Suite
The Gadfly Suite, Op. 97a, is a suite for orchestra arranged from the composition by Dmitri Shostakovich for the 1955 Soviet film The Gadfly, based on the novel of the same name by Ethel Lilian Voynich .The Suite known as Op...
.
The miniseries was issued on DVD by A&E Home Video on 22 February 2005. Starting on 8 December 2008 the series was shown on digital channel
UKTV History
UKTV History
Yesterday is a television channel broadcasting in the United Kingdom as part of the UKTV network of channels. The channel originally launched on 30 October 2002 and relaunched in its current format on 2 March 2009. The channel is available on satellite through Sky, cable services primarily through...
in the UK.
There are twelve episodes, each approximately 50 minutes in length (the first episode is near 80 minutes).
Episodes
Episode #
Title
Original Airdate
Setting
1
An Affair with a Married Woman

An Affair with a Married Woman

"An Affair with a Married Woman" is the first episode of the 1983 British biographical television series Reilly, Ace of Spies. In 1901 Sigmund Rosenblum emigrates from Russia to England, where he has an affair with a vicar's wife and changes his name to Sidney Reilly.-Plot:British agent Sigmund...



5 September 1983
1901
2
Prelude to War
7 September 1983
1904
3
The Visiting Fireman
14 September 1983
1905
4
Anna
21 September 1983
1906
5
Dreadnoughts and Crosses
28 September 1983
1910
6
Dreadnoughts and Doublecrosses
5 October 1983
1910
7
Gambit
12 October 1983
1917
8
Endgame
19 October 1983
1918
9
After Moscow
26 October 1983
1918
10
The Trust
2 November 1983
1924
11
The Last Journey
9 November 1983
1925
12
Shutdown
16 November 1983
1925
Cast
Sam Neill

Sam Neill

Nigel John Dermot "Sam" Neill, DCNZM, OBE is a New Zealand actor. He is well known for his starring role as paleontologist Dr Alan Grant in Jurassic Park and Jurassic Park III....


as Sidney Reilly

Sidney Reilly

Lieutenant Sidney George Reilly, MC , famously known as the Ace of Spies, was a Jewish Russian-born adventurer and secret agent employed by Scotland Yard, the British Secret Service Bureau and later the Secret Intelligence Service . He is alleged to have spied for at least four nations...



Peter Egan

Peter Egan

Peter Egan is a British actor known for playing smooth neighbour Paul Ryman in 1980s sitcom Ever Decreasing Circles. He is married to retired actress Myra Frances.-Early life:...


as Major

Major

Major is a rank of commissioned officer, with corresponding ranks existing in almost every military in the world.When used unhyphenated, in conjunction with no other indicator of rank, the term refers to the rank just senior to that of an Army captain and just below the rank of lieutenant colonel. ...


Charles Fothergill
Ian Charleson

Ian Charleson

Ian Charleson was a Scottish stage and film actor. He is best known internationally for his starring role as Olympic athlete and missionary Eric Liddell, in the Oscar-winning 1981 film Chariots of Fire. He is also well known for his portrayal of Rev...


as R. H. Bruce Lockhart

R. H. Bruce Lockhart

Sir Robert Hamilton Bruce Lockhart KCMG , was a journalist, author, secret agent, British diplomat in Moscow and Prague, and footballer...


(note: R. H. Bruce Lockhart was the father of the author of the book the miniseries is based on)
Norman Rodway

Norman Rodway

-Early life:Rodway was born in Dublin to English parents, Frank and Lillian Rodway. He studied classics, graduating at Trinity College. He worked as an accountant, teacher, and university lecturer before acting.-Career:...


as Captain

Captain (naval)

Captain is the name most often given in English-speaking navies to the rank corresponding to command of the largest ships. The NATO rank code is OF-5, equivalent to an army full colonel....


Mansfield Smith-Cumming

Mansfield Smith-Cumming

Captain Sir George Mansfield Smith-Cumming, KCMG, CB was the first director of what would become the Secret Intelligence Service , also known as MI6...



Tom Bell

Tom Bell (actor)

Tom Bell was an English actor on stage, film and television. He was dark-haired, lean, and in his later years often played characters having a sinister side to their nature.-Biography:...


as Felix Dzerzhinsky
David Burke as Joseph Stalin

Joseph Stalin

Joseph Vissarionovich Stalin was the Premier of the Soviet Union from 6 May 1941 to 5 March 1953. He was among the Bolshevik revolutionaries who brought about the October Revolution and had held the position of first General Secretary of the Communist Party of the Soviet Union's Central Committee...



Kenneth Cranham

Kenneth Cranham

Kenneth Cranham is a film, television and stage actor. He starred in the title role in the popular 1980s comedy drama Shine on Harvey Moon. He also appeared in Layer Cake, Gangster No. 1, Rome, Oliver! and many other films. He is probably best known to horror genre fans as the deranged Dr...


as Vladimir Lenin

Vladimir Lenin

Vladimir Ilyich Lenin was a Russian Marxist revolutionary and communist politician who led the October Revolution of 1917. As leader of the Bolsheviks, he headed the Soviet state during its initial years , as it fought to establish control of Russia in the Russian Civil War and worked to create a...



Leo McKern

Leo McKern

Reginald "Leo" McKern, AO was an Australian-born British actor who appeared in numerous British and Australian television programmes and movies, and more than 200 stage roles.-Early life:...


as Basil Zaharoff

Basil Zaharoff

Basil Zaharoff, GCB, GBE , born Zacharias Basileios Zacharoff, was an arms dealer and financier...



Jeananne Crowley

Jeananne Crowley

Jeananne Crowley is an Irish actress and writer, remembered for her collaborations in British film and television. She appeared in the film Educating Rita and is possibly best known for her role as Nellie Keene in the BBC drama series Tenko.-Screen:Recently, Crowley has appeared in The Clinic and...


as Margaret Callaghan Reilly (wife number one)
Donald Morley as Stanley Baldwin

Stanley Baldwin

Stanley Baldwin, 1st Earl Baldwin of Bewdley, KG, PC was a British Conservative politician, who dominated the government in his country between the two world wars...



John Castle

John Castle

John Castle is an English actor. Castle has acted in theatre, film and television. He is well known for his role as Postumus in the 1976 BBC television adaptation of I, Claudius and for playing Geoffrey in the 1968 film, The Lion in Winter. He also played Dr...


as Count Massino
Celia Gregory

Celia Gregory

Celia Christine Gregory was a British stage, film and television actress, who became a faith healer later in life....


as Nadina "Nadia" Massino (wife number two)
Brian Protheroe

Brian Protheroe

Brian Protheroe , of a Welsh father and English mother, is a musician and actor.-Career:Protheroe joined a local church choir when he was twelve years old, and started piano lessons at about the same time. The music of Cliff Richard and The Shadows inspired him to start learning the guitar...


as Shasha Grammaticoff
Joanne Whalley

Joanne Whalley

-Early life:Whalley was born in Salford but brought up in Stockport where she studied at the Braeside School of Speech and Drama, Marple.Whalley first appeared as a child in How We Used To Live and bit parts in soap operas, especially Coronation Street and Emmerdale...


as Ulla Glass
Clive Merrison

Clive Merrison

Clive Merrison is a Welsh actor of film, television, stage and radio. He trained at Rose Bruford College.- Television :...


as Boris Savinkov

Boris Savinkov

Boris Viktorovich Savinkov was a Russian writer and revolutionary terrorist...



Laura Davenport as Nelly "Pepita" Burton (wife number three)
Michael Aldridge

Michael Aldridge

Michael William ffolliott Aldridge was an English actor. While it was his role as Seymour in the television series Last of the Summer Wine which made him widely recognised, his long career as a successful character actor on stage and screen dated back to the 1930s.-Early life:The son of Dr...


as Orlov
Victoria Harwood

Victoria Harwood

Victoria Harwood is a California-based voice actress and singer who primarily works on the properties of Geneon Entertainment and more specifically New Generation Pictures....


as Natalia
Anthony Higgins

Anthony Higgins (actor)

Anthony Higgins is an English actor.-Career:Higgins started to play in school theatre in England. After graduation, he studied at the school of the Birmingham Repertory Theatre Company. In 1967 he became a professional stage actor. He received positive reviews for his Romeo in William...


as Mikhail Trilisser

Mikhail Trilisser

Mikhail Abramovich Trilisser-Moskvin was a Soviet OGPU chief of the Foreign Department of the Cheka and the OGPU. Later, he worked for the NKVD as a covert bureau chief and Comintern leader.-Career:...



John Rhys-Davies

John Rhys-Davies

John Rhys-Davies is a Welsh actor and voice actor. He is perhaps best known for playing the charismatic Arab excavator Sallah in the Indiana Jones films and the dwarf Gimli in The Lord of the Rings trilogy...


as Tanyatos
Sebastian Shaw

Sebastian Shaw (actor)

Sebastian Lewis Shaw was an English actor, director, novelist, playwright and poet. During his 65-year career, Shaw appeared in dozens of stage performances and more than 40 film and television productions....


as Reverend Thomas
Bill Nighy

Bill Nighy

William Francis "Bill" Nighy is an English actor and comedian. He worked in theatre and television before his first cinema role in 1981, and made his name in television with The Men's Room in 1991, in which he played the womanizer Prof...


as Goschen
David Ryall

David Ryall

David Ryall is an English actor who has appeared on British television since the 1970s. He has had leading roles in Lytton's Diary and Goodnight Sweetheart, as well as memorable roles in Dennis Potter's The Singing Detective and Andrew Davies's adaptation of To Play the King and The Final Cut, the...


as Herr Glass
David Suchet

David Suchet

David Suchet, CBE, is an English actor, known for his work on British television. He is recognised for his RTS- and BPG award-winning performance as Augustus Melmotte in the 2001 British TV mini-drama The Way We Live Now, alongside Matthew Macfadyen and Paloma Baeza, and a 1991 British Academy...


as Inspector Tsientsin
Alex McCrindle

Alex McCrindle

Alex McCrindle was a British actor. He is best known for his role as General Jan Dodonna in Star Wars.-Biography:...


as Captain MacDougal
Alfred Molina

Alfred Molina

Alfred Molina is a British-born American actor. He first came to public attention in the UK for his supporting role in the 1987 film Prick Up Your Ears...


as Blumkin
Lindsay Duncan

Lindsay Duncan

Lindsay Vere Duncan, CBE is a Scottish stage, television and film actress. On stage she won two Olivier Awards and a Tony Award for her performance in Les Liaisons dangereuses and Private Lives , and she starred in several plays by Harold Pinter. Her most famous roles on television include:...


as The Plugger
Hugh Fraser

Hugh Fraser (actor)

Hugh Fraser is an English actor and theatre director.-Early life:Born in London but raised in the East Midlands, Fraser studied acting at the Webber Douglas Academy of Dramatic Art and the London Academy of Music and Dramatic Art...


as Hill
External links