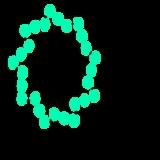 Centriole
A
Centriole
is a barrel-shaped
cell structure
Cell structure
Cell structure may refer to:* An organelle, or the layout of organelles of the biological cell itself* The structure of a covert cell, often involved in underground resistance, organised crime, terrorism or any group requiring stealth in its operations...
found in most animal eukaryotic
cell
Cell (biology)
The cell is the basic structural and functional unit of all known living organisms. It is the smallest unit of life that is classified as a living thing, and is often called the building block of life. The Alberts text discusses how the "cellular building blocks" move to shape developing embryos....
s, though it is absent in higher plants and most fungi. The walls of each centriole are usually composed of nine triplets of
microtubule
Microtubule
Microtubules are a component of the cytoskeleton. These rope-like polymers of tubulin can grow as long as 25 micrometers and are highly dynamic. The outer diameter of microtubule is about 25 nm. Microtubules are important for maintaining cell structure, providing platforms for intracellular...
s (protein of the cytoskeleton). Deviations from this structure include
Drosophila melanogaster
Drosophila melanogaster
Drosophila melanogaster is a species of Diptera, or the order of flies, in the family Drosophilidae. The species is known generally as the common fruit fly or vinegar fly. Starting from Charles W...
embryos, with nine doublets, and
Caenorhabditis elegans
Caenorhabditis elegans
Caenorhabditis elegans is a free-living, transparent nematode , about 1 mm in length, which lives in temperate soil environments. Research into the molecular and developmental biology of C. elegans was begun in 1974 by Sydney Brenner and it has since been used extensively as a model...
sperm
Sperm
The term sperm is derived from the Greek word sperma and refers to the male reproductive cells. In the types of sexual reproduction known as anisogamy and oogamy, there is a marked difference in the size of the gametes with the smaller one being termed the "male" or sperm cell...
cells and early embryos, with nine singlets; . Crabs may also exhibit nine doublets, (see picture).