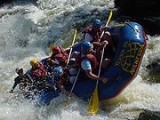 Rafting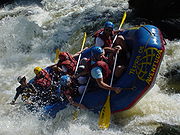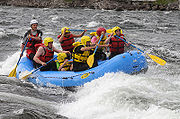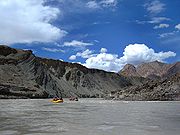 Rafting
or
white water rafting
is a challenging recreational outdoor activity using an inflatable
raft
Raft
A raft is any flat structure for support or transportation over water. It is the most basic of boat design, characterized by the absence of a hull...
to navigate a
river
River
A river is a natural watercourse, usually freshwater, flowing towards an ocean, a lake, a sea, or another river. In a few cases, a river simply flows into the ground or dries up completely before reaching another body of water. Small rivers may also be called by several other names, including...
or other bodies of water. This is usually done on white water or different degrees of rough water, in order to thrill and excite the raft passengers. The development of this activity as a leisure sport has become popular since the mid-1970s. It is considered an
extreme sport
Extreme sport
An extreme sport is a popular term for certain activities perceived as having a high level of inherent danger...
, as it can be dangerous.
White water rafts
The modern raft is an
inflatable boat
Inflatable boat
An inflatable boat is a lightweight boat constructed with its sides and bow made of flexible tubes containing pressurised gas. For smaller boats, the floor and hull beneath it is often flexible. On boats longer than , the floor often consists of three to five rigid plywood or aluminium sheets fixed...
, consisting of very durable, multi-layered rubberized (hypalon) or vinyl fabrics (PVC) with several independent air chambers. The length varies between 3.5 m (11 ft) and 6 m (20 ft), the width between 1.8 m (6 ft) and 2.5 m (8 ft). The exception to this size rule is usually the
packraft
Packraft
Packraft and trail boat are colloquial terms for a small, portable inflatable boat designed for use in all bodies of water, including technical whitewater and ocean bays and fjords. A packraft is designed to be light enough to be carried for extended distances...
, which is designed as a portable single-person raft and may be as small as 1.5 metres (4.9 ft) long and weigh as little as 4 pounds (1.8 kg).
Rafts come in a few different forms. In Europe and Australasia, the most common is the symmetrical raft steered with a paddle at the stern. Other types are the asymmetrical, rudder-controlled raft and the symmetrical raft with central helm (
oar
Oar
An oar is an implement used for water-borne propulsion. Oars have a flat blade at one end. Oarsmen grasp the oar at the other end. The difference between oars and paddles are that paddles are held by the paddler, and are not connected with the vessel. Oars generally are connected to the vessel by...
s) or Stern Mounts with the oar frame located at the rear of the raft.
Rafts are usually propelled with ordinary
paddle
Paddle
A paddle is a tool used for pushing against liquids, either as a form of propulsion in a boat or as an implement for mixing.-Materials and designs:...
s and or oars and typically hold 4 to 12 persons. In Russia, rafts are often hand made and are often a catamaran style with two inflatable tubes attached to a frame. Pairs of paddlers navigate on these rafts.
Catamaran
Catamaran
A catamaran is a type of multihulled boat or ship consisting of two hulls, or vakas, joined by some structure, the most basic being a frame, formed of akas...
style rafts have become popular in the western United States as well, but are typically rowed instead of paddled.
Grades of white water
Below are the six grades of difficulty in white water rafting. They range from simple to very dangerous and potential death or serious injuries.
Grade 1:
Very small rough areas, might require slight maneuvering. (Skill Level: Very Basic)
Grade 2:
Some rough water, maybe some rocks, might require some maneuvering. (Skill level: basic paddling skill)
Grade 3:
Whitewater, small waves, maybe a small drop, but no considerable danger. May require significant maneuvering. (Skill level: experienced paddling skills)
Grade 4:
Whitewater, medium waves, maybe rocks, maybe a considerable drop, sharp maneuvers may be needed. (Skill level: whitewater experience)
Grade 5:
Whitewater, large waves, large volume, possibility of large rocks and hazards, possibility of a large drop, requires precise maneuvering. (Skill level: advanced whitewater experience)
Grade 6:
Class 6 rapids are considered to be so dangerous as to be effectively unnavigable on a reliably safe basis. Rafters can expect to encounter substantial whitewater, huge waves, huge rocks and hazards, and/or substantial drops that will impart severe impacts beyond the structural capacities and impact ratings of almost all rafting equipment. Traversing a Class 6 rapid has a dramatically increased likelihood of ending in serious injury or death compared to lesser classes. (Skill level: successful completion of a Class 6 rapid without serious injury or death is widely considered to be a matter of great luck or extreme skill)
Techniques
Rafts in white water are very different vehicles than canoes or kayaks and have their own specific techniques to maneuver through whitewater obstacles.
Punching – Rafts carry great momentum, and on rivers hydraulics that are dodged by canoes and kayaks are often punched by rafts. This involves the rafting crew paddling the raft to give it enough speed to push through the hydraulic without getting stopped.
High siding – If a raft is caught in a hydraulic it will often quickly go sideways. In order to stop the raft flipping on its inside edge, the rafters can climb to the side of the raft furthest downstream, which will also be the side of the raft highest in the air leading to its name. In this position the rafters may be able to use the draw stroke to pull the raft out of the hydraulic.
Capsizing
Dump truck – Rafts are inherently stable crafts because of their size and low center of mass and often they will shed gear and passengers before they actually capsize. In the industry if a raft dumps some or all of its passengers but remains upright, it is said to have dump trucked.
Left over right or right over left – Rafts almost always flip side over side. If the left tube rises over the right tube, the raft is said to have flipped left over right and vice versa.
Taco – If a raft is soft, or underinflated, it may taco, or reverse taco. Rafts are said to have tacoed if the middle of the raft buckles and the front of the raft touches or nearly touches the back of the raft. This often is a result of surfing

Surfing

Surfing' is a surface water sport in which the surfer rides a surfboard on the crest and face of a wave which is carrying the surfer towards the shore...


in a hydraulic. A reverse taco is when the nose, or stern of the raft is pulled down under water and buckles to touch the middle or back, or nose of the raft.
End over end – Occasionally rafts will flip end over end. This is usually after the raft has dump trucked to lighten the load, allowing the water to overcome the weight of the boat flipping it vertically before it lands upside down. Rafts will usually taco and turn sideways, making an end-over-end flip a very rare flip in most rafts.
Down Stream Flip- A raft capsizes after encountering an obstacle i.e. rock, feature like a hydraulic or even another raft. These objects are usually stationary or possibly surfing in a hydraulic. On this occasion the raft becomes unstable and usually flips over downstream or in the direction of travel. A downstream flip may be exacerbated by the load or people in the raft. People may physically assist in the inertia of the flip by pulling the boat over on top of themselves.
Re-righting
Flip line – The flip line technique is the most used in commercial rafting where flips are common. The guide will take a loop of webbing that has a carabiner

Carabiner

A carabiner or karabiner is a metal loop with a sprung or screwed gate that is used to quickly and reversibly connect components in safety-critical systems. The word comes from "Karabinerhaken", meaning "hook for a carbine" in German.-Use:...


on it and attach it to the perimeter line on the raft, Standing on top of the upside down raft they will hold the line and lean to the opposite side from where the flip line is attached, re-righting the raft.
Knee flipping – Capsized rafts that are small enough with little or no gear attached can be knee flipped. This involves the rafter holding the webbing on the underside of the raft, and pushing their knees into the outer tube, and then lifting their body out of the water, leaning back to overturn the raft.
T rescue – Much like the kayak technique some rafts are large enough that they need to be overturned with the assistance of another raft or land. Positioning the upturned raft or land at the side of the raft the rafters can then re-right the raft by lifting up on the perimeter line.
T-grip re-flip - The T-grip on a rafting paddle may be used to re-flip light rafts by inserting the Tee into the self bailing holes around the floor perimeter and re-righting the boat in the same manner as the flip line technique.
Alluvial - Pertaining to material carried or laid down by running water. Alluvium is the material deposited by streams. It includes gravel, sand, silt, and clay.
Back Pivot - Turning the raft from a ferry angle to a stem-downstream position.Used in tight places to recover from an extreme ferry angle, this maneuver narrows the passing space of the boat and allows it to slide closely past obstructions.
Back roller - A broad reversal such as that formed below a dam or ledge.
Beam - The width of a raft at its widest point.
Biner - Short for Carabiner which means "clip" in Italian. In rafting, biners are used in rope and pulley rescue systems to secure things to a raft and as items of adornment in river rafting.
Tricks
Rock splats – If the rafters load the back of the raft, they can paddle the raft into a rock on the river, having it hit the bottom of the boat instead of the nose; if done correctly this can raise the raft up vertically on its stern.
Surfing – Commercial rafts often use waves on rivers to surf

Surfing

Surfing' is a surface water sport in which the surfer rides a surfboard on the crest and face of a wave which is carrying the surfer towards the shore...


.
Nose dunks – Large rafts can enter hydraulics called holes from downstream and submerge their nose, or reverse taco. This can be a safe way to get rafters wet in a hydraulic.
Pirouette – A move executed by either a sweep or draw stroke, sending the raft spinning with the current. Often useful for avoiding obstacles.
Safety
White water rafting can be a dangerous sport, especially if basic safety precautions are not observed. Both commercial and private trips have seen their share of injuries and fatalities, though private travel has typically been associated with greater risk. Depending on the area, safety regulations covering raft operators may exist in legislation. These range from certification of outfitters, rafts, and raft leaders, to more stringent regulations about equipment and procedures. It is generally advisable to discuss safety measures with a rafting operator before signing on for a trip. The equipment used and the qualifications of the company and raft guides are essential information to be considered.
Like most outdoor sports, rafting in general has become safer over the years. Expertise in the sport has increased, and equipment has become more specialized and increased in quality. As a result the difficulty rating of most river runs has changed. A classic example would be the
Colorado River
Colorado River
The Colorado River , is a river in the Southwestern United States and northwestern Mexico, approximately long, draining a part of the arid regions on the western slope of the Rocky Mountains. The watershed of the Colorado River covers in parts of seven U.S. states and two Mexican states...
in the
Grand Canyon
Grand Canyon
The Grand Canyon is a steep-sided canyon carved by the Colorado River in the United States in the state of Arizona. It is largely contained within the Grand Canyon National Park, the 15th national park in the United States...
or Jalcomulco River in Mexico, which has swallowed whole expeditions in the past, leaving only fragments of boats. In contrast, it is now run safely by commercial outfitters hundreds of times each year with relatively untrained passengers.
Risks in white water rafting stem from both environmental dangers and from improper behavior. Certain features on rivers are inherently unsafe and have remained consistently so despite the passage of time. These would include "keeper hydraulics", "strainers" (e.g. fallen trees), dams (especially low-head dams, which tend to produce river-wide keeper hydraulics), undercut rocks, and of course dangerously high waterfalls. Rafting with experienced guides is the safest way to avoid such features. Even in safe areas, however, moving water can always present risks—such as when a swimmer attempts to stand up on a rocky riverbed in strong current, risking foot entrapment. Irresponsible behavior related to rafting while intoxicated has also contributed to many accidents.
One of the most simple ways to avoid injury while out of a raft, is to swim to an Eddy (a calm spot behind a rock in the water which the current disperses around) to avoid being taken downstream.
To combat the illusion that rafting is akin to an amusement park ride, and to underscore the personal responsibility each rafter faces on a trip, rafting outfitters generally require customers to sign waiver forms indicating understanding and acceptance of potential serious risks. Rafting trips often begin with safety presentations to educate customers about problems that may arise.
White water rafting is often played for the adrenaline rush and this often becomes a problem for people and their own safety. White water rafting accidents have occurred but are not common.
Due to this the overall risk level on a rafting trip with experienced guides using proper precautions is low. Thousands of people safely enjoy raft trips every year.
Environmental issues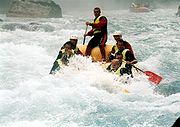 Like all outdoor activities, rafting must balance its use of nature with the
conservation
Conservation movement
The conservation movement, also known as nature conservation, is a political, environmental and a social movement that seeks to protect natural resources including animal, fungus and plant species as well as their habitat for the future....
of rivers as a
natural resource
Natural resource
Natural resources occur naturally within environments that exist relatively undisturbed by mankind, in a natural form. A natural resource is often characterized by amounts of biodiversity and geodiversity existent in various ecosystems....
and
habitat
Habitat
* Habitat , a place where a species lives and grows*Human habitat, a place where humans live, work or play** Space habitat, a space station intended as a permanent settlement...
. Because of these issues, some rivers now have regulations restricting the annual and daily operating times or numbers of rafters.
Conflicts have arisen when rafting operators, often in co-operation with
municipalities
Municipality
A municipality is essentially an urban administrative division having corporate status and usually powers of self-government. It can also be used to mean the governing body of a municipality. A municipality is a general-purpose administrative subdivision, as opposed to a special-purpose district...
and
tourism
Tourism
Tourism is travel for recreational, leisure or business purposes. The World Tourism Organization defines tourists as people "traveling to and staying in places outside their usual environment for not more than one consecutive year for leisure, business and other purposes".Tourism has become a...
associations, alter the
riverbed
Stream bed
A stream bed is the channel bottom of a stream, river or creek; the physical confine of the normal water flow. The lateral confines or channel margins, during all but flood stage, are known as the stream banks or river banks. In fact, a flood occurs when a stream overflows its banks and flows onto...
by dredging and/or
blasting
Rock blasting
Rock blasting is the controlled use of explosives to excavate, break down or remove rock. It is practised most often in mining, quarrying and civil engineering such as dam or road construction...
in order to eliminate safety hazards or create more interesting whitewater features in the river.
Environmentalists
Environmentalism
Environmentalism is a broad philosophy, ideology and social movement regarding concerns for environmental conservation and improvement of the health of the environment, particularly as the measure for this health seeks to incorporate the concerns of non-human elements...
argue that this may have negative impacts to
riparian
Riparian zone
A riparian zone or riparian area is the interface between land and a river or stream. Riparian is also the proper nomenclature for one of the fifteen terrestrial biomes of the earth. Plant habitats and communities along the river margins and banks are called riparian vegetation, characterized by...
and
aquatic ecosystem
Aquatic ecosystem
An aquatic ecosystem is an ecosystem in a body of water. Communities of organisms that are dependent on each other and on their environment live in aquatic ecosystems. The two main types of aquatic ecosystems are marine ecosystems and freshwater ecosystems....
s, while proponents claim these measures are usually only temporary, since a riverbed is naturally subject to permanent changes during large
flood
Flood
A flood is an overflow of an expanse of water that submerges land. The EU Floods directive defines a flood as a temporary covering by water of land not normally covered by water...
s and other events.
Rafting contributes to the economy of many regions which in turn may contribute to the
protection
Habitat conservation
Habitat conservation is a land management practice that seeks to conserve, protect and restore, habitat areas for wild plants and animals, especially conservation reliant species, and prevent their extinction, fragmentation or reduction in range...
of rivers from hydroelectric power generation, diversion for
irrigation
Irrigation
Irrigation may be defined as the science of artificial application of water to the land or soil. It is used to assist in the growing of agricultural crops, maintenance of landscapes, and revegetation of disturbed soils in dry areas and during periods of inadequate rainfall...
, and other development. Additionally, white water rafting trips can promote
environmentalism
Environmentalism
Environmentalism is a broad philosophy, ideology and social movement regarding concerns for environmental conservation and improvement of the health of the environment, particularly as the measure for this health seeks to incorporate the concerns of non-human elements...
. By experiencing firsthand the beauty of a river, individuals who would otherwise be indifferent to environmental issues may gain a strong desire to protect and preserve that area because of their positive outdoor experience.
See also
International Scale of River Difficulty

International Scale of River Difficulty

The International Scale of River Difficulty is a standardized scale used to rate the safety of a stretch of river, or a single rapid. The grade reflects the technical difficulty and skill level required associated with the section of river...



Packraft

Packraft

Packraft and trail boat are colloquial terms for a small, portable inflatable boat designed for use in all bodies of water, including technical whitewater and ocean bays and fjords. A packraft is designed to be light enough to be carried for extended distances...



Paddling
Raft Guide

Raft Guide

A Raft guide is a name given to a White Water Rafting guide. He or she is a trained professional that is capable of guiding on commercial white water rafting trips...



Swiftwater rescue

Swiftwater rescue

Swiftwater rescue is a subset of technical rescue dealing in whitewater river conditions. Due to the added pressure of moving water, swiftwater rescue involves the use of specially trained personnel, ropes and mechanical advantage systems that are often much more robust than those used in standard...



Tubing (recreation)

Tubing (recreation)

Tubing is a recreational activity where an individual rides on top of an inner tube, either on water, snow, or through the air. The tubes themselves are also known as "donuts" or "biscuits" due to their shape.-Water:Tubing on water generally consists of two forms: towed and free-floating, also...



Whitewater

Whitewater

Whitewater is formed in a rapid, when a river's gradient increases enough to disturb its laminar flow and create turbulence, i.e. form a bubbly, or aerated and unstable current; the frothy water appears white...



Whitewater canoeing

Whitewater canoeing

Whitewater canoeing is the sport of paddling a canoe on a moving body of water, typically a whitewater river. Whitewater canoeing can range from simple, carefree gently moving water, to demanding, dangerous whitewater. River rapids are graded like ski runs according to the difficulty, danger or...



Outdoor activity
External links