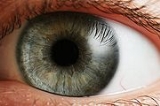 Pupil
The
pupil
is a hole located in the center of the
iris
Iris (anatomy)
The iris is a thin, circular structure in the eye, responsible for controlling the diameter and size of the pupils and thus the amount of light reaching the retina. "Eye color" is the color of the iris, which can be green, blue, or brown. In some cases it can be hazel , grey, violet, or even pink...
of the
eye
Human eye
The human eye is an organ which reacts to light for several purposes. As a conscious sense organ, the eye allows vision. Rod and cone cells in the retina allow conscious light perception and vision including color differentiation and the perception of depth...
that allows light to enter the
retina
Retina
The vertebrate retina is a light-sensitive tissue lining the inner surface of the eye. The optics of the eye create an image of the visual world on the retina, which serves much the same function as the film in a camera. Light striking the retina initiates a cascade of chemical and electrical...
. It appears black because most of the light entering the pupil is absorbed by the
tissues
Biological tissue
Tissue is a cellular organizational level intermediate between cells and a complete organism. A tissue is an ensemble of cells, not necessarily identical, but from the same origin, that together carry out a specific function. These are called tissues because of their identical functioning...
inside the eye. In humans the pupil is round, but other species, such as some
cats
Felidae
Felidae is the biological family of the cats; a member of this family is called a felid. Felids are the strictest carnivores of the thirteen terrestrial families in the order Carnivora, although the three families of marine mammals comprising the superfamily pinnipedia are as carnivorous as the...
, have slit pupils. In optical terms, the anatomical pupil is the eye's
aperture
Aperture
In optics, an aperture is a hole or an opening through which light travels. More specifically, the aperture of an optical system is the opening that determines the cone angle of a bundle of rays that come to a focus in the image plane. The aperture determines how collimated the admitted rays are,...
and the iris is the aperture stop. The image of the pupil as seen from outside the eye is the
entrance pupil
Entrance pupil
In an optical system, the entrance pupil is the optical image of the physical aperture stop, as 'seen' through the front of the lens system. The corresponding image of the aperture as seen through the back of the lens system is called the exit pupil...
, which does not exactly correspond to the location and size of the physical pupil because it is magnified by the
cornea
Cornea
The cornea is the transparent front part of the eye that covers the iris, pupil, and anterior chamber. Together with the lens, the cornea refracts light, with the cornea accounting for approximately two-thirds of the eye's total optical power. In humans, the refractive power of the cornea is...
.