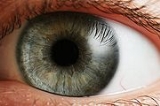 Pupil
noun
(1) Contractile aperture in the iris of the eye
(2) A young person attending school (up through senior high school)
(3) A learner who is enrolled in an educational institution
Etymology 1
From , from , variant of , from .
Noun
An orphan who is a minor and under the protection of the state.
A student under the supervision of a teacher or professor.
Etymology 2
From , from , named because of the small reflected image seen when looking into someone's eye.
Noun