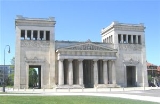 Propylaea (Munich)
The
Propylaea
is a gate in
Munich
Munich
Munich The city's motto is "" . Before 2006, it was "Weltstadt mit Herz" . Its native name, , is derived from the Old High German Munichen, meaning "by the monks' place". The city's name derives from the monks of the Benedictine order who founded the city; hence the monk depicted on the city's coat...
at the west side of Koenigsplatz.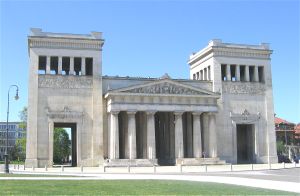 History
The building constructed in
Doric order
Doric order
The Doric order was one of the three orders or organizational systems of ancient Greek or classical architecture; the other two canonical orders were the Ionic and the Corinthian.-History:...
was completed by
Leo von Klenze
Leo von Klenze
Leo von Klenze was a German neoclassicist architect, painter and writer...
in 1862 and evokes the monumental entrance of the
Propylaea
Propylaea
A Propylaea, Propylea or Propylaia is any monumental gateway based on the original Propylaea that serves as the entrance to the Acropolis in Athens...
for the
Athenian Acropolis
Acropolis of Athens
The Acropolis of Athens or Citadel of Athens is the best known acropolis in the world. Although there are many other acropoleis in Greece, the significance of the Acropolis of Athens is such that it is commonly known as The Acropolis without qualification...
. The gate was created as a memorial for the accession to the throne of
Otto of Greece
Otto of Greece
Otto, Prince of Bavaria, then Othon, King of Greece was made the first modern King of Greece in 1832 under the Convention of London, whereby Greece became a new independent kingdom under the protection of the Great Powers .The second son of the philhellene King Ludwig I of Bavaria, Otto ascended...
, a son of the principal King
Ludwig I of Bavaria
Ludwig I of Bavaria
Ludwig I was a German king of Bavaria from 1825 until the 1848 revolutions in the German states.-Crown prince:...
. The
relief
Relief
Relief is a sculptural technique. The term relief is from the Latin verb levo, to raise. To create a sculpture in relief is thus to give the impression that the sculpted material has been raised above the background plane...
s and
sculpture
Sculpture
Sculpture is three-dimensional artwork created by shaping or combining hard materials—typically stone such as marble—or metal, glass, or wood. Softer materials can also be used, such as clay, textiles, plastics, polymers and softer metals...
s celebrating the Bavarian prince and the
Greek War of Independence
Greek War of Independence
The Greek War of Independence, also known as the Greek Revolution was a successful war of independence waged by the Greek revolutionaries between...
were created by
Ludwig Michael Schwanthaler
Ludwig Michael Schwanthaler
Ludwig Michael Schwanthaler, later ennobled as Ritter von Schwanthaler was a German sculptor.-Biography:Schwanthaler was born in Munich....
.