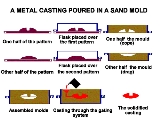 Sand casting
Sand casting, also known as sand molded casting, is a metal casting process characterized by using
sand
Sand
Sand is a naturally occurring granular material composed of finely divided rock and mineral particles.The composition of sand is highly variable, depending on the local rock sources and conditions, but the most common constituent of sand in inland continental settings and non-tropical coastal...
as the mold material.
It is relatively cheap and sufficiently refractory even for steel foundry use. A suitable bonding agent (usually clay) is mixed or occurs with the sand. The mixture is moistened with water to develop strength and plasticity of the clay and to make the aggregate suitable for molding.
Sand casting, also known as sand molded casting, is a metal casting process characterized by using
sand
Sand
Sand is a naturally occurring granular material composed of finely divided rock and mineral particles.The composition of sand is highly variable, depending on the local rock sources and conditions, but the most common constituent of sand in inland continental settings and non-tropical coastal...
as the mold material.
It is relatively cheap and sufficiently refractory even for steel foundry use. A suitable bonding agent (usually clay) is mixed or occurs with the sand. The mixture is moistened with water to develop strength and plasticity of the clay and to make the aggregate suitable for molding. The term "sand casting" can also refer to a casting produced via the sand casting process. Sand castings are produced in specialized
factories
Factory
A factory or manufacturing plant is an industrial building where laborers manufacture goods or supervise machines processing one product into another. Most modern factories have large warehouses or warehouse-like facilities that contain heavy equipment used for assembly line production...
called
foundries
Foundry
A foundry is a factory that produces metal castings. Metals are cast into shapes by melting them into a liquid, pouring the metal in a mold, and removing the mold material or casting after the metal has solidified as it cools. The most common metals processed are aluminum and cast iron...
.
Over 70% of all metal castings are produced via a sand casting process.
Basic process
There are six steps in this process:
Place a pattern

Pattern (casting)

In casting, a pattern is a replica of the object to be cast, used to prepare the cavity into which molten material will be poured during the casting process.Patterns used in sand casting may be made of wood, metal, plastics or other materials...


in sand to create a mold.
Incorporate the pattern and sand in a gating system.
Remove the pattern.
Fill the mold cavity with molten metal.
Allow the metal to cool.
Break away the sand mold and remove the casting.
Patterns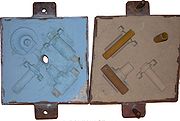 From the design, provided by an engineer or designer, a skilled pattern maker builds a pattern of the object to be produced, using wood, metal, or a plastic such as expanded polystyrene. Sand can be ground, swept or strickled into shape. The metal to be cast will contract during solidification, and this may be non-uniform due to uneven cooling. Therefore, the pattern must be slightly larger than the finished product, a difference known as contraction allowance. Pattern-makers are able to produce suitable patterns using 'Contraction rules' (these are sometimes called "shrink allowance rulers" where the ruled markings are deliberately made to a larger spacing according to the percentage of extra length needed). Different scaled rules are used for different metals because each metal and alloy contracts by an amount distinct from all others. Patterns also have core prints that create registers within the molds into which are placed sand cores. Such cores, sometimes reinforced by wires, are used to create under cut profiles and cavities which cannot be molded with the cope and drag, such as the interior passages of valves or cooling passages in engine blocks.
Paths for the entrance of metal into the mold cavity constitute the runner system and include the sprue, various feeders which maintain a good metal 'feed', and in-gates which attach the runner system to the casting cavity. Gas and steam generated during casting exit through the permeable sand or via
risers
Riser (casting)
A riser, also known as a feeder, is a reservoir built into a metal casting mold to prevent cavities due to shrinkage. Most metals are less dense as a liquid than as a solid so castings shrink upon cooling, which can leave a void at the last point to solidify...
, which are added either in the pattern itself, or as separate pieces.
Molding box and materials
A multi-part molding box (known as a casting flask, the top and bottom halves of which are known respectively as the cope and drag) is prepared to receive the pattern. Molding boxes are made in segments that may be latched to each other and to end closures. For a simple object—flat on one side—the lower portion of the box, closed at the bottom, will be filled with a molding sand. The sand is packed in through a vibratory process called ramming and, in this case, periodically screeded level. The surface of the sand may then be stabilized with a sizing compound. The pattern is placed on the sand and another molding box segment is added. Additional sand is rammed over and around the pattern. Finally a cover is placed on the box and it is turned and unlatched, so that the halves of the mold may be parted and the pattern with its sprue and vent patterns removed. Additional sizing may be added and any defects introduced by the removal of the pattern are corrected. The box is closed again. This forms a "green" mold which must be dried to receive the hot metal. If the mold is not sufficiently dried a steam explosion can occur that can throw molten metal about. In some cases, the sand may be oiled instead of moistened, which makes possible casting without waiting for the sand to dry. Sand may also be bonded by chemical binders, such as furane resins or amine-hardened resins.
Chills
To control the solidification structure of the metal, it is possible to place metal plates,
chills
Chill (foundry)
A chill is an object used to promote solidification in a specific portion of a metal casting mold. Normally the metal in the mold cools at a certain rate relative to thickness of the casting. When the geometry of the molding cavity prevents directional solidification from occurring naturally, a...
, in the mold. The associated rapid local cooling will form a finer-grained structure and may form a somewhat harder metal at these locations. In ferrous castings the effect is similar to
quench
Quench
In materials science, quenching is the rapid cooling of a workpiece to obtain certain material properties. It prevents low-temperature processes, such as phase transformations, from occurring by only providing a narrow window of time in which the reaction is both thermodynamically favorable and...
ing metals in
forge
Forge
A forge is a hearth used for forging. The term "forge" can also refer to the workplace of a smith or a blacksmith, although the term smithy is then more commonly used.The basic smithy contains a forge, also known as a hearth, for heating metals...
work. The inner diameter of an engine cylinder is made hard by a chilling core. In other metals chills may be used to promote
directional solidification
Directional solidification
Directional solidification and progressive solidification describe types of solidification within castings. Directional solidification describes solidification that occurs from farthest end of the casting and works its way towards the sprue...
of the casting. In controlling the way a casting freezes it is possible to prevent internal voids or porosity inside castings.
Cores
To produce cavities within the casting—such as for liquid cooling in
engine
Internal combustion engine
The internal combustion engine is an engine in which the combustion of a fuel occurs with an oxidizer in a combustion chamber. In an internal combustion engine, the expansion of the high-temperature and high -pressure gases produced by combustion apply direct force to some component of the engine...
blocks and
cylinder head
Cylinder head
In an internal combustion engine, the cylinder head sits above the cylinders on top of the cylinder block. It closes in the top of the cylinder, forming the combustion chamber. This joint is sealed by a head gasket...
s—negative forms are used to produce cores. Usually sand-molded, cores are inserted into the casting box after removal of the pattern. Whenever possible, designs are made that avoid the use of cores, due to the additional set-up time and thus greater cost.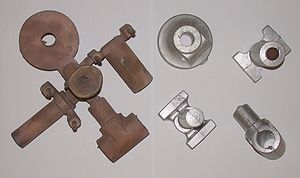 With a completed mold at the appropriate moisture content, the box containing the sand mold is then positioned for filling with molten metal—typically
iron
Iron
Iron is a chemical element with the symbol Fe and atomic number 26. It is a metal in the first transition series. It is the most common element forming the planet Earth as a whole, forming much of Earth's outer and inner core. It is the fourth most common element in the Earth's crust...
,
steel
Steel
Steel is an alloy that consists mostly of iron and has a carbon content between 0.2% and 2.1% by weight, depending on the grade. Carbon is the most common alloying material for iron, but various other alloying elements are used, such as manganese, chromium, vanadium, and tungsten...
,
bronze
Bronze
Bronze is a metal alloy consisting primarily of copper, usually with tin as the main additive. It is hard and brittle, and it was particularly significant in antiquity, so much so that the Bronze Age was named after the metal...
,
brass
Brass
Brass is an alloy of copper and zinc; the proportions of zinc and copper can be varied to create a range of brasses with varying properties.In comparison, bronze is principally an alloy of copper and tin...
,
aluminium
Aluminium
Aluminium or aluminum is a silvery white member of the boron group of chemical elements. It has the symbol Al, and its atomic number is 13. It is not soluble in water under normal circumstances....
,
magnesium
Magnesium
Magnesium is a chemical element with the symbol Mg, atomic number 12, and common oxidation number +2. It is an alkaline earth metal and the eighth most abundant element in the Earth's crust and ninth in the known universe as a whole...
alloys, or various
pot metal
Pot metal
Pot metal, also known as monkey metal, white metal or die-cast zinc, is a slang term that refers to alloys that consist of inexpensive, low-melting point metals used to make fast, inexpensive castings....
alloys, which often include
lead
Lead
Lead is a main-group element in the carbon group with the symbol Pb and atomic number 82. Lead is a soft, malleable poor metal. It is also counted as one of the heavy metals. Metallic lead has a bluish-white color after being freshly cut, but it soon tarnishes to a dull grayish color when exposed...
,
tin
Tin
Tin is a chemical element with the symbol Sn and atomic number 50. It is a main group metal in group 14 of the periodic table. Tin shows chemical similarity to both neighboring group 14 elements, germanium and lead and has two possible oxidation states, +2 and the slightly more stable +4...
, and
zinc
Zinc
Zinc , or spelter , is a metallic chemical element; it has the symbol Zn and atomic number 30. It is the first element in group 12 of the periodic table. Zinc is, in some respects, chemically similar to magnesium, because its ion is of similar size and its only common oxidation state is +2...
. After filling with liquid metal the box is set aside until the metal is sufficiently cool to be strong. The sand is then removed revealing a rough casting that, in the case of iron or steel, may still be glowing red. When casting with metals like iron or lead, which are significantly heavier than the casting sand, the casting flask is often covered with a heavy plate to prevent a problem known as floating the mold. Floating the mold occurs when the pressure of the metal pushes the sand above the mold cavity out of shape, causing the casting to fail.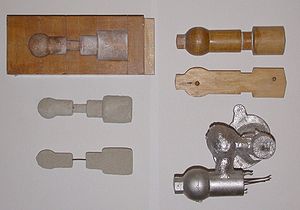 After casting, the cores are broken up by rods or shot and removed from the casting. The metal from the sprue and risers is cut from the rough casting. Various
heat treatment
Heat treatment
Heat treating is a group of industrial and metalworking processes used to alter the physical, and sometimes chemical, properties of a material. The most common application is metallurgical. Heat treatments are also used in the manufacture of many other materials, such as glass...
s may be applied to relieve stresses from the initial cooling and to add hardness—in the case of steel or iron, by quenching in water or oil. The casting may be further strengthened by surface compression treatment—like
shot peening
Shot peening
Shot peening is a cold working process used to produce a compressive residual stress layer and modify mechanical properties of metals. It entails impacting a surface with shot with force sufficient to create plastic deformation...
—that adds resistance to tensile cracking and smooths the rough surface.
Design requirements
The part to be made and its pattern must be designed to accommodate each stage of the process, as it must be possible to remove the pattern without disturbing the molding sand and to have proper locations to receive and position the cores. A slight taper, known as
draft
Draft angle
In engineering, draft is the amount of taper for molded or cast parts perpendicular to the parting line. It can be measured in degrees or mm/mm ....
, must be used on surfaces perpendicular to the parting line, in order to be able to remove the pattern from the mold. This requirement also applies to cores, as they must be removed from the core box in which they are formed. The sprue and risers must be arranged to allow a proper flow of metal and gasses within the mold in order to avoid an incomplete casting. Should a piece of core or mold become dislodged it may be embedded in the final casting, forming a sand pit, which may render the casting unusable. Gas pockets can cause internal voids. These may be immediately visible or may only be revealed after extensive machining has been performed. For critical applications, or where the cost of wasted effort is a factor, non-destructive testing methods may be applied before further work is performed.
Processes
In general, we can distinguish between two methods of sand casting; the first one using green sand and the second being the air set method.
Green sand
These expendable molds are made of wet sands that are used to make the mold's shape. The name comes from the fact that wet sands are used in the molding process. Green sand is not green in color, but "green" in the sense that it is used in a wet state (akin to green wood). Unlike the name suggests, "green sand" is not a type of sand on its own, but is rather a mixture of:
silica sand (SiO2), or chromite sand (FeCr2O), or zircon sand (ZrSiO4), 75 to 85%, or olivine, or staurolite, or graphite.
bentonite

Bentonite

Bentonite is an absorbent aluminium phyllosilicate, essentially impure clay consisting mostly of montmorillonite. There are different types of bentonite, each named after the respective dominant element, such as potassium , sodium , calcium , and aluminum . Experts debate a number of nomenclatorial...


(clay

Clay

Clay is a general term including many combinations of one or more clay minerals with traces of metal oxides and organic matter. Geologic clay deposits are mostly composed of phyllosilicate minerals containing variable amounts of water trapped in the mineral structure.- Formation :Clay minerals...


), 5 to 11%
water, 2 to 4%
inert sludge 3 to 5%
anthracite (0 to 1%)
There are many recipes for the proportion of clay, but they all strike different balances between moldability, surface finish, and ability of the hot molten metal to degas. The coal, typically referred to in
foundries
Foundry
A foundry is a factory that produces metal castings. Metals are cast into shapes by melting them into a liquid, pouring the metal in a mold, and removing the mold material or casting after the metal has solidified as it cools. The most common metals processed are aluminum and cast iron...
as sea-coal, which is present at a ratio of less than 5%, partially combusts in the presence of the molten metal leading to offgassing of organic vapors. Green Sand for non-ferrous metals do not use coal additives since the CO created is not effective to prevent oxidation. Green Sand for aluminum typically uses olivine sand (a mixture of the minerals forsterite and fayalite which are made by crushing dunite rock). The choice of sand has a lot to do with the temperature that the metal is poured. At the temperatures that copper and iron are poured, the clay gets inactivated by the heat in that the montmorillonite is converted to illite, which is a non-expanding clay. Most foundries do not have the very expensive equipment to remove the burned out clay and substitute new clay, so instead, those that pour iron typically work with silica sand that is inexpensive compared to the other sands. As the clay is burned out, newly mixed sand is added and some of the old sand is discarded or recycled into other uses. Silica is the least desirable of the sands since metamorphic grains of silica sand have a tendency to explode to form sub-micron sized particles when thermally shocked during pouring of the molds. These particles are picked up by Brownian motion and can lead to silicosis in the workers. Iron foundries spend a lot of energy on aggressive dust collection to capture that fine silica. The sand also has the dimensional instability associated with the conversion of quartz from alpha quartz to beta quartz at 1250 degrees F. Often additives such as wood flour are added to create a space for the grains to expand without deforming the mold. Olivine, Chromite, etc. are used because they do not have a phase conversion that causes rapid expansion of the grains plus they offer greater density which cools the metal faster and produces finer grain structures in the metal. Since they are not metamorphic minerals, they do not have the polycrystals and subsequently do not form sub-micron sized grains that are a health hazard.
The "air set" method
The air set method uses dry sand bonded with materials other than clay, using a fast curing
adhesive
Adhesive
An adhesive, or glue, is a mixture in a liquid or semi-liquid state that adheres or bonds items together. Adhesives may come from either natural or synthetic sources. The types of materials that can be bonded are vast but they are especially useful for bonding thin materials...
. The latter may also be referred to as no bake mold casting. When these are used, they are collectively called "air set" sand castings to distinguish them from "green sand" castings. Two types of molding sand are natural bonded (bank sand) and synthetic (lake sand); the latter is generally preferred due to its more consistent composition.
With both methods, the sand mixture is packed around a pattern, forming a mold cavity. If necessary, a temporary plug is placed in the sand and touching the pattern in order to later form a channel into which the casting fluid can be poured. Air-set molds are often formed with the help of a two-part mold having a top and bottom part, termed the
cope and drag
Cope and drag
In foundry work, the terms cope and drag refer respectively to the upper and lower parts of a two-part casting flask, used in sand casting. The flask is a wood or metal frame, which contains the molding sand, providing support to the sand as the metal is poured into the mold...
. The sand mixture is tamped down as it is added around the pattern, and the final mold assembly is sometimes vibrated to compact the sand and fill any unwanted voids in the mold. Then the pattern is removed along with the channel plug, leaving the mold cavity. The casting liquid (typically molten metal) is then poured into the mold cavity. After the metal has solidified and cooled, the casting is separated from the sand mold. There is typically no mold release agent, and the mold is generally destroyed in the removal process.
The accuracy of the casting is limited by the type of sand and the molding process. Sand castings made from coarse green sand impart a rough texture to the surface, and this makes them easy to identify. Castings made from fine green sand can shine as cast but are limited by the depth to width ratio of pockets in the pattern. Air-set molds can produce castings with smoother surfaces than coarse green sand but this method is primarily chosen when deep narrow pockets in the pattern are necessary, due to the expense of the plastic used in the process. Air-set castings can typically be easily identified by the burnt color on the surface. The castings are typically shot blasted to remove that burnt color. Surfaces can also be later ground and polished, for example when making a large
bell
Bell (instrument)
A bell is a simple sound-making device. The bell is a percussion instrument and an idiophone. Its form is usually a hollow, cup-shaped object, which resonates upon being struck...
. After molding, the casting is covered with a residue of oxides, silicates and other compounds. This residue can be removed by various means, such as grinding, or shot blasting.
During casting, some of the components of the sand mixture are lost in the thermal casting process. Green sand can be reused after adjusting its composition to replenish the lost moisture and additives. The pattern itself can be reused indefinitely to produce new sand molds. The sand molding process has been used for many centuries to produce castings manually. Since 1950, partially-automated casting processes have been developed for production lines.
Cold box
Uses organic and inorganic binders that strengthen the mold by chemically adhering to the sand. This type of mold gets its name from not being baked in an oven like other sand mold types. This type of mold is more accurate dimensionally than green-sand molds but are more expensive.
No bake molds
No bake molds are expendable sand molds, similar to typical sand molds, except they also contain a quick-setting liquid
resin
Resin
Resin in the most specific use of the term is a hydrocarbon secretion of many plants, particularly coniferous trees. Resins are valued for their chemical properties and associated uses, such as the production of varnishes, adhesives, and food glazing agents; as an important source of raw materials...
and catalyst. Rather than being rammed, the molding sand is poured into the flask and held until the resin solidifies, which occurs at room temperature. This type of molding also produces a better surface finish than other types of sand molds. Because no heat is involved it is called a cold-setting process. Common flask materials that are used are wood, metal, and plastic. Common metals cast into no bake molds are brass, iron
ferrous
Ferrous
Ferrous , in chemistry, indicates a divalent iron compound , as opposed to ferric, which indicates a trivalent iron compound ....
, and aluminum alloys.
Vacuum molding
Vacuum molding (V-process) is a variation of the sand casting process for most ferrous and non-ferrous metals, in which unbonded sand is held in the flask with a
vacuum
Vacuum
In everyday usage, vacuum is a volume of space that is essentially empty of matter, such that its gaseous pressure is much less than atmospheric pressure. The word comes from the Latin term for "empty". A perfect vacuum would be one with no particles in it at all, which is impossible to achieve in...
. The pattern is specially vented so that a vacuum can be pulled through it. A heat-softened thin sheet (0.003 inch) of
plastic
Plastic
A plastic material is any of a wide range of synthetic or semi-synthetic organic solids used in the manufacture of industrial products. Plastics are typically polymers of high molecular mass, and may contain other substances to improve performance and/or reduce production costs...
film
Film
A film, also called a movie or motion picture, is a series of still or moving images. It is produced by recording photographic images with cameras, or by creating images using animation techniques or visual effects...
is draped over the pattern and a vacuum is drawn (200 millimetre of mercury). A special vacuum forming flask is placed over the plastic pattern and is filled with a free-flowing sand. The sand is vibrated to compact the sand and a sprue and pouring cup are formed in the cope. Another sheet of plastic is placed over the top of the sand in the flask and a vacuum is drawn through the special flask; this hardens and strengthens the unbonded sand. The vacuum is then released on the pattern and the cope is removed. The drag is made in the same way (without the sprue and pouring cup). Any cores are set in place and the mold is closed. The molten metal is poured while the cope and drag are still under a vacuum, because the plastic vaporizes but the vacuum keeps the shape of the sand while the metal solidifies. When the metal has solidified, the vacuum is turned off and the sand runs out freely, releasing the casting.
The V-process is known for not requiring a draft because the plastic film has a certain degree of lubricity and it expands slightly when the vacuum is drawn in the flask. The process has high dimensional accuracy, with a tolerance of ±0.010 in for the first inch and ±0.002 in/in thereafter. Cross-sections as small as 0.09 in (0.2286 cm) are possible. The surface finish is very good, usually between 150 to 125
rms
RMS
-Science and technology:* Root mean square, a concept encapsulating the "average", in some sense, of a quantity. Frequently encountered in statistics, the physical sciences and electronics...
. Other advantages include no moisture related defects, no cost for binders, excellent sand permeability, and no toxic fumes from burning the binders. Finally, the pattern does not wear out because the sand does not touch it. The main disadvantage is that the process is slower than traditional sand casting so it is only suitable for low to medium production volumes; approximately 10 to 15,000 pieces a year. However, this makes it perfect for prototype work, because the pattern can be easily modified as it is made from plastic.
Fast mold making processes
With the fast development of the car and machine building industry the casting consuming areas called for steady higher
productivity
Productivity
Productivity is a measure of the efficiency of production. Productivity is a ratio of what is produced to what is required to produce it. Usually this ratio is in the form of an average, expressing the total output divided by the total input...
. The basic process stages of the mechanical molding and casting process are similar to those described under the manual sand casting process. The technical and mental development however was so rapid and profound that the character of the sand casting process changed radically.
Mechanized sand molding
The first mechanized molding lines consisted of sand slingers and/or jolt-squeeze devices that compacted the sand in the flasks. Subsequent mold handling was mechanical using cranes, hoists and straps. After core setting the copes and drags were coupled using guide pins and clamped for closer accuracy. The molds were manually pushed off on a roller conveyor for casting and cooling.
Automatic high pressure sand molding lines
Increasing quality requirements made it necessary to increase the mold stability by applying steadily higher squeeze pressure and modern compaction methods for the sand in the flasks. In early fifties the
high pressure
High pressure
High pressure in science and engineering is studying the effects of high pressure on materials and the design and construction of devices, such as a diamond anvil cell, which can create high pressure...
molding was developed and applied in mechanical and later automatic flask lines. The first lines were using jolting and vibrations to pre-compact the sand in the flasks and
compressed air
Compressed air
Compressed air is air which is kept under a certain pressure, usually greater than that of the atmosphere. In Europe, 10 percent of all electricity used by industry is used to produce compressed air, amounting to 80 terawatt hours consumption per year....
powered pistons to compact the molds.
Horizontal sand flask molding
In the first automatic horizontal flask lines the sand was shot or slung down on the pattern in a flask and squeezed with hydraulic pressure of up to 140
bars
Bar (unit)
The bar is a unit of pressure equal to 100 kilopascals, and roughly equal to the atmospheric pressure on Earth at sea level. Other units derived from the bar are the megabar , kilobar , decibar , centibar , and millibar...
. The subsequent mold handling including turn-over, assembling, pushing-out on a conveyor were accomplished either manually or automatically. In the late fifties
hydraulically
Hydraulics
Hydraulics is a topic in applied science and engineering dealing with the mechanical properties of liquids. Fluid mechanics provides the theoretical foundation for hydraulics, which focuses on the engineering uses of fluid properties. In fluid power, hydraulics is used for the generation, control,...
powered pistons or multi-piston systems were used for the sand compaction in the flasks. This method produced much more stable and accurate molds than it was possible manually or
pneumatically
Pneumatics
Pneumatics is a branch of technology, which deals with the study and application of use of pressurized gas to effect mechanical motion.Pneumatic systems are extensively used in industry, where factories are commonly plumbed with compressed air or compressed inert gases...
. In the late sixties mold compaction by fast air pressure or gas pressure drop over the pre-compacted sand mold was developed (sand-impulse and gas-impact). The general working principle for most of the horizontal flask line systems is shown on the sketch below.
Today there are many manufacturers of the automatic horizontal flask molding lines. The major disadvantages of these systems is high spare parts consumption due to multitude of movable parts, need of storing, transporting and maintaining the flasks and productivity limited to approximately 90–120 molds per hour.
Vertical sand flaskless molding
In 1962, Dansk Industri Syndikat A/S (DISA-
DISAMATIC
DISAMATIC
DISAMATIC is an automatic production line used for fast manufacturing of sand molds for sand casting. This process is commonly used to mass manufacture of metal castings for the automotive and machine industry.-History:...
) invented a flask-less molding process by using vertically parted and poured molds. The first line could produce up to 240 complete sand molds per hour. Today molding lines can achieve a molding rate of 550 sand molds per hour and requires only one monitoring operator. Maximum mismatch of two mold halves is 0.1 mm (0.00393700787401575 in). Although very fast, vertically parted molds are not typically used by jobbing foundries due to the specialized tooling needed to run on these machines. Cores need to be set with a core mask as opposed to by hand and must hang in the mold as opposed to being set on parting surface.
Matchplate sand molding
The principle of the matchplate, meaning pattern plates with two patterns on each side of the same plate, was developed and patented in 1910, fostering the perspectives for future sand molding improvements. However, first in the early sixties the American company Hunter Automated Machinery Corporation launched its first automatic flaskless, horizontal molding line applying the matchplate technology.
The method alike to the DISA's (
DISAMATIC
DISAMATIC
DISAMATIC is an automatic production line used for fast manufacturing of sand molds for sand casting. This process is commonly used to mass manufacture of metal castings for the automotive and machine industry.-History:...
) vertical moulding is flaskless, however horizontal. The matchplate molding technology is today used widely. Its great advantage is inexpensive pattern tooling, easiness of changing the molding tooling, thus suitability for manufacturing castings in short series so typical for the jobbing foundries. Modern matchplate molding machine is capable of high molding quality, less casting shift due to machine-mold mismatch (in some cases less than 0.15 mm (0.00590551181102362 in)), consistently stable molds for less grinding and improved parting line definition. In addition, the machines are enclosed for a cleaner, quieter working environment with reduced operator exposure to safety risks or service-related problems.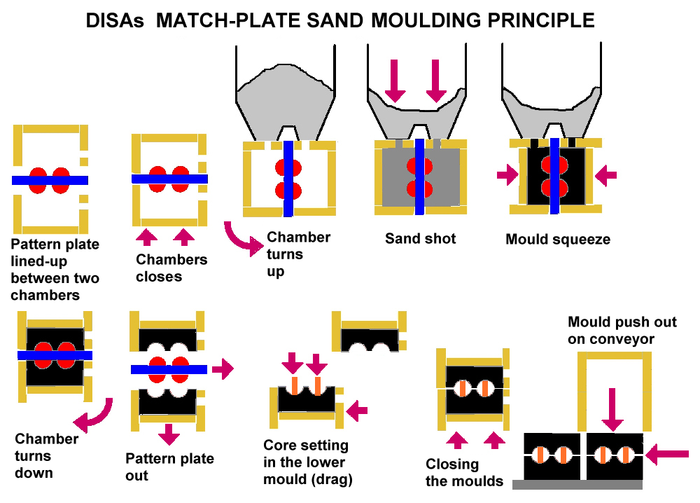 Mold materials
There are four main components for making a sand casting mold: base sand, a binder, additives, and a parting compound.
Molding sands
Molding sands, also known as foundry sands, are defined by eight characteristics: refractoriness, chemical inertness, permeability, surface finish, cohesiveness, flowability, collapsibility, and availability/cost.
Refractoriness — This refers to the sand's ability to withstand the temperature of the liquid metal being cast without breaking down. For example some sands only need to withstand 650 °C (1,202 °F) if casting aluminum alloys, whereas steel needs a sand that will withstand 1500 °C (2,732 °F). Sand with too low a refractoriness will melt and fuse to the casting.
Chemical inertness — The sand must not react with the metal being cast. This is especially important with highly reactive metals, such as
magnesium
Magnesium
Magnesium is a chemical element with the symbol Mg, atomic number 12, and common oxidation number +2. It is an alkaline earth metal and the eighth most abundant element in the Earth's crust and ninth in the known universe as a whole...
and
titanium
Titanium
Titanium is a chemical element with the symbol Ti and atomic number 22. It has a low density and is a strong, lustrous, corrosion-resistant transition metal with a silver color....
.
Permeability — This refers to the sand's ability to exhaust gases. This is important because during the pouring process many gases are produced, such as hydrogen, nitrogen,
carbon dioxide
Carbon dioxide
Carbon dioxide is a naturally occurring chemical compound composed of two oxygen atoms covalently bonded to a single carbon atom...
, and
steam
Steam
Steam is the technical term for water vapor, the gaseous phase of water, which is formed when water boils. In common language it is often used to refer to the visible mist of water droplets formed as this water vapor condenses in the presence of cooler air...
, which must leave the mold otherwise casting defects, such as blow holes and gas holes, occur in the casting. Note that for each cubic centimeter (cc) of water added to the mold 16,000 cc of steam is produced.
Surface finish — The size and shape of the sand particles defines the best surface finish achievable, with finer particles producing a better finish. However, as the particles become finer (and surface finish improves) the permeability becomes worse.
Cohesiveness (or bond) — This is the ability of the sand to retain a given shape after the pattern is removed.
Flowability – The ability for the sand to flow into intricate details and tight corners without special processes or equipment.
Collapsibility — This is the ability of the sand to be easily stripped off the casting after it has solidified. Sands with poor collapsibility will adhere strongly to the casting. When casting metals that contract a lot during cooling or with long freezing temperature ranges a sand with poor collapsibility will cause cracking and hot tears in the casting. Special additives can be used to improve collapsibility.
Availability/cost — The availability and cost of the sand is very important because for every ton of metal poured, three to six tons of sand is required. Although sand can be screened and reused, the particles eventually become too fine and require periodic replacement with fresh sand.
In large castings it is economical to use two different sands, because the majority of the sand will not be in contact with the casting, so it does not need any special properties. The sand that is in contact with the casting is called facing sand, and is designed for the casting on hand. This sand will be built up around the pattern to a thickness of 30 to 100 mm (1.2 to 3.9 in). The sand that fills in around the facing sand is called backing sand. This sand is simply silica sand with only a small amount of binder and no special additives.
Types of base sands
Base sand is the type used to make the mold or core without any binder. Because it does not have a binder it will not bond together and is not usable in this state.
Silica sand
Silica (SiO
2
) sand is the sand found on a beach and is also the most commonly used sand. It is made by either crushing
sandstone
Sandstone
Sandstone is a sedimentary rock composed mainly of sand-sized minerals or rock grains.Most sandstone is composed of quartz and/or feldspar because these are the most common minerals in the Earth's crust. Like sand, sandstone may be any colour, but the most common colours are tan, brown, yellow,...
or taken from natural occurring locations, such as beaches and river beds. The fusion point of pure silica is 1760 °C (3,200 °F), however the sands used have a lower melting point due to impurities. For high melting point casting, such as steels, a minimum of 98% pure silica sand must be used; however for lower melting point metals, such as
cast iron
Cast iron
Cast iron is derived from pig iron, and while it usually refers to gray iron, it also identifies a large group of ferrous alloys which solidify with a eutectic. The color of a fractured surface can be used to identify an alloy. White cast iron is named after its white surface when fractured, due...
and non-ferrous metals, a lower purity sand can be used (between 94 and 98% pure).
Silica sand is the most commonly used sand because of its great abundance, and, thus, low cost (therein being its greatest advantage). Its disadvantages are high
thermal expansion
Thermal expansion
Thermal expansion is the tendency of matter to change in volume in response to a change in temperature.When a substance is heated, its particles begin moving more and thus usually maintain a greater average separation. Materials which contract with increasing temperature are rare; this effect is...
, which can cause casting defects with high melting point metals, and low
thermal conductivity
Thermal conductivity
In physics, thermal conductivity, k, is the property of a material's ability to conduct heat. It appears primarily in Fourier's Law for heat conduction....
, which can lead to unsound casting. It also cannot be used with certain
basic
Base (chemistry)
For the term in genetics, see base A base in chemistry is a substance that can accept hydrogen ions or more generally, donate electron pairs. A soluble base is referred to as an alkali if it contains and releases hydroxide ions quantitatively...
metal because it will chemically interact with the metal forming surface defect. Finally, it causes
silicosis
Silicosis
Silicosis, also known as Potter's rot, is a form of occupational lung disease caused by inhalation of crystalline silica dust, and is marked by inflammation and scarring in forms of nodular lesions in the upper lobes of the lungs...
in foundry workers.
Olivine sand
Olivine
Olivine
The mineral olivine is a magnesium iron silicate with the formula 2SiO4. It is a common mineral in the Earth's subsurface but weathers quickly on the surface....
is a mixture of orthosilicates of iron and magnesium from the mineral
dunite
Dunite
Dunite is an igneous, plutonic rock, of ultramafic composition, with coarse-grained or phaneritic texture. The mineral assemblage is greater than 90% olivine, with minor amounts of other minerals such as pyroxene, chromite and pyrope. Dunite is the olivine-rich end-member of the peridotite group...
. Its main advantage is that it is free from silica, therefore it can be used with basic metals, such as manganese steels. Other advantages include a low thermal expansion, high thermal conductivity, and high fusion point. Finally, it is safer to use than silica, therefore it is popular in Europe.
Chromite sand
Chromite
Chromite
Chromite is an iron chromium oxide: FeCr2O4. It is an oxide mineral belonging to the spinel group. Magnesium can substitute for iron in variable amounts as it forms a solid solution with magnesiochromite ; substitution of aluminium occurs leading to hercynite .-Occurrence:Chromite is found in...
sand is a
solid solution
Solid solution
A solid solution is a solid-state solution of one or more solutes in a solvent. Such a mixture is considered a solution rather than a compound when the crystal structure of the solvent remains unchanged by addition of the solutes, and when the mixture remains in a single homogeneous phase...
of
spinel
Spinel
Spinel is the magnesium aluminium member of the larger spinel group of minerals. It has the formula MgAl2O4. Balas ruby is an old name for a rose-tinted variety.-Spinel group:...
s. Its advantages are a low percentage of silica, a very high fusion point (1850 °C (3,362 °F)), and a very high thermal conductivity. Its disadvantage is its costliness, therefore its only used with expensive alloy steel casting and to make cores.
Zircon sand
Zircon
Zircon
Zircon is a mineral belonging to the group of nesosilicates. Its chemical name is zirconium silicate and its corresponding chemical formula is ZrSiO4. A common empirical formula showing some of the range of substitution in zircon is 1–x4x–y...
sand is a compound of approximately two-thirds zircon oxide (Zr
2
O) and one-third silica. It has the highest fusion point of all the base sands at 2600 °C (4,712 °F), a very low thermal expansion, and a high thermal conductivity. Because of these good properties it is commonly used when casting alloy steels and other expensive alloys. It is also used as a mold wash (a coating applied to the molding cavity) to improve surface finish. However, it is expensive and not readily available.
Chamotte sand
Chamotte is made by calcining
fire clay
Fire clay
Fire clay is a term applied to a range of refractory clays used in the manufacture of ceramics, especially fire brick.High grade fire clays can withstand temperatures of 1775°C , but to be referred to as a "fire clay" the material must withstand a minimum temperature of 1515°C...
(Al
2
O
3
-SiO
2
) above 1100 °C (2,012 °F). Its fusion point is 1750 °C (3,182 °F) and has low thermal expansion. It is the second cheapest sand, however it is still twice as expensive as silica. Its disadvantages are very coarse grains, which result in a poor surface finish, and it is limited to dry sand molding. Mold washes are used to overcome the surface finish problem. This sand is usually used when casting large steel workpieces.
Other materials
Modern casting production methods can manufacture thin and accurate molds—of a material superficially resembling papier-mâché, such as is used in egg cartons, but that is refractory in nature—that are then supported by some means, such as dry sand surrounded by a box, during the casting process. Due to the higher accuracy it is possible to make thinner and hence lighter castings, because extra metal need not be present to allow for variations in the molds. These thin-mold casting methods have been used since the 1960s in the manufacture of cast-iron engine blocks and cylinder heads for automotive applications.
Binders
Binders are added to a base sand to bond the sand particles together (i.e. it is the glue that holds the mold together).
Clay and water
A mixture of
clay
Clay
Clay is a general term including many combinations of one or more clay minerals with traces of metal oxides and organic matter. Geologic clay deposits are mostly composed of phyllosilicate minerals containing variable amounts of water trapped in the mineral structure.- Formation :Clay minerals...
and water is the most commonly used binder. There are two types of clay commonly used:
bentonite
Bentonite
Bentonite is an absorbent aluminium phyllosilicate, essentially impure clay consisting mostly of montmorillonite. There are different types of bentonite, each named after the respective dominant element, such as potassium , sodium , calcium , and aluminum . Experts debate a number of nomenclatorial...
and
kaolinite
Kaolinite
Kaolinite is a clay mineral, part of the group of industrial minerals, with the chemical composition Al2Si2O54. It is a layered silicate mineral, with one tetrahedral sheet linked through oxygen atoms to one octahedral sheet of alumina octahedra...
, with the former being the most common.
Oil
Oils, such as
linseed oil
Linseed oil
Linseed oil, also known as flaxseed oil, is a clear to yellowish oil obtained from the dried ripe seeds of the flax plant . The oil is obtained by cold pressing, sometimes followed by solvent extraction...
, other vegetable oils and marine oils, used to be used as a binder, however due to their increasing cost, they have been mostly phased out. The oil also required careful baking at 100 to 200 °C (212 to 392 F) to cure (if overheated the oil becomes brittle, wasting the mold).
Resin
Resin binders are natural or synthetic high melting point
gum
Natural gum
Natural gums are polysaccharides of natural origin, capable of causing a large viscosity increase in solution, even at small concentrations. In the food industry they are used as thickening agents, gelling agents, emulsifying agents, and stabilizers...
s. The two common types used are urea formaldehyde (UF) and phenol formaldehyde (PF) resins. PF resins have a higher heat resistance than UF resins and cost less. There are also cold-set resins, which use a catalyst instead of a heat to cure the binder. Resin binders are quite popular because different properties can be achieved by mixing with various additives. Other advantages include good collapsibility, low gassing, and they leave a good surface finish on the casting.
Sodium silicate
Sodium silicate
Sodium silicate
Sodium silicate is the common name for a compound sodium metasilicate, Na2SiO3, also known as water glass or liquid glass. It is available in aqueous solution and in solid form and is used in cements, passive fire protection, refractories, textile and lumber processing, and automobiles...
[Na
2
SiO
3
or (Na
2
O)(SiO
2
)] is a high strength binder used with silica molding sand. To cure the binder
carbon dioxide
Carbon dioxide
Carbon dioxide is a naturally occurring chemical compound composed of two oxygen atoms covalently bonded to a single carbon atom...
gas is used, which creates the following reaction:

The advantage to this binder is that it occurs at room temperature and quickly. The disadvantage is that its high strength leads to shakeout difficulties and possibly hot tears in the casting.
Additives
Additives are added to the molding components to improve: surface finish, dry strength, refractoriness, and "cushioning properties".
Up to 5% of reducing agents, such as
coal
Coal
Coal is a combustible black or brownish-black sedimentary rock usually occurring in rock strata in layers or veins called coal beds or coal seams. The harder forms, such as anthracite coal, can be regarded as metamorphic rock because of later exposure to elevated temperature and pressure...
powder,
pitch
Pitch (resin)
Pitch is the name for any of a number of viscoelastic, solid polymers. Pitch can be made from petroleum products or plants. Petroleum-derived pitch is also called bitumen. Pitch produced from plants is also known as resin. Products made from plant resin are also known as rosin.Pitch was...
,
creosote
Creosote
Creosote is the portion of chemical products obtained by the distillation of a tar that remains heavier than water, notably useful for its anti-septic and preservative properties...
, and
fuel oil
Fuel oil
Fuel oil is a fraction obtained from petroleum distillation, either as a distillate or a residue. Broadly speaking, fuel oil is any liquid petroleum product that is burned in a furnace or boiler for the generation of heat or used in an engine for the generation of power, except oils having a flash...
, may be added to the molding material to prevent wetting (prevention of liquid metal sticking to sand particles, thus leaving them on the casting surface), improve surface finish, decrease metal penetration, and burn-on defects. These additives achieve this by creating gases at the surface of the mold cavity, which prevent the liquid metal from adhering to the sand. Reducing agents are not used with steel casting, because they can carburize the metal during casting.
Up to 3% of "cushioning material", such as
wood
Wood
Wood is a hard, fibrous tissue found in many trees. It has been used for hundreds of thousands of years for both fuel and as a construction material. It is an organic material, a natural composite of cellulose fibers embedded in a matrix of lignin which resists compression...
flour, saw dust, powdered
husk
Husk
Husk in botany is the outer shell or coating of a seed. It often refers to the leafy outer covering of an ear of maize as it grows on the plant. Literally, a husk or hull includes the protective outer covering of a seed, fruit or vegetable...
s,
peat
Peat
Peat is an accumulation of partially decayed vegetation matter or histosol. Peat forms in wetland bogs, moors, muskegs, pocosins, mires, and peat swamp forests. Peat is harvested as an important source of fuel in certain parts of the world...
, and
straw
Straw
Straw is an agricultural by-product, the dry stalks of cereal plants, after the grain and chaff have been removed. Straw makes up about half of the yield of cereal crops such as barley, oats, rice, rye and wheat. It has many uses, including fuel, livestock bedding and fodder, thatching and...
, can be added to reduce scabbing, hot tear, and hot crack casting defects when casting high temperature metals. These materials are beneficial because burn-off when the metal is poured creating voids in the mold, which allow it to expand. They also increase collapsibility and reduce shakeout time.
Up to 2% of cereal binders, such as
dextrin
Dextrin
Dextrins are a group of low-molecular-weight carbohydrates produced by the hydrolysis of starch or glycogen. Dextrins are mixtures of polymers of D-glucose units linked by α- or α- glycosidic bonds....
,
starch
Starch
Starch or amylum is a carbohydrate consisting of a large number of glucose units joined together by glycosidic bonds. This polysaccharide is produced by all green plants as an energy store...
, sulphite
lye
Lye
Lye is a corrosive alkaline substance, commonly sodium hydroxide or historically potassium hydroxide . Previously, lye was among the many different alkalis leached from hardwood ashes...
, and
molasses
Molasses
Molasses is a viscous by-product of the processing of sugar cane, grapes or sugar beets into sugar. The word molasses comes from the Portuguese word melaço, which ultimately comes from mel, the Latin word for "honey". The quality of molasses depends on the maturity of the sugar cane or sugar beet,...
, can be used to increase dry strength (the strength of the mold after curing) and improve surface finish. Cereal binders also improve collapsibility and reduce shakeout time because they burn-off when the metal is poured. The disadvantage to cereal binders is that they are expensive.
Up to 2% of
iron oxide
Iron oxide
Iron oxides are chemical compounds composed of iron and oxygen. All together, there are sixteen known iron oxides and oxyhydroxides.Iron oxides and oxide-hydroxides are widespread in nature, play an important role in many geological and biological processes, and are widely utilized by humans, e.g.,...
powder can be used to prevent mold cracking and metal penetration, essentially improving refractoriness. Silica flour (fine silica) and zircon flour also improve refractoriness, especially in ferrous castings. The disadvantages to these additives is that they greatly reduce permeability.
Parting compounds
To get the pattern out of the mold, prior to casting, a parting compound is applied to the pattern to ease removal. They can be a liquid or a fine powder (particle diameters between 75 um). Common powders include
talc
Talc
Talc is a mineral composed of hydrated magnesium silicate with the chemical formula H2Mg34 or Mg3Si4O102. In loose form, it is the widely-used substance known as talcum powder. It occurs as foliated to fibrous masses, its crystals being so rare as to be almost unknown...
,
graphite
Graphite
The mineral graphite is one of the allotropes of carbon. It was named by Abraham Gottlob Werner in 1789 from the Ancient Greek γράφω , "to draw/write", for its use in pencils, where it is commonly called lead . Unlike diamond , graphite is an electrical conductor, a semimetal...
, and dry silica; common liquids include
mineral oil
Mineral oil
A mineral oil is any of various colorless, odorless, light mixtures of alkanes in the C15 to C40 range from a non-vegetable source, particularly a distillate of petroleum....
and water-based silicon solutions. The latter are more commonly used with metal and large wooden patterns.
History
In 1924, the Ford automobile company set a record by producing 1 million cars, in the process consuming one-third of the total casting production in the U.S. As the automobile industry grew the need for increased casting efficiency grew. The increasing demand for castings in the growing
car
Čar
Čar is a village in the municipality of Bujanovac, Serbia. According to the 2002 census, the town has a population of 296 people.-References:...
and machine building industry during and after World War I and World War II, stimulated new inventions in
mechanization
Mechanization
Mechanization or mechanisation is providing human operators with machinery that assists them with the muscular requirements of work or displaces muscular work. In some fields, mechanization includes the use of hand tools...
and later
automation
Automation
Automation is the use of control systems and information technologies to reduce the need for human work in the production of goods and services. In the scope of industrialization, automation is a step beyond mechanization...
of the sand casting process technology.
There was not one
bottleneck
Bottleneck
A bottleneck is a phenomenon where the performance or capacity of an entire system is limited by a single or limited number of components or resources. The term bottleneck is taken from the 'assets are water' metaphor. As water is poured out of a bottle, the rate of outflow is limited by the width...
to faster casting production but rather several. Improvements were made in molding speed, molding sand preparation, sand
mixing
Mixing (process engineering)
In industrial process engineering, mixing is a unit operation that involves manipulating a heterogeneous physical system, with the intent to make it more homogeneous...
,
core
Core
- Science and Academics :* Core , in mathematics, an object in group theory* Core , in mathematics, a subset of the domain of a closable operator* Core , in mathematics, the homomorphically minimal subgraph of a graph...
manufacturing processes, and the slow metal
melting
Melting
Melting, or fusion, is a physical process that results in the phase change of a substance from a solid to a liquid. The internal energy of a substance is increased, typically by the application of heat or pressure, resulting in a rise of its temperature to the melting point, at which the rigid...
rate in
cupola furnace
Cupola furnace
A Cupola or Cupola furnace is a melting device used in foundries that can be used to melt cast iron, ni-resist iron and some bronzes. The cupola can be made almost any practical size. The size of a cupola is expressed in diameters and can range from . The overall shape is cylindrical and the...
s. In 1912, the sand slinger was invented by the
American
United States
The United States of America is a federal constitutional republic comprising fifty states and a federal district...
company Beardsley & Piper. In 1912, the first sand mixer with individually mounted revolving plows was marketed by the Simpson Company. In 1915, the first experiments started with
bentonite
Bentonite
Bentonite is an absorbent aluminium phyllosilicate, essentially impure clay consisting mostly of montmorillonite. There are different types of bentonite, each named after the respective dominant element, such as potassium , sodium , calcium , and aluminum . Experts debate a number of nomenclatorial...
clay instead of simple fire clay as the bonding additive to the molding sand. This increased tremendously the green and dry strength of the molds. In 1918, the first fully automated foundry for fabricating hand
grenade
Grenade
A grenade is a small explosive device that is projected a safe distance away by its user. Soldiers called grenadiers specialize in the use of grenades. The term hand grenade refers any grenade designed to be hand thrown. Grenade Launchers are firearms designed to fire explosive projectile grenades...
s for the U.S. Army went into production. In the 1930s the first high-frequency coreless electric
furnace
Furnace
A furnace is a device used for heating. The name derives from Latin fornax, oven.In American English and Canadian English, the term furnace on its own is generally used to describe household heating systems based on a central furnace , and sometimes as a synonym for kiln, a device used in the...
was installed in the U.S. In 1943,
ductile iron
Ductile iron
Ductile iron, also known as ductile cast iron, nodular cast iron, spheroidal graphite iron, spherulitic graphite cast iron and SG iron, is a type of cast iron invented in 1943 by Keith Millis...
was invented by adding magnesium to the widely used grey iron. In 1940, thermal sand reclamation was applied for molding and core sands. In 1952, the "D-process" was developed for making shell molds with fine, pre-coated sand. In 1953, the hotbox core sand process in which the cores are thermally cured was invented. In 1954, a new core binder - water glass hardened with CO
2
from the ambient air, was applied.