 Popover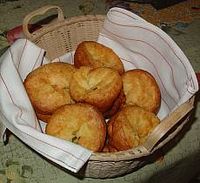 A
popover
is a light, hollow
roll
Roll (food)
Roll as a kind of food, snack, or candy may refer to:* Arctic roll* Black sesame roll* Bread roll* Breakfast roll* Bulkie roll* Cabbage roll* California roll* Cheese roll* Chiko Roll* Cinnamon roll*Croquette* Egg roll* Fritter roll* Kaiser roll...
made from an
egg
Egg (food)
Eggs are laid by females of many different species, including birds, reptiles, amphibians, and fish, and have probably been eaten by mankind for millennia. Bird and reptile eggs consist of a protective eggshell, albumen , and vitellus , contained within various thin membranes...
batter
Batter (cooking)
Batter is a semi-liquid mixture of one or more flours combined with liquids such as water, milk or eggs used to prepare various foods. Often a leavening agent such as baking powder is included to aerate and fluff up the batter as it cooks, or the mixture may be naturally fermented for this purpose...
similar to that of
Yorkshire pudding
Yorkshire pudding
Yorkshire Pudding is a dish that originated in Yorkshire, England. It is made from batter and usually served with roast meat and gravy.-History:...
, typically baked in
muffin tin
Muffin tin
A muffin tin is a mold in which muffins or cupcakes are baked. A single cup within a regular muffin tin is 3 and 1/2 ounces and most often has room for 12 muffins, although tins holding 6, 8, 11, 24, and 35 muffins do exist. A single cup within a mini muffin tin is 2 and 1/8 ounces, and because...
s.
Popovers may be served either as a sweet, topped with fruit and
whipped cream
Whipped cream
Whipped cream is cream that has been beaten by a mixer, whisk, or fork until it is light and fluffy. Whipped cream is often sweetened and sometimes flavored with vanilla, in which case it may be called Chantilly cream or crème Chantilly ....
for
breakfast
Breakfast
Breakfast is the first meal taken after rising from a night's sleep, most often eaten in the early morning before undertaking the day's work...
or with afternoon
tea
Tea
Tea is an aromatic beverage prepared by adding cured leaves of the Camellia sinensis plant to hot water. The term also refers to the plant itself. After water, tea is the most widely consumed beverage in the world...
, or with meats at lunch and
dinner
Dinner
Dinner is usually the name of the main meal of the day. Depending upon culture, dinner may be the second, third or fourth meal of the day. Originally, though, it referred to the first meal of the day, eaten around noon, and is still occasionally used for a noontime meal, if it is a large or main...
.
Name
The name "popover" comes from the fact that the batter swells or "pops" over the top of the muffin tin while baking. Another name for them is
Laplander
, of unknown origin.
History
The popover is an American version of Yorkshire pudding and similar batter puddings made in
England
England
England is a country that is part of the United Kingdom. It shares land borders with Scotland to the north and Wales to the west; the Irish Sea is to the north west, the Celtic Sea to the south west, with the North Sea to the east and the English Channel to the south separating it from continental...
since the 17th century, though it has evolved considerably.
The oldest known reference to popovers is in a letter of E. E. Stuart's (a relative of
Robert Stuart
Robert Stuart
Major Robert Stuart was an officer of the British Army and veteran of the Crimean War. After the war, he was appointed Vice-Consul at Volos and later Consul at Janina and Consul-General in various locations...
) in 1850. The first
cookbook
Cookbook
A cookbook is a kitchen reference that typically contains a collection of recipes. Modern versions may also include colorful illustrations and advice on purchasing quality ingredients or making substitutions...
to print a
recipe
Recipe
A recipe is a set of instructions that describe how to prepare or make something, especially a culinary dish.-Components:Modern culinary recipes normally consist of several components*The name of the dish...
for popovers was M. N. Henderson,
Practical Cooking
, 1876. The first book other than a cookbook to mention popovers was
Jesuit's Ring
by A. A. Hayes published in 1892.
In
American Food
(1974), author Evan Jones writes: "Settlers from
Maine
Maine
Maine is a state in the New England region of the northeastern United States, bordered by the Atlantic Ocean to the east and south, New Hampshire to the west, and the Canadian provinces of Quebec to the northwest and New Brunswick to the northeast. Maine is both the northernmost and easternmost...
who founded
Portland, Oregon
Portland, Oregon
Portland is a city located in the Pacific Northwest, near the confluence of the Willamette and Columbia rivers in the U.S. state of Oregon. As of the 2010 Census, it had a population of 583,776, making it the 29th most populous city in the United States...
Americanized the pudding from
Yorkshire
Yorkshire
Yorkshire is a historic county of northern England and the largest in the United Kingdom. Because of its great size in comparison to other English counties, functions have been increasingly undertaken over time by its subdivisions, which have also been subject to periodic reform...
by cooking the batter in custard cups lubricated with drippings from the roasting
beef
Beef
Beef is the culinary name for meat from bovines, especially domestic cattle. Beef can be harvested from cows, bulls, heifers or steers. It is one of the principal meats used in the cuisine of the Middle East , Australia, Argentina, Brazil, Europe and the United States, and is also important in...
(or sometimes
pork
Pork
Pork is the culinary name for meat from the domestic pig , which is eaten in many countries. It is one of the most commonly consumed meats worldwide, with evidence of pig husbandry dating back to 5000 BC....
); another modification was the use of
garlic
Garlic
Allium sativum, commonly known as garlic, is a species in the onion genus, Allium. Its close relatives include the onion, shallot, leek, chive, and rakkyo. Dating back over 6,000 years, garlic is native to central Asia, and has long been a staple in the Mediterranean region, as well as a frequent...
, and, frequently, herbs. The result is called Portland popover pudding: individual balloons of crusty meat-flavored pastry."
Other American popover variations include replacing some of the flour with
pumpkin
Pumpkin
A pumpkin is a gourd-like squash of the genus Cucurbita and the family Cucurbitaceae . It commonly refers to cultivars of any one of the species Cucurbita pepo, Cucurbita mixta, Cucurbita maxima, and Cucurbita moschata, and is native to North America...
puree and adding spices such as
allspice
Allspice
Allspice, also called Jamaica pepper, pepper, myrtle pepper, pimenta, or newspice, is a spice that is the dried unripe fruit of Pimenta dioica , a mid-canopy tree native to the Greater Antilles, southern Mexico, and Central America, now cultivated in many warm parts of the world...
or
nutmeg
Nutmeg
The nutmeg tree is any of several species of trees in genus Myristica. The most important commercial species is Myristica fragrans, an evergreen tree indigenous to the Banda Islands in the Moluccas of Indonesia...
. Most American popovers today, however, are not flavored with meat or herbs. Instead, they have a buttery taste.
Ogden Nash
Ogden Nash
Frederic Ogden Nash was an American poet well known for his light verse. At the time of his death in 1971, the New York Times said his "droll verse with its unconventional rhymes made him the country's best-known producer of humorous poetry".-Early life:Nash was born in Rye, New York...
inverts the historical order of events.
Let's call Yorkshire pudding

A fortunate blunder:

It's a sort of popover

That turned and popped under.