 Pontoon (boat)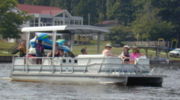 A
pontoon
is a flotation device with buoyancy sufficient to float itself as well as a heavy load. A
pontoon boat
is a flattish boat that relies on pontoons to float. Pontoons may be used on boats, rafts, barges, docks, floatplanes or seaplanes. Pontoons may support a platform, creating a raft. A raft supporting a house-like structure is a
houseboat
Houseboat
A houseboat is a boat that has been designed or modified to be used primarily as a human dwelling. Some houseboats are not motorized, because they are usually moored, kept stationary at a fixed point and often tethered to land to provide utilities...
. A fixed platform can be used as a
dock
Dock (maritime)
A dock is a human-made structure or group of structures involved in the handling of boats or ships, usually on or close to a shore.However, the exact meaning varies among different variants of the English language...
. Common boat designs are a
catamaran
Catamaran
A catamaran is a type of multihulled boat or ship consisting of two hulls, or vakas, joined by some structure, the most basic being a frame, formed of akas...
with two pontoons, or a
trimaran
Trimaran
A trimaran is a multihulled boat consisting of a main hull and two smaller outrigger hulls , attached to the main hull with lateral struts...
with three. Pontoons may be simply constructed from sealed cylinders such as pipes or barrels, or fabricated as boxes from metal or concrete. Pontoon boat drafts may be as shallow as eight inches, which reduces risk of running aground and underwater damage. The
pontoon effect
Pontoon effect
The pontoon effect refers to the tendency of a vessel whose flotation depends on lateral pontoons to capsize without warning when a lateral force is applied. The effect can be sudden and dramatic because the vessel is stable and self-righting as greater lateral force is applied, up to the point...
is when a large force applied to the side capsizes a pontoon boat without much warning, particularly a top-heavy boat.
Poontoon boats for pleasure boating and fishing can be low cost for their capacity, and cheaper to insure than other boats, even when equipped with substantial engines.
Pontoon boats are used as small vehicle
ferries
Ferry
A ferry is a form of transportation, usually a boat, but sometimes a ship, used to carry primarily passengers, and sometimes vehicles and cargo as well, across a body of water. Most ferries operate on regular, frequent, return services...
to cross rivers and lakes in many parts of the world, especially in
Africa
Africa
Africa is the world's second largest and second most populous continent, after Asia. At about 30.2 million km² including adjacent islands, it covers 6% of the Earth's total surface area and 20.4% of the total land area...
. Pontoon ferries may be motorised, such as the
Kazungula Ferry
Kazungula Ferry
The Kazungula Ferry is a pontoon ferry across the 400-metre-wide Zambezi River between Botswana and Zambia. It is one of the largest ferries in south-central Africa, having a capacity of 70 tonnes...
across the Zambezi River, or powered by another boat, or pulled by cables. A type of ferry known as the
cable ferry
Cable ferry
A cable ferry is guided and in many cases propelled across a river or other larger body of water by cables connected to both shores. They are also called chain ferries, floating bridges, or punts....
("punts" in
Australia
Australia
Australia , officially the Commonwealth of Australia, is a country in the Southern Hemisphere comprising the mainland of the Australian continent, the island of Tasmania, and numerous smaller islands in the Indian and Pacific Oceans. It is the world's sixth-largest country by total area...
and
New Zealand
New Zealand
New Zealand is an island country in the south-western Pacific Ocean comprising two main landmasses and numerous smaller islands. The country is situated some east of Australia across the Tasman Sea, and roughly south of the Pacific island nations of New Caledonia, Fiji, and Tonga...
) pull themselves across a river using a motor or human power applied to the cable, which also guides the pontoon.
History
The 1952 invention of the pontoon motorboat in the USA is credited to a farmer who lived on the Horseshoe Chain of Lakes, near Richmond, Minnesota. Ambrose Weeres put a wooden platform on two columns of steel barrels welded together end-to-end, creating a sturdy deck that would be more stable on a lake than a conventional boat. Living in the "Land of 10,000 Lakes," Weeres thought this idea might be marketed. The first boat was "The Empress". He built a few boats and sold them with the help of dealers. He started Weeres Industries to meet unexpected demand. Weeres, later called "Mr. Pontoon", was elected to the Minnesota Marina Hall of Fame.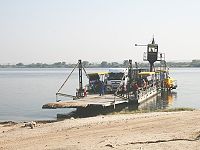 External links