 Police brutality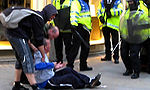 Police brutality
is the intentional use of excessive force, usually physical, but potentially also in the form of verbal attacks and psychological intimidation, by a
police officer
Police officer
A police officer is a warranted employee of a police force...
.
Widespread police brutality exists in many countries, even those that prosecute it. It is one of several forms of
police misconduct
Police misconduct
Police misconduct refers to inappropriate actions taken by police officers in connection with their official duties. Police misconduct can lead to a miscarriage of justice and sometimes involves discrimination...
, which include:
false arrest
False arrest
False arrest is a common law tort, where a plaintiff alleges they were held in custody without probable cause, or without an order issued by a court of competent jurisdiction...
;
intimidation
Intimidation
Intimidation is intentional behavior "which would cause a person of ordinary sensibilities" fear of injury or harm. It's not necessary to prove that the behavior was so violent as to cause terror or that the victim was actually frightened.Criminal threatening is the crime of intentionally or...
;
racial profiling
Racial profiling
Racial profiling refers to the use of an individual's race or ethnicity by law enforcement personnel as a key factor in deciding whether to engage in enforcement...
;
political repression
Political repression
Political repression is the persecution of an individual or group for political reasons, particularly for the purpose of restricting or preventing their ability to take political life of society....
;
surveillance abuse
Surveillance abuse
Surveillance abuse is the use of surveillance methods or technology to monitor the activity of an individual or group of individuals in a way which violates the social norms or laws of a society. Mass surveillance by the state may constitute surveillance abuse if not appropriately regulated....
;
sexual abuse
Sexual abuse
Sexual abuse, also referred to as molestation, is the forcing of undesired sexual behavior by one person upon another. When that force is immediate, of short duration, or infrequent, it is called sexual assault. The offender is referred to as a sexual abuser or molester...
; and
police corruption
Police corruption
Police corruption is a specific form of police misconduct designed to obtain financial benefits, other personal gain, or career advancement for a police officer or officers in exchange for not pursuing, or selectively pursuing, an investigation or arrest....
.
History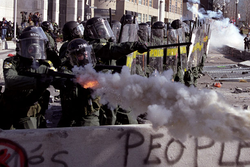 The word "brutality" has several meanings; the sense used here (savage cruelty) was first used in 1633. The first known use of the term "police brutality" was in the New York Times in 1893, describing a police officer's beating of a civilian.
The origin of modern policing based on the authority of the nation state is commonly traced back to developments in seventeenth and eighteenth century
France
France
The French Republic , The French Republic , The French Republic , (commonly known as France , is a unitary semi-presidential republic in Western Europe with several overseas territories and islands located on other continents and in the Indian, Pacific, and Atlantic oceans. Metropolitan France...
, with modern police departments being established in most nations by the nineteenth and early twentieth centuries. Cases of police brutality appear to have been frequent then, with "the routine bludgeoning of citizens by patrolmen armed with nightsticks or blackjacks." Large-scale incidents of brutality were associated with labor
strikes
Strike action
Strike action, also called labour strike, on strike, greve , or simply strike, is a work stoppage caused by the mass refusal of employees to work. A strike usually takes place in response to employee grievances. Strikes became important during the industrial revolution, when mass labour became...
, such as the
Great Railroad Strike of 1877
Great railroad strike of 1877
The Great Railroad Strike of 1877 began on July 14 in Martinsburg, West Virginia, United States and ended some 45 days later after it was put down by local and state militias, and federal troops.-Economic conditions in the 1870s:...
, the
Pullman Strike
Pullman Strike
The Pullman Strike was a nationwide conflict between labor unions and railroads that occurred in the United States in 1894. The conflict began in the town of Pullman, Illinois on May 11 when approximately 3,000 employees of the Pullman Palace Car Company began a wildcat strike in response to recent...
of 1894, the
Lawrence textile strike
Lawrence textile strike
The Lawrence Textile Strike was a strike of immigrant workers in Lawrence, Massachusetts in 1912 led by the Industrial Workers of the World. Prompted by one mill owner's decision to lower wages when a new law shortening the workweek went into effect in January, the strike spread rapidly through the...
of 1912, the
Ludlow massacre
Ludlow massacre
The Ludlow Massacre was an attack by the Colorado National Guard on a tent colony of 1,200 striking coal miners and their families at Ludlow, Colorado on April 20, 1914....
of 1914, the
Steel strike of 1919
Steel strike of 1919
The Steel Strike of 1919 was an attempt by the weakened Amalgamated Association of Iron, Steel and Tin Workers to organize the United States steel industry in the wake of World War I. The strike began on September 22, 1919, and collapsed on January 8, 1920.The AA had formed in 1876. It was a...
, and the
Hanapepe massacre
Hanapepe Massacre
The Hanapēpē Massacre happened on September 9, 1924. Toward the end of a long-lasting strike of Filipino sugar workers on Kauai, Hawaii, local police shot dead nine strikers and fatally wounded seven, strikers shot and stabbed three sheriffs to death and fatally wounded one; a total of 20 people...
of 1924.
Portions of the population may perceive the police to be
oppressors
Oppression
Oppression is the exercise of authority or power in a burdensome, cruel, or unjust manner. It can also be defined as an act or instance of oppressing, the state of being oppressed, and the feeling of being heavily burdened, mentally or physically, by troubles, adverse conditions, and...
. In addition, there is a perception that victims of police brutality often belong to relatively powerless groups, such as minorities, the disabled, the young, and the poor.
Hubert Locke writes,
"When used in print or as the battle cry in a black power

Black Power

Black Power is a political slogan and a name for various associated ideologies. It is used in the movement among people of Black African descent throughout the world, though primarily by African Americans in the United States...


rally, police brutality can by implication cover a number of practices, from calling a citizen by his or her first name to a death by a policeman's bullet. What the average citizen thinks of when he hears the term, however, is something midway between these two occurrences, something more akin to what the police profession knows as 'alley court' — the wanton vicious beating of a person in custody, usually while handcuffed

Handcuffs

Handcuffs are restraint devices designed to secure an individual's wrists close together. They comprise two parts, linked together by a chain, a hinge, or rigid bar. Each half has a rotating arm which engages with a ratchet that prevents it from being opened once closed around a person's wrist...


, and usually taking place somewhere between the scene of the arrest and the station house."
Causes
Police officers are legally permitted to use force, and their superiors — and the public — expect them to do so, when appropriate. According to Jerome Herbert Skolnick, in dealing largely with disorderly elements of the society, some people working in law enforcement may gradually develop an attitude or sense of authority over society, particularly under traditional reaction-based policing models; in some cases the police believe that they are above the law.
However, this "bad apple paradigm" is considered by some to be an "easy way out". A broad report commissioned by the Royal Canadian Mounted Police on the causes of misconduct in policing calls it "a simplistic explanation that permits the organization and senior management to blame corruption on individuals and individual faults – behavioural, psychological, background factors, and so on, rather than addressing systemic factors." The report goes on to discuss the systemic factors, which include:
Pressures to conform to certain aspects of "police culture", such as the Blue Code of Silence, which can "sustain an oppositional criminal subculture protecting the interests of police who violate the law" and a "'we-they' perspective in which outsiders are viewed with suspicion or distrust"
command and control structures with a rigid hierarchical foundation ("results indicate that the more rigid the hierarchy, the lower the scores on a measure of ethical decision-making" concludes one study reviewed in the report); and
deficiencies in internal accountability mechanisms (including internal investigation processes).
Police use of force is kept in check in many jurisdictions by the issuance of a
use of force continuum
Use of force continuum
A use of force continuum is a standard that provides law enforcement officials & security officers with guidelines as to how much force may be used against a resisting subject in a given situation. In certain ways it is similar to the military rules of engagement...
. A use of force continuum sets levels of force considered appropriate in direct response to a subject's behavior. This power is granted by the civil government, with limits set out in
statutory law
Statutory law
Statutory law or statute law is written law set down by a legislature or by a legislator .Statutes may originate with national, state legislatures or local municipalities...
as well as
common law
Common law
Common law is law developed by judges through decisions of courts and similar tribunals rather than through legislative statutes or executive branch action...
.
Some members of the public may in fact perceive the use of force by police as excessive even when the force used is lawful.
Global prevalence
Investigation
In the
United Kingdom
United Kingdom
The United Kingdom of Great Britain and Northern IrelandIn the United Kingdom and Dependencies, other languages have been officially recognised as legitimate autochthonous languages under the European Charter for Regional or Minority Languages...
, an independent organization known as the
Independent Police Complaints Commission
Independent Police Complaints Commission
The Independent Police Complaints Commission is a non-departmental public body in England and Wales responsible for overseeing the system for handling complaints made against police forces in England and Wales.-Role:...
investigates reports of police misconduct. They automatically investigate any deaths caused by, or thought to be caused by, police action.
Independent oversight
Various community groups have criticized police brutality. These groups often stress the need for oversight by independent citizen review boards and other methods of ensuring accountability for police action.
Umbrella organizations and justice committees (often named after a deceased individual or those victimized by police violence) usually engage in a solidarity of those affected.
Amnesty International
Amnesty International
Amnesty International is an international non-governmental organisation whose stated mission is "to conduct research and generate action to prevent and end grave abuses of human rights, and to demand justice for those whose rights have been violated."Following a publication of Peter Benenson's...
is another organization active in the issue of police brutality.
Tools used by these groups include video recordings, which are sometimes broadcast using websites such as
YouTube
YouTube
YouTube is a video-sharing website, created by three former PayPal employees in February 2005, on which users can upload, view and share videos....
.
See also
Police misconduct

Police misconduct

Police misconduct refers to inappropriate actions taken by police officers in connection with their official duties. Police misconduct can lead to a miscarriage of justice and sometimes involves discrimination...



Police riot

Police riot

A police riot is a confrontation between police and civilians. The term can also describe a riot by civilians caused or instigated by police...



Prisoner abuse

Prisoner abuse

Prisoner abuse is the mistreatment of persons while they are under arrest or incarcerated.Abuse falling into this category includes:* Physical abuse: Needless beating, hitting, or other corporal punishment....



High Speed Pursuit Syndrome

High Speed Pursuit Syndrome

High Speed Pursuit Syndrome refers to a condition that police officers may suffer from during a high speed chase. When a police officer gets into a high speed and dangerous chase, he may get so angry and pumped up with energy that the adrenaline rush may cause him to carry out violence and deadly...



International Day Against Police Brutality

International Day Against Police Brutality

The International Day Against Police Brutality occurs on March 15. It first began in 1997 as an initiative of the Montreal Collective Opposed to Police Brutality and the Black Flag group in Switzerland...


(March 15)
Legal observer

Legal observer

Legal observers are individuals, usually representatives of civilian human rights agencies, who attend public demonstrations, protests and other activities where there is a potential for conflict between the public or activists and the police, security guards or other law enforcement personnel...



General:
Civil rights

Civil rights

Civil and political rights are a class of rights that protect individuals' freedom from unwarranted infringement by governments and private organizations, and ensure one's ability to participate in the civil and political life of the state without discrimination or repression.Civil rights include...



Civil liberties

Civil liberties

Civil liberties are rights and freedoms that provide an individual specific rights such as the freedom from slavery and forced labour, freedom from torture and death, the right to liberty and security, right to a fair trial, the right to defend one's self, the right to own and bear arms, the right...



US specific:
Police brutality (United States)
Police brutality cases (United States)
Christopher Commission

Christopher Commission

The Independent Commission on the Los Angeles Police Department, informally known as the Christopher Commission, was formed in July 1991, in the wake of the Rodney King beating, by then-mayor of Los Angeles Tom Bradley. It was chaired by attorney Warren Christopher...



Copwatch

Copwatch

Copwatch is a network of activist organizations in the United States and Canada that observe and document police activity while looking for signs of police misconduct and police brutality...



Pitchess motion

Pitchess motion

A Pitchess motion is a request made by the defense in a California criminal case, such as a DUI case or a resisting arrest case, to access a law enforcement officer's personnel information when the defendant alleges in an affidavit that the officer used excessive force or lied about the events...



External links
External Readings
della Porta, D., A. Peterson and H. Reiter, eds. (2006). The Policing of Transnational Protest. Aldershot, Ashgate.
della Porta, D. and H. Reiter (1998). Policing Protest: The Control of Mass Demonstrations in Western Democracies. Minneapolis, University of Minnesota Press.
Donner, F. J. 1990. Protectors of Privilege: Red Squads and Police Repression in Urban America. Berkeley, University of California Press.
Earl, Jennifer S. and Sarah A. Soule. 2006. "Seeing Blue: A Police-Centered Explanation of Protest Policing." Mobilization 11(2): 145-164.
McPhail, Clark, David Schweingruber, and John D. McCarthy (1998). "Protest Policing in the United States, 1960-1995." Pp. 49-69 in Policing Protest: The Control of Mass Demonstrations in Western Democracies, edited by D. della Porta and H. Reiter. Minneapolis: University of Minnesota Press.
Oliver, P. (2008). "Repression and Crime Control: Why Social Movements Scholars Should Pay Attention to Mass Incarceration Rates as a Form of Repression" Mobilization 13(1): 1-24.
Zwerman G, Steinhoff P. (2005). When activists ask for trouble: state-dissident interactions and the new left cycle of resistance in the United States and Japan. In Repression and Mobilization, ed. C. Davenport, H. Johnston, C. Mueller, pp. 85–107. Minneapolis: Univ. Minn. Press