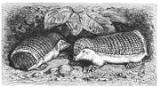 Pink Fairy Armadillo
The
pink fairy armadillo
(
Chlamyphorus truncatus
) or
pichiciego
is the smallest
species
Species
In biology, a species is one of the basic units of biological classification and a taxonomic rank. A species is often defined as a group of organisms capable of interbreeding and producing fertile offspring. While in many cases this definition is adequate, more precise or differing measures are...
of
armadillo
Armadillo
Armadillos are New World placental mammals, known for having a leathery armor shell. Dasypodidae is the only surviving family in the order Cingulata, part of the superorder Xenarthra along with the anteaters and sloths. The word armadillo is Spanish for "little armored one"...
(
mammal
Mammal
Mammals are members of a class of air-breathing vertebrate animals characterised by the possession of endothermy, hair, three middle ear bones, and mammary glands functional in mothers with young...
s of the
family
Family (biology)
In biological classification, family is* a taxonomic rank. Other well-known ranks are life, domain, kingdom, phylum, class, order, genus, and species, with family fitting between order and genus. As for the other well-known ranks, there is the option of an immediately lower rank, indicated by the...
Dasypodidae, mostly known for having a bony armor shell). It is found in central
Argentina
Argentina
Argentina , officially the Argentine Republic , is the second largest country in South America by land area, after Brazil. It is constituted as a federation of 23 provinces and an autonomous city, Buenos Aires...
, where it inhabits dry
grassland
Grassland
Grasslands are areas where the vegetation is dominated by grasses and other herbaceous plants . However, sedge and rush families can also be found. Grasslands occur naturally on all continents except Antarctica...
s and sandy
plain
Plain
In geography, a plain is land with relatively low relief, that is flat or gently rolling. Prairies and steppes are types of plains, and the archetype for a plain is often thought of as a grassland, but plains in their natural state may also be covered in shrublands, woodland and forest, or...
s with thorn bushes and
cacti
Cacti
-See also:* RRDtool The underlying software upon which Cacti is built* MRTG The original Multi Router Traffic Grapher from which RRDtool was "extracted".* Munin -External links:******...
.
Characteristics
The pink fairy armadillo is approximately 90–115 mm (3.5-4.5 inches) long, excluding the tail, and is pale rose or
pink
Pink
Pink is a mixture of red and white. Commonly used for Valentine's Day and Easter, pink is sometimes referred to as "the color of love." The use of the word for the color known today as pink was first recorded in the late 17th century....
in color. It has the ability to bury itself completely in a matter of seconds if frightened.
It is a nocturnal animal. It
burrows
Fossorial
A fossorial organism is one that is adapted to digging and life underground such as the badger, the naked mole rat, and the mole salamanders Ambystomatidae...
small holes near
ant
Ant
Ants are social insects of the family Formicidae and, along with the related wasps and bees, belong to the order Hymenoptera. Ants evolved from wasp-like ancestors in the mid-Cretaceous period between 110 and 130 million years ago and diversified after the rise of flowering plants. More than...
colonies in dry soil, and feeds mainly on ants and ant
larva
Larva
A larva is a distinct juvenile form many animals undergo before metamorphosis into adults. Animals with indirect development such as insects, amphibians, or cnidarians typically have a larval phase of their life cycle...
e near its
burrow
Burrow
A burrow is a hole or tunnel dug into the ground by an animal to create a space suitable for habitation, temporary refuge, or as a byproduct of locomotion. Burrows provide a form of shelter against predation and exposure to the elements, so the burrowing way of life is quite popular among the...
. Occasionally, it feeds on
worm
Worm
The term worm refers to an obsolete taxon used by Carolus Linnaeus and Jean-Baptiste Lamarck for all non-arthropod invertebrate animals, and stems from the Old English word wyrm. Currently it is used to describe many different distantly-related animals that typically have a long cylindrical...
s,
snail
Snail
Snail is a common name applied to most of the members of the molluscan class Gastropoda that have coiled shells in the adult stage. When the word is used in its most general sense, it includes sea snails, land snails and freshwater snails. The word snail without any qualifier is however more often...
s, insects and larvae, or various plant and root material.
The pink fairy armadillo spends much of its time under the ground, as it is a "sand swimmer" similar to the
golden mole
Golden mole
Golden moles are small, insectivorous burrowing mammals native to southern Africa. They form the family Chrysochloridae, and are taxonomically distinct from the true moles which they resemble due to convergence...
or the
marsupial mole
Marsupial mole
Marsupial moles is a family of marsupials of the order Notoryctemorphia, consisting of only two extant species:* Notoryctes typhlops * Notoryctes caurinus ...
. It uses large front claws to agitate the sand, allowing it to almost swim through the ground like it is water. It is torpedo-shaped, and has a shielded head to prevent abrasion from the sand.
Status
In 1996, the species was classed as endangered by the IUCN, then upgraded to "near threatened" in 2006, and in 2008 changed to "data deficient", despite concern over habitat destruction, particularly due to cattle farming.
This armadillo is found in several protected areas, including the
Lihué Calel National Park
Lihué Calel National Park
Lihué Calel National Park is a national park in Argentina, in the Lihue Calel Department of La Pampa Province. Covering 99 square kilometres, it was established in 1977....
. Both national and provincial legislation is in place specifically protecting the species.
External links