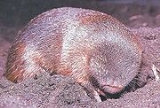 Golden mole
Golden moles
are small, insectivorous burrowing
mammal
Mammal
Mammals are members of a class of air-breathing vertebrate animals characterised by the possession of endothermy, hair, three middle ear bones, and mammary glands functional in mothers with young...
s native to southern
Africa
Africa
Africa is the world's second largest and second most populous continent, after Asia. At about 30.2 million km² including adjacent islands, it covers 6% of the Earth's total surface area and 20.4% of the total land area...
. They form the family
Chrysochloridae
, and are
taxonomically
Taxonomy
Taxonomy is the science of identifying and naming species, and arranging them into a classification. The field of taxonomy, sometimes referred to as "biological taxonomy", revolves around the description and use of taxonomic units, known as taxa...
distinct from the
true moles
Mole (animal)
Moles are small cylindrical mammals adapted to a subterranean lifestyle. They have velvety fur; tiny or invisible ears and eyes; and short, powerful limbs with large paws oriented for digging. The term is especially and most properly used for the true moles, those of the Talpidae family in the...
which they resemble due to convergence. The golden moles bear a remarkable resemblance to the
marsupial mole
Marsupial mole
Marsupial moles is a family of marsupials of the order Notoryctemorphia, consisting of only two extant species:* Notoryctes typhlops * Notoryctes caurinus ...
s of
Australia
Australia
Australia , officially the Commonwealth of Australia, is a country in the Southern Hemisphere comprising the mainland of the Australian continent, the island of Tasmania, and numerous smaller islands in the Indian and Pacific Oceans. It is the world's sixth-largest country by total area...
, so much so that, the
marsupial
Marsupial
Marsupials are an infraclass of mammals, characterized by giving birth to relatively undeveloped young. Close to 70% of the 334 extant species occur in Australia, New Guinea, and nearby islands, with the remaining 100 found in the Americas, primarily in South America, but with thirteen in Central...
/placental divide notwithstanding, arguments were once made that they were related, possibly because they are very primitive placentals and because of the many mole like specializations.
Characteristics
Golden moles live almost exclusively underground, beneath grassveld, forest, swamps, deserts, or mountainous terrain. Like several other burrowing mammals with similar habits, they have short legs with powerful digging claws, very dense fur that repels dirt and moisture, and toughened skin, particularly on the head. Their eyes are non-functional and covered with skin and fur, the ears are just tiny openings, and, like the marsupial moles, they have an enlarged leather-like pad to protect their nostrils. Their primary sense is that of
touch
Somatosensory system
The somatosensory system is a diverse sensory system composed of the receptors and processing centres to produce the sensory modalities such as touch, temperature, proprioception , and nociception . The sensory receptors cover the skin and epithelia, skeletal muscles, bones and joints, internal...
, and they are particularly sensitive to vibrations that may indicate approaching danger.
They range in size from about 8 to about 20 cm. They have muscular shoulders and an enlarged third claw on the forelimbs to aid digging, with no fifth digit and vestigial first and fourth digits; the hind feet retain all five toes and are webbed to allow efficient backward shoveling of the soil loosened with the front claws. They feed on small insects, which are located with the sense of hearing. Grant's golden mole (
Eremitalpa granti
) can cover 6 km each night looking for food.
While the desert species simply 'swim' through loose sand, all other species construct permanent
burrow
Burrow
A burrow is a hole or tunnel dug into the ground by an animal to create a space suitable for habitation, temporary refuge, or as a byproduct of locomotion. Burrows provide a form of shelter against predation and exposure to the elements, so the burrowing way of life is quite popular among the...
s. The burrows are relatively complex in form, and may penetrate as far as a metre below ground. They include deep chambers for use as bolt-holes, and others as latrines. Excavated soil is pushed up to the surface as ridges or mole-hills, or is compacted into the tunnel walls. During extremely hot weather, Grant's golden mole will retreat to depths of around 50 cm and enter a state of torpor, thus conserving energy.
Females give birth to one to three hairless young in a grass-lined nest within the burrow system. Breeding occurs throughout the year. The adults are solitary, and their burrowing territory may be aggressively defended from intruders, especially where resources are relatively scarce.
Because these mammals were previously thought to have originated in
Gondwana
Gondwana
In paleogeography, Gondwana , originally Gondwanaland, was the southernmost of two supercontinents that later became parts of the Pangaea supercontinent. It existed from approximately 510 to 180 million years ago . Gondwana is believed to have sutured between ca. 570 and 510 Mya,...
, golden moles used to be regarded as rather 'primitive' creatures: their low resting metabolic rate and their ability to switch off thermoregulation when inactive, however, are no longer regarded as indications that golden moles are undeveloped 'reptilian mammals', but rather as essential adaptations to a harsh climate. By going into a torpor when resting or during cold weather, they conserve energy and reduce their need for food. Similarly, they have developed particularly efficient kidneys and most species do not need to drink water at all. Like the tenrecs, they possess a
cloaca
Cloaca
In zoological anatomy, a cloaca is the posterior opening that serves as the only such opening for the intestinal, reproductive, and urinary tracts of certain animal species...
, and males lack a
scrotum
Scrotum
In some male mammals the scrotum is a dual-chambered protuberance of skin and muscle containing the testicles and divided by a septum. It is an extension of the perineum, and is located between the penis and anus. In humans and some other mammals, the base of the scrotum becomes covered with curly...
.
Status
Of the 21 species of golden mole, no less than 11 are threatened with extinction. The primary causes are
sand mining
Sand mining
Sand mining is a practice that is becoming an environmental issue as the demand for sand increases in industry and construction. Sand is mined from beaches and inland dunes and dredged from ocean beds and river beds. It is often used in manufacturing as an abrasive, for example, and it is used to...
, poor agricultural practices, increasing urbanisation, and predation by domestic cats and dogs.
Classification
As with many groups, the classification of the golden moles is undergoing an upheaval at present in the light of the flood of new genetic information becoming available. They have traditionally been listed with the
shrew
Shrew
A shrew or shrew mouse is a small molelike mammal classified in the order Soricomorpha. True shrews are also not to be confused with West Indies shrews, treeshrews, otter shrews, or elephant shrews, which belong to different families or orders.Although its external appearance is generally that of...
s,
hedgehog
Hedgehog
A hedgehog is any of the spiny mammals of the subfamily Erinaceinae and the order Erinaceomorpha. There are 17 species of hedgehog in five genera, found through parts of Europe, Asia, Africa, and New Zealand . There are no hedgehogs native to Australia, and no living species native to the Americas...
s and a grab-bag of small, difficult-to-place creatures as part of the order
Insectivora
Insectivora
The order Insectivora is a now-abandoned biological grouping within the class of mammals...
. Some authorities retain this classification, at least for the time being. Others group the golden moles with the tenrecs in a new order which is sometimes known as Tenrecomorpha, while others call it
Afrosoricida
Afrosoricida
The order Afrosoricida contains the golden moles of southern Africa and the tenrecs of Madagascar and Africa, two families of small mammals that have traditionally been considered to be a part of the order Insectivora.Some biologists use Tenrecomorpha as the name for the tenrec-golden mole clade,...
and reserve Tenrecomorpha for the Tenrecidae family.
ORDER AFROSORICIDA

Afrosoricida

The order Afrosoricida contains the golden moles of southern Africa and the tenrecs of Madagascar and Africa, two families of small mammals that have traditionally been considered to be a part of the order Insectivora.Some biologists use Tenrecomorpha as the name for the tenrec-golden mole clade,...




Suborder Tenrecomorpha

Family Tenrecidae

Tenrecidae

Tenrecidae is a family of mammals found on Madagascar and parts of Africa. Tenrecs are widely diverse, resembling hedgehogs, shrews, opossums, mice and even otters, as a result of convergent evolution. They occupy aquatic, arboreal, terrestrial and fossorial environments...


: tenrecs, 34 species in 10 genera

Suborder Chrysochloridea

Family Chrysochloridae

Subfamily Chrysochlorinae
Subfamily Amblysominae

Genus Amblysomus

Amblysomus

Golden Moles , also African Golden Moles and South African Golden Moles, is a genus of mammal in the Chrysochloridae family.It contains the following species:* Fynbos Golden Mole...



Genus Calcochloris

Calcochloris

Calcochloris is a genus of mammal in the Chrysochloridae family.It contains the following species:* Congo Golden Mole * Yellow Golden Mole * Somali Golden Mole...




Subgenus Huetia

Congo Golden Mole

Congo Golden Mole

The Congo Golden Mole is a species of mammal in the Chrysochloridae family. It is found in Angola, Cameroon, Central African Republic, Republic of the Congo, and Democratic Republic of the Congo...


(Calcochloris leucorhinus)

Subgenus Calcochloris

Yellow Golden Mole

Yellow Golden Mole

The Yellow Golden Mole is a species of mammal in the Chrysochloridae family. It is found in Mozambique, South Africa, and Zimbabwe. Its natural habitats are subtropical or tropical dry forests, subtropical or tropical moist lowland forests, dry savanna, moist savanna, arable land, pastureland,...


(Calcochloris obtusirostris)

Subgenus incertae sedis

Incertae sedis

, is a term used to define a taxonomic group where its broader relationships are unknown or undefined. Uncertainty at specific taxonomic levels is attributed by , , and similar terms.-Examples:*The fossil plant Paradinandra suecica could not be assigned to any...




Somali Golden Mole

Somali Golden Mole

The Somali Golden Mole is a golden mole endemic to Somalia....


(Calcochloris tytonis)

Genus Neamblysomus

Juliana's Golden Mole

Juliana's Golden Mole

Juliana's Golden Mole is a golden mole endemic to South Africa. It is listed as an endangered species due to habitat loss and a restricted range. Golden moles are an ancient group of mammals who live mostly below ground. They have shiny coats of dense fur and a streamlined, formless appearance...


(Neamblysomus julianae)
Gunning's Golden Mole

Gunning's Golden Mole

Gunning's Golden Mole, Neamblysomus gunningi, is a small mammal endemic to South Africa. It was listed in 2006 as an endangered species. Its decreasing numbers are due to habitat clearance or destruction and predation from domesticated cats and dogs...


(Neamblysomus gunningi)