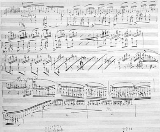 Piano Sonata (Liszt)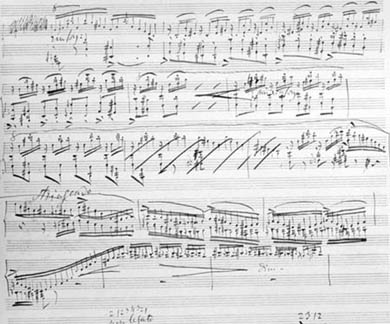 The
Piano Sonata in B minor
,
S.178
, is a musical composition for solo
piano
Piano
The piano is a musical instrument played by means of a keyboard. It is one of the most popular instruments in the world. Widely used in classical and jazz music for solo performances, ensemble use, chamber music and accompaniment, the piano is also very popular as an aid to composing and rehearsal...
by
Franz Liszt
Franz Liszt
Franz Liszt ; ), was a 19th-century Hungarian composer, pianist, conductor, and teacher.Liszt became renowned in Europe during the nineteenth century for his virtuosic skill as a pianist. He was said by his contemporaries to have been the most technically advanced pianist of his age...
, published in 1854 with a dedication to
Robert Schumann
Robert Schumann
Robert Schumann, sometimes known as Robert Alexander Schumann, was a German composer, aesthete and influential music critic. He is regarded as one of the greatest and most representative composers of the Romantic era....
. It is often considered Liszt's greatest composition for
solo piano
Piano solo
The piano is often used to provide harmonic accompaniment to a voice or other instrument. However, solo parts for the piano are common in many musical styles...
. The piece has been often analyzed, particularly regarding issues of
form
Musical form
The term musical form refers to the overall structure or plan of a piece of music, and it describes the layout of a composition as divided into sections...
.
Background
The Sonata was composed in 1852 and 1853. At this point in his life, Liszt's career as a traveling
virtuoso
Virtuoso
A virtuoso is an individual who possesses outstanding technical ability in the fine arts, at singing or playing a musical instrument. The plural form is either virtuosi or the Anglicisation, virtuosos, and the feminine form sometimes used is virtuosa...
had almost entirely subsided as he had been influenced towards leading the life of a composer rather than a performer by
Carolyne zu Sayn-Wittgenstein
Carolyne zu Sayn-Wittgenstein
Carolyne zu Sayn-Wittgenstein was a Polish noblewoman who pursued a 40-year liaison/relationship with Franz Liszt. She was also an amateur journalist and essayist and it is conjectured that she did much of the actual writing of several of Liszt's publications, especially his Life of Chopin...
almost five years earlier. Liszt's life was established in
Weimar
Weimar
Weimar is a city in Germany famous for its cultural heritage. It is located in the federal state of Thuringia , north of the Thüringer Wald, east of Erfurt, and southwest of Halle and Leipzig. Its current population is approximately 65,000. The oldest record of the city dates from the year 899...
and he was living a comfortable lifestyle, composing, and occasionally performing, entirely by choice rather than necessity. The sonata was dedicated to
Robert Schumann
Robert Schumann
Robert Schumann, sometimes known as Robert Alexander Schumann, was a German composer, aesthete and influential music critic. He is regarded as one of the greatest and most representative composers of the Romantic era....
, in return for Schumann's dedication of his
Fantasie in C, Op. 17
Fantasie in C (Schumann)
The Fantasie in C major, Op. 17, was written by Robert Schumann in 1836. It was revised prior to publication in 1839, when it was dedicated to Franz Liszt. It is generally described as one of Schumann's greatest works for solo piano, and is one of the central works of the early Romantic period. ...
(1836) to Liszt.
Composition
There exists a great deal of speculation surrounding the origins of this piece. While Liszt composed a great deal of programmatic works, at no point did he suggest that this piece was constructed upon any idea greater than pure music. However, it has been suggested that the piece could be programmatic of the Faust legend, be based upon the biblical story of the
Garden of Eden
Garden of Eden
The Garden of Eden is in the Bible's Book of Genesis as being the place where the first man, Adam, and his wife, Eve, lived after they were created by God. Literally, the Bible speaks about a garden in Eden...
or even be biographical. The sonata is constructed as a single movement of non-stop music; however, it is widely believed that Liszt's piece still fits the mold of a traditional four-movement sonata within the mold of one long sonata form.
The quiet ending of the sonata may have been an afterthought; the original manuscript kept in the The Morgan Library & Museum in New York City (also published as a facsimile by
G. Henle Verlag
G. Henle Verlag
G. Henle Publishers is a German publishing house that specializes in Urtext editions of sheet music. The programme includes works by composers from all different periods, in particular composers from the baroque to the early twentieth century whose works are no longer under copyright. In addition...
in 1973) contains a crossed-out ending section which would have ended the work loudly instead.
Analysis
The sonata is notable for being constructed from five motivic elements that are woven into an enormous musical architecture. The motivic units undergo thematic transformation throughout the work to suit the musical context of the moment. A theme that in one context sounds menacing and even violent, is then transformed into a beautiful melody. This technique helps to bind the sonata's sprawling structure into a single cohesive unit. Michael Saffle, Alan Walker, and others contend that the first motive appears at the very start of the piece until bar 8, the second occurs from bar 9 until 12 and the third from measures 13 to 17. The fourth and fifth motives appear later in the piece at measures 105-108 and 327-338 respectively.
Broadly speaking, the Sonata has four movements although there is no gap between them. Superimposed upon the four movements is a large sonata form structure, although the precise beginnings and endings of the traditional development and recapitulation sections has long been a topic of debate. Charles Rosen states in his book The Classical Style that the entire piece fits the mold of a sonata form because of the reprise of material from the first movement that had been in D major, the relative major, now reprised in B minor.
Alan Walker, the foremost contemporary Liszt scholar, believes that the development begins roughly with the slow section at measure 331, the leadback towards the recapitulation begins at the scherzo fugue, measure 459, and the recapitulation and coda are at measures 533 and 682 respectively. Each of these sections (exposition, development, leadback, and recapitulation) are examples of Classical forms in and of themselves, which means that this piece is one of the earliest examples of
Double-function form
Double-Function Form
Double-function form is a musical construction that allows for a collection of movements to be viewed as elements of a single larger musical form. The most famous example of this is Franz Liszt's Piano Sonata in B minor . The sonata is composed as a single movement with about a half an hour's...
, a piece of music which has two classical forms occurring simultaneously, one containing others. For instance the exposition is a sonata form which starts and ends with material in B minor, containing the second part of the exposition and development wandering away from the tonic key, largely through the relative major D. In using this structure, Liszt was influenced by
Franz Schubert
Franz Schubert
Franz Peter Schubert was an Austrian composer.Although he died at an early age, Schubert was tremendously prolific. He wrote some 600 Lieder, nine symphonies , liturgical music, operas, some incidental music, and a large body of chamber and solo piano music...
's
Wanderer Fantasy
Wanderer Fantasy
The Fantasie in C major, Op. 15 , popularly known as the Wanderer Fantasy, is a four-movement fantasy for solo piano composed by Franz Schubert in November 1822. It is considered Schubert's most technically demanding composition for the piano...
, a work he greatly admired, performed often and arranged for piano and orchestra. Schubert used the same limited number of musical elements to create a broad four movement work, and used a fugal 4th movement. Already in 1851 Liszt experimented with a nonprogrammatic "four-movements-in-one" form in an extended work for piano solo called Grosses Concert-Solo. This piece, which in 1865 was published as a two-piano version under the title
Concerto pathétique
Concerto pathetique
The Concerto pathétique, written in 1865, , is Franz Liszt's most substantial and ambitious two-piano work . At least two piano concerto arrangements of the work by other composers have the same title....
, shows a thematic relationship to both the Sonata and the later
Faust Symphony
Faust Symphony
A Faust Symphony in three character pictures , S.108, or simply the "Faust Symphony", was written by Hungarian composer Franz Liszt and was inspired by Johann von Goethe's drama, Faust...
.
Reception
The sonata was published by Breitkopf & Härtel in 1854 and first performed on January 27, 1857 in Berlin by Liszt's pupil and son-in-law,
Hans von Bülow
Hans von Bülow
Hans Guido Freiherr von Bülow was a German conductor, virtuoso pianist, and composer of the Romantic era. He was one of the most famous conductors of the 19th century, and his activity was critical for establishing the successes of several major composers of the time, including Richard...
. It was attacked by conservative critics such as
Eduard Hanslick
Eduard Hanslick
Eduard Hanslick was a Bohemian-Austrian music critic.-Biography:Hanslick was born in Prague, the son of Joseph Adolph Hanslick, a bibliographer and music teacher from a German-speaking family, and one of his piano pupils, the daughter of a Jewish merchant from Vienna...
,
Johannes Brahms
Johannes Brahms
Johannes Brahms was a German composer and pianist, and one of the leading musicians of the Romantic period. Born in Hamburg, Brahms spent much of his professional life in Vienna, Austria, where he was a leader of the musical scene...
(who reputedly fell asleep during Liszt's performance of the work at their first meeting), and the pianist and composer
Anton Rubinstein
Anton Rubinstein
Anton Grigorevich Rubinstein was a Russian-Jewish pianist, composer and conductor. As a pianist he was regarded as a rival of Franz Liszt, and he ranks amongst the great keyboard virtuosos...
. However, the sonata drew an enthusiastic compliment from
Richard Wagner
Richard Wagner
Wilhelm Richard Wagner was a German composer, conductor, theatre director, philosopher, music theorist, poet, essayist and writer primarily known for his operas...
following a private performance of the piece by
Karl Klindworth
Karl Klindworth
Karl Klindworth was a German composer, pianist, conductor, violinist and music publisher.-Biography:Klindworth was born at Hanover in 1830. For a time he conducted a traveling opera troupe, but settled in Hanover as a teacher and composer. From there he went to Weimar, 1852, and studied the piano...
in 1855. Otto Gumprecht of the German newspaper
Nationalzeitung
National Zeitung
The National Zeitung - Deutsche Wochen Zeitung is a weekly newspaper, published by Gerhard Frey, who also founded the far right Deutsche Volksunion in 1971....
referred to it as "an invitation to hissing and stomping". It took a long time for the Sonata to become commonplace in concert repertoire both because of its technical difficulty and negative initial reception because of its status as "new" music. However by the early stages of the twentieth century, the piece had become established as a pinnacle of Liszt's repertoire and has been a popularly performed and extensively analyzed piece ever since.
Arrangements
Camille Saint-Saëns
Camille Saint-Saëns
Charles-Camille Saint-Saëns was a French Late-Romantic composer, organist, conductor, and pianist. He is known especially for The Carnival of the Animals, Danse macabre, Samson and Delilah, Piano Concerto No. 2, Cello Concerto No. 1, Havanaise, Introduction and Rondo Capriccioso, and his Symphony...
, a close friend of Liszt, made a two-piano arrangement of the sonata in 1914, but it was never published in his lifetime because of rights issues. It was first published in 2004 by Édition Durand in Paris, edited by Sabrina Teller Ratner. According to a letter from Saint-Saëns to Jacques Durand, dated 23 August 1914, the two-piano arrangement was something that Liszt had announced but never realized.
Leo Weiner
Leo Weiner
Leo Weiner , was one of the leading Hungarian music educators of the first half of the twentieth century and a composer.- Education :Weiner was born in Budapest. He had his first music and piano lessons from his brother, and later studied at the Academy of Music in Budapest, studying with János ...
made an orchestral arrangement of the sonata in 1955. The arrangement has not been published and exists only in manuscript form. It was recorded in 2006 by the orchestra of Hochschule für Musik "Franz Liszt", Weimar with
Nicolás Pasquet
Nicolás Pasquet
Nicolás Pasquet is a conductor from Uruguay and professor of conducting.-Biography:Born in 1958 in Montevideo, Uruguay, Pasquet studied violin and conducting at the National Music College. He later studied in Germany, violin at the Stuttgart College of Music and conducting in Nürnberg...
conducting.
The sonata also appears in an orchestrated version in some 1930's movies, including the "The Black Cat", starring Karloff and Lugosi, as well as the Flash Gordon serials.
Frederick Ashton
Frederick Ashton
Sir Frederick William Mallandaine Ashton OM, CH, CBE was a leading international dancer and choreographer. He is most noted as the founder choreographer of The Royal Ballet in London, but also worked as a director and choreographer of opera, film and theatre revues.-Early life:Ashton was born at...
used the sonata for his 1963 ballet "
Marguerite and Armand
Marguerite and Armand
Marguerite and Armand is a ballet danced to Franz Liszt's B minor piano sonata. It was created in 1963 by renowned choreographer Sir Frederick Ashton specifically for world-famous dancers Rudolf Nureyev and Dame Margot Fonteyn...
", created for
Margot Fonteyn
Margot Fonteyn
Dame Margot Fonteyn de Arias, DBE , was an English ballerina of the 20th century. She is widely regarded as one of the greatest classical ballet dancers of all time...
and
Rudolf Nureyev
Rudolf Nureyev
Rudolf Khametovich Nureyev was a Russian dancer, considered one of the most celebrated ballet dancers of the 20th century. Nureyev's artistic skills explored expressive areas of the dance, providing a new role to the male ballet dancer who once served only as support to the women.In 1961 he...
, based on "La Dame aux Camélias" by
Alexandre Dumas, fils
Alexandre Dumas, fils
Alexandre Dumas, fils was a French author and dramatist. He was the son of Alexandre Dumas, père, also a writer and playwright.-Biography:...
. The original performances used an orchestral transcription of the sonata by
Humphrey Searle
Humphrey Searle
Humphrey Searle was a British composer.-Biography:He was born in Oxford where he was a classics scholar before studying — somewhat hesitantly — with John Ireland at the Royal College of Music in London, after which he went to Vienna on a six month scholarship to become a private pupil of Anton...
.
There also exists an organ transcription of the sonata.
Sources
Longyear, R.M. "Liszt's B-minor sonata: Precedents for a structural analysis." The music review, 34, no. 3-4 (Aug-Nov 1973): 198-209.
Longyear, R.M. "The Text of Liszt's B Minor Piano Sonata." The Musical Quarterly, Vol. 60, No. 3 (Jul., 1974), pp. 435–450.
Ott, Bertrand. "An interpretation of Liszt's sonata in B minor." JALS: The journal of the American Liszt Society, 10 (Dec 1981): 30-38.
Saffle, Michael. "Liszt's sonata in B minor: another look at the 'double function' question." JALS: The journal of the American Liszt Society, 11 (June 1982): 28-39.
Szasz, Tibor. "Liszt's Symbols for the Divine and Diabolical: Their Revelation of a Program in the B Minor Sonata." Journal of the American Liszt Society, 15 (1984): 39-95.
Arnold, Ben. "Recitative in Liszt's solo piano music." JALS: The journal of the American Liszt Society, 24 (July-Dec 1988): 3-22.
Tanner, Mark. "The power of performance as an alternative analytical discourse: The Liszt sonata in B minor." 19th-century music, 24, no. 2 (fall 2000): 173-192.
Brown, David. "The B Minor Sonata Revisited: Deciphering Liszt." The Musical Times, Vol. 144, No. 1882 (Spring, 2003), pp. 6–15.
External links