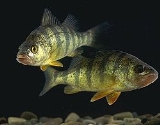 Percidae
The
Percidae
are a family of perciform fish found in fresh and brackish waters of the
Northern Hemisphere
Northern Hemisphere
The Northern Hemisphere is the half of a planet that is north of its equator—the word hemisphere literally means "half sphere". It is also that half of the celestial sphere north of the celestial equator...
. The family contains about 200 species in ten genera. The darters, perches, and their relatives are in this family: well-known species include the
walleye
Walleye
Walleye is a freshwater perciform fish native to most of Canada and to the northern United States. It is a North American close relative of the European pikeperch...
,
ruffe
Ruffe
The Eurasian Ruffe or simply Ruffe is a freshwater fish found in temperate regions of Europe and northern Asia. It has been introduced into the Great Lakes of North America, reportedly with unfortunate results...
, and three species of
perch
Perch
Perch is a common name for fish of the genus Perca, freshwater gamefish belonging to the family Percidae. The perch, of which there are three species in different geographical areas, lend their name to a large order of vertebrates: the Perciformes, from the Greek perke meaning spotted, and the...
.
This family is characterized by a greater or less degree of armour about the head, caused by the presence of teeth or spines on the cheeks, and opercles (gil-covers) or their edges, and by two narrow bands of numerous close-set teeth on the sides (
palatines
Palatine bone
The palatine bone is a bone in many species of the animal kingdom, commonly termed the palatum .-Human anatomy:...
), and a heart-shaped plate of the same in front (on the
vomer
Vomer
The vomer is one of the unpaired facial bones of the skull. It is located in the midsagittal line, and articulates with the sphenoid, the ethmoid, the left and right palatine bones, and the left and right maxillary bones.-Biology:...
) of the roof of the large mouth within. The shape of these fishes is usually oblong, compressed, neither very deep nor much elongated, their
scales
Scale (zoology)
In most biological nomenclature, a scale is a small rigid plate that grows out of an animal's skin to provide protection. In lepidopteran species, scales are plates on the surface of the insect wing, and provide coloration...
are generally harsh and rough to the feel, or
ciliate
Ciliate
The ciliates are a group of protozoans characterized by the presence of hair-like organelles called cilia, which are identical in structure to flagella but typically shorter and present in much larger numbers with a different undulating pattern than flagella...
, and their colors are brilliant (red, brown, orange and yellow are the most predominant tints).
Species
FishBase
FishBase
FishBase is a comprehensive database of information about fish species . It is the largest and most extensively accessed online database on adult finfish on the web...
lists 204 species in ten genera: