 Pepperoni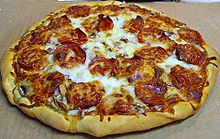 Pepperoni
is a
spicy
Piquance
Piquance is a sensation associated with the sense of taste. In various Asian countries it has traditionally been considered a basic taste.-Etymology:...
Italian-American
Italian American
An Italian American , is an American of Italian ancestry. The designation may also refer to someone possessing Italian and American dual citizenship...
variety of
salami
Salami
Salami is cured sausage, fermented and air-dried meat, originating from one of a variety of animals. Historically, salami has been popular among Southern European peasants because it can be stored at room temperature for periods of up to 10 years, supplementing a possibly meager or inconsistent...
(a dry
sausage
Sausage
A sausage is a food usually made from ground meat , mixed with salt, herbs, and other spices, although vegetarian sausages are available. The word sausage is derived from Old French saussiche, from the Latin word salsus, meaning salted.Typically, a sausage is formed in a casing traditionally made...
) usually made from
cured
Curing (food preservation)
Curing refers to various food preservation and flavoring processes, especially of meat or fish, by the addition of a combination of salt, nitrates, nitrite or sugar. Many curing processes also involve smoking, the process of flavoring, or cooking...
pork
Pork
Pork is the culinary name for meat from the domestic pig , which is eaten in many countries. It is one of the most commonly consumed meats worldwide, with evidence of pig husbandry dating back to 5000 BC....
and
beef
Beef
Beef is the culinary name for meat from bovines, especially domestic cattle. Beef can be harvested from cows, bulls, heifers or steers. It is one of the principal meats used in the cuisine of the Middle East , Australia, Argentina, Brazil, Europe and the United States, and is also important in...
, but
poultry
Poultry
Poultry are domesticated birds kept by humans for the purpose of producing eggs, meat, and/or feathers. These most typically are members of the superorder Galloanserae , especially the order Galliformes and the family Anatidae , commonly known as "waterfowl"...
may be added, if labeled correctly, for less expensive versions. Pepperoni is characteristically soft, slightly smoky, and bright red in color. It is a descendant of the spicy salamis of southern Italy, such as
salsiccia Napoletana piccante,
a spicy dry sausage from
Naples
Naples
Naples is a city in Southern Italy, situated on the country's west coast by the Gulf of Naples. Lying between two notable volcanic regions, Mount Vesuvius and the Phlegraean Fields, it is the capital of the region of Campania and of the province of Naples...
or the soppressata from
Calabria
Calabria
Calabria , in antiquity known as Bruttium, is a region in southern Italy, south of Naples, located at the "toe" of the Italian Peninsula. The capital city of Calabria is Catanzaro....
, but unlike these sausages it is smoked and has a finer grain.
Sodium nitrite
Sodium nitrite
Sodium nitrite is the inorganic compound with the chemical formula NaNO2. It is a white to slight yellowish crystalline powder that is very soluble in water and is hygroscopic...
, used as a curing agent, is what gives pepperoni the pink part of its distinct orange-pink color, while
paprika
Paprika
Paprika is a spice made from the grinding of dried fruits of Capsicum annuum . In many European languages, the word paprika refers to bell peppers themselves. The seasoning is used in many cuisines to add color and flavor to dishes. Paprika can range from mild to hot...
or other capsicum provides the orange part. Thinly sliced pepperoni is a popular
pizza
Pizza
Pizza is an oven-baked, flat, disc-shaped bread typically topped with a tomato sauce, cheese and various toppings.Originating in Italy, from the Neapolitan cuisine, the dish has become popular in many parts of the world. An establishment that makes and sells pizzas is called a "pizzeria"...
topping in American-style
pizzerias
. Also, it is sometimes used to make
sub sandwiches
Submarine sandwich
A submarine sandwich, also known as a sub among other names, is a sandwich that consists of a long roll of Italian or French bread, split lengthwise either into two pieces or opened in a "V" on one side, and filled with various varieties of meat, cheese, vegetables, seasonings, and sauces. The...
.
The term
pepperoni
is a corruption of
peperoni
, the
plural
Plural
In linguistics, plurality or [a] plural is a concept of quantity representing a value of more-than-one. Typically applied to nouns, a plural word or marker is used to distinguish a value other than the default quantity of a noun, which is typically one...
of
peperone
, the
Italian
Italian language
Italian is a Romance language spoken mainly in Europe: Italy, Switzerland, San Marino, Vatican City, by minorities in Malta, Monaco, Croatia, Slovenia, France, Libya, Eritrea, and Somalia, and by immigrant communities in the Americas and Australia...
word for
pepper
Capsicum
Capsicum is a genus of flowering plants in the nightshade family, Solanaceae. Its species are native to the Americas where they have been cultivated for thousands of years, but they are now also cultivated worldwide, used as spices, vegetables, and medicines - and have become are a key element in...
(the fruit, not the spice). The first reference using pepperoni to refer to a sausage dates to 1919. Throughout
continental Europe
Continental Europe
Continental Europe, also referred to as mainland Europe or simply the Continent, is the continent of Europe, explicitly excluding European islands....
,
peperone
is a common word for various types of capsicum, including
bell pepper
Bell pepper
Bell pepper, also known as sweet pepper or a pepper and capsicum , is a cultivar group of the species Capsicum annuum . Cultivars of the plant produce fruits in different colors, including red, yellow, orange and green. Bell peppers are sometimes grouped with less pungent pepper varieties as...
s and a small, spicy and often pickled pepper known as
peperoncino
or
peperone piccante
in Italy and pepperoncini or banana peppers in the U.S. Unlike in Europe, the
English
English language
English is a West Germanic language that arose in the Anglo-Saxon kingdoms of England and spread into what was to become south-east Scotland under the influence of the Anglian medieval kingdom of Northumbria...
word pepperoni is used as a
singular
Grammatical number
In linguistics, grammatical number is a grammatical category of nouns, pronouns, and adjective and verb agreement that expresses count distinctions ....
uncountable noun
Mass noun
In linguistics, a mass noun is a noun that refers to some entity as an undifferentiated unit rather than as something with discrete subsets. Non-count nouns are best identified by their syntactic properties, and especially in contrast with count nouns. The semantics of mass nouns are highly...
.
To order a very similar food in
Italy
Italy
Italy , officially the Italian Republic languages]] under the European Charter for Regional or Minority Languages. In each of these, Italy's official name is as follows:;;;;;;;;), is a unitary parliamentary republic in South-Central Europe. To the north it borders France, Switzerland, Austria and...
, one would request
salame piccante
to get a spicy sausage made only of pork and beef. Usually the Italian name for a pepperoni pizza is
pizza alla diavola
(pizza devil-style, very similar in appearance to the pepperoni pizza). Asking for a pizza with "salame piccante calabro" or "spianata calabra" (hot salami typical of Calabria, generally made in large cylinders of meat, slightly flattened in the case "spianata") one could get a pizza covered with large slices of salami instead of the slices of hot sausage. The original salami from Calabria can be much spicier than American pepperoni or other types of Italian spicy sausages.
Halal
Halal
Halal is a term designating any object or an action which is permissible to use or engage in, according to Islamic law. The term is used to designate food seen as permissible according to Islamic law...
or kosher pepperoni may be made from beef or poultry.