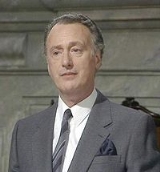 Paul Eddington
Paul Eddington
CBE
Order of the British Empire
The Most Excellent Order of the British Empire is an order of chivalry established on 4 June 1917 by George V of the United Kingdom. The Order comprises five classes in civil and military divisions...
(18 June 1927 - 4 November 1995) was an
English
English people
The English are a nation and ethnic group native to England, who speak English. The English identity is of early mediaeval origin, when they were known in Old English as the Anglecynn. England is now a country of the United Kingdom, and the majority of English people in England are British Citizens...
actor best known for his appearances in popular
television sitcoms
British sitcom
A British sitcom tends, as it does in most other countries, to be based on a family, workplace or other institution, where the same group of contrasting characters is brought together in each episode. Unlike American sitcoms, where twenty or more episodes in a season is the norm, British sitcoms...
of the 1970s and 80s:
The Good Life
,
Yes Minister and Yes, Prime Minister
Yes Minister
Yes Minister is a satirical British sitcom written by Antony Jay and Jonathan Lynn that was first transmitted by BBC Television between 1980–1982 and 1984, split over three seven-episode series. The sequel, Yes, Prime Minister, ran from 1986 to 1988. In total there were 38 episodes—of which all but...
.
Early life
Eddington was born to Albert Clark Eddington and Frances Mary (née Roberts). A Quaker, he attended
Sibford School
Sibford School
Sibford School is a British co-educational independent school in Sibford Ferris, west of Banbury in Oxfordshire, linked with the Religious Society of Friends. The school has both day and boarding pupils between the ages of 3 and 18.-Overview:...
,
Sibford Ferris
Sibford Ferris
Sibford Ferris is a village and civil parish about west of Banbury in Oxfordshire, sited on one side of the Sib valley.The Manor House was built in the 17th century and remodelled in the 18th century. In 1842 the Society of Friends extended the house and converted it into a boarding school,...
,
Oxfordshire
Oxfordshire
Oxfordshire is a county in the South East region of England, bordering on Warwickshire and Northamptonshire , Buckinghamshire , Berkshire , Wiltshire and Gloucestershire ....
.
Career
He began his acting career with
Entertainments National Service Association
Entertainments National Service Association
The Entertainments National Service Association or ENSA was an organisation set up in 1939 by Basil Dean and Leslie Henson to provide entertainment for British armed forces personnel during World War II. ENSA operated as part of the Navy, Army and Air Force Institutes...
(ENSA) during the
second world war
World War II
World War II, or the Second World War , was a global conflict lasting from 1939 to 1945, involving most of the world's nations—including all of the great powers—eventually forming two opposing military alliances: the Allies and the Axis...
, but was asked to leave when it became known that he was a
pacifist
Pacifism
Pacifism is the opposition to war and violence. The term "pacifism" was coined by the French peace campaignerÉmile Arnaud and adopted by other peace activists at the tenth Universal Peace Congress inGlasgow in 1901.- Definition :...
and a
conscientious objector
Conscientious objector
A conscientious objector is an "individual who has claimed the right to refuse to perform military service" on the grounds of freedom of thought, conscience, and/or religion....
. Eddington worked for a
repertory
Repertory
Repertory or rep, also called stock in the United States, is a term used in Western theatre and opera.A repertory theatre can be a theatre in which a resident company presents works from a specified repertoire, usually in alternation or rotation...
theatre company in
Sheffield
Sheffield
Sheffield is a city and metropolitan borough of South Yorkshire, England. Its name derives from the River Sheaf, which runs through the city. Historically a part of the West Riding of Yorkshire, and with some of its southern suburbs annexed from Derbyshire, the city has grown from its largely...
, and made his first TV appearance in 1956 as a regular cast member of
The Adventures of Robin Hood
The Adventures of Robin Hood (TV series)
The Adventures of Robin Hood is a popular British television series comprising 143 half-hour, black and white episodes. It starred Richard Greene as the outlaw Robin Hood and Alan Wheatley as his nemesis, the Sheriff of Nottingham. The show aired weekly between 1955 and 1959 on ITV in London in the...
. Initially he played minor characters, but in the fourth season during 1959-60 he played
Will Scarlet
Will Scarlet
Will Scarlet was a prominent member of Robin Hood's Merry Men. He was present in the earliest ballads along with Little John and Much the Miller's Son....
. He also had roles in episodes of
The Avengers
The Avengers (TV series)
The Avengers is a spy-fi British television series set in the 1960s Britain. The Avengers initially focused on Dr. David Keel and his assistant John Steed . Hendry left after the first series and Steed became the main character, partnered with a succession of assistants...
(1963),
The Prisoner
The Prisoner
The Prisoner is a 17-episode British television series first broadcast in the UK from 29 September 1967 to 1 February 1968. Starring and co-created by Patrick McGoohan, it combined spy fiction with elements of science fiction, allegory and psychological drama.The series follows a British former...
(1967) and the final episode of
The Champions
The Champions
The Champions is a British espionage/science fiction/occult detective fiction adventure series consisting of 30 episodes broadcast on the UK network ITV during 1968–1969, produced by Lew Grade's ITC Entertainment production company...
(1969). He also had a supporting role in
Hammer Films
Hammer Film Productions
Hammer Film Productions is a film production company based in the United Kingdom. Founded in 1934, the company is best known for a series of Gothic "Hammer Horror" films made from the mid-1950s until the 1970s. Hammer also produced science fiction, thrillers, film noir and comedies and in later...
'
The Devil Rides Out
The Devil Rides Out (film)
The Devil Rides Out is a 1968 British film based on the 1934 novel The Devil Rides Out by Dennis Wheatley...
(1968) and appeared as a "straight man" (substituting for regular stooge
Henry McGee
Henry McGee
Henry McGee was a British actor, best known as straight man to Benny Hill for many years. McGee was also often the announcer on Hill's TV programme, delivering the upbeat intro "Yes! It's The Benny Hill Show!"...
) in a 1976 episode of
The Benny Hill Show
The Benny Hill Show
The Benny Hill Show is a British comedy television show starring Benny Hill.There were various incarnations of the show between 1951 and 1991, and it aired in over 140 countries. The show is generally sketch-based with heavy use of slapstick, mime, parody and double-entendre...
.
Rise to fame
Although he was an actor all his life, Eddington was in his late forties before he became a household name thanks to
The Good Life
(
Good Neighbors
in the USA), first screened by the
BBC
BBC
The British Broadcasting Corporation is a British public service broadcaster. Its headquarters is at Broadcasting House in the City of Westminster, London. It is the largest broadcaster in the world, with about 23,000 staff...
in 1975. It tells the story of a suburban couple who decide to give up work and become self-sufficient in their suburban backyard. Eddington was cast as neighbour Jerry Leadbetter, with
Penelope Keith
Penelope Keith
Penelope Anne Constance Keith, CBE, DL is an English actress.Having started her television career in the 1950s, Penelope Keith became a household name in the United Kingdom in the 1970s when she played Margo Leadbetter in the sitcom The Good Life...
as his wife, Margo. Originally intended as bit parts, the Leadbetters quickly became essential foils for the two "stars".
Eddington's fame grew further when he played the title role of Jim Hacker in the hit comedy series
Yes Minister
(first screened in 1980) and
Yes, Prime Minister
(1986-88) - said to have been former
Prime Minister
Prime Minister of the United Kingdom
The Prime Minister of the United Kingdom of Great Britain and Northern Ireland is the Head of Her Majesty's Government in the United Kingdom. The Prime Minister and Cabinet are collectively accountable for their policies and actions to the Sovereign, to Parliament, to their political party and...
Margaret Thatcher
Margaret Thatcher
Margaret Hilda Thatcher, Baroness Thatcher, was Prime Minister of the United Kingdom from 1979 to 1990...
's favourite TV programme. He was shortlisted for the BAFTA award for Best Light Entertainment Performance four times for the series, though he lost out to his co-star
Nigel Hawthorne
Nigel Hawthorne
Sir Nigel Barnard Hawthorne, CBE was an English actor, perhaps best remembered for his role as Sir Humphrey Appleby, the Permanent Secretary in the 1980s sitcom Yes Minister and the Cabinet Secretary in its sequel, Yes, Prime Minister. For this role he won four BAFTA Awards during the 1980s in the...
on each occasion.
While recording
Yes, Prime Minister
, Eddington was diagnosed as having
cutaneous T cell lymphoma
Cutaneous T Cell lymphoma
Cutaneous T cell lymphoma is a class of non-Hodgkin's lymphoma, which is a type of cancer of the immune system. Unlike most non-Hodgkin's lymphomas , CTCL is caused by a mutation of T cells. The malignant T cells in the body initially migrate to the skin, causing various lesions to appear...
, a type of haematological
cancer
Cancer
Cancer , known medically as a malignant neoplasm, is a large group of different diseases, all involving unregulated cell growth. In cancer, cells divide and grow uncontrollably, forming malignant tumors, and invade nearby parts of the body. The cancer may also spread to more distant parts of the...
that affects the skin, but he continued performing. For years he kept his illness a secret from all but his friends and co-stars. His last roles were in the TV dramatisation of
The Camomile Lawn
The Camomile Lawn
The Camomile Lawn is a novel by Mary Wesley about the lives of Richard and Helena Cuthbertson and their five nieces and nephews; Calypso, Walter, Polly, Oliver and Sophy. The title refers to a fragrant camomile lawn stretching down to the Cornish cliffs in the garden of the main characters' aunt's...
(1992), and as the voice of Badger in
The Adventures of Mole
.
During 1987, Eddington appeared as Sir Joseph Porter in
H.M.S. Pinafore
H.M.S. Pinafore
H.M.S. Pinafore; or, The Lass That Loved a Sailor is a comic opera in two acts, with music by Arthur Sullivan and a libretto by W. S. Gilbert. It opened at the Opera Comique in London, England, on 25 May 1878 and ran for 571 performances, which was the second-longest run of any musical...
in Australia.
Awards and honours
Eddington was made a
Commander of the Order of the British Empire
Order of the British Empire
The Most Excellent Order of the British Empire is an order of chivalry established on 4 June 1917 by George V of the United Kingdom. The Order comprises five classes in civil and military divisions...
(CBE) in 1987 and in 1992, won the Critics' Circle Theatre Award for Best Actor, for his performance in
No Man's Land
No Man's Land (play)
No Man's Land is a play by Harold Pinter written in 1974 and first produced and published in 1975. Its original production was at the Old Vic Theatre in London by the National Theatre on 23 April 1975, and it later transferred to Wyndhams Theatre, July 1975 - January 1976, the Lyttelton Theatre...
.
Final years
Eddington's
autobiography
Autobiography
An autobiography is a book about the life of a person, written by that person.-Origin of the term:...
,
So Far, So Good
, was published by
Hodder & Stoughton
Hodder & Stoughton
Hodder & Stoughton is a British publishing house, now an imprint of Hachette.-History:The firm has its origins in the 1840s, with Matthew Hodder's employment, aged fourteen, with Messrs Jackson and Walford, the official publisher for the Congregational Union...
in 1995. On October 30, 1995, Eddington made a moving appearance in the television series
Face to Face
, discussing his life, career and disease with
Jeremy Isaacs
Jeremy Isaacs
Sir Jeremy Isaacs is a British television producer and executive, winner of many BAFTA awards and international Emmy Awards. He was also General Director of the Royal Opera House, Covent Garden .-Early life:...
. On that show, Eddington said, "A journalist once asked me what I would like my epitaph to be and I said I think I would like it to be 'He did very little harm'. And that's not easy. Most people seem to me to do a great deal of harm. If I could be remembered as having done very little, that would suit me."
He died in
Southwark
London Borough of Southwark
The London Borough of Southwark is a London borough in south east London, England. It is directly south of the River Thames and the City of London, and forms part of Inner London.-History:...
, London, and was survived by his wife, Patricia Scott, and their three sons and daughter. BBC1 aired a half-hour tribute to him on 15 July 2001 called
Paul Eddington: A Life Well Lived
.
Selected filmography
External links