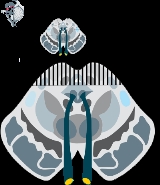 Parinaud's syndrome
Parinaud's Syndrome
, also known as
dorsal midbrain syndrome
is a group of abnormalities of eye movement and
pupil
Pupil
The pupil is a hole located in the center of the iris of the eye that allows light to enter the retina. It appears black because most of the light entering the pupil is absorbed by the tissues inside the eye. In humans the pupil is round, but other species, such as some cats, have slit pupils. In...
dysfunction. It is caused by
lesion
Lesion
A lesion is any abnormality in the tissue of an organism , usually caused by disease or trauma. Lesion is derived from the Latin word laesio which means injury.- Types :...
s of the upper
brain stem
Brain stem
In vertebrate anatomy the brainstem is the posterior part of the brain, adjoining and structurally continuous with the spinal cord. The brain stem provides the main motor and sensory innervation to the face and neck via the cranial nerves...
and is named for
Henri Parinaud
Henri Parinaud
Henri Parinaud was a French ophthalmologist and neurologist, most noted for his work in the field of neuro-ophthalmology.- Early life :...
(1844–1905), considered to be the father of French
ophthalmology
Ophthalmology
Ophthalmology is the branch of medicine that deals with the anatomy, physiology and diseases of the eye. An ophthalmologist is a specialist in medical and surgical eye problems...
. It is also one of the clinical manifestations of
Bartonella
Bartonella
Bartonella is a genus of Gram-negative bacteria. Facultative intracellular parasites, Bartonella species can infect healthy people but are considered especially important as opportunistic pathogens. Bartonella are transmitted by insect vectors such as ticks, fleas, sand flies and mosquitoes...
infection.
Signs and symptoms
Parinaud's Syndrome is a cluster of abnormalities of eye movement and pupil dysfunction, characterized by:
Paralysis of upgaze: Downward gaze is usually preserved. This vertical palsy is supranuclear, so doll's head maneuver should elevate the eyes, but eventually all upward gaze mechanisms fail.
Pseudo-Argyll Robertson pupils: Accommodative paresis ensues, and pupils become mid-dilated and show light-near dissociation.
Convergence-Retraction nystagmus: Attempts at upward gaze often produce this phenomenon. On fast up-gaze, the eyes pull in and the globes retract. The easiest way to bring out this reaction is to ask the patient to follow down-going stripes on an optokinetic drum.
Eyelid

Eyelid

An eyelid is a thin fold of skin that covers and protects an eye. With the exception of the prepuce and the labia minora, it has the thinnest skin of the whole body. The levator palpebrae superioris muscle retracts the eyelid to "open" the eye. This can be either voluntarily or involuntarily...


retraction (Collier's sign)
Conjugate down gaze in the primary position: "setting-sun sign". Neurosurgeons will often see this sign most commonly in patients with failed ventriculoperitoneal shunts.
It is also commonly associated with bilateral
papilledema
Papilledema
Papilledema is optic disc swelling that is caused by increased intracranial pressure. The swelling is usually bilateral and can occur over a period of hours to weeks. Unilateral presentation is extremely rare....
. It has less commonly been associated with spasm of
accommodation
Accommodation reflex
The accommodation reflex is a reflex action of the eye, in response to focusing on a near object, then looking at distant object , comprising coordinated changes in vergence, lens shape and pupil size...
on attempted upward gaze, pseudoabducens palsy (also known as thalamic
esotropia
Esotropia
Esotropia is a form of strabismus, or "squint", in which one or both eyes turns inward. The condition can be constantly present, or occur intermittently, and can give the affected individual a "cross-eyed" appearance...
) or slower movements of the abducting eye than the adducting eye during horizontal saccades, see-saw nystagmus and associated ocular motility deficits including
skew deviation
Skew deviation
Skew deviation is an unusual ocular deviation , wherein the eyes move upward , but in opposite directions. Skew deviation is caused by abnormal prenuclear vestibular input to the ocular motor nuclei, most commonly due to brainstem or cerebellar stroke. Other causes include multiple sclerosis and...
,
oculomotor nerve
Oculomotor nerve
The oculomotor nerve is the 3rd of 12 paired cranial nerves. It enters the orbit via the superior orbital fissure and controls most of the eye's movements, including constriction of the pupil and maintaining an open eyelid by innervating the Levator palpebrae superiors muscle. The optic nerve is...
palsy,
trochlear nerve
Trochlear nerve
The trochlear nerve is a motor nerve that innervates a single muscle: the superior oblique muscle of the eye....
palsy and
internuclear ophthalmoplegia
Internuclear ophthalmoplegia
Internuclear ophthalmoplegia is a disorder of conjugate lateral gaze in which the affected eye shows impairment of adduction. When an attempt is made to gaze contralaterally , the affected eye adducts minimally, if at all. The contralateral eye abducts, however with nystagmus...
.
Causes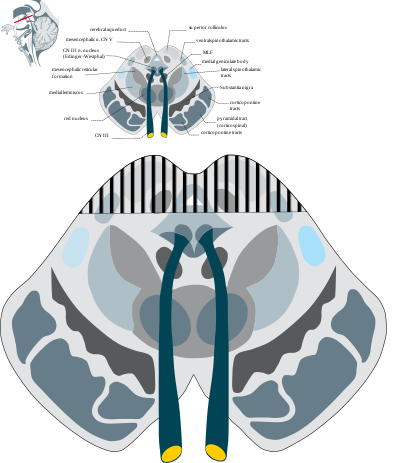 Parinaud's Syndrome results from injury, either direct or compressive, to the dorsal midbrain. Specifically, compression or ischemic damage of the mesencephalic tectum, including the
superior colliculus
Superior colliculus
The optic tectum or simply tectum is a paired structure that forms a major component of the vertebrate midbrain. In mammals this structure is more commonly called the superior colliculus , but, even in mammals, the adjective tectal is commonly used. The tectum is a layered structure, with a...
adjacent oculomotor (origin of cranial nerve III) and Edinger-Westphal nuclei, causing dysfunction to the motor function of the eye.
Classically, it has been associated with three major groups:
Young patients with brain tumors in the pineal gland

Pineal gland

The pineal gland is a small endocrine gland in the vertebrate brain. It produces the serotonin derivative melatonin, a hormone that affects the modulation of wake/sleep patterns and seasonal functions...


or midbrain: pinealoma

Pinealoma

-Presentation:The pineal gland produces the hormone melatonin which plays a role in regulating circadian rhythms. A pinealoma may disrupt production of this hormone, and insomnia may result....


(intracranial germinomas) are the most common lesion producing this syndrome.
Women in their 20s-30s with multiple sclerosis

Multiple sclerosis

Multiple sclerosis is an inflammatory disease in which the fatty myelin sheaths around the axons of the brain and spinal cord are damaged, leading to demyelination and scarring as well as a broad spectrum of signs and symptoms...



Older patients following stroke

Stroke

A stroke, previously known medically as a cerebrovascular accident , is the rapidly developing loss of brain function due to disturbance in the blood supply to the brain. This can be due to ischemia caused by blockage , or a hemorrhage...


of the upper brainstem
However, any other compression, ischemia or damage to this region can produce these phenomena: obstructive
hydrocephalus
Hydrocephalus
Hydrocephalus , also known as "water in the brain," is a medical condition in which there is an abnormal accumulation of cerebrospinal fluid in the ventricles, or cavities, of the brain. This may cause increased intracranial pressure inside the skull and progressive enlargement of the head,...
, midbrain hemorrhage,
cerebral arteriovenous malformation
Cerebral arteriovenous malformation
A cerebral arteriovenous malformation is an abnormal connection between the arteries and veins in the brain.-Signs and symptoms:The most frequently observed problems related to an AVM are headaches and seizures while at least 15% of the population at detection have no symptoms at all...
, trauma and brainstem
toxoplasmosis
Toxoplasmosis
Toxoplasmosis is a parasitic disease caused by the protozoan Toxoplasma gondii. The parasite infects most genera of warm-blooded animals, including humans, but the primary host is the felid family. Animals are infected by eating infected meat, by ingestion of feces of a cat that has itself...
infection. Neoplasms and giant aneurysms of the
posterior fossa
Posterior fossa
Posterior fossa may refer to:* Posterior cranial fossa* Posterior intercondyloid fossa...
have also been associated with the midbrain syndrome.
Vertical supranuclear ophthalmoplegia has also been associated with metabolic disorders, such as
Niemann-Pick disease
Niemann-Pick disease
Niemann–Pick disease refers to a group of fatal inherited metabolic disorders that are included in the larger family of lysosomal storage diseases .-Signs and symptoms:Symptoms are related to the organs in which they accumulate...
,
Wilson's disease
Wilson's disease
Wilson's disease or hepatolenticular degeneration is an autosomal recessive genetic disorder in which copper accumulates in tissues; this manifests as neurological or psychiatric symptoms and liver disease...
,
kernicterus
Kernicterus
Kernicterus is damage to the brain centers of infants caused by increased levels of unconjugated bilirubin. This may be due to several underlying pathologic processes. Newborn babies are often polycythemic. When they break down the erythrocytes, one of the byproducts is bilirubin, which circulates...
, and
barbiturate
Barbiturate
Barbiturates are drugs that act as central nervous system depressants, and can therefore produce a wide spectrum of effects, from mild sedation to total anesthesia. They are also effective as anxiolytics, as hypnotics, and as anticonvulsants...
overdose.
Prognosis and Treatment
The eye findings of Parinaud's Syndrome generally improve slowly over months, especially with resolution of the causative factor; continued resolution after the first 3-6 months of onset is uncommon. However, rapid resolution after normalization of intracranial pressure following placement of a ventriculoperitoneal shunt has been reported.
Treatment is primarily directed towards etiology of the dorsal midbrain syndrome. A thorough workup, including neuroimaging is essential to rule out anatomic lesions or other causes of this syndrome. Visually significant upgaze palsy can be relieved with bilateral inferior rectus recessions. Retraction nystagmus and convergence movement are usually improved with this procedure as well.