 Parapet
A
parapet
is a wall-like barrier at the edge of a
roof
Roof
A roof is the covering on the uppermost part of a building. A roof protects the building and its contents from the effects of weather. Structures that require roofs range from a letter box to a cathedral or stadium, dwellings being the most numerous....
,
terrace
Terrace (building)
A terrace is an outdoor, occupiable extension of a building above ground level. Although its physical characteristics may vary to a great degree, a terrace will generally be larger than a balcony and will have an "open-top" facing the sky...
,
balcony
Balcony
Balcony , a platform projecting from the wall of a building, supported by columns or console brackets, and enclosed with a balustrade.-Types:The traditional Maltese balcony is a wooden closed balcony projecting from a...
or other
structure
Architectural structure
An architectural structure is a free-standing, immobile outdoor constructed element. The structure may be temporary or permanent.Structures include buildings and nonbuilding structures . Examples of building structures include houses, town halls, libraries, and skyscrapers...
. Where extending above a roof, it may simply be the portion of an exterior wall that continues above the line of the roof surface, or may be a continuation of a vertical feature beneath the roof such as a
fire wall
Firewall (construction)
A firewall is a fireproof barrier used to prevent the spread of fire between or through buildings, structures, electrical substation transformers, or within an aircraft or vehicle.- Applications :...
or
party wall
Party wall
Party wall is a dividing partition between two adjoining buildings that is shared by the tenants of each residence or business. The wall is sometimes constructed over the center of the property line dividing two terraced flats or row houses so that one half of the wall is on each property...
. Historically, parapets were originally used to defend buildings from military attack, but today they are primarily used to prevent the spread of fires.
Building parapets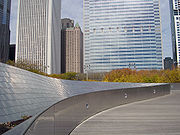 The word comes ultimately from the
Italian
Italian language
Italian is a Romance language spoken mainly in Europe: Italy, Switzerland, San Marino, Vatican City, by minorities in Malta, Monaco, Croatia, Slovenia, France, Libya, Eritrea, and Somalia, and by immigrant communities in the Americas and Australia...
parapetto
(
parare
= to cover/defend and
petto
=breast). The
German
German language
German is a West Germanic language, related to and classified alongside English and Dutch. With an estimated 90 – 98 million native speakers, German is one of the world's major languages and is the most widely-spoken first language in the European Union....
term
Brustwehr
has the same significance.
Parapets may be plain
embattled
Battlement
A battlement in defensive architecture, such as that of city walls or castles, comprises a parapet , in which portions have been cut out at intervals to allow the discharge of arrows or other missiles. These cut-out portions form crenels...
, perforated or panelled, which are not mutually exclusive terms.
Plain parapets are upward extensions of the wall, sometimes with a coping

Coping (architecture)

Coping , consists of the capping or covering of a wall.A splayed or wedge coping slopes in a single direction; a saddle coping slopes to either side of a central high point....


at the top and corbel

Corbel

In architecture a corbel is a piece of stone jutting out of a wall to carry any superincumbent weight. A piece of timber projecting in the same way was called a "tassel" or a "bragger". The technique of corbelling, where rows of corbels deeply keyed inside a wall support a projecting wall or...


below.
Embattled parapets may be panelled, but are pierced, if not purely as stylistic device, for the discharge of defensive projectiles.
Perforated parapets are pierced in various designs such as circle

Circle

A circle is a simple shape of Euclidean geometry consisting of those points in a plane that are a given distance from a given point, the centre. The distance between any of the points and the centre is called the radius....


s, trefoil

Trefoil

Trefoil is a graphic form composed of the outline of three overlapping rings used in architecture and Christian symbolism...


s, quatrefoil

Quatrefoil

The word quatrefoil etymologically means "four leaves", and applies to general four-lobed shapes in various contexts.-In heraldry:In heraldic terminology, a quatrefoil is a representation of a flower with four petals, or a leaf with four leaflets . It is sometimes shown "slipped", i.e. with an...


s.
Panelled parapets are ornamented

Ornament (architecture)

In architecture and decorative art, ornament is a decoration used to embellish parts of a building or object. Large figurative elements such as monumental sculpture and their equivalents in decorative art are excluded from the term; most ornament does not include human figures, and if present they...


by a series of panels, either oblong or square, and more or less enriched, but not perforated. These are common in the Decorated

English Gothic architecture

English Gothic is the name of the architectural style that flourished in England from about 1180 until about 1520.-Introduction:As with the Gothic architecture of other parts of Europe, English Gothic is defined by its pointed arches, vaulted roofs, buttresses, large windows, and spires...


and Perpendicular periods.
Parapet roofs
Parapets surrounding roofs are extremely common in
London
London
London is the capital city of :England and the :United Kingdom, the largest metropolitan area in the United Kingdom, and the largest urban zone in the European Union by most measures. Located on the River Thames, London has been a major settlement for two millennia, its history going back to its...
. This dates from the
Building Act of 1707
which banned projecting wooden eaves in the cities of
Westminster
City of Westminster
The City of Westminster is a London borough occupying much of the central area of London, England, including most of the West End. It is located to the west of and adjoining the ancient City of London, directly to the east of the Royal Borough of Kensington and Chelsea, and its southern boundary...
and
London
City of London
The City of London is a small area within Greater London, England. It is the historic core of London around which the modern conurbation grew and has held city status since time immemorial. The City's boundaries have remained almost unchanged since the Middle Ages, and it is now only a tiny part of...
as a fire risk. Instead an 18-inch brick parapet was required, with the roof set behind. This was continued in many
Georgian
Georgian architecture
Georgian architecture is the name given in most English-speaking countries to the set of architectural styles current between 1720 and 1840. It is eponymous for the first four British monarchs of the House of Hanover—George I of Great Britain, George II of Great Britain, George III of the United...
houses, as it gave the appearance of a flat roof which accorded with the desire for classical proportions.
Fire wall parapets
Many firewalls are required to have a parapet, a portion of the wall extending above the roof. The parapet is required to be as fire resistant as the lower wall, and extend a distance prescribed by building code.
Bridge parapets
Parapets on bridges and other
highway
Highway
A highway is any public road. In American English, the term is common and almost always designates major roads. In British English, the term designates any road open to the public. Any interconnected set of highways can be variously referred to as a "highway system", a "highway network", or a...
structures (such as
retaining wall
Retaining wall
Retaining walls are built in order to hold back earth which would otherwise move downwards. Their purpose is to stabilize slopes and provide useful areas at different elevations, e.g...
s) prevent users from falling off where there is a drop. They may also be meant to restrict views, to prevent rubbish passing below, and to act as
noise barrier
Noise barrier
A noise barrier is an exterior structure designed to protect sensitive land uses from noise pollution...
s.
Bridge parapets may be made from any material, but
structural steel
Structural steel
Structural steel is steel construction material, a profile, formed with a specific shape or cross section and certain standards of chemical composition and mechanical properties...
,
aluminium
Aluminium
Aluminium or aluminum is a silvery white member of the boron group of chemical elements. It has the symbol Al, and its atomic number is 13. It is not soluble in water under normal circumstances....
,
timber
Timber
Timber may refer to:* Timber, a term common in the United Kingdom and Australia for wood materials * Timber, Oregon, an unincorporated community in the U.S...
and
reinforced concrete
Reinforced concrete
Reinforced concrete is concrete in which reinforcement bars , reinforcement grids, plates or fibers have been incorporated to strengthen the concrete in tension. It was invented by French gardener Joseph Monier in 1849 and patented in 1867. The term Ferro Concrete refers only to concrete that is...
are common. They may be of solid or framed construction.
In
European standards
European Committee for Standardization
The European Committee for Standardization or Comité Européen de Normalisation , is a non-profit organisation whose mission is to foster the European economy in global trading, the welfare of European citizens and the environment by providing an efficient infrastructure to interested parties for...
, parapets are defined as a sub-category of "vehicle restraint systems" or "pedestrian restraint systems".
Parapets in fortification
In terms of
fortification
Fortification
Fortifications are military constructions and buildings designed for defence in warfare and military bases. Humans have constructed defensive works for many thousands of years, in a variety of increasingly complex designs...
, a parapet (or
breastwork
Breastwork (fortification)
A breastwork is a fortification. The term is usually applied to temporary fortifications, often an earthwork thrown up to breast height to provide protection to defenders firing over it from a standing position...
) is a wall of stone, wood or earth on the outer edge of a
defensive wall
Defensive wall
A defensive wall is a fortification used to protect a city or settlement from potential aggressors. In ancient to modern times, they were used to enclose settlements...
or trench, which shelters the defenders. In medieval
castle
Castle
A castle is a type of fortified structure built in Europe and the Middle East during the Middle Ages by European nobility. Scholars debate the scope of the word castle, but usually consider it to be the private fortified residence of a lord or noble...
s, they were often crenellated. In later
artillery forts
Star fort
A star fort, or trace italienne, is a fortification in the style that evolved during the age of gunpowder, when cannon came to dominate the battlefield, and was first seen in the mid-15th century in Italy....
, parapets tend to be higher and thicker. They could be provided with
embrasure
Embrasure
In military architecture, an embrasure is the opening in a crenellation or battlement between the two raised solid portions or merlons, sometimes called a crenel or crenelle...
s for the fort's guns to fire through, and a
banquette
Banquette
In fortification, a banquette is a small foot path or elevated step along the inside of a rampart or parapet, by which the musketeers get up to view the counterscarp, or to fire on the enemies in the moat...
or fire-step so that defending infantry could shoot over the top. The top of the parapet often slopes towards the enemy to enable the defenders to shoot downwards; this incline is called the
superior talus
.
External links