 Parapatric speciation
Parapatry
is a term from
biogeography
Biogeography
Biogeography is the study of the distribution of species , organisms, and ecosystems in space and through geological time. Organisms and biological communities vary in a highly regular fashion along geographic gradients of latitude, elevation, isolation and habitat area...
, referring to
organism
Organism
In biology, an organism is any contiguous living system . In at least some form, all organisms are capable of response to stimuli, reproduction, growth and development, and maintenance of homoeostasis as a stable whole.An organism may either be unicellular or, as in the case of humans, comprise...
s whose ranges do not significantly overlap but are immediately adjacent to each other; they only occur together in the narrow contact zone, if at all. This geographical distribution is opposed to
sympatry
Sympatry
In biology, two species or populations are considered sympatric when they exist in the same geographic area and thus regularly encounter one another. An initially-interbreeding population that splits into two or more distinct species sharing a common range exemplifies sympatric speciation...
(same area) & allopatry or peripatry (2 cases of distinct areas).
This distribution may along time cause
speciation
Speciation
Speciation is the evolutionary process by which new biological species arise. The biologist Orator F. Cook seems to have been the first to coin the term 'speciation' for the splitting of lineages or 'cladogenesis,' as opposed to 'anagenesis' or 'phyletic evolution' occurring within lineages...
into sister species, a process called
parapatric speciation
.
Parapatric speciation
Parapatric speciation is a form of
speciation
Speciation
Speciation is the evolutionary process by which new biological species arise. The biologist Orator F. Cook seems to have been the first to coin the term 'speciation' for the splitting of lineages or 'cladogenesis,' as opposed to 'anagenesis' or 'phyletic evolution' occurring within lineages...
that occurs due to apparition of dimorphism between populations of a species, and simultaneous variation in the
mating habits
Mating system
A mating system is a way in which a group is structured in relation to sexual behaviour. The precise meaning depends upon the context. With respect to higher animals, it specifies which males mate with which females, under which circumstances; recognised animal mating systems include monogamy,...
, within a continuous geographical area. In this model, the parent species lives in a continuous
habitat
Habitat
* Habitat , a place where a species lives and grows*Human habitat, a place where humans live, work or play** Space habitat, a space station intended as a permanent settlement...
, in contrast with allopatric speciation &
peripatric speciation
Peripatric speciation
Peripatric and peripatry are terms from biogeography, referring to organisms whose ranges are closely adjacent but do not overlap, being separated where these organisms do not occur – for example a wide river or a mountain range. Such organisms are usually closely related Peripatric and...
where subpopulations become geographically isolated, and
sympatric speciation
Sympatric speciation
Sympatric speciation is the process through which new species evolve from a single ancestral species while inhabiting the same geographic region. In evolutionary biology and biogeography, sympatric and sympatry are terms referring to organisms whose ranges overlap or are even identical, so that...
inside the same area (and still contested).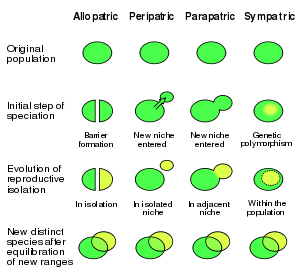 Niche
Ecological niche
In ecology, a niche is a term describing the relational position of a species or population in its ecosystem to each other; e.g. a dolphin could potentially be in another ecological niche from one that travels in a different pod if the members of these pods utilize significantly different food...
s in this habitat can differ along an
environmental gradient
Environmental gradient
An environmental gradient is a gradual change in abiotic factors through space . Environmental gradients can be related to factors such as altitude, temperature, depth, ocean proximity and soil humidity....
, hampering
gene flow
Gene flow
In population genetics, gene flow is the transfer of alleles of genes from one population to another.Migration into or out of a population may be responsible for a marked change in allele frequencies...
, and thus creating a
cline
Cline (population genetics)
In biology, an ecocline or simply cline describes an ecotone in which a series of biocommunities display continuous gradient...
. In parapatric speciation there is no specific extrinsic barrier to gene flow. The population is continuous, but nonetheless, it does not mate randomly. Individuals are more likely to mate with their geographic neighbors than with individuals in a different part of the population's range. In this mode, divergence may happen because of reduced gene flow within the population as a whole and varying selection pressures across the population's range.
Examples
An example of this is the grass
Anthoxanthum
Anthoxanthum
Anthoxanthum, the vernal grasses or vernalgrasses, is a large genus of true grass with a cosmopolitan distribution.A. odoratum is a common species of acidic grassland and bogs in northern Europe....
, which has been known to undergo parapatric speciation in such cases as
mine
Mining
Mining is the extraction of valuable minerals or other geological materials from the earth, from an ore body, vein or seam. The term also includes the removal of soil. Materials recovered by mining include base metals, precious metals, iron, uranium, coal, diamonds, limestone, oil shale, rock...
contamination of an area. This creates a selection pressure for
tolerance
Physiological tolerance
Physiological tolerance or drug tolerance is commonly encountered in pharmacology, when a subject's reaction to a drug is reduced at a later time even though the dose or concentration at the effect site is the same. This means that larger doses are required to achieve the same effect...
to those metals. Flowering time generally changes (tending toward character displacement—strong selection against interbreeding—as the hybrids are generally ill-suited to the environment) and often plants will become self-pollinating.
Similarly, a recent study provided evidence for parapatric speciation in
Tennessee cave salamander
Tennessee Cave Salamander
The Tennessee Cave Salamander is a species of salamander in the Plethodontidae family.It is endemic to the United States.Its natural habitats are inland karsts and caves.It is threatened by habitat loss.-References:...
s, involving divergence with gene flow between cave and surface populations.
Another example are
ring species
Ring species
In biology, a ring species is a connected series of neighboring populations, each of which can interbreed with closely sited related populations, but for which there exist at least two "end" populations in the series, which are too distantly related to interbreed, though there is a potential gene...
.
See also
External links