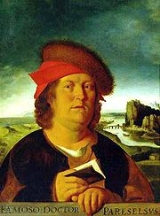 Paracelsus
Paracelsus
was a German-Swiss Renaissance
physician
Physician
A physician is a health care provider who practices the profession of medicine, which is concerned with promoting, maintaining or restoring human health through the study, diagnosis, and treatment of disease, injury and other physical and mental impairments...
,
botanist
Botany
Botany, plant science, or plant biology is a branch of biology that involves the scientific study of plant life. Traditionally, botany also included the study of fungi, algae and viruses...
,
alchemist
Alchemy
Alchemy is an influential philosophical tradition whose early practitioners' claims to profound powers were known from antiquity. The defining objectives of alchemy are varied; these include the creation of the fabled philosopher's stone possessing powers including the capability of turning base...
,
astrologer
Astrology
Astrology consists of a number of belief systems which hold that there is a relationship between astronomical phenomena and events in the human world...
, and general
occult
Occult
The word occult comes from the Latin word occultus , referring to "knowledge of the hidden". In the medical sense it is used to refer to a structure or process that is hidden, e.g...
ist.
"Paracelsus", meaning "equal to or greater than Celsus", refers to the Roman encyclopedist
Aulus Cornelius Celsus
Aulus Cornelius Celsus
Aulus Cornelius Celsus was a Roman encyclopedist, known for his extant medical work, De Medicina, which is believed to be the only surviving section of a much larger encyclopedia. The De Medicina is a primary source on diet, pharmacy, surgery and related fields, and it is one of the best sources...
from the 1st century, known for his
tract on medicine
De Medicina
De Medicina is a 1st-century medical treatise by Aulus Cornelius Celsus, a Roman encyclopedist and possibly a practicing physician. It is the only surviving section of a much larger encyclopedia; only small parts still survive from sections on agriculture, military science, oratory, jurisprudence...
. He is also credited for giving
zinc
Zinc
Zinc , or spelter , is a metallic chemical element; it has the symbol Zn and atomic number 30. It is the first element in group 12 of the periodic table. Zinc is, in some respects, chemically similar to magnesium, because its ion is of similar size and its only common oxidation state is +2...
its name, calling it zincum, and is regarded as the first systematic botanist.
Paracelsus was born and raised in the village of
Einsiedeln
Einsiedeln, Switzerland
Einsiedeln is a municipality and district in the canton of Schwyz in Switzerland known for its monastery, the Benedictine Einsiedeln Abbey. Einsiedeln is also the birthplace of Paracelsus, a Renaissance physician and alchemist who is credited with first naming zinc.-Prehistoric...
in
Switzerland
Switzerland
Switzerland name of one of the Swiss cantons. ; ; ; or ), in its full name the Swiss Confederation , is a federal republic consisting of 26 cantons, with Bern as the seat of the federal authorities. The country is situated in Western Europe,Or Central Europe depending on the definition....
.
All is interrelated. Heaven and earth, air and water. All are but one thing; not four, not two and not three, but one. Where they are not together, there is only an incomplete piece.

Paracelsus - Collected Writings Vol. I (1926) edited by Bernhard Aschner, p. 110 :Paracelsus - Arzt unserer Zeit (1992) by Frank Geerk
As you talk, so is your heart.

Belief and work, knowledge and action are one and the same thing.

Consider that we shouldn't call our brother a fool, since we don't know ourselves what we are.

God has given to all things their course and decided how high and how far they may go, not higher, not lower.

God, our Father, has given us the life and the art of healing to protect and maintain it.

He who conquers his enemy with meekness, wins fame.

He who wants to govern must have insight into the hearts of men and act accordingly.

If you have been given a talent, exercise it freely and happily like the sun: give everyone from your splendour.

In us there is the Light of Nature, and that Light is God.