 Osbert Lancaster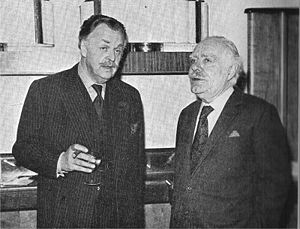 Sir Osbert Lancaster
,
CBE
CBE
CBE and C.B.E. are abbreviations for "Commander of the Order of the British Empire", a grade in the Order of the British Empire.Other uses include:* Chemical and Biochemical Engineering...
(4 August 1908 – 27 July 1986) was an English
cartoonist
Cartoonist
A cartoonist is a person who specializes in drawing cartoons. This work is usually humorous, mainly created for entertainment, political commentary or advertising...
, author, art critic and stage designer, best known to the public at large for his cartoons published in the
Daily Express
Daily Express
The Daily Express switched from broadsheet to tabloid in 1977 and was bought by the construction company Trafalgar House in the same year. Its publishing company, Beaverbrook Newspapers, was renamed Express Newspapers...
.
Biography
Lancaster was born in
London
London
London is the capital city of :England and the :United Kingdom, the largest metropolitan area in the United Kingdom, and the largest urban zone in the European Union by most measures. Located on the River Thames, London has been a major settlement for two millennia, its history going back to its...
,
England
England
England is a country that is part of the United Kingdom. It shares land borders with Scotland to the north and Wales to the west; the Irish Sea is to the north west, the Celtic Sea to the south west, with the North Sea to the east and the English Channel to the south separating it from continental...
. He was educated at St Ronan's School and then at
Charterhouse
Charterhouse School
Charterhouse School, originally The Hospital of King James and Thomas Sutton in Charterhouse, or more simply Charterhouse or House, is an English collegiate independent boarding school situated at Godalming in Surrey.Founded by Thomas Sutton in London in 1611 on the site of the old Carthusian...
and
Lincoln College
Lincoln College, Oxford
Lincoln College is one of the constituent colleges of the University of Oxford in the United Kingdom. It is situated on Turl Street in central Oxford, backing onto Brasenose College and adjacent to Exeter College...
,
Oxford
University of Oxford
The University of Oxford is a university located in Oxford, United Kingdom. It is the second-oldest surviving university in the world and the oldest in the English-speaking world. Although its exact date of foundation is unclear, there is evidence of teaching as far back as 1096...
, where he became friends with
John Betjeman
John Betjeman
Sir John Betjeman, CBE was an English poet, writer and broadcaster who described himself in Who's Who as a "poet and hack".He was a founding member of the Victorian Society and a passionate defender of Victorian architecture...
, drew cartoons for the University magazine
Cherwell
Cherwell (newspaper)
Cherwell is an independent newspaper, largely published for students of Oxford University. First published in 1920, it has had an online edition since 1996. Named after the local river, Cherwell is published by OSPL , who also publish the sister publication ISIS along with the Etcetera Supplement...
, and developed his trademark upper-class persona. He graduated with a fourth-class degree in English after an extra year beyond the normal three years of study. Intending a career in law, he failed his bar exams and instead entered the Slade School of Art in London.
He initially worked with Betjeman at the
Architectural Review
Architectural Review
The Architectural Review is a monthly international architectural magazine published in London since 1896. Articles cover the built environment which includes landscape, building design, interior design and urbanism as well as theory of these subjects....
. In 1936, he published
Progress at Pelvis Bay
, the first of his many books of social and architectural satire. In 1939 he became cartoonist at the
Daily Express
, where he pioneered the
Pocket Cartoon
, a topical single-panel single-column drawing appearing on the front page, since imitated in several British newspapers. In these he sympathetically mocked the British upper classes, personified by his characters William (8th Earl of Littlehampton, formerly Viscount Draynflete) and his wife Maudie. During his
Express
career he drew some 10,000 cartoons over a period of 40 years.
During
World War II
World War II
World War II, or the Second World War , was a global conflict lasting from 1939 to 1945, involving most of the world's nations—including all of the great powers—eventually forming two opposing military alliances: the Allies and the Axis...
, he worked for the press censorship bureau, then in
Greece
Greece
Greece , officially the Hellenic Republic , and historically Hellas or the Republic of Greece in English, is a country in southeastern Europe....
as a Foreign Office press attaché. During the war years, his cartoons provided comic relief from the privations of rationing and bombing raids. After the war he published
Classical Landscape with Figures
(1947),
The Saracen's Head
(1948) and
Drayneflete Revealed
Drayneflete Revealed
Osbert Lancaster's Drayneflete Revealed , is an illustrated book on architectural style....
(1949), the last dealing with the Littlehamptons' architectural and artistic inheritances. Along with
The Littlehampton Bequest
(1973, foreword by Sir
Roy Strong
Roy Strong
Sir Roy Colin Strong FRSL is an English art historian, museum curator, writer, broadcaster and landscape designer. He has been director of both the National Portrait Gallery and the Victoria and Albert Museum in London...
), it provided a humorous and satirical, but very well-informed, survey of architectural and aesthetic trends in British and European history.
In 1951, he worked with
John Piper
John Piper (artist)
John Egerton Christmas Piper, CH was a 20th-century English painter and printmaker. For much of his life he lived at Fawley Bottom in Buckinghamshire, near Henley-on-Thames.-Life:...
on designs for the
Festival of Britain
Festival of Britain
The Festival of Britain was a national exhibition in Britain in the summer of 1951. It was organised by the government to give Britons a feeling of recovery in the aftermath of war and to promote good quality design in the rebuilding of British towns and cities. The Festival's centrepiece was in...
, followed by stage design work for opera, ballet and theatre including productions at
Sadler's Wells
Sadler's Wells Theatre
Sadler's Wells Theatre is a performing arts venue located in Rosebery Avenue, Clerkenwell in the London Borough of Islington. The present day theatre is the sixth on the site since 1683. It consists of two performance spaces: a 1,500 seat main auditorium and the Lilian Baylis Studio, with extensive...
and
Glyndebourne
Glyndebourne
Glyndebourne is a country house, thought to be about six hundred years old, located near Lewes in East Sussex, England. It is also the site of an opera house which, with the exception of its closing during the Second World War, for a few immediate post-war years, and in 1993 during the...
, among them
Frederick Ashton
Frederick Ashton
Sir Frederick William Mallandaine Ashton OM, CH, CBE was a leading international dancer and choreographer. He is most noted as the founder choreographer of The Royal Ballet in London, but also worked as a director and choreographer of opera, film and theatre revues.-Early life:Ashton was born at...
's production of
La Fille mal gardée
La Fille Mal Gardée
La Fille mal gardée is a comic ballet presented in two acts, inspired by Pierre-Antoine Baudouin's 1789 painting, La réprimande/Une jeune fille querellée par sa mère...
.
Lancaster himself was firmly from the British upper middle classes—as his autobiographies
All Done From Memory
(1963) and
With an Eye to the Future
(1967), and all his books illustrated by himself, make clear. In later life, it was observed that he affected a caricatured persona similar to those depicted in his drawings. His attitude to the British aristocracy might be seen to be tinged with envy. When he was knighted in 1975 he became one of only a small number of cartoonists to have received the honour,
John Tenniel
John Tenniel
Sir John Tenniel was a British illustrator, graphic humorist and political cartoonist whose work was prominent during the second half of England's 19th century. Tenniel is considered important to the study of that period's social, literary, and art histories...
and David Low being others.
He was the illustrator of many other books including
Noblesse Oblige
Noblesse Oblige (book)
Noblesse Oblige: An Enquiry Into the Identifiable Characteristics of the English Aristocracy is a 1956 book by Nancy Mitford, illustrated by Osbert Lancaster and published by Hamish Hamilton. It was repeatedly reprinted. The book helped popularise the U and non-U English classification of...
(London, Hamish Hamilton, 1973, edited by
Nancy Mitford
Nancy Mitford
Nancy Freeman-Mitford, CBE , styled The Hon. Nancy Mitford before her marriage and The Hon. Mrs Peter Rodd thereafter, was an English novelist and biographer, one of the Bright Young People on the London social scene in the inter-war years...
, and some editions of
C. Northcote Parkinson
C. Northcote Parkinson
Cyril Northcote Parkinson was a British naval historian and author of some sixty books, the most famous of which was his bestseller Parkinson's Law, which led him to be also considered as an important scholar within the field of public administration.-Early life and education:The youngest son of...
's books, including
Parkinson's Law
, its sequel
The Law and the Profits
,
In-laws & Outlaws
,
and
Law of Delay
.
He was married twice: to Karen Elizabeth Harris (the daughter of Sir Austen Harris), with whom he had a son,
William
William Lancaster (anthropologist)
William Osbert Lancaster is a British social anthropologist who has specialised in the study of the Arab world, particularly the bedouin tribes in the Levant and Middle East.-Life and work:...
and a daughter; Harris died in 1964. In 1967, he married the journalist
Anne Scott-James
Anne Scott-James
Anne Eleanor Scott-James, Lady Lancaster was an English journalist and author. She was one of Britain's first women career journalists, editors and columnists, and latterly author of a series of gardening books....
, to whom he remained married until he died.
Apart from his knighthood, his honours include a
CBE
Order of the British Empire
The Most Excellent Order of the British Empire is an order of chivalry established on 4 June 1917 by George V of the United Kingdom. The Order comprises five classes in civil and military divisions...
in 1953, an honorary
DLitt
Doctor of Letters
Doctor of Letters is a university academic degree, often a higher doctorate which is frequently awarded as an honorary degree in recognition of outstanding scholarship or other merits.-Commonwealth:...
from
Oxford
University of Oxford
The University of Oxford is a university located in Oxford, United Kingdom. It is the second-oldest surviving university in the world and the oldest in the English-speaking world. Although its exact date of foundation is unclear, there is evidence of teaching as far back as 1096...
, as well as honorary degrees from
Birmingham
University of Birmingham
The University of Birmingham is a British Redbrick university located in the city of Birmingham, England. It received its royal charter in 1900 as a successor to Birmingham Medical School and Mason Science College . Birmingham was the first Redbrick university to gain a charter and thus...
(1964),
Newcastle upon Tyne
University of Newcastle upon Tyne
Newcastle University is a major research-intensive university located in Newcastle upon Tyne in the north-east of England. It was established as a School of Medicine and Surgery in 1834 and became the University of Newcastle upon Tyne by an Act of Parliament in August 1963. Newcastle University is...
(1970), and
St Andrews
University of St Andrews
The University of St Andrews, informally referred to as "St Andrews", is the oldest university in Scotland and the third oldest in the English-speaking world after Oxford and Cambridge. The university is situated in the town of St Andrews, Fife, on the east coast of Scotland. It was founded between...
(1974).
He died of natural causes, aged 77, in
Chelsea
Chelsea, London
Chelsea is an area of West London, England, bounded to the south by the River Thames, where its frontage runs from Chelsea Bridge along the Chelsea Embankment, Cheyne Walk, Lots Road and Chelsea Harbour. Its eastern boundary was once defined by the River Westbourne, which is now in a pipe above...
. He was fondly summarised in his
Times
obituary: "The most polite and unsplenetic of cartoonists, he was never a crusader, remaining always a witty, civilized critic with a profound understanding of the vagaries of human nature." He is buried at
West Winch
West Winch
West Winch is a civil parish in the English county of Norfolk.It covers an area of and had a population of 2,596 in 1,068 households as of the 2001 census.For the purposes of local government, it falls within the district of King's Lynn and West Norfolk....
,
Norfolk
Norfolk
Norfolk is a low-lying county in the East of England. It has borders with Lincolnshire to the west, Cambridgeshire to the west and southwest and Suffolk to the south. Its northern and eastern boundaries are the North Sea coast and to the north-west the county is bordered by The Wash. The county...
.
Exhibits
His drawings and cartoons were the subject of an exhibition marking the centenary of his birth, entitled 'Cartoons and Coronets: The Genius of Osbert Lancaster,' at The Wallace Collection from October 2008 to January 2009. Curated by James Knox and supported by the John R. Murray Charitable Trust of
John Murray (publisher)
John Murray (publisher)
John Murray is an English publisher, renowned for the authors it has published in its history, including Jane Austen, Sir Arthur Conan Doyle, Lord Byron, Charles Lyell, Johann Wolfgang von Goethe, Herman Melville, and Charles Darwin...
, it coincided with the publication of a new biography about Lancaster,
Cartoons and Coronets: The Genius of Osbert Lancaster
.
Selected publications
Drayneflete Revealed

Drayneflete Revealed

Osbert Lancaster's Drayneflete Revealed , is an illustrated book on architectural style....


(1949) — a humorous history of British architecture, tracing the development of 'Draynflete' over the centuries.
Here of All Places
Façades and Faces (London, John Murray

John Murray (publisher)

John Murray is an English publisher, renowned for the authors it has published in its history, including Jane Austen, Sir Arthur Conan Doyle, Lord Byron, Charles Lyell, Johann Wolfgang von Goethe, Herman Melville, and Charles Darwin...


, 1950)
Sailing to Byzantium: an architectural companion (London, John Murray, 1969)
All Done from Memory (1963) and With an Eye to the Future (1973), autobiography.
Cartoons and Coronets: The Genius of Osbert Lancaster (London, Frances Lincoln Publishers, 2008)
External links