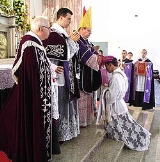 Ordination
In general religious use,
ordination
is the process by which individuals are
consecrated
Consecration
Consecration is the solemn dedication to a special purpose or service, usually religious. The word "consecration" literally means "to associate with the sacred". Persons, places, or things can be consecrated, and the term is used in various ways by different groups...
, that is, set apart as
clergy
Clergy
Clergy is the generic term used to describe the formal religious leadership within a given religion. A clergyman, churchman or cleric is a member of the clergy, especially one who is a priest, preacher, pastor, or other religious professional....
to perform various religious rites and ceremonies. The process and ceremonies of ordination itself varies by
religion
Religion
Religion is a collection of cultural systems, belief systems, and worldviews that establishes symbols that relate humanity to spirituality and, sometimes, to moral values. Many religions have narratives, symbols, traditions and sacred histories that are intended to give meaning to life or to...
and
denomination
Religious denomination
A religious denomination is a subgroup within a religion that operates under a common name, tradition, and identity.The term describes various Christian denominations...
. One who is in preparation for, or who is undergoing the process of, ordination is sometimes called an
ordinand
. The
liturgy
Liturgy
Liturgy is either the customary public worship done by a specific religious group, according to its particular traditions or a more precise term that distinguishes between those religious groups who believe their ritual requires the "people" to do the "work" of responding to the priest, and those...
used at an ordination is sometimes referred to as an
ordinal
.
Ordination
is one of the seven Sacraments, variously called
Holy Orders
Holy Orders
The term Holy Orders is used by many Christian churches to refer to ordination or to those individuals ordained for a special role or ministry....
or Cheirotonia ("
Laying on of Hands
Laying on of hands
The laying on of hands is a religious ritual that accompanies certain religious practices, which are found throughout the world in varying forms....
").
Apostolic Succession
Apostolic Succession
Apostolic succession is a doctrine, held by some Christian denominations, which asserts that the chosen successors of the Twelve Apostles, from the first century to the present day, have inherited the spiritual, ecclesiastical and sacramental authority, power, and responsibility that were...
is an essential and necessary concept for ordination, consisting in the belief that all ordained clergy are ordained by bishops who were ordained by other bishops, and so on, tracing back to bishops ordained by the Apostles who were ordained by
Christ
Christ
Christ is the English term for the Greek meaning "the anointed one". It is a translation of the Hebrew , usually transliterated into English as Messiah or Mashiach...
, the great High Priest () who conferred His priesthood upon His Apostles.