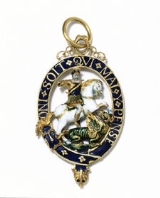 Order of the Garter
The Most Noble Order of the Garter
, founded in 1348, is the highest order of chivalry, or knighthood, existing in England. The order is dedicated to the image and arms of St. George as England's
patron saint
Patron saint
A patron saint is a saint who is regarded as the intercessor and advocate in heaven of a nation, place, craft, activity, class, clan, family, or person...
, and is presently bestowed on recipients from British and other
Commonwealth realm
Commonwealth Realm
A Commonwealth realm is a sovereign state within the Commonwealth of Nations that has Elizabeth II as its monarch and head of state. The sixteen current realms have a combined land area of 18.8 million km² , and a population of 134 million, of which all, except about two million, live in the six...
s; after
peerage
Peerage
The Peerage is a legal system of largely hereditary titles in the United Kingdom, which constitute the ranks of British nobility and is part of the British honours system...
s (and after the
Victoria Cross
Victoria Cross
The Victoria Cross is the highest military decoration awarded for valour "in the face of the enemy" to members of the armed forces of various Commonwealth countries, and previous British Empire territories....
and
George Cross
George Cross
The George Cross is the highest civil decoration of the United Kingdom, and also holds, or has held, that status in many of the other countries of the Commonwealth of Nations...
), it is the pinnacle of the honours system in the United Kingdom. Membership in the order is limited to the Sovereign, the
Prince of Wales
Prince of Wales
Prince of Wales is a title traditionally granted to the heir apparent to the reigning monarch of the United Kingdom of Great Britain and Northern Ireland and the 15 other independent Commonwealth realms...
, and no more than twenty-four members, or Companions; the order also comprises
Supernumerary
Supernumerary
A Supernumerary is an additional member of an organization. A supernumerary is also a non-regular member of a staff, a member of the staff or an employee who works in a public office who is not part of the manpower complement...
knights and ladies (e.g., members of the
British Royal Family
British Royal Family
The British Royal Family is the group of close relatives of the monarch of the United Kingdom. The term is also commonly applied to the same group of people as the relations of the monarch in her or his role as sovereign of any of the other Commonwealth realms, thus sometimes at variance with...
and foreign monarchs).