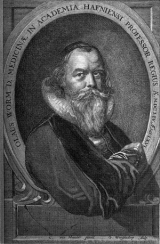 Ole Worm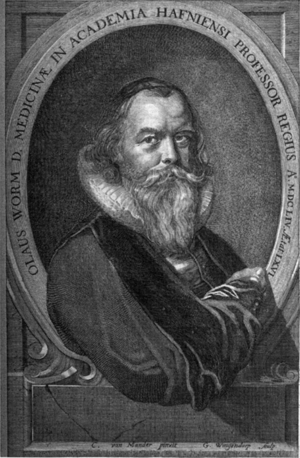 Ole Worm
(13 May 1588 – 31 August 1655), who often went by the Latinized form of his name
Olaus Wormius
, was a
Danish
Denmark
Denmark is a Scandinavian country in Northern Europe. The countries of Denmark and Greenland, as well as the Faroe Islands, constitute the Kingdom of Denmark . It is the southernmost of the Nordic countries, southwest of Sweden and south of Norway, and bordered to the south by Germany. Denmark...
physician
Physician
A physician is a health care provider who practices the profession of medicine, which is concerned with promoting, maintaining or restoring human health through the study, diagnosis, and treatment of disease, injury and other physical and mental impairments...
and antiquary.
Life
Worm was the son of Willum Worm who served as the mayor of
Aarhus
Aarhus
Aarhus or Århus is the second-largest city in Denmark. The principal port of Denmark, Aarhus is on the east side of the peninsula of Jutland in the geographical center of Denmark...
, and was made a rich man by the inheritance from his father. Ole Worm's grandfather Johan Worm, a magistrate in Aarhus, was a Lutheran who had fled from
Arnhem
Arnhem
Arnhem is a city and municipality, situated in the eastern part of the Netherlands. It is the capital of the province of Gelderland and located near the river Nederrijn as well as near the St. Jansbeek, which was the source of the city's development. Arnhem has 146,095 residents as one of the...
in
Gelderland
Gelderland
Gelderland is the largest province of the Netherlands, located in the central eastern part of the country. The capital city is Arnhem. The two other major cities, Nijmegen and Apeldoorn have more inhabitants. Other major regional centers in Gelderland are Ede, Doetinchem, Zutphen, Tiel, Wijchen,...
while it was under
Catholic
Catholic
The word catholic comes from the Greek phrase , meaning "on the whole," "according to the whole" or "in general", and is a combination of the Greek words meaning "about" and meaning "whole"...
rule. He married Dorothea Fincke, the daughter of a friend and colleague,
Thomas Fincke
Thomas Fincke
Thomas Fincke was a Danish mathematician and physicist, and a professor at the University of Copenhagen for more than 60 years.Fincke was born in Flensburg, Schleswig and died in Copenhagen...
, a mathematician who invented the terms '
tangent
Tangent
In geometry, the tangent line to a plane curve at a given point is the straight line that "just touches" the curve at that point. More precisely, a straight line is said to be a tangent of a curve at a point on the curve if the line passes through the point on the curve and has slope where f...
' and '
secant
Secant
Secant is a term in mathematics. It comes from the Latin secare . It can refer to:* a secant line, in geometry* the secant variety, in algebraic geometry...
'.
Ole Worm was something of a
perpetual student
Perpetual student
A perpetual student, also known as a professional student , is a college or university attendee who re-enrolls for several years, typically more than what is necessary to obtain a given degree....
: after attending the
grammar school
Grammar school
A grammar school is one of several different types of school in the history of education in the United Kingdom and some other English-speaking countries, originally a school teaching classical languages but more recently an academically-oriented secondary school.The original purpose of mediaeval...
of Aarhus, he continued his education at the University of Marburg in 1605, received his Doctor of Medicine degree from the
University of Basel
University of Basel
The University of Basel is located in Basel, Switzerland, and is considered to be one of leading universities in the country...
in 1611, and received a Master of Arts degree from the
University of Copenhagen
University of Copenhagen
The University of Copenhagen is the oldest and largest university and research institution in Denmark. Founded in 1479, it has more than 37,000 students, the majority of whom are female , and more than 7,000 employees. The university has several campuses located in and around Copenhagen, with the...
in 1617. The rest of his academic career was spent in Copenhagen, where he taught
Latin
Latin
Latin is an Italic language originally spoken in Latium and Ancient Rome. It, along with most European languages, is a descendant of the ancient Proto-Indo-European language. Although it is considered a dead language, a number of scholars and members of the Christian clergy speak it fluently, and...
,
Greek
Greek language
Greek is an independent branch of the Indo-European family of languages. Native to the southern Balkans, it has the longest documented history of any Indo-European language, spanning 34 centuries of written records. Its writing system has been the Greek alphabet for the majority of its history;...
,
physics
Physics
Physics is a natural science that involves the study of matter and its motion through spacetime, along with related concepts such as energy and force. More broadly, it is the general analysis of nature, conducted in order to understand how the universe behaves.Physics is one of the oldest academic...
, and
medicine
Medicine
Medicine is the science and art of healing. It encompasses a variety of health care practices evolved to maintain and restore health by the prevention and treatment of illness....
. He was personal physician to
King Christian IV of Denmark
Christian IV of Denmark
Christian IV was the king of Denmark-Norway from 1588 until his death. With a reign of more than 59 years, he is the longest-reigning monarch of Denmark, and he is frequently remembered as one of the most popular, ambitious and proactive Danish kings, having initiated many reforms and projects...
. Somewhat remarkable for a physician of the time, he remained in the city of Copenhagen to minister to the sick during an
epidemic
Epidemic
In epidemiology, an epidemic , occurs when new cases of a certain disease, in a given human population, and during a given period, substantially exceed what is expected based on recent experience...
of the
Black Death
Bubonic plague
Plague is a deadly infectious disease that is caused by the enterobacteria Yersinia pestis, named after the French-Swiss bacteriologist Alexandre Yersin. Primarily carried by rodents and spread to humans via fleas, the disease is notorious throughout history, due to the unrivaled scale of death...
.
Scientific and cultural significance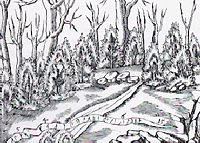 In medicine, Worm's chief contributions were in
embryology
Embryology
Embryology is a science which is about the development of an embryo from the fertilization of the ovum to the fetus stage...
. The Wormian bones (small bones that fill gaps in the
cranial
Human skull
The human skull is a bony structure, skeleton, that is in the human head and which supports the structures of the face and forms a cavity for the brain.In humans, the adult skull is normally made up of 22 bones...
suture
Suture (anatomical)
In anatomy, a suture is a fairly rigid joint between two or more hard elements of an animal, with or without significant overlap of the elements....
s) are named after him.
Worm is also known to have been a collector of early
literature
Literature
Literature is the art of written works, and is not bound to published sources...
in the Scandinavian languages. He also wrote a number of treatises on runestones and collected texts that were written in
runic
Runic alphabet
The runic alphabets are a set of related alphabets using letters known as runes to write various Germanic languages before the adoption of the Latin alphabet and for specialized purposes thereafter...
. Worm received letters of introduction to the
bishop
Bishop
A bishop is an ordained or consecrated member of the Christian clergy who is generally entrusted with a position of authority and oversight. Within the Catholic Church, Eastern Orthodox, Oriental Orthodox Churches, in the Assyrian Church of the East, in the Independent Catholic Churches, and in the...
s of
Denmark
Denmark
Denmark is a Scandinavian country in Northern Europe. The countries of Denmark and Greenland, as well as the Faroe Islands, constitute the Kingdom of Denmark . It is the southernmost of the Nordic countries, southwest of Sweden and south of Norway, and bordered to the south by Germany. Denmark...
and
Norway
Norway
Norway , officially the Kingdom of Norway, is a Nordic unitary constitutional monarchy whose territory comprises the western portion of the Scandinavian Peninsula, Jan Mayen, and the Arctic archipelago of Svalbard and Bouvet Island. Norway has a total area of and a population of about 4.9 million...
from the King of Denmark due to the King's interest and approval. In 1626 Worm published his
Fasti Danici
, or "Danish Chronology," containing the results of his researches into runic lore; and in 1636
Runir seu Danica literatura antiquissima
, "Runes: the oldest Danish literature," a compilation of transcribed runic texts. In 1643 his
Danicorum Monumentorum
"Danish Monuments" was published. The first written study of runestones, it is also one of the only surviving sources for depictions of numerous runestones and inscriptions from Denmark, some of which are now lost.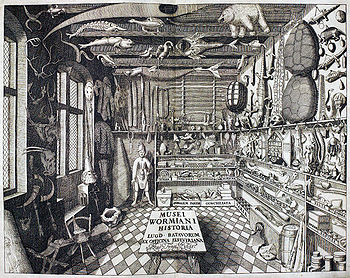 As a natural philosopher, Worm assembled a great collection of
curiosities
Cabinet of curiosities
A cabinet of curiosities was an encyclopedic collection in Renaissance Europe of types of objects whose categorical boundaries were yet to be defined. They were also known by various names such as Cabinet of Wonder, and in German Kunstkammer or Wunderkammer...
, which ranged from native artifacts collected from the New World, to
taxidermed
Taxidermy
Taxidermy is the act of mounting or reproducing dead animals for display or for other sources of study. Taxidermy can be done on all vertebrate species of animals, including mammals, birds, fish, reptiles, and amphibians...
animals, to
fossil
Fossil
Fossils are the preserved remains or traces of animals , plants, and other organisms from the remote past...
s, on which he speculated greatly. Worm compiled engravings of his collection, along with his speculations about their meaning, into a catalog of his
Museum Wormianum
, published after his death, in 1655. As a scientist, Worm straddled the line between modern and pre-modern. As an example, in a very modern,
empirical
Empiricism
Empiricism is a theory of knowledge that asserts that knowledge comes only or primarily via sensory experience. One of several views of epistemology, the study of human knowledge, along with rationalism, idealism and historicism, empiricism emphasizes the role of experience and evidence,...
mode, Worm determined that the
unicorn
Unicorn
The unicorn is a legendary animal from European folklore that resembles a white horse with a large, pointed, spiraling horn projecting from its forehead, and sometimes a goat's beard...
did not exist and that purported unicorn horns were really simply from the
narwhal
Narwhal
The narwhal, Monodon monoceros, is a medium-sized toothed whale that lives year-round in the Arctic. One of two living species of whale in the Monodontidae family, along with the beluga whale, the narwhal males are distinguished by a characteristic long, straight, helical tusk extending from their...
. At the same time, however, he then wondered if the anti-poison properties associated with a unicorn's horn still held true, and undertook experiments in poisoning pets and then serving them ground up narwhal horn (his poisoning must have been relatively mild because he reported that they did recover).
His other empirical investigations included providing convincing evidence that
lemming
Lemming
Lemmings are small rodents, usually found in or near the Arctic, in tundra biomes. They are subniveal animals, and together with voles and muskrats, they make up the subfamily Arvicolinae , which forms part of the largest mammal radiation by far, the superfamily Muroidea, which also includes rats,...
s were rodents and not, as some thought,
spontaneously generated
Abiogenesis
Abiogenesis or biopoesis is the study of how biological life arises from inorganic matter through natural processes, and the method by which life on Earth arose...
by the air (Worm 1655, p. 327), and also by providing the first detailed drawing of a bird of paradise proving that they did, despite much popular speculation to the opposite, indeed have feet like regular birds. Worm's primary use of his natural history collection was for the purpose of
pedagogy
Pedagogy
Pedagogy is the study of being a teacher or the process of teaching. The term generally refers to strategies of instruction, or a style of instruction....
.
Worm in popular literature
In more recent years, the real Worm (and his various accomplishments) have been supplanted to many by a
fictional character
Fictional character
A character is the representation of a person in a narrative work of art . Derived from the ancient Greek word kharaktêr , the earliest use in English, in this sense, dates from the Restoration, although it became widely used after its appearance in Tom Jones in 1749. From this, the sense of...
with his name.
H. P. Lovecraft
H. P. Lovecraft
Howard Phillips Lovecraft --often credited as H.P. Lovecraft — was an American author of horror, fantasy and science fiction, especially the subgenre known as weird fiction....
in a fictional history of his notorious fictional
grimoire
Grimoire
A grimoire is a textbook of magic. Such books typically include instructions on how to create magical objects like talismans and amulets, how to perform magical spells, charms and divination and also how to summon or invoke supernatural entities such as angels, spirits, and demons...
, the
Necronomicon
Necronomicon
The Necronomicon is a fictional grimoire appearing in the stories by horror writer H. P. Lovecraft and his followers. It was first mentioned in Lovecraft's 1924 short story "The Hound", written in 1922, though its purported author, the "Mad Arab" Abdul Alhazred, had been quoted a year earlier in...
, ascribes the Latin translation to an
Olaus Wormius
, but misplaces him in the thirteenth century.
External links
Works of Ole Worm, digitalised par by the Université de Strasbourg
Computus Runicus. a Runic calendar

Calendar

A calendar is a system of organizing days for social, religious, commercial, or administrative purposes. This is done by giving names to periods of time, typically days, weeks, months, and years. The name given to each day is known as a date. Periods in a calendar are usually, though not...


collected by Wormius in Gotland

Gotland

Gotland is a county, province, municipality and diocese of Sweden; it is Sweden's largest island and the largest island in the Baltic Sea. At 3,140 square kilometers in area, the region makes up less than one percent of Sweden's total land area...


.