 Nyboder
Nyboder
is a historic row house district of former
Naval
Royal Danish Navy
The Royal Danish Navy is the sea-based branch of the Danish Defence force. The RDN is mainly responsible for maritime defence and maintaining the sovereignty of Danish, Greenlandic and Faroese territorial waters...
barracks
Barracks
Barracks are specialised buildings for permanent military accommodation; the word may apply to separate housing blocks or to complete complexes. Their main object is to separate soldiers from the civilian population and reinforce discipline, training and esprit de corps. They were sometimes called...
in
Copenhagen
Copenhagen
Copenhagen is the capital and largest city of Denmark, with an urban population of 1,199,224 and a metropolitan population of 1,930,260 . With the completion of the transnational Øresund Bridge in 2000, Copenhagen has become the centre of the increasingly integrating Øresund Region...
,
Denmark
Denmark
Denmark is a Scandinavian country in Northern Europe. The countries of Denmark and Greenland, as well as the Faroe Islands, constitute the Kingdom of Denmark . It is the southernmost of the Nordic countries, southwest of Sweden and south of Norway, and bordered to the south by Germany. Denmark...
. It was planned and first built by
Christian IV
Christian IV of Denmark
Christian IV was the king of Denmark-Norway from 1588 until his death. With a reign of more than 59 years, he is the longest-reigning monarch of Denmark, and he is frequently remembered as one of the most popular, ambitious and proactive Danish kings, having initiated many reforms and projects...
to accommodate a need for housing for the personnel of the rapidly growing
Royal Danish Navy
Royal Danish Navy
The Royal Danish Navy is the sea-based branch of the Danish Defence force. The RDN is mainly responsible for maritime defence and maintaining the sovereignty of Danish, Greenlandic and Faroese territorial waters...
and their families during that time. While the area is still commonly associated with the name of its founder as one of his numerous building projects around Copenhagen, the Nyboder seen today was in fact, except for a single row of houses in St. Paulsgade, built from 1757.
Nyboder is today very much associated with their yellow colour and "Nyboder yellow" is in Danish often used as a generic term to refer to their exact
hue
Hue
Hue is one of the main properties of a color, defined technically , as "the degree to which a stimulus can be describedas similar to or different from stimuli that are described as red, green, blue, and yellow,"...
of yellow. However, the original colour of the development was red and white.
Christian IV's Nyboder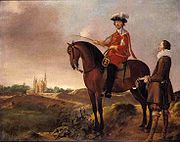 Under Christian IV the Royal Danish Navy grew rapidly and there was am urgent need for suitable accommodation for its personnel and their families. Bremerholm already offered similar housing for naval officers, these were the
old
houses referred to by implication in Nyboder's name, so now the new barracks were to house common sailors and other
private personnel
Private (rank)
A Private is a soldier of the lowest military rank .In modern military parlance, 'Private' is shortened to 'Pte' in the United Kingdom and other Commonwealth countries and to 'Pvt.' in the United States.Notably both Sir Fitzroy MacLean and Enoch Powell are examples of, rare, rapid career...
. The new development was planned on land outside Copenhagen previously acquired by the king with the intention to expand the
fortified city
Fortifications of Copenhagen (17th century)
The fortifications of Copenhagen underwent a comprehensive modernization and expansion in the 17th century. The project was commenced and largely masterplanned by Christian IV in the early 17th century but continued and completed by his successors...
northwards. This had still not happened but Saint Anne's Post, later to develop into
Kastellet
Kastellet, Copenhagen
Kastellet, located in Copenhagen, Denmark is one of the best preserved fortifications in Northern Europe. It is constructed in the form of a pentagram with bastions at its corners...
, had already been constructed a little further north.
Construction of Nyboder was commenced in 1631. The area was laid out around two main streets radiating from a planned square which was never established. The rows were oriented perpendicularly to these streets.The architects assisting the King were
Hans van Steenwinckel the Younger
Hans van Steenwinckel the Younger
Hans van Steenwinckel the Younger was a Flemish-Danish architect who specialised in the Dutch Renaissance style, typical of prestigious Danish buildings from the first half of the 17th century...
and later Leonhard Blasius. Christian IV's Nynoder was completed around 1641.
Absorption by the city
In 1647, one year before Christian IV's death, Nyboder is definitively absorbed by the fortified city when the Eastern City Gate is moved, yet much of its surroundings still awaits redevelopment. Just north of Nyboder lay a piece of undevelopped land known as
Greenland
(Danish: Grønland).
On 16 December 1658 a
gunpowder magazine
Gunpowder magazine
A gunpowder magazine is a magazine designed to store the explosive gunpowder in wooden barrels for safety. Gunpowder, until superseded, was a universal explosive used in the military and for civil engineering: both applications required storage magazines...
just north of Nyboder explodes, damaging or demolishing many houses and causing numerous casualties.
In 1668 Copenhagen's
gallows
Gallows
A gallows is a frame, typically wooden, used for execution by hanging, or by means to torture before execution, as was used when being hanged, drawn and quartered...
was moved from its previous location, at the site where
Kongens Nytorv
Kongens Nytorv
Kongens Nytorv is a public square in Copenhagen, Denmark, centrally located at the end of the pedestrian street Strøget. The finest and largest square of the city, it was laid out by Christian V in 1670 in connection with a major extension of the fortified city, and has an equestrian statue of...
would be laid out a few years later, to
Greenland
. In 1677, Nyboder saw another bleak neighbour when the
Stocks House
Copenhagen Stocks House
The Copenhagen Stocks House was a prison in Copenhagen, Denmark, named for the stocks which used to be located at its premises. Originally a military prison, it was opened to civilian prisoners in 1741. The building was located on Øster Voldgade, opposite the present day National...
was built a little to the south.
Guard and jailhouse
From its early days, the Nyboder area included a guardhouse which was replaced by a new building in the 1780s. It had an external bell which was used to gather people in the event of a military attac or fire. The building also houses the Nyboder arracks' own guard and contained a jail where trouble-making residents were deposited.
Expansion of the Nyboder
In 1695 a commission considers to move part of the naval personnel to the island of
Møn
Møn
-Location:Møn is located just off the south-eastern tip of Zealand from which it is separated by the waters of the Hølen strait between Kalvehave and the island of Nyord, at the northern end of Møn. Further south is Stege Bugt...
, due to lack of space in the crowded city which is still not allowed to develop beyond its fortifications but it never happens. When the Frederiksholm islet is created by a series of
Land reclamation
Land reclamation
Land reclamation, usually known as reclamation, is the process to create new land from sea or riverbeds. The land reclaimed is known as reclamation ground or landfill.- Habitation :...
, the intention is to use it for new naval barracks but again the plans are not carried out.
In the end it was decided to build new houses at Nyboder and the expansion would continue for the next 40 years. In 1756 24 two-storey houses designed by
Philip de Lange
Philip de Lange
Philip de Lange was a leading Dutch-Danish architect who designed many different types of building in various styles including Dutch Baroque and Rococo.-Early life and family:...
were built and while later extensions would be directed by other architects, it continued to be to his initial design. In 1771 some of Christian IV's original rows were extended with an extra storey by
Anthon
Georg David Anthon
-External links:*...
and
Harsdorff
Caspar Frederik Harsdorff
Caspar Frederik Harsdorff, also known as C.F. Harsdorff, , Danish neoclassical architect is considered to be Denmark's leading architect in the late 18th century, and is referred to as "The Father of Danish Classicism".- Early life and training :He was born Caspar Frederik Harsdørffer in...
. From 1781-96 another app. 150 houses were built. A guard house (1787) and five officer's houses were also added to the area during the same period.
Between 1853 and 1878 half of Nyboder was sold off and demolished.
Nyboder today
Nyboder still house enlisted personnel of the Danish Navy, Army and
Air Force
Royal Danish Air Force
The Royal Danish Air Force is the air force of Denmark with the capability to undertake homeland defense and homeland security roles as well international operations.-History:...
but the housing is also open to civilian applicants and since 2006 priority is no longer given to military personnel.
It has several times been proposed to sell the houses and use the proceeds for various purposes, including investments in improved infrastructure in Copenhagen, but so far it has been rejected. In 2009 the A. P. Møller Foundation made a donation of DKK 50 million for a refurbishment of some of the houses.
Nyboder's Church
From 1872 to 1877
St. Pal's Church
St. Paul's Church, Copenhagen
St. Paul's Church is a Lutheran church in central Copenhagen, Denmark, also colloquially known as Nyboder's Church due to its location in the middle of the Nyboder area...
was built to the design of
Johannes Emil Gnudtzmann
Johannes Emil Gnudtzmann
Johannes Emil Gnudtzmann was a Danish architect working in the Historicist style. His most notable works are St. Paul's Church and the extension of the Royal Veterinary and Agricultural College, both in Copenhagen. He was the father of Kaj Gnudtzmann.-Early life and education:Johannes Emil...
in the middle of the Nyboder area and it is often referred to as Nyboder's Church. It is built in red brick and the masonry is decorated with blinds, arches, columns. and
pinnacle
Pinnacle
A pinnacle is an architectural ornament originally forming the cap or crown of a buttress or small turret, but afterwards used on parapets at the corners of towers and in many other situations. The pinnacle looks like a small spire...
s on all corners.
Edouard Suenson Memorial
At Store Kongensgade, in front of Nyboder, there is a memorial to Vice Admiral Edouard Suenson who commanded the Danish ships in the Battle of Heligoland 9 May 1864. The monument was designed by
Theobald Stein
Theobald Stein
Theobald Stein was a Danish sculptor. He was a professor at the Royal Danish Academy of Fine Arts and served as its director from 1883 to 1886....
and inaugurated on 9 May 1889.
The monument consists of a bust of Suenson mounted on a high plinth decorated with a
laurel wreath
Laurel wreath
A laurel wreath is a circular wreath made of interlocking branches and leaves of the bay laurel , an aromatic broadleaf evergreen. In Greek mythology, Apollo is represented wearing a laurel wreath on his head...
and
prow
Prow
thumb|right|295pxThe prow is the forward most part of a ship's bow that cuts through the water. The prow is the part of the bow above the waterline. The terms prow and bow are often used interchangeably to describe the most forward part of a ship and its surrounding parts...
s. On its front side, it has the inscription: "VICE-ADMIRAL/EDOUARD SUENSON/Vorn 13 APRIL 1805/DIED 16 MAY 1887 The foot of the plinth is guarded by bronze lions which hold a
coat of arms
Coat of arms
A coat of arms is a unique heraldic design on a shield or escutcheon or on a surcoat or tabard used to cover and protect armour and to identify the wearer. Thus the term is often stated as "coat-armour", because it was anciently displayed on the front of a coat of cloth...
with the inscription "HELGOLAND/9 MAY/1864".
Christian IV statue
On the corner of Kronprinsessegade and Øster Voldgade, there is a bronze statue of Christian IV, the founder of the area, standing on a granite plinth. The statue was designed by
Vilhelm Bissen
Vilhelm Bissen
Christian Gottlieb Vilhelm Bissen was a Danish sculptor, son of Herman Wilhelm Bissen. He is mainly known for a number of statues around Copenhagen, including the equestrian statue of Absalon on Højbro Plads and the Stork Fountain on the adjoining Amagertorv...
and inaugurated in 1900.
Cultural references
In Either/Or

Either/Or

Published in two volumes in 1843, Either/Or is an influential book written by the Danish philosopher Søren Kierkegaard, exploring the aesthetic and ethical "phases" or "stages" of existence....


, existentialist Danish philosopher Søren Kierkegaard

Søren Kierkegaard

Søren Aabye Kierkegaard was a Danish Christian philosopher, theologian and religious author. He was a critic of idealist intellectuals and philosophers of his time, such as Georg Wilhelm Friedrich Hegel, Friedrich Wilhelm Joseph Schelling and Karl Wilhelm Friedrich Schlegel...


asks rhetorically: "Why was I not born in Nyboder, why did I not die as a baby?".
In Kierkegaard's Diary of a seducer, the protagonist describes the female inhabitants of the area: "And now comes the select troops—the Nyboder girls, less tall, well rounded and filled out, delicate in complexion, merry, happy, quick, talkative, a bit coquettish, and, above all, bareheaded.".
In Hans Christian Andersen

Hans Christian Andersen

Hans Christian Andersen was a Danish author, fairy tale writer, and poet noted for his children's stories. These include "The Steadfast Tin Soldier," "The Snow Queen," "The Little Mermaid," "Thumbelina," "The Little Match Girl," and "The Ugly Duckling."...


's fairy tale The Elder-Tree Mother, an old man tells a sick boy a story which opens "A great blooming tree just exactly like that stands in Nyboder. It grows in the corner of a poor little yard; and under that tree two old people sat one afternoon in the bright sunshine. It was an old sailor and his very old wife...". Elder trees were abundant in the area around Nyboder which gave rise to some superstition, compare the Elder Mother

Elder Mother

The Elder Mother is an elder-guarding being in English and Scandinavian folklore known by a variety of names, such as the Danish Hyldemoer and the Lincolnshire names Old Lady and Old Girl...


.
In his play Den Stundesløse, Ludvig Holberg

Ludvig Holberg

Ludvig Holberg, Baron of Holberg was a writer, essayist, philosopher, historian and playwright born in Bergen, Norway, during the time of the Dano-Norwegian double monarchy, who spent most of his adult life in Denmark. He was influenced by Humanism, the Enlightenment and the Baroque...


mocks the tendency to get married young and have many children in Nyboder.
In the Nobel Prize

Nobel Prize in Literature

Since 1901, the Nobel Prize in Literature has been awarded annually to an author from any country who has, in the words from the will of Alfred Nobel, produced "in the field of literature the most outstanding work in an ideal direction"...


-winning Danish author Henrik Pontoppidan

Henrik Pontoppidan

Henrik Pontoppidan was a realist writer who shared with Karl Gjellerup the Nobel Prize for Literature in 1917 for "his authentic descriptions of present-day life in Denmark." Pontoppidan's novels and short stories — informed with a desire for social progress but despairing, later in his...


's partly autobiographical novel Lykke-Per, the protagonist rents a room from a boatsman in the street Hjertensfrydsgade in Nyboder.
Danish jazz musician Papa Bue

Papa Bue

Arne "Papa" Bue Jensen , known as Papa Bue, was a Danish trombonist and bandleader, chiefly associated with the Dixieland jazz revival style of which he was considered an important proponent. He founded and led the Viking Jazz Band, which was active from 1956.-Early life and career:Arne Bue Jensen...


and his Viking Jazz Band have both made tracks called Praise of Nyboder (1959) and Nyboder's Pride.