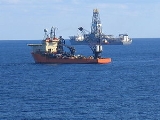 Natural gas field
Oil
Petroleum
Petroleum or crude oil is a naturally occurring, flammable liquid consisting of a complex mixture of hydrocarbons of various molecular weights and other liquid organic compounds, that are found in geologic formations beneath the Earth's surface. Petroleum is recovered mostly through oil drilling...
and
natural gas
Natural gas
Natural gas is a naturally occurring gas mixture consisting primarily of methane, typically with 0–20% higher hydrocarbons . It is found associated with other hydrocarbon fuel, in coal beds, as methane clathrates, and is an important fuel source and a major feedstock for fertilizers.Most natural...
are produced by the same geological process according fossil fuel suggestion:
anaerobic
Anaerobic digestion
Anaerobic digestion is a series of processes in which microorganisms break down biodegradable material in the absence of oxygen. It is used for industrial or domestic purposes to manage waste and/or to release energy....
decay
Decomposition
Decomposition is the process by which organic material is broken down into simpler forms of matter. The process is essential for recycling the finite matter that occupies physical space in the biome. Bodies of living organisms begin to decompose shortly after death...
of
organic matter
Organic matter
Organic matter is matter that has come from a once-living organism; is capable of decay, or the product of decay; or is composed of organic compounds...
deep under the Earth's surface. As a consequence, oil and natural gas are often found together. In common usage, deposits rich in oil are known as
oil field
Oil field
An oil field is a region with an abundance of oil wells extracting petroleum from below ground. Because the oil reservoirs typically extend over a large area, possibly several hundred kilometres across, full exploitation entails multiple wells scattered across the area...
s, and deposits rich in natural gas are called
natural gas fields
.
In general, organic sediments buried in depths of 1,000 m to 6,000 m (at temperatures of 60 °
C
Celsius
Celsius is a scale and unit of measurement for temperature. It is named after the Swedish astronomer Anders Celsius , who developed a similar temperature scale two years before his death...
to 150 °C) generate oil, while sediments buried deeper and at higher temperatures generate natural gas. The deeper the source, the "drier" the gas (that is, the smaller the proportion of
condensate
Natural gas condensate
Natural-gas condensate is a low-density mixture of hydrocarbon liquids that are present as gaseous components in the raw natural gas produced from many natural gas fields....
s in the gas). Because both oil and natural gas are lighter than water, they tend to rise from their sources until they either seep to the surface or are trapped by a non-permeable layer of rock. They can be extracted from the trap by drilling.
The largest natural gas field is South Pars/
Asalouyeh
Asalouyeh
Asaluyeh is a city in and the capital of Asaluyeh District, in Kangan County, Bushehr Province, Iran. At the 2006 census, its population was 4,746, in 875 families....
gas field, which is shared between
Iran
Iran
Iran , officially the Islamic Republic of Iran , is a country in Southern and Western Asia. The name "Iran" has been in use natively since the Sassanian era and came into use internationally in 1935, before which the country was known to the Western world as Persia...
and
Qatar
Qatar
Qatar , also known as the State of Qatar or locally Dawlat Qaṭar, is a sovereign Arab state, located in the Middle East, occupying the small Qatar Peninsula on the northeasterly coast of the much larger Arabian Peninsula. Its sole land border is with Saudi Arabia to the south, with the rest of its...
. The second largest natural gas field is located in
Novy Urengoy
Novy Urengoy
Novy Urengoy is a city in Yamalo-Nenets Autonomous Okrug, Russia. Population: It is served by the Novy Urengoy Airport.It was founded in 1975 after the discovery of the Urengoy gas field, one of the largest in Russia...
,
Russia
Russia
Russia or , officially known as both Russia and the Russian Federation , is a country in northern Eurasia. It is a federal semi-presidential republic, comprising 83 federal subjects...
. The gas field
Haynesville Shale
Haynesville Shale
The Haynesville Shale is an informal, popular name for a rock formation that underlies large parts of southwestern Arkansas, northwest Louisiana, and East Texas. It lies depths of 10,500 to 13,000 feet below the land's surface. It is part of a large rock formation, which is known by geologists as...
Louisiana-Texas has been projected bigger than South Pars, since this a new well it has not been officially recorded its overall power.
Offshore gas fields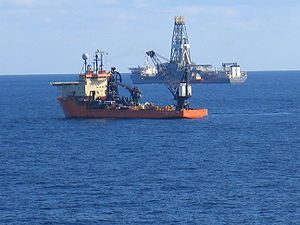 Like oil, natural gas is often found underwater in offshore gas fields such as the
North Sea
North Sea oil
North Sea oil is a mixture of hydrocarbons, comprising liquid oil and natural gas, produced from oil reservoirs beneath the North Sea.In the oil industry, the term "North Sea" often includes areas such as the Norwegian Sea and the area known as "West of Shetland", "the Atlantic Frontier" or "the...
,
Corrib Gas Field
Corrib Gas Field
The Corrib gas project entails the extraction of a natural gas deposit off the northwest coast of Ireland. The project includes a development of the Corrib gas field, and constructions of the natural gas pipeline and a gas processing plant. The project has attracted considerable...
off
Ireland
Ireland
Ireland is an island to the northwest of continental Europe. It is the third-largest island in Europe and the twentieth-largest island on Earth...
, and the
Scotian Shelf
Sable Offshore Energy Project
The Sable Offshore Energy Project is a consortium based in Halifax, Nova Scotia which is attempting to locate and produce natural gas found near Sable Island on the edge of the Nova Scotian continental shelf in eastern Canada...
near
Sable Island
Sable Island
Sable Island is a small Canadian island situated 300 km southeast of mainland Nova Scotia in the Atlantic Ocean. The island is a year-round home to approximately five people...
. The technology utilized to extract and transport offshore natural gas is different from land-based fields in that a few, very large rigs are usually used, due to the cost and logistical difficulties in working over water.
Rising gas prices have encouraged drillers to revisit fields that, until now, were not considered economically viable. For example, McMoran Exploration has passed a drilling depth of over 32,000 feet (9754 m) (the deepest test well in the history of gas production) at the Blackbeard site in the Gulf of Mexico. Exxon Mobil's drill rig had reached 30,000 feet by 2006 without finding gas; Exxon Mobil abandoned the site.
See also
General
Offshore aspects
North Sea Oil

North Sea oil

North Sea oil is a mixture of hydrocarbons, comprising liquid oil and natural gas, produced from oil reservoirs beneath the North Sea.In the oil industry, the term "North Sea" often includes areas such as the Norwegian Sea and the area known as "West of Shetland", "the Atlantic Frontier" or "the...



Oil platform

Oil platform

An oil platform, also referred to as an offshore platform or, somewhat incorrectly, oil rig, is a lаrge structure with facilities to drill wells, to extract and process oil and natural gas, and to temporarily store product until it can be brought to shore for refining and marketing...



Drillship

Drillship

A drillship is a maritime vessel that has been fitted with drilling apparatus. It is most often used for exploratory offshore drilling of new oil or gas wells in deep water or for scientific drilling. The drillship can also be used as a platform to carry out well maintenance or completion work such...



Other
Darvaza, Turkmenistan - The "Door to Hell"
Further reading
Hyne, Norman J. (2001). Nontechnical guide to petroleum geology, exploration, drilling, and production (2nd ed.). Tulsa, Oklahoma: PennWell Corporation. ISBN 0-87814-823-X
External links