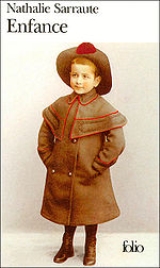 Nathalie Sarraute
Nathalie Sarraute was a French lawyer and writer of Russian Jewish origin.
Life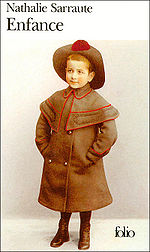 Sarraute was born Natalia/Natacha Tcherniak (Russian Наталья Черняк, Natalya Chernyak) in
Ivanovo
Ivanovo
Ivanovo is a city and the administrative center of Ivanovo Oblast, Russia. Population: Ivanovo has traditionally been called the textile capital of Russia. Since most textile workers are women, it has also been known as the "City of Brides"...
(then known as Ivanovo-Voznesensk), 300 km north-east of Moscow in 1900 (although she frequently referred to the year of her birth as 1902, a date still cited in select reference works), and, following the divorce of her parents, spent her childhood shuttled between France and Russia. In 1909 she moved to Paris with her father. Sarraute studied law and literature at the prestigious
Sorbonne
Sorbonne
The Sorbonne is an edifice of the Latin Quarter, in Paris, France, which has been the historical house of the former University of Paris...
, having a particular fondness for 20th century literature and the works of
Marcel Proust
Marcel Proust
Valentin Louis Georges Eugène Marcel Proust was a French novelist, critic, and essayist best known for his monumental À la recherche du temps perdu...
and
Virginia Woolf
Virginia Woolf
Adeline Virginia Woolf was an English author, essayist, publisher, and writer of short stories, regarded as one of the foremost modernist literary figures of the twentieth century....
, who greatly affected her conception of the novel, then later studied history at
Oxford
Oxford
The city of Oxford is the county town of Oxfordshire, England. The city, made prominent by its medieval university, has a population of just under 165,000, with 153,900 living within the district boundary. It lies about 50 miles north-west of London. The rivers Cherwell and Thames run through...
and sociology in Berlin, before passing the French bar exam (1926-1941) and becoming a lawyer.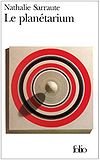 In 1925, she married Raymond Sarraute, a fellow lawyer, with whom she would have three daughters. In 1932 she wrote her first book, Tropismes, a series of brief sketches and memories that set the tone for her entire oeuvre. The novel was first published in 1939, although the impact of World War II stunted its popularity. In 1941, Sarraute, who was Jewish, was released from her work as a lawyer as a result of Nazi law. During this time, she went into hiding and made arrangements to divorce her husband in an effort to protect him (although they would eventually stay together).
Nathalie Sarraute died at the age of 99. Her daughter, the journalist Claude Sarraute, was married to
French Academician
Académie française
L'Académie française , also called the French Academy, is the pre-eminent French learned body on matters pertaining to the French language. The Académie was officially established in 1635 by Cardinal Richelieu, the chief minister to King Louis XIII. Suppressed in 1793 during the French Revolution,...
Jean-François Revel
Jean-François Revel
Jean-François Revel was a French politician, journalist, author, prolific philosopher and member of the Académie française from June 1998...
.
Career
Sarraute dedicated herself to literature, with her most prominent work being Portrait of a Man Unknown (1948), a work applauded by
Jean-Paul Sartre
Jean-Paul Sartre
Jean-Paul Charles Aymard Sartre was a French existentialist philosopher, playwright, novelist, screenwriter, political activist, biographer, and literary critic. He was one of the leading figures in 20th century French philosophy, particularly Marxism, and was one of the key figures in literary...
, who famously referred to it as an "anti-novel" and who also contributed a foreword. Despite such high critical praise, however, the work only drew notice from literary insiders, as did her follow-up, Martereau.
Sarraute's essay The Age of Suspicion (L'Ère du soupçon, 1956) served as a prime manifesto for the
nouveau roman
Nouveau roman
The nouveau roman is a type of 1950s French novel that diverged from classical literary genres. Émile Henriot coined the title in an article in the popular French newspaper Le Monde on May 22, 1957 to describe certain writers who experimented with style in each novel, creating an essentially new...
literary movement, alongside
Alain Robbe-Grillet
Alain Robbe-Grillet
Alain Robbe-Grillet , was a French writer and filmmaker. He was, along with Nathalie Sarraute, Michel Butor and Claude Simon, one of the figures most associated with the Nouveau Roman trend. Alain Robbe-Grillet was elected a member of the Académie française on March 25, 2004, succeeding Maurice...
's For a New Novel. Sarraute became, along with Robbe-Grillet,
Claude Simon
Claude Simon
Claude Simon was a French novelist and the 1985 Nobel Laureate in Literature. He was born in Antananarivo, Madagascar, and died in Paris, France....
,
Marguerite Duras
Marguerite Duras
Marguerite Donnadieu, better known as Marguerite Duras was a French writer and film director.-Background:...
, and
Michel Butor
Michel Butor
-Life and work:Michel Marie François Butor was born in Mons-en-Barœul. He studied philosophy at the Sorbonne, graduating in 1947. He has taught in Egypt, Manchester, Salonika, the United States, and Geneva...
, one of the figures most associated with the rise of this new trend in writing, which sought to radically transform traditional narrative models of character and plot. Sarraute was awarded the
Prix international de littérature
Prix Formentor
The Prix Formentor was an international literary prize awarded between 1961 and 1967. The Formentor Group offered two prizes, the Prix Formentor and the Prix International, . The Prix Formentor was given to previously unpublished work and the the Prix International was given to work already in...
for her novel The Golden Fruits in 1963, which led to greater popularity and exposure for the author. That same year, Sarraute also began working as a dramatist, authoring a total of seven plays, including Le Silence (1963), Le Mensonge (1965) and Elle est là (1993). As a result of Sarraute's growing popularity and public profile, she was invited to speak at a number of literary events both in her native country of France and abroad.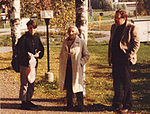 Sarraute's work, including the novels Between Life and Death (1968), The Use of Speech (1980) and You Don't Love Yourself (1989), have been translated into more than 30 languages. Her work has often been referred to as "difficult," as a result of her experimental style and abandonment of traditional literary conventions. Sarraute celebrated the death of the literary "character" and placed her primary emphasis on the creation of a faithful depiction of psychological phenomena, as in her novella The Golden Fruits, consisting entirely of interior monologues, and the novel The Planetarium (1959), which focuses on a young man's obsession with inheriting his aunt's apartment. The constantly shifting perspectives and points of view in Sarraute's work serves to undermine the author's hand, while at the same time embracing the incoherence of lived experience.
In contrast to the relative difficulty of Sarraute's novels, her memoir Childhood is considered an easier read. Penned when she was over eighty years old, Sarraute's autobiography is hardly a straightforward memoir, as she challenges her own capacity to accurately recall her past throughout the work. In the 1980s, the autobiography was adapted into a one-act
Broadway
Broadway theatre
Broadway theatre, commonly called simply Broadway, refers to theatrical performances presented in one of the 40 professional theatres with 500 or more seats located in the Theatre District centered along Broadway, and in Lincoln Center, in Manhattan in New York City...
play starring
Glenn Close
Glenn Close
Glenn Close is an American actress and singer of theatre and film, known for her roles as a femme fatale Glenn Close (born March 19, 1947) is an American actress and singer of theatre and film, known for her roles as a femme fatale Glenn Close (born March 19, 1947) is an American actress and...
. The issues with memory which Sarraute highlighted in her autobiography carried through to her last novel, Here, published in 1995, in which the author explores a range of existential issues relating to the formlessness of both individual and social reality.
See also
Le Mondes 100 Books of the Century

Le Monde's 100 Books of the Century

The 100 Books of the Century is a grading of the books considered as the hundred best of the 20th century, drawn up in the spring of 1999 through a poll conducted by the French retailer Fnac and the Paris newspaper Le Monde....


, a list which includes Tropisms
External links