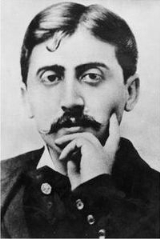 Marcel Proust
Valentin Louis Georges Eugène Marcel Proust
(maʁsɛl pʁust; 10 July 1871 – 18 November 1922) was a French novelist, critic, and essayist best known for his monumental
À la recherche du temps perdu
In Search of Lost Time
In Search of Lost Time or Remembrance of Things Past is a novel in seven volumes by Marcel Proust. His most prominent work, it is popularly known for its considerable length and the notion of involuntary memory, the most famous example being the "episode of the madeleine." The novel is widely...
(
In Search of Lost Time
; earlier translated as
Remembrance of Things Past
). It was published in seven parts between 1913 and 1927.
Proust was born in
Auteuil
Auteuil-Neuilly-Passy
Auteuil and Passy are part of the 16th arrondissement of Paris. They are located near the Bois de Boulogne and the suburb of Neuilly-sur-Seine too....
(the southern sector of Paris' then-rustic 16th arrondissement) at the home of his great-uncle, two months after the
Treaty of Frankfurt
Treaty of Frankfurt (1871)
The Treaty of Frankfurt was a peace treaty signed in Frankfurt on 10 May 1871, at the end of the Franco-Prussian War.- Summary :The treaty did the following:...
formally ended the
Franco-Prussian War
Franco-Prussian War
The Franco-Prussian War or Franco-German War, often referred to in France as the 1870 War was a conflict between the Second French Empire and the Kingdom of Prussia. Prussia was aided by the North German Confederation, of which it was a member, and the South German states of Baden, Württemberg and...
.
Autrefois on rêvait de posséder le cœur de la femme dont on était amoureux; plus tard sentir qu'on possède le cœur d'une femme peut suffire à vous en rendre amoureux.

In his younger days a man dreams of possessing the heart of the woman whom he loves; later, the feeling that he possesses the heart of a woman may be enough to make him fall in love with her.
Ce qu'on appelle la postérité, c'est la postérité de l'œuvre.

What artists call posterity is the posterity of the work of art.
Le temps dont nous disposons chaque jour est élastique; les passions que nous ressentons le dilatent, celles que nous inspirons le rétrécissent et l'habitude le remplit.

The time which we have at our disposal every day is elastic; the passions that we feel expand it, those that we inspire contract it; and habit fills up what remains.