 Nasher Sculpture Center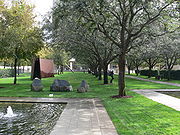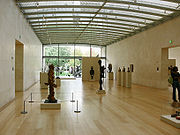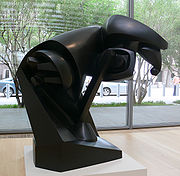 Opened in 2003, the
Nasher Sculpture Center
is a
museum
Museum
A museum is an institution that cares for a collection of artifacts and other objects of scientific, artistic, cultural, or historical importance and makes them available for public viewing through exhibits that may be permanent or temporary. Most large museums are located in major cities...
in Dallas,
Texas
Texas
Texas is the second largest U.S. state by both area and population, and the largest state by area in the contiguous United States.The name, based on the Caddo word "Tejas" meaning "friends" or "allies", was applied by the Spanish to the Caddo themselves and to the region of their settlement in...
that houses a collection of modern and contemporary sculpture. It is located on a 2.4 acres (9,712.5 m²) site adjacent to the
Dallas Museum of Art
Dallas Museum of Art
The Dallas Museum of Art is a major art museum located in the Arts District of downtown Dallas, Texas, USA, along Woodall Rodgers Freeway between St. Paul and Harwood. In 1984, the museum moved from its previous location in Fair Park to the Arts District, Dallas, Texas...
in the heart of the Dallas Arts District. The mission of the Nasher is be an international focal point and catalyst for the study, installation, conservation, and appreciation of modern and contemporary sculpture.
The museum was a longtime dream of the late
Raymond
Raymond Nasher
Raymond Nasher was a Duke University alumnus who was an avid art collector. Together with his wife Patsy, he amassed a substantial number of the world's greatest sculptures and various other important pieces...
and Patsy Nasher (Ray was the original owner of
NorthPark Center
NorthPark Center
NorthPark Center is an upscale shopping mall located in Dallas, Texas . The mall is located at the intersection of Loop 12 and US 75 . The center has over 235 stores and restaurants. NorthPark is the first shopping center featured on Vogue Magazine...
), who together formed a comprehensive collection of masterpieces by
Harry Bertoia
Harry Bertoia
Harry Bertoia , was an Italian-born artist, sculptor, and modern furniture designer....
,
Constantin Brâncuşi
Constantin Brancusi
Constantin Brâncuşi was a Romanian-born sculptor who made his career in France. As a child he displayed an aptitude for carving wooden farm tools. Formal studies took him first to Bucharest, then to Munich, then to the École des Beaux-Arts in Paris...
,
Alexander Calder
Alexander Calder
Alexander Calder was an American sculptor and artist most famous for inventing mobile sculptures. In addition to mobile and stable sculpture, Alexander Calder also created paintings, lithographs, toys, tapestry, jewelry and household objects.-Childhood:Alexander "Sandy" Calder was born in Lawnton,...
,
Raymond Duchamp-Villon
Raymond Duchamp-Villon
Raymond Duchamp-Villon was a French sculptor.Duchamp-Villon was born Pierre-Maurice-Raymond Duchamp in Damville, Eure, in the Haute-Normandie region of France, the second son of Eugene and Lucie Duchamp. Of the six Duchamp children, four would become successful artists...
,
Paul Gauguin
Paul Gauguin
Eugène Henri Paul Gauguin was a leading French Post-Impressionist artist. He was an important figure in the Symbolist movement as a painter, sculptor, print-maker, ceramist, and writer...
,
Willem de Kooning
Willem de Kooning
Willem de Kooning was a Dutch American abstract expressionist artist who was born in Rotterdam, the Netherlands....
,
Mark di Suvero
Mark di Suvero
Marco Polo "Mark" di Suvero is an American abstract expressionist sculptor born Marco Polo Levi in Shanghai, China in 1933 to Italian expatriates. He immigrated to San Francisco, California in 1942 with his family. From 1953 to 1957, he attended the University of California, Berkeley to study...
,
Alberto Giacometti
Alberto Giacometti
Alberto Giacometti was a Swiss sculptor, painter, draughtsman, and printmaker.Alberto Giacometti was born in the canton Graubünden's southerly alpine valley Val Bregaglia and came from an artistic background; his father, Giovanni, was a well-known post-Impressionist painter...
,
Barbara Hepworth
Barbara Hepworth
Dame Barbara Hepworth DBE was an English sculptor. Her work exemplifies Modernism, and with such contemporaries as Ivon Hitchens, Henry Moore, Ben Nicholson, Naum Gabo she helped to develop modern art in Britain.-Life and work:Jocelyn Barbara Hepworth was born on 10 January 1903 in Wakefield,...
,
Ellsworth Kelly
Ellsworth Kelly
Ellsworth Kelly is an American painter and sculptor associated with Hard-edge painting, Color Field painting and the Minimalist school. His works demonstrate unassuming techniques emphasizing the simplicity of form found similar to the work of John McLaughlin. Kelly often employs bright colors to...
,
Henri Matisse
Henri Matisse
Henri Matisse was a French artist, known for his use of colour and his fluid and original draughtsmanship. He was a draughtsman, printmaker, and sculptor, but is known primarily as a painter...
,
Joan Miró
Joan Miró
Joan Miró i Ferrà was a Spanish Catalan painter, sculptor, and ceramicist born in Barcelona.Earning international acclaim, his work has been interpreted as Surrealism, a sandbox for the subconscious mind, a re-creation of the childlike, and a manifestation of Catalan pride...
,
Henry Moore
Henry Moore
Henry Spencer Moore OM CH FBA was an English sculptor and artist. He was best known for his semi-abstract monumental bronze sculptures which are located around the world as public works of art....
,
Claes Oldenburg
Claes Oldenburg
Claes Oldenburg is a Swedish sculptor, best known for his public art installations typically featuring very large replicas of everyday objects...
,
Pablo Picasso
Pablo Picasso
Pablo Diego José Francisco de Paula Juan Nepomuceno María de los Remedios Cipriano de la Santísima Trinidad Ruiz y Picasso known as Pablo Ruiz Picasso was a Spanish expatriate painter, sculptor, printmaker, ceramicist, and stage designer, one of the greatest and most influential artists of the...
,
Auguste Rodin
Auguste Rodin
François-Auguste-René Rodin , known as Auguste Rodin , was a French sculptor. Although Rodin is generally considered the progenitor of modern sculpture, he did not set out to rebel against the past...
,
Richard Serra
Richard Serra
Richard Serra is an American minimalist sculptor and video artist known for working with large-scale assemblies of sheet metal. Serra was involved in the Process Art Movement.-Early life and education:...
, and
David Smith
David Smith (sculptor)
David Roland Smith was an American Abstract Expressionist sculptor and painter, best known for creating large steel abstract geometric sculptures.-Biography:...
, among others, which continues to grow and evolve. Ray was asked by many international museums to allow them to house his collection, but chose to keep it in Dallas, and provide a venue in the center of the city. By placing the facility where he did, Ray Nasher began the realization of the Arts District in Dallas, which has since been enhanced by the construction of the Winspear Opera House and the Wiley Theater.
Renzo Piano
Renzo Piano
Renzo Piano is an Italian architect. He is the recipient of the Pritzker Architecture Prize, AIA Gold Medal, Kyoto Prize and the Sonning Prize...
, winner of the
Pritzker Prize
Pritzker Prize
The Pritzker Architecture Prize is awarded annually by the Hyatt Foundation to honour "a living architect whose built work demonstrates a combination of those qualities of talent, vision and commitment, which has produced consistent and significant contributions to humanity and the built...
in 1998, is the architect of the Center's 55000 square feet (5,109.7 m²) building. Piano worked in collaboration with landscape architect
Peter Walker
Peter Walker (architect)
Peter Walker is a landscape architect in the United States.-Biography and Influences:Peter Walker grew up in California and attended the University of California, Berkeley. Walker initially started out in Journalism but quickly changed his field...
on the design of the 2 acres (8,093.7 m²) Garden. The building was constructed by
The Beck Group
The Beck Group
The Beck GroupType:PrivateFounded:State of Texas Headquarters:Dallas, TexasMotto:Better Buildings, Better Built!Key people:Managing Directors:Henry C...
, which also served as associate architect.
On display in the Galleries and Garden are rotating exhibitions of works from the Nasher Collection as well as special exhibitions drawn from other museums and private collections. In addition to indoor and outdoor gallery spaces, the Center contains an auditorium, education and research facilities, a cafe, and a store.
Popular monthly events include
Target First Saturdays
for children and families,
Til Midnight
featuring
Al Fresco dining
Al fresco dining
Al Fresco dining is eating outside . In temperate climates it is especially popular in the summer months when temperatures and weather are most favorable. It is a style of dining that is casual and often party-like in its atmosphere...
, twilight strolls, bands and movies, and the
NasherSalon
series which welcomes distinguished speakers for an evening of discourse on art, architecture, and other cultural topics of interest.
About the Raymond and Patsy Nasher Collection:
The birth and growth of the Raymond and Patsy Nasher Collection started more than fifty years ago. In 1950, Raymond and Patsy traveled to Mexico, where they became interested in pre-Columbian art and bought the first works in what would become a sizable collection of objects from ancient Latin America. They soon purchased other ethnographic and archaeological works and also acquired a number of important American modernist works. Mr. Nasher often credited this early involvement with pre-Columbian and other tribal arts as having whetted the Nasher's appetite for, and appreciation of, Modern three-dimensional works.
By the mid-1960s, the Nashers had made their first significant purchases of modern sculpture. These included Jean Arp's Torso with Buds (1961), two major bronzes by Henry Moore, Three Piece No. 3: Vertebrae (1968) and Two Piece Reclining Figure No. 9 (1968, no longer in the Collection), and Barbara Hepworth's large and powerful Squares with Two Circles (Monolith) (1963, cast 1964). In rapid succession, they went on to acquire works by, among others, Joan Miró, Alexander Calder, and Isamu Noguchi.
Such purchases set a high standard for acquisitions to follow and excited them about the prospect of surrounding themselves with great art in their home. Mr. Nasher liked the idea that he might use sculptures to enliven spaces in his commercial real estate developments and eventually, began to rotate groups of works through his highly successful NorthPark Center. The Nasher's guiding principle for acquisitions from the beginning was simple: the works had to move them personally.
During the 1980s, the Nasher Collection grew at an accelerating pace. Outstanding works by virtually all the great masters of modern sculpture were added. Simultaneously, the Nashers became more deeply involved with work by living artists, exhibiting an eclectic and adventuresome taste that embraced diverse and sometimes very challenging, even troubling, objects. Some of the first major acquisitions in this area include Claes Oldenburg's Pile of Typewriter Erasers (1970-74), Richard Serra's Inverted House of Cards (1969-70), Donald Judd's Untitled (1976), and Roy Lichtenstein's Double Glass (1979). Works by younger artists such as Anish Kapoor, Richard Deacon, Jeff Koons, Scott Burton, and Martin Puryear soon followed.
By 1987, the Nasher Collection had gained international recognition and was one of the first exhibitions in the Dallas Museum of Art's new downtown building. The collection was subsequently presented in the National Gallery of Art, Washington, DC; the Centro de Arte Reina Sofia, Madrid, Spain; the Forte di Belvedere, Florence, Italy; and the Tel Aviv Museum, Israel. In October 1996, more than 70 sculptures from the collection were shown at the California Palace of the Legion of Honor in San Francisco. In February 1997, 105 works of sculpture and painting from the Collection were exhibited in "A Century of Sculpture: The Nasher Collection" at the Solomon R. Guggenheim Museum in New York City.
Surveyed as a whole, the Nasher Collection demonstrates considerable balance between early modern works and art of the postwar period, abstraction and figuration, monumental outdoor and more intimately scaled indoor works, and the many different materials used in the production of modern art. Perhaps its single most distinguishing feature, however, is the depth with which it represents certain key artists, including Matisse (with eleven sculptures), Picasso (seven), Smith (eight), Raymond Duchamp-Villon (seven), Moore (eight), Miró (four), and Giacometti (thirteen). Such well-rounded perspectives on the development of these masters provide, in effect, a series of mini-retrospectives within the collection's overall historical spectrum.
External links