 NSB Night Train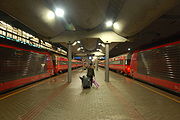 NSB Night Train
is a night
sleeping car
Sleeping car
The sleeping car or sleeper is a railway/railroad passenger car that can accommodate all its passengers in beds of one kind or another, primarily for the purpose of making nighttime travel more restful. The first such cars saw sporadic use on American railroads in the 1830s and could be configured...
service provided by the Norwegian State Railways (NSB) on four routes;
Oslo
Oslo
Oslo is a municipality, as well as the capital and most populous city in Norway. As a municipality , it was established on 1 January 1838. Founded around 1048 by King Harald III of Norway, the city was largely destroyed by fire in 1624. The city was moved under the reign of Denmark–Norway's King...
-
Bergen
Bergen
Bergen is the second largest city in Norway with a population of as of , . Bergen is the administrative centre of Hordaland county. Greater Bergen or Bergen Metropolitan Area as defined by Statistics Norway, has a population of as of , ....
(Bergensbanen), Oslo -
Stavanger
Stavanger
Stavanger is a city and municipality in the county of Rogaland, Norway.Stavanger municipality has a population of 126,469. There are 197,852 people living in the Stavanger conurbation, making Stavanger the fourth largest city, but the third largest urban area, in Norway...
(Sørlandsbanen), Oslo -
Trondheim
Trondheim
Trondheim , historically, Nidaros and Trondhjem, is a city and municipality in Sør-Trøndelag county, Norway. With a population of 173,486, it is the third most populous municipality and city in the country, although the fourth largest metropolitan area. It is the administrative centre of...
(Dovrebanen) and Trondheim - Bodø (Nordlandsbanen).
The service is provided using
El 18
NSB El 18
NSB El 18 is a class of 22 electric locomotives built by Adtranz and Swiss Locomotive and Machine Works for the Norwegian State Railways . The class is a modification of the Swiss Federal Railways Re 460 locomotive and built at Adtranz Strømmen in 1996 and 1997...
locomotives with WLAB2 and B7 cars on the
electrified
Railway electrification system
A railway electrification system supplies electrical energy to railway locomotives and multiple units as well as trams so that they can operate without having an on-board prime mover. There are several different electrification systems in use throughout the world...
lines in Southern Norway, while the service on Nordlandsbanen is provided using
Di 4
NSB Di 4
The NSB Di 4 is a diesel-electric locomotive used by Norwegian NSB railways to haul passenger trains on stretches which are not electrified. They are used mostly on Nordlandsbanen, since the other unelectrified stretches are usually served by diesel multiple units.The five Di 4s which were built...
engines with
B5
NSB B5
NSB Class 5 or B5 is a series of passenger carriages built by Strømmens Værksted for the Norwegian State Railways. Built between 1977 and 1981, they went through a major upgrade between 2008 and 2012. Sixty-three units were delivered. Each is long, wide, and tall. They weigh and have a maximum...
cars. All night trains offer both sleeper cars with closed apartments with one or two beds in addition to regular sitting cars with individual seats in an open configuration.
History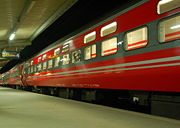 Previously NSB offered night train services also from Oslo to
Åndalsnes
Åndalsnes
is a town in the municipality of Rauma in Møre og Romsdal county, Norway. Åndalsnes is the administrative center of Rauma. The town has a population of 2,207...
on Raumabanen and to Trondheim on Rørosbanen, but these services have been terminated. Services were also offered from Oslo to
Stockholm
Stockholm
Stockholm is the capital and the largest city of Sweden and constitutes the most populated urban area in Scandinavia. Stockholm is the most populous city in Sweden, with a population of 851,155 in the municipality , 1.37 million in the urban area , and around 2.1 million in the metropolitan area...
in
Sweden
Sweden
Sweden , officially the Kingdom of Sweden , is a Nordic country on the Scandinavian Peninsula in Northern Europe. Sweden borders with Norway and Finland and is connected to Denmark by a bridge-tunnel across the Öresund....
and
Copenhagen
Copenhagen
Copenhagen is the capital and largest city of Denmark, with an urban population of 1,199,224 and a metropolitan population of 1,930,260 . With the completion of the transnational Øresund Bridge in 2000, Copenhagen has become the centre of the increasingly integrating Øresund Region...
in
Denmark
Denmark
Denmark is a Scandinavian country in Northern Europe. The countries of Denmark and Greenland, as well as the Faroe Islands, constitute the Kingdom of Denmark . It is the southernmost of the Nordic countries, southwest of Sweden and south of Norway, and bordered to the south by Germany. Denmark...
.