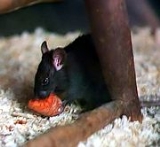 Muridae
Muridae
is the largest family of
mammal
Mammal
Mammals are members of a class of air-breathing vertebrate animals characterised by the possession of endothermy, hair, three middle ear bones, and mammary glands functional in mothers with young...
s. It contains over 600 species found naturally throughout Eurasia, Africa, and Australia. They have been introduced worldwide. The group includes true
mice
Mouse
A mouse is a small mammal belonging to the order of rodents. The best known mouse species is the common house mouse . It is also a popular pet. In some places, certain kinds of field mice are also common. This rodent is eaten by large birds such as hawks and eagles...
and
rat
Rat
Rats are various medium-sized, long-tailed rodents of the superfamily Muroidea. "True rats" are members of the genus Rattus, the most important of which to humans are the black rat, Rattus rattus, and the brown rat, Rattus norvegicus...
s,
gerbil
Gerbil
A gerbil is a small mammal of the order Rodentia. Once known simply as "desert rats", the gerbil subfamily includes about 110 species of African, Indian, and Asian rodents, including sand rats and jirds, all of which are adapted to arid habitats...
s, and relatives.
The family name Muridae is sometimes used in a broader sense to include all members of the superfamily
Muroidea
Muroidea
Muroidea is a large superfamily of rodents. It includes hamsters, gerbils, true mice and rats, and many other relatives. They occupy a vast variety of habitats on every continent except Antarctica. Some authorities have placed all members of this group into a single family, Muridae, due to...
. The name comes from the
Latin
Latin
Latin is an Italic language originally spoken in Latium and Ancient Rome. It, along with most European languages, is a descendant of the ancient Proto-Indo-European language. Although it is considered a dead language, a number of scholars and members of the Christian clergy speak it fluently, and...
mus
(genitive
muris
), meaning "mouse".
Characteristics
The murids are small mammals, typically around 10 cm (3.9 in) long excluding the
tail
Tail
The tail is the section at the rear end of an animal's body; in general, the term refers to a distinct, flexible appendage to the torso. It is the part of the body that corresponds roughly to the sacrum and coccyx in mammals, reptiles, and birds...
, but ranging from 4.5 centimetre in the
African Pygmy Mouse
African Pygmy Mouse
The African Pygmy Mouse, is possibly the smallest of all rodents and one of the smallest mammals. It is widespread within sub-Saharan Africa, and is kept as a pet in other parts of the world...
to 48 cm (18.9 in) in Cuming's Slender-tailed Cloud Rat. They typically have a slender body with a scaled tail, and pointed snouts with prominent whiskers. However, within these broad traits, there is a wide degree of variation. Many murids have elongated legs and feet allowing them to move with a hopping motion, while others have broad feet and prehensile tails to improve their climbing ability, and yet others have neither adaptation. They are most commonly some shade of brown in colour, although many have black, grey, or white markings.
Murids generally have excellent senses of
hearing
Hearing (sense)
Hearing is the ability to perceive sound by detecting vibrations through an organ such as the ear. It is one of the traditional five senses...
and
smell
Olfaction
Olfaction is the sense of smell. This sense is mediated by specialized sensory cells of the nasal cavity of vertebrates, and, by analogy, sensory cells of the antennae of invertebrates...
. They live in a wide range of habitats from
forest
Forest
A forest, also referred to as a wood or the woods, is an area with a high density of trees. As with cities, depending where you are in the world, what is considered a forest may vary significantly in size and have various classification according to how and what of the forest is composed...
to
grassland
Grassland
Grasslands are areas where the vegetation is dominated by grasses and other herbaceous plants . However, sedge and rush families can also be found. Grasslands occur naturally on all continents except Antarctica...
, and
mountain
Mountain
Image:Himalaya_annotated.jpg|thumb|right|The Himalayan mountain range with Mount Everestrect 58 14 160 49 Chomo Lonzorect 200 28 335 52 Makalurect 378 24 566 45 Mount Everestrect 188 581 920 656 Tibetan Plateaurect 250 406 340 427 Rong River...
ranges. A number of species, especially the
gerbil
Gerbil
A gerbil is a small mammal of the order Rodentia. Once known simply as "desert rats", the gerbil subfamily includes about 110 species of African, Indian, and Asian rodents, including sand rats and jirds, all of which are adapted to arid habitats...
s, are adapted to arid
desert
Desert
A desert is a landscape or region that receives an extremely low amount of precipitation, less than enough to support growth of most plants. Most deserts have an average annual precipitation of less than...
conditions, and can survive for a long time with minimal
water
Water
Water is a chemical substance with the chemical formula H2O. A water molecule contains one oxygen and two hydrogen atoms connected by covalent bonds. Water is a liquid at ambient conditions, but it often co-exists on Earth with its solid state, ice, and gaseous state . Water also exists in a...
. They are either
herbivore
Herbivore
Herbivores are organisms that are anatomically and physiologically adapted to eat plant-based foods. Herbivory is a form of consumption in which an organism principally eats autotrophs such as plants, algae and photosynthesizing bacteria. More generally, organisms that feed on autotrophs in...
s or
omnivore
Omnivore
Omnivores are species that eat both plants and animals as their primary food source...
s, eating a wide range of foods in different species, with the aid of powerful jaw muscles and gnawing incisors that grow throughout life. The
dental formula
Dentition
Dentition pertains to the development of teeth and their arrangement in the mouth. In particular, the characteristic arrangement, kind, and number of teeth in a given species at a given age...
of murids is:
Murids breed frequently, often producing large litters several times per year. They typically give birth between 20 and 40 days after mating, although this varies greatly between species. The young are typically born blind, hairless, and helpless, although there are exceptions, such as the spiny mice.
Evolution
As with many other small mammals, the
evolution
Evolution
Evolution is any change across successive generations in the heritable characteristics of biological populations. Evolutionary processes give rise to diversity at every level of biological organisation, including species, individual organisms and molecules such as DNA and proteins.Life on Earth...
of the murids is not well known, as few
fossil
Fossil
Fossils are the preserved remains or traces of animals , plants, and other organisms from the remote past...
s survive. They probably evolved from
hamster
Hamster
Hamsters are rodents belonging to the subfamily Cricetinae. The subfamily contains about 25 species, classified in six or seven genera....
-like animals in tropical
Asia
Asia
Asia is the world's largest and most populous continent, located primarily in the eastern and northern hemispheres. It covers 8.7% of the Earth's total surface area and with approximately 3.879 billion people, it hosts 60% of the world's current human population...
some time in the early
Miocene
Miocene
The Miocene is a geological epoch of the Neogene Period and extends from about . The Miocene was named by Sir Charles Lyell. Its name comes from the Greek words and and means "less recent" because it has 18% fewer modern sea invertebrates than the Pliocene. The Miocene follows the Oligocene...
, and to have only subsequently produced species capable of surviving in cooler climes. They have become especially common worldwide during the
Holocene
Holocene
The Holocene is a geological epoch which began at the end of the Pleistocene and continues to the present. The Holocene is part of the Quaternary period. Its name comes from the Greek words and , meaning "entirely recent"...
, as a result of hitching a ride with human migrations.
Classification
The Murids are classified in 5 subfamilies, around 140
genera
Genus
In biology, a genus is a low-level taxonomic rank used in the biological classification of living and fossil organisms, which is an example of definition by genus and differentia...
and approximately 650
species
Species
In biology, a species is one of the basic units of biological classification and a taxonomic rank. A species is often defined as a group of organisms capable of interbreeding and producing fertile offspring. While in many cases this definition is adequate, more precise or differing measures are...
.
Subfamilies
Deomyinae

Deomyinae

The subfamily Deomyinae consists of four genera of mouse-like rodents that were placed in the subfamilies Murinae and Dendromurinae until very recently. They are sometimes called Acomyinae, particularly in references that predate the discovery that the link rat, Deomys ferugineus, is part of the...


(spiny mice, brush furred mice, link rat)
Gerbillinae (gerbil

Gerbil

A gerbil is a small mammal of the order Rodentia. Once known simply as "desert rats", the gerbil subfamily includes about 110 species of African, Indian, and Asian rodents, including sand rats and jirds, all of which are adapted to arid habitats...


s, jirds and sand rats)
Leimacomyinae (Togo Mouse

Togo Mouse

The Togo Mouse, also known as Büttner's African Forest Mouse or the Groove-toothed Forest Mouse , is a unique muroid rodent known from only two specimens taken from near the type locality of Bismarckburg, near Yege, Togo in 1890...


)
Lophiomyinae (Crested Rat)
Murinae

Murinae

The Old World rats and mice, part of the subfamily Murinae in the family Muridae, comprise at least 519 species. This subfamily is larger than all mammal families except the Cricetidae and Muridae, and is larger than all mammal orders except the bats and the remainder of the...


(Old World rat

Rat

Rats are various medium-sized, long-tailed rodents of the superfamily Muroidea. "True rats" are members of the genus Rattus, the most important of which to humans are the black rat, Rattus rattus, and the brown rat, Rattus norvegicus...


s and mice including the vlei rat

Vlei Rat

The Southern African Vlei Rat is a species of rodent in the Otomys genus of the family Muridae.It is found in Lesotho, Mozambique, South Africa, Swaziland, and Zimbabwe....


s)