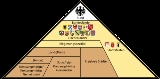 Municipalities of Germany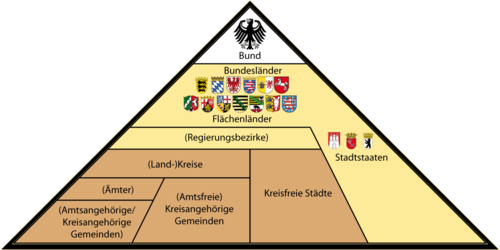 Municipalities
Municipality
A municipality is essentially an urban administrative division having corporate status and usually powers of self-government. It can also be used to mean the governing body of a municipality. A municipality is a general-purpose administrative subdivision, as opposed to a special-purpose district...
(
Gemeinde
Gemeinde
Gemeinde is a German word for borough, commune, community, township, municipality, or in religious contexts, a parish or congregation ....
) are the lowest level of territorial division
in Germany

Germany

Germany , officially the Federal Republic of Germany , is a federal parliamentary republic in Europe. The country consists of 16 states while the capital and largest city is Berlin. Germany covers an area of 357,021 km2 and has a largely temperate seasonal climate...



. This may be the fourth level of territorial division in Germany, apart from those
states
States of Germany
Germany is made up of sixteen which are partly sovereign constituent states of the Federal Republic of Germany. Land literally translates as "country", and constitutionally speaking, they are constituent countries...
which include
Regierungsbezirk
Regierungsbezirk
In Germany, a Government District, in German: Regierungsbezirk – is a subdivision of certain federal states .They are above the Kreise, Landkreise, and kreisfreie Städte...
e (singular: Regierungsbezirk), where municipalities then become the fifth level.
Overview
With more than 3,400,000 inhabitants, the most populated one is the city of
Berlin
Berlin
Berlin is the capital city of Germany and is one of the 16 states of Germany. With a population of 3.45 million people, Berlin is Germany's largest city. It is the second most populous city proper and the seventh most populous urban area in the European Union...
; and the least populated is
Wiedenborstel
Wiedenborstel
Wiedenborstel is a municipality in the district of Steinburg, in Schleswig-Holstein, Germany.-Geography:The village is located approximately 12 km north of Kellinghusen, and 10 km west of Neumünster, in the center of Naturpark Aukrug.-Demography:...
(8 inhabitants in 2010), in
Schleswig-Holstein
Schleswig-Holstein
Schleswig-Holstein is the northernmost of the sixteen states of Germany, comprising most of the historical duchy of Holstein and the southern part of the former Duchy of Schleswig...
Municipalities per federal state
List updated at August 1, 2009.
Federal state
Municipalities
M. with
city status
Average nr. of
inhabitants
Average
surface (km²)
List (Cities, Towns,
Municipalities)
Baden-Württemberg

Baden-Württemberg

Baden-Württemberg is one of the 16 states of Germany. Baden-Württemberg is in the southwestern part of the country to the east of the Upper Rhine, and is the third largest in both area and population of Germany's sixteen states, with an area of and 10.7 million inhabitants...



1,101
312
9,764
32.41
C, T, M
Bavaria

Bavaria

Bavaria, formally the Free State of Bavaria is a state of Germany, located in the southeast of Germany. With an area of , it is the largest state by area, forming almost 20% of the total land area of Germany...



2,056
315
6,090
33.03
C, T, M
Berlin

Berlin

Berlin is the capital city of Germany and is one of the 16 states of Germany. With a population of 3.45 million people, Berlin is Germany's largest city. It is the second most populous city proper and the seventh most populous urban area in the European Union...



1
1
3,416,255
891.02
Berlin

Berlin

Berlin is the capital city of Germany and is one of the 16 states of Germany. With a population of 3.45 million people, Berlin is Germany's largest city. It is the second most populous city proper and the seventh most populous urban area in the European Union...



Brandenburg

Brandenburg

Brandenburg is one of the sixteen federal-states of Germany. It lies in the east of the country and is one of the new federal states that were re-created in 1990 upon the reunification of the former West Germany and East Germany. The capital is Potsdam...



419
112
6,052
70.36
C, T, M
Bremen

Bremen (state)

The Free Hanseatic City of Bremen is the smallest of Germany's 16 states. A more informal name, but used in some official contexts, is Land Bremen .-Geography:...



2
2
331,541
202.14
Bremen

Bremen

The City Municipality of Bremen is a Hanseatic city in northwestern Germany. A commercial and industrial city with a major port on the river Weser, Bremen is part of the Bremen-Oldenburg metropolitan area . Bremen is the second most populous city in North Germany and tenth in Germany.Bremen is...


, Bremerhaven

Bremerhaven

Bremerhaven is a city at the seaport of the free city-state of Bremen, a state of the Federal Republic of Germany. It forms an enclave in the state of Lower Saxony and is located at the mouth of the River Weser on its eastern bank, opposite the town of Nordenham...



Hamburg

Hamburg

-History:The first historic name for the city was, according to Claudius Ptolemy's reports, Treva.But the city takes its modern name, Hamburg, from the first permanent building on the site, a castle whose construction was ordered by the Emperor Charlemagne in AD 808...



1
1
1,770,629
755.16
Hamburg

Hamburg

-History:The first historic name for the city was, according to Claudius Ptolemy's reports, Treva.But the city takes its modern name, Hamburg, from the first permanent building on the site, a castle whose construction was ordered by the Emperor Charlemagne in AD 808...



Hesse

Hesse

Hesse or Hessia is both a cultural region of Germany and the name of an individual German state.* The cultural region of Hesse includes both the State of Hesse and the area known as Rhenish Hesse in the neighbouring Rhineland-Palatinate state...



426
189
14,255
48.80
C, T, M
Lower Saxony

Lower Saxony

Lower Saxony is a German state situated in north-western Germany and is second in area and fourth in population among the sixteen states of Germany...



1,022
164
7,800
45.25
C, T, M
Mecklenburg-Vorpommern
818
84
2,053
28.34
C, T, M
North Rhine-Westphalia

North Rhine-Westphalia

North Rhine-Westphalia is the most populous state of Germany, with four of the country's ten largest cities. The state was formed in 1946 as a merger of the northern Rhineland and Westphalia, both formerly part of Prussia. Its capital is Düsseldorf. The state is currently run by a coalition of the...



396
268
45,446
86.08
C, T, M
Rhineland-Palatinate

Rhineland-Palatinate

Rhineland-Palatinate is one of the 16 states of the Federal Republic of Germany. It has an area of and about four million inhabitants. The capital is Mainz. English speakers also commonly refer to the state by its German name, Rheinland-Pfalz ....



2,306
123
1,754
8.61
C, T, M
Saarland

Saarland

Saarland is one of the sixteen states of Germany. The capital is Saarbrücken. It has an area of 2570 km² and 1,045,000 inhabitants. In both area and population, it is the smallest state in Germany other than the city-states...



52
17
19,935
49.40
C, T, M
Saxony

Saxony

The Free State of Saxony is a landlocked state of Germany, contingent with Brandenburg, Saxony Anhalt, Thuringia, Bavaria, the Czech Republic and Poland. It is the tenth-largest German state in area, with of Germany's sixteen states....



491
178
8,595
37.51
C, T, M
Saxony-Anhalt

Saxony-Anhalt

Saxony-Anhalt is a landlocked state of Germany. Its capital is Magdeburg and it is surrounded by the German states of Lower Saxony, Brandenburg, Saxony, and Thuringia.Saxony-Anhalt covers an area of...



851
118
2,835
24.03
C, T, M
Schleswig-Holstein

Schleswig-Holstein

Schleswig-Holstein is the northernmost of the sixteen states of Germany, comprising most of the historical duchy of Holstein and the southern part of the former Duchy of Schleswig...



1,116
63
2,542
14.07
C, T, M
Thuringia

Thuringia

The Free State of Thuringia is a state of Germany, located in the central part of the country.It has an area of and 2.29 million inhabitants, making it the sixth smallest by area and the fifth smallest by population of Germany's sixteen states....



955
126
2,397
16.93
C, T, M
Germany

Germany

Germany , officially the Federal Republic of Germany , is a federal parliamentary republic in Europe. The country consists of 16 states while the capital and largest city is Berlin. Germany covers an area of 357,021 km2 and has a largely temperate seasonal climate...



12,013
2,073
6,844
29.35
C, T, M
External links