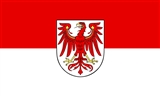 Brandenburg
Brandenburg
is one of the sixteen
federal-states
States of Germany
Germany is made up of sixteen which are partly sovereign constituent states of the Federal Republic of Germany. Land literally translates as "country", and constitutionally speaking, they are constituent countries...
of
Germany
Germany
Germany , officially the Federal Republic of Germany , is a federal parliamentary republic in Europe. The country consists of 16 states while the capital and largest city is Berlin. Germany covers an area of 357,021 km2 and has a largely temperate seasonal climate...
. It lies in the east of the country and is one of the new federal states that were re-created in 1990 upon the reunification of the former
West Germany
West Germany
West Germany is the common English, but not official, name for the Federal Republic of Germany or FRG in the period between its creation in May 1949 to German reunification on 3 October 1990....
and East Germany. The capital is
Potsdam
Potsdam
Potsdam is the capital city of the German federal state of Brandenburg and part of the Berlin/Brandenburg Metropolitan Region. It is situated on the River Havel, southwest of Berlin city centre....
. Brandenburg surrounds but does not include the national capital and city-state of
Berlin
Berlin
Berlin is the capital city of Germany and is one of the 16 states of Germany. With a population of 3.45 million people, Berlin is Germany's largest city. It is the second most populous city proper and the seventh most populous urban area in the European Union...
.
Originating in the medieval
Northern March
Northern March
The Northern March or North March was created out of the division of the vast Marca Geronis in 965. It initially comprised the northern third of the Marca and was part of the territorial organisation of areas conquered from the Wends...
, the
Margraviate of Brandenburg
Margraviate of Brandenburg
The Margraviate of Brandenburg was a major principality of the Holy Roman Empire from 1157 to 1806. Also known as the March of Brandenburg , it played a pivotal role in the history of Germany and Central Europe....
grew
Brandenburg-Prussia
Brandenburg-Prussia is the historiographic denomination for the Early Modern realm of the Brandenburgian Hohenzollerns between 1618 and 1701. Based in the Electorate of Brandenburg, the main branch of the Hohenzollern intermarried with the branch ruling the Duchy of Prussia, and secured succession...
to become the core of the
kingdom
Kingdom of Prussia
The Kingdom of Prussia was a German kingdom from 1701 to 1918. Until the defeat of Germany in World War I, it comprised almost two-thirds of the area of the German Empire...
, later Free State of Prussia.