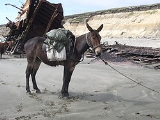 Mule
For other uses, see Mule (disambiguation)

Mule (disambiguation)

A mule is a hybrid equid, a cross of a female horse and a male donkey, often used for transport in rugged terrain.Mule or MULE can also refer to:-Animals:...



A
mule
is the offspring of a male
donkey
Donkey
The donkey or ass, Equus africanus asinus, is a domesticated member of the Equidae or horse family. The wild ancestor of the donkey is the African Wild Ass, E...
and a
female horse
Mare
Female horses are called mares.Mare is the Latin word for "sea".The word may also refer to:-People:* Ahmed Marzooq, also known as Mare, a footballer and Secretary General of Maldives Olympic Committee* Mare Winningham, American actress and singer...
. Horses and donkeys are different species, with different numbers of
chromosome
Chromosome
A chromosome is an organized structure of DNA and protein found in cells. It is a single piece of coiled DNA containing many genes, regulatory elements and other nucleotide sequences. Chromosomes also contain DNA-bound proteins, which serve to package the DNA and control its functions.Chromosomes...
s. Of the two
F1 hybrid
F1 hybrid
F1 hybrid is a term used in genetics and selective breeding. F1 stands for Filial 1, the first filial generation seeds/plants or animal offspring resulting from a cross mating of distinctly different parental types....
s between these two species, a mule is easier to obtain than a
hinny
Hinny
A hinny is a domestic equine hybrid that is the offspring of a male horse and a female donkey . It is similar to the more common mule, which is the product of a female horse and a male donkey....
(the offspring of a male horse and a female donkey). All male mules and most female mules are
infertile
Infertility
Infertility primarily refers to the biological inability of a person to contribute to conception. Infertility may also refer to the state of a woman who is unable to carry a pregnancy to full term...
.
The size of a mule and work to which it is put depends largely on the breeding of the mule's
dam
Mare
Female horses are called mares.Mare is the Latin word for "sea".The word may also refer to:-People:* Ahmed Marzooq, also known as Mare, a footballer and Secretary General of Maldives Olympic Committee* Mare Winningham, American actress and singer...
. Mules can be lightweight, medium weight, or even, when produced from draught horse
mare
Mare
Female horses are called mares.Mare is the Latin word for "sea".The word may also refer to:-People:* Ahmed Marzooq, also known as Mare, a footballer and Secretary General of Maldives Olympic Committee* Mare Winningham, American actress and singer...
s, of moderately heavy weight.
An aficionado of the mule claims that they are "more patient, sure-footed, hardy and long-lived than horses, and they are considered less obstinate, faster, and more intelligent than donkeys."
A female mule that has estrus cycles and thus, in theory, could carry a fetus, is called a "molly" or "Molly mule," though the term is sometimes used to refer to female mules in general. Pregnancy is rare, but can occasionally occur naturally as well as through
embryo transfer
Embryo transfer
Embryo transfer refers to a step in the process of assisted reproduction in which embryos are placed into the uterus of a female with the intent to establish a pregnancy...
. One of several terms for a gelded mule is a "John mule."
Size and performance
The median weight range for a mule is between about 370 and 460 kg (815.7 and 1,014.1 lb). Although it depends on the individual animal, an army mule can "carry up to 72 kg and walk 26 km without resting." In general, a mule can be packed with "dead weight" of up to 20% of its body weight, or approximately 90 kg (198 lb). The average equine in general can carry up to approximately 30% of its body weight in "live" weight, such as a rider. However, while a few mules can carry live weight up to 160 kg (353 lb) the superiority of the mule becomes apparent in their additional endurance.
The virtue of the mule is that a mule has the size and ground-covering ability of a horse, but is comparatively stronger than a horse of similar size and inherits the endurance and disposition of the donkey father. Mules also tend to require less food than a horse of similar size.
Characteristics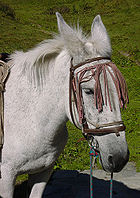 With its short thick head, long ears, thin limbs, small narrow hooves, and short
mane
Mane (horse)
The mane is the hair that grows from the top of the neck of a horse or other equine, reaching from the poll to the withers, and includes the forelock or foretop. It is thicker and coarser than the rest of the horse's coat, and naturally grows to roughly cover the neck...
, the mule shares characteristics of a
donkey
Donkey
The donkey or ass, Equus africanus asinus, is a domesticated member of the Equidae or horse family. The wild ancestor of the donkey is the African Wild Ass, E...
; in height and body, shape of neck and
croup
Rump (animal)
The rump or croup, in the external morphology of an animal, is the portion of the posterior dorsum that is posterior to the loins and anterior to the tail. Anatomically, the rump corresponds to the sacrum....
, uniformity of coat, and teeth, it appears horse-like; the mule comes in all sizes, shapes and conformities. There are mules that resemble
quarter horses
American Quarter Horse
The American Quarter Horse is an American breed of horse that excels at sprinting short distances. Its name came from its ability to outdistance other breeds of horses in races of a quarter mile or less; some individuals have been clocked at speeds up to 55 mph...
, huge draft mules, fine-boned racing mules, shaggy
pony
Pony
A pony is a small horse . Depending on context, a pony may be a horse that is under an approximate or exact height at the withers, or a small horse with a specific conformation and temperament. There are many different breeds...
mules and many more types.
A mule does not sound exactly like a donkey or a horse. Instead, a mule makes a sound that is similar to a donkey's but also has the whinnying characteristics of a horse (often starts with a whinny, ends in a hee-haw). Sometimes, mules whimper. The coats of mules come in the same varieties as those of horses. Common colors are
sorrel
Sorrel (horse)
Sorrel is an alternative word for one of the most common equine coat colors in horses. While the term is usually used to refer to a copper-red shade of chestnut, in some places it is used generically in place of "chestnut" to refer to any reddish horse with a same-color or lighter mane and tail,...
, bay,
black
Black (horse)
Black is a hair coat color of horses in which the entire hair coat is black. Black is a relatively uncommon coat color, and novices frequently mistake dark chestnuts or bays for black. However, some breeds of horses, such as the Friesian horse, Murgese and Ariegeois are almost exclusively black...
, and
grey
Gray (horse)
Gray or grey is a coat color of horses characterized by progressive silvering of the colored hairs of the coat. Most gray horses have black skin and dark eyes; unlike many depigmentation genes, gray does not affect skin or eye color Their adult hair coat is white, dappled, or white intermingled...
. Less common are
white
White (horse)
White horses are born white and stay white throughout their life. White horses may have brown, blue, or hazel eyes. "True white" horses, especially those that carry one of the dominant white genes, are rare...
,
roans
Roan (horse)
Roan is a horse coat color pattern characterized by an even mixture of colored and white hairs on the body, while the head and "points"—lower legs, mane and tail—are more solid-colored. The roan pattern is dominantly-inherited, and is found in many horse breeds...
(both blue and red),
palomino
Palomino
Palomino is a coat color in horses, consisting of a gold coat and white mane and tail. Genetically, the palomino color is created by a single allele of a dilution gene called the cream gene working on a "red" base coat...
,
dun
Dun gene
The dun gene is a dilution gene that affects both red and black pigments in the coat color of a horse. The dun gene has the ability to affect the appearance of all black, bay, or chestnut -based horses to some degree by lightening the base body coat and suppressing the underlying base color to the...
, and buckskin. Least common are
paint
Pinto horse
A pinto horse has a coat color that consists of large patches of white and any other color. The distinction between "pinto" and "solid" can be tenuous, as so-called "solid" horses frequently have areas of white hair. Various cultures throughout history appear to have selectively bred for pinto...
mules or
tobiano
Tobiano
Tobiano is a spotted color pattern commonly seen in Pinto horses, produced by a dominant gene. The tobiano gene produces white-haired, pink-skinned patches on a base coat color. The coloration is present from birth and does not change throughout the horse's lifetime, unless the horse also carries...
s.
The mule possesses the even temper, patience, endurance and sure-footedness of the donkey, and the vigour, strength and courage of the horse. Operators of
working animal
Working animal
A working animal is an animal, usually domesticated, that is kept by humans and trained to perform tasks. They may be close members of the family, such as guide or service dogs, or they may be animals trained strictly to perform a job, such as logging elephants. They may also be used for milk, a...
s generally find mules preferable to horses: mules show more patience under the pressure of heavy weights, and their skin is harder and less sensitive than that of horses, rendering them more capable of resisting sun and rain. Their hooves are harder than horses', and they show a natural resistance to disease and insects. Many North American farmers with
clay
Clay
Clay is a general term including many combinations of one or more clay minerals with traces of metal oxides and organic matter. Geologic clay deposits are mostly composed of phyllosilicate minerals containing variable amounts of water trapped in the mineral structure.- Formation :Clay minerals...
soil found mules superior as plow animals.
Mules are generally less tolerant towards dogs than horses are. They are also capable of striking out with any of their hooves in any direction, even sideways if needed.
Mules exhibit a higher cognitive intelligence than their parent species. This is believed to be the result of
hybrid vigour
Heterosis
Heterosis, or hybrid vigor, or outbreeding enhancement, is the improved or increased function of any biological quality in a hybrid offspring. The adjective derived from heterosis is heterotic....
, similar to how mules acquire greater height and endurance than either parent.
Mules are highly intelligent. They tend to be curious by nature. A mule generally will not let the rider put it in harm's way.
Color and size variety
Mules come in a variety of shapes, sizes and colors, from minis under 50 lb (23 kg) to maxis over 1000 lb (454 kg), and in many different colors. Mules from
Appaloosa
Appaloosa
The Appaloosa is a horse breed best known for its colorful leopard-spotted coat pattern. There is a wide range of body types within the breed, stemming from the influence of multiple breeds of horses throughout its history. Each horse's color pattern is genetically the result of various spotting...
mares produce wildly colored mules, much like their Appaloosa horse relatives, but with even wilder skewed colors. The Appaloosa color is produced by a complex of genes known as the
Leopard complex
Leopard complex
The leopard complex is a group of genetically-related coat patterns in horses. These patterns range from progressive increases in interspersed white hair similar to graying or roan to distinctive, Dalmatian-like leopard spots on a white coat. Secondary characteristics associated with the leopard...
(Lp). Mares homozygous for the Lp gene bred to any color donkey will produce an Appaloosa colored mule.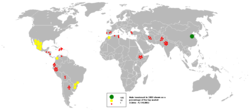 Distribution
The Food and Agriculture Organization of the United Nations (FAO) reports that
China
China
Chinese civilization may refer to:* China for more general discussion of the country.* Chinese culture* Greater China, the transnational community of ethnic Chinese.* History of China* Sinosphere, the area historically affected by Chinese culture...
was the top market for mules in 2003, closely followed by
Mexico
Mexico
The United Mexican States , commonly known as Mexico , is a federal constitutional republic in North America. It is bordered on the north by the United States; on the south and west by the Pacific Ocean; on the southeast by Guatemala, Belize, and the Caribbean Sea; and on the east by the Gulf of...
and many
Central
Central America
Central America is the central geographic region of the Americas. It is the southernmost, isthmian portion of the North American continent, which connects with South America on the southeast. When considered part of the unified continental model, it is considered a subcontinent...
and
South America
South America
South America is a continent situated in the Western Hemisphere, mostly in the Southern Hemisphere, with a relatively small portion in the Northern Hemisphere. The continent is also considered a subcontinent of the Americas. It is bordered on the west by the Pacific Ocean and on the north and east...
n nations.
Fertility
Mules and Hinnies have 63
chromosome
Chromosome
A chromosome is an organized structure of DNA and protein found in cells. It is a single piece of coiled DNA containing many genes, regulatory elements and other nucleotide sequences. Chromosomes also contain DNA-bound proteins, which serve to package the DNA and control its functions.Chromosomes...
s, a mixture of the horse's 64 and the donkey's 62. The different structure and number usually prevents the chromosomes from pairing up properly and creating successful embryos, rendering most mules infertile.
There are no recorded cases of fertile mule stallions. A few female mules have produced offspring when mated with a purebred horse or donkey. Since 1527 there have been more than 60 documented cases of foals born to female mules around the world. There are reports that a mule in China produced a foal in 1984. In
Morocco
Morocco
Morocco , officially the Kingdom of Morocco , is a country located in North Africa. It has a population of more than 32 million and an area of 710,850 km², and also primarily administers the disputed region of the Western Sahara...
, in early 2002, a mare mule produced a rare foal. In 2007 a mule named Kate gave birth to a mule son in Colorado.
Blood and hair samples were tested verifying that the mother was a mule and the
colt
Colt (horse)
A colt is a young male horse, under the age of four. The term "colt" is often confused with foal, which refers to a horse of either sex under one year of age....
was indeed her offspring.
Modern mules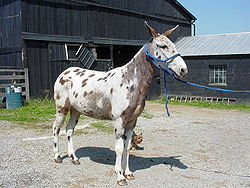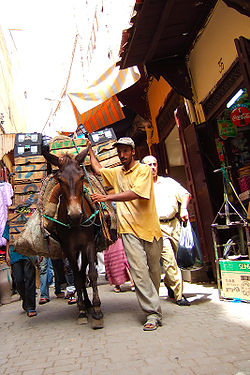 In the second half of the 20th century, widespread usage of mules declined in industrialized countries. The use of mules for farming and transportation of agricultural products largely gave way to modern tractors and
truck
Truck
A truck or lorry is a motor vehicle designed to transport cargo. Trucks vary greatly in size, power, and configuration, with the smallest being mechanically similar to an automobile...
s. However, in the United States, a dedicated number of mule breeders continued the tradition as a hobby and continued breeding the great lines of
American Mammoth Jack
American Mammoth Jack
The American Mammoth Donkey, commonly known as the Mammoth Jack, or American Mammoth Jack is a descendant of multiple breeds of donkey imported to the United States. Breeds that influenced the Mammoth Jack include the Maltese donkey, Poitou donkey , Andalusian donkey, Majorcan donkey, and...
s started in the
United States
United States
The United States of America is a federal constitutional republic comprising fifty states and a federal district...
by
George Washington
George Washington
George Washington was the dominant military and political leader of the new United States of America from 1775 to 1799. He led the American victory over Great Britain in the American Revolutionary War as commander-in-chief of the Continental Army from 1775 to 1783, and presided over the writing of...
with the gift from the King of Spain of two
Catalan donkey
Catalan donkey
-History:The Catalan donkey is a subspecies of the donkeys from which the donkeys of the middle east and Europe originated. The Catalan donkey is related to the donkey of Mallorca and the zamorano-llionés donkey...
s. These hobby breeders began to utilize better mares for mule production until today's modern saddle mule emerged. Exhibition shows where mules pulled heavy loads have now been joined with mules competing in
Western
Western riding
Western riding is a style of horseback riding which evolved from the ranching and warfare traditions brought to the Americas by the Spanish Conquistadors, and both equipment and riding style evolved to meet the working needs of the cowboy in the American West...
and
English pleasure
English Pleasure
English pleasure is generic term for a number of different English riding classes seen at horse shows in the United States, where the horse is ridden in either hunt seat or saddle seat tack....
riding, as well as
dressage
Dressage
Dressage is a competitive equestrian sport, defined by the International Equestrian Federation as "the highest expression of horse training." Competitions are held at all levels from amateur to the World Equestrian Games...
and
show jumping
Show jumping
Show jumping, also known as "stadium jumping," "open jumping," or "jumpers," is a member of a family of English riding equestrian events that also includes dressage, eventing, hunters, and equitation. Jumping classes commonly are seen at horse shows throughout the world, including the Olympics...
competition. There is now a cable TV show dedicated to the training of donkeys and mules. Mules, once snubbed at traditional horse shows, have been accepted for competition at the most exclusive horse shows in the world in all disciplines.
Mules are still used extensively to transport cargo in rugged roadless regions, such as the large
wilderness
Wilderness
Wilderness or wildland is a natural environment on Earth that has not been significantly modified by human activity. It may also be defined as: "The most intact, undisturbed wild natural areas left on our planet—those last truly wild places that humans do not control and have not developed with...
areas of California's Sierra Nevada mountains. Commercial pack mules are used recreationally, such as to supply mountaineering base camps, and also to supply trail building and maintenance crews, and backcountry footbridge building crews. There are still at least sixteen commercial mule
pack stations
Pack station
A pack station is the base of operations for transporting freight via pack animals in the Sierra Nevada mountains. The station facilitates the transition from mechanized transportation to pack animals, and necessarily includes a corral for the animals and sometimes a stock loading ramp...
in business in the Sierra Nevada. The Angeles chapter of the
Sierra Club
Sierra Club
The Sierra Club is the oldest, largest, and most influential grassroots environmental organization in the United States. It was founded on May 28, 1892, in San Francisco, California, by the conservationist and preservationist John Muir, who became its first president...
has a Mule Pack Section that organizes hiking trips with supplies carried by mules.
Amish
Amish
The Amish , sometimes referred to as Amish Mennonites, are a group of Christian church fellowships that form a subgroup of the Mennonite churches...
farmers, who reject tractors and most other modern technology for religious reasons, commonly use teams of six or eight mules to pull plows, diskers, and other farm equipment, though they use horses for pulling buggies on the road.
During the
Soviet war in Afghanistan
Soviet war in Afghanistan
The Soviet war in Afghanistan was a nine-year conflict involving the Soviet Union, supporting the Marxist-Leninist government of the Democratic Republic of Afghanistan against the Afghan Mujahideen and foreign "Arab–Afghan" volunteers...
, the United States used large numbers of mules to carry weapons and supplies over Afghanistan's rugged terrain to the
mujahideen
Mujahideen
Mujahideen are Muslims who struggle in the path of God. The word is from the same Arabic triliteral as jihad .Mujahideen is also transliterated from Arabic as mujahedin, mujahedeen, mudžahedin, mudžahidin, mujahidīn, mujaheddīn and more.-Origin of the concept:The beginnings of Jihad are traced...
. Use of mules by U.S. forces has continued during the War in Afghanistan (2001-present), and the
United States Marine Corps
United States Marine Corps
The United States Marine Corps is a branch of the United States Armed Forces responsible for providing power projection from the sea, using the mobility of the United States Navy to deliver combined-arms task forces rapidly. It is one of seven uniformed services of the United States...
now conducts an 11-day Animal Packers Course at its
Mountain Warfare Training Center
Mountain Warfare Training Center
The Mountain Warfare Training Center is a United States Marine Corps installation located in Pickel Meadows on California State Route 108 in the Toiyabe National Forest, 21 miles northwest of Bridgeport, California...
located in the Sierra Nevada near
Bridgeport, California
Bridgeport, California
Bridgeport is a census-designated place that is the county seat of Mono County, California. It lies at an elevation of 6463 feet in the middle of the Bridgeport Valley. Bridgeport is located at the intersection of highways US 395 and State Route 182. The population was 575 at the 2010...
.
Mule clone
In 2003, researchers at
University of Idaho
University of Idaho
The University of Idaho is the State of Idaho's flagship and oldest public university, located in the rural city of Moscow in Latah County in the northern portion of the state...
and
Utah State University
Utah State University
Utah State University is a public university located in Logan, Utah. It is a land-grant and space-grant institution and is accredited by the Northwest Commission on Colleges and Universities....
produced the first mule
clone
Cloning
Cloning in biology is the process of producing similar populations of genetically identical individuals that occurs in nature when organisms such as bacteria, insects or plants reproduce asexually. Cloning in biotechnology refers to processes used to create copies of DNA fragments , cells , or...
as part of Project Idaho.
The research team includes Gordon Woods, UI professor of
animal
Animal science
Animal Science is described as "studying the biology of animals that are under the control of mankind". Historically, the animals studied were farm animals, including livestock and horses, but courses available now look at a far broader area to include companion animals, for example dogs, cats and...
and
veterinary science
Veterinary medicine
Veterinary Medicine is the branch of science that deals with the prevention, diagnosis and treatment of disease, disorder and injury in non-human animals...
, Kenneth L. White, USU professor of animal science, and Dirk Vanderwall, UI assistant professor of animal and veterinary science. The baby mule, Idaho Gem, was born May 4. It is the first clone of a hybrid animal. Veterinary examinations of the foal and its surrogate mother showed them to be in good health soon after birth. The foal's DNA comes from a fetal cell culture first established in 1998 at the
University of Idaho
University of Idaho
The University of Idaho is the State of Idaho's flagship and oldest public university, located in the rural city of Moscow in Latah County in the northern portion of the state...
.
See also
External links