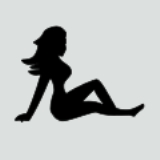 Mudflap
A
mudflap
is used in combination with the vehicle fender to protect the vehicle, passengers, other vehicles, and pedestrians from
mud
Mud
Mud is a mixture of water and some combination of soil, silt, and clay. Ancient mud deposits harden over geological time to form sedimentary rock such as shale or mudstone . When geological deposits of mud are formed in estuaries the resultant layers are termed bay muds...
and other flying
debris
Debris
Debris is rubble, wreckage, ruins, litter and discarded garbage/refuse/trash, scattered remains of something destroyed, or, in geology, large rock fragments left by a melting glacier etc. The singular form of debris is debris...
thrown into the air by the rotating
tire
Tire
A tire or tyre is a ring-shaped covering that fits around a wheel rim to protect it and enable better vehicle performance by providing a flexible cushion that absorbs shock while keeping the wheel in close contact with the ground...
. A mudflap is typically made from a flexible material such as
rubber
Rubber
Natural rubber, also called India rubber or caoutchouc, is an elastomer that was originally derived from latex, a milky colloid produced by some plants. The plants would be 'tapped', that is, an incision made into the bark of the tree and the sticky, milk colored latex sap collected and refined...
that is not easily damaged by contact with flying debris, the tire, or the
road
Road
A road is a thoroughfare, route, or way on land between two places, which typically has been paved or otherwise improved to allow travel by some conveyance, including a horse, cart, or motor vehicle. Roads consist of one, or sometimes two, roadways each with one or more lanes and also any...
surface.
Mudflaps can be large rectangular sheets suspended behind the tires, or may be small molded lips below the rear of the vehicle's wheel wells. Mudflaps can be aerodynamically engineered, utilizing shaping, louvers or vents to improve airflow and lower drag.
While some flaps are the plain colour of rubber, many contain company
logo
Logo
A logo is a graphic mark or emblem commonly used by commercial enterprises, organizations and even individuals to aid and promote instant public recognition...
s or other art, or sometimes advertisements. One popular image is cartoon character
Yosemite Sam
Yosemite Sam
Yosemite Sam is an American animated cartoon character in the Looney Tunes and Merrie Melodies series of cartoons produced by Warner Bros. Animation. The name is somewhat alliterative and is inspired by Yosemite National Park...
with the words "Back Off!". Another is the
mudflap girl
Mudflap girl
The mudflap girl is an iconic silhouette of a woman with an hourglass body shape, sitting, leaning back on her hands, with her hair being blown in the wind. The icon is typically found on mudflaps, clothing, and other items associated with trucking in the United States...
, an attractive woman's
silhouette
Silhouette
A silhouette is the image of a person, an object or scene consisting of the outline and a basically featureless interior, with the silhouetted object usually being black. Although the art form has been popular since the mid-18th century, the term "silhouette" was seldom used until the early decades...
, sitting with her hair being blown back in the wind.