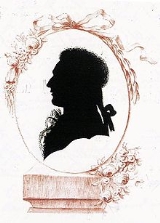 Silhouette
A silhouette is the image of a person, an object or scene consisting of the outline and a basically featureless interior, with the silhouetted object usually being black. Although the art form has been popular since the mid-18th century, the term "silhouette" was seldom used until the early decades of the 19th century. Silhouette images may be created in any artistic media, but the tradition of cutting portraits from black card has continued into the 21st century.

From its original graphic meaning, the term "silhouette" has been extended to describe the sight or representation of a person, object or scene that is backlit, and appears dark against a lighter background.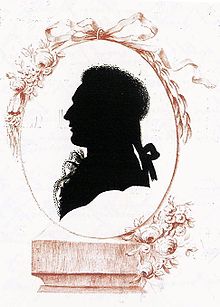 A
silhouette
is the image of a person, an object or scene consisting of the outline and a basically featureless interior, with the silhouetted object usually being black. Although the art form has been popular since the mid-18th century, the term "silhouette" was seldom used until the early decades of the 19th century. Silhouette images may be created in any artistic media, but the tradition of cutting portraits from black card has continued into the 21st century.
From its original graphic meaning, the term "silhouette" has been extended to describe the sight or representation of a person, object or scene that is backlit, and appears dark against a lighter background. Anything that appears this way, for example, a figure standing backlit in a doorway, may be described as "in silhouette". Because a silhouette emphasises the outline, the word has also been used in the fields of
fashion
Fashion
Fashion, a general term for a currently popular style or practice, especially in clothing, foot wear, or accessories. Fashion references to anything that is the current trend in look and dress up of a person...
and
fitness
Physical fitness
Physical fitness comprises two related concepts: general fitness , and specific fitness...
to describe the shape of a person's body or the shape created by wearing clothing of a particular style or period.
Etymology and origins
The word "silhouette" derives from the name of
Étienne de Silhouette
Étienne de Silhouette
Étienne de Silhouette was a French Controller-General of Finances under Louis XV.He was born in Limoges where his father Arnaud de Silhouette was sent....
, a French
finance minister
Finance minister
The finance minister is a cabinet position in a government.A minister of finance has many different jobs in a government. He or she helps form the government budget, stimulate the economy, and control finances...
who, in 1759, was forced by France's credit crisis during the Seven Years War to impose severe economic demands upon the French people, particularly the wealthy. Because of de Silhouette's austere economies, his name became eponymous with anything done or made cheaply and so with these outline portraits. Prior to the advent of photography, silhouette profiles cut from black card were the cheapest way of recording a person's appearance.
The term "silhouette", although existing from the 18th century, was not applied to the art of portrait-making until the 19th century. In the 18th and early 19th century, "profiles" or "shades" as they were called were made by one of 3 methods: (1) painted on ivory, plaster, paper, card, or in reverse on glass; (2) "hollow-cut" where the negative image was traced and then cut away from light colored paper which was then laid atop a dark background; and (3) "cut & paste" where the figure was cut out of dark paper (usually free-hand) and then pasted onto a light background.
In art
The silhouette is closely tied in mythology with the origins of art. Pliny the Elder, in his
Natural History
(circa 77-79AD) Books XXXIV and XXXV, accounts the origin of painting. In Chapter 5 of Book XXXV, he writes, "We have no certain knowledge as to the commencement of the art of painting, nor does this enquiry fall under our consideration. The Egyptians assert that it was invented among themselves, six thousand years before it passed into Greece; a vain boast, it is very evident. As to the Greeks, some say that it was invented at Sicyon, others at Corinth; but they all agree that it originated in tracing lines round the human shadow [...omnes umbra hominis lineis circumducta].". In Chapter 15, he tells the story of Butades of Corinth: "Butades, a potter of Sicyon, was the first who invented, at Corinth, the art of modelling portraits in the earth which he used in his trade. It was through his daughter that he made the discovery; who, being deeply in love with a young man about to depart on a long journey, traced the profile of his face, as thrown upon the wall by the light of the lamp [umbram ex facie eius ad lucernam in pariete lineis circumscripsit]. Upon seeing this, her father filled in the outline, by compressing clay upon the surface, and so made a face in relief, which he then hardened by fire along with other articles of pottery."
Profile portraits
The advantage of the profile portrait is that, because it depends strongly upon the proportions and relationship of the bony structures of the face, forehead, nose and chin, the image is clear and simple, and deviates less from the appearance of the sitter with changes caused by age, weight and illness. Profile portraits have been employed on
coin
Coin
A coin is a piece of hard material that is standardized in weight, is produced in large quantities in order to facilitate trade, and primarily can be used as a legal tender token for commerce in the designated country, region, or territory....
age since the
Roman
Ancient Rome
Ancient Rome was a thriving civilization that grew on the Italian Peninsula as early as the 8th century BC. Located along the Mediterranean Sea and centered on the city of Rome, it expanded to one of the largest empires in the ancient world....
era. The early Renaissance period saw a fashion for painted profile portraits and many famous people such as Lorenzo de Medici were depicted in profile.
Recent research at
Stanford University
Stanford University
The Leland Stanford Junior University, commonly referred to as Stanford University or Stanford, is a private research university on an campus located near Palo Alto, California. It is situated in the northwestern Santa Clara Valley on the San Francisco Peninsula, approximately northwest of San...
indicates that where previous studies of face recognition have been based on frontal views, studies with silhouettes show humans are able to extract accurate information about gender and age from the silhouette alone. This is an important concept for artists who design characters for visual media, because the silhouette is the most immediately recognisable and identifiable shape of the character.
Traditional silhouette portraiture
A silhouette portrait can be painted or drawn. However, the traditional method of creating silhouette portraits is to cut them from lightweight black cardboard, and mount them on a pale (usually white) background. This was the work of specialist artists, often working out of booths at fairs or markets. A traditional silhouette portrait artist would cut the likeness of a person, freehand, within a few minutes. Some modern silhouette artists also make silhouette portraits from photographs of people taken in profile.
The work of the
physiognomist
Physiognomy
Physiognomy is the assessment of a person's character or personality from their outer appearance, especially the face...
Johanna Caspar Lavater, who used silhouettes to analyse facial types, is thought to have promoted the art.
One of the most famous silhouette artists of the 18th century, August Edouart, cut thousands of portraits in duplicate. His subjects included French and British nobility and US presidents. Much of his personal collection was lost in a shipwreck. In England, the best known silhouette artist was
John Miers
John Miers (artist)
John M.html] V&A biographies of artists. Born in Leeds, he established a businesniature. His-References:VERY FAMOUSJohn M.html] V&A biographies of artists. Born in Leeds, he established a businesniature. His-References:VERY FAMOUS...
, who travelled and worked in different cities, but had a studio on
the Strand
Strand, London
Strand is a street in the City of Westminster, London, England. The street is just over three-quarters of a mile long. It currently starts at Trafalgar Square and runs east to join Fleet Street at Temple Bar, which marks the boundary of the City of London at this point, though its historical length...
in London.
In America, silhouettes were highly popular from about 1790 to 1840. The invention of the camera signaled the end of the silhouette as a widespread form of portraiture. The skill was not lost, and travelling silhouette artists continued to work at state fairs into the 20th century. The popularity of the silhouette portrait is being reborn in a new generation of people who appreciate the silhouette as a nostalgic way of capturing a significant occasion. In the United States silhouette artists have websites advertising their services at weddings and other such functions. In England there is an active group of silhouette artists. In Australia,
S. John Ross
S. John Ross (artist)
Sebastian John Ross, , known as S. John Ross or "The Silhouette Man", was an American-born Australian artist and showman, famous for his miniature silhouette portraits cut in black card. S...
plied his scissors at
agricultural show
Agricultural show
An agricultural show is a public event showcasing the equipment, animals, sports and recreation associated with agriculture and animal husbandry. The largest comprise a livestock show , a trade fair, competitions, and entertainment...
s for 60 years until his death in 2008. Other artists such as Douglas Carpenter produce silhouette images using pen and ink.
Artworks and illustrations
Since the late 18th century, silhouette artists have also made small scenes cut from card and mounted on a contrasting background like the portraits. These pictures, known as "paper cuts", were often, but not necessarily, silhouette images. Among 19th century artists to work in this way was the author
Hans Christian Andersen
Hans Christian Andersen
Hans Christian Andersen was a Danish author, fairy tale writer, and poet noted for his children's stories. These include "The Steadfast Tin Soldier," "The Snow Queen," "The Little Mermaid," "Thumbelina," "The Little Match Girl," and "The Ugly Duckling."...
. The modern artist Robert Ryan creates intricate images by this technique, sometimes using them to produce silk-screen prints.
In the late 19th and early 20th century several illustrators employed designs of similar appearance for making book illustrations. Silhouette pictures could easily be printed by blocks that were cheaper to produce and longer lasting than detailed black and white illustrations.
Silhouette pictures sometimes appear books of the early 20th century in conjunction with colour plates. (The colour plates were expensive to produce and each one was glued into the book by hand.) Illustrators who produced silhouette pictures at this time include
Arthur Rackham
Arthur Rackham
Arthur Rackham was an English book illustrator.-Biography:Rackham was born in London as one of 12 children. At the age of 18, he worked as a clerk at the Westminster Fire Office and began studying part-time at the Lambeth School of Art.In 1892 he left his job and started working for The...
and William Heath Robinson. Illustrators of the late 20th century to work in silhouette include
Jan Pienkowski
Jan Pienkowski
Jan Michel Pieńkowski is a Polish-born British illustrator and author of children's books.Pieńkowski illustrated his first book at the age of eight, as a present for his father. During World War II, Pieńkowski's family moved about Europe, finally settling in Herefordshire, England in 1946...
and Jan Ormerod. In the early 1970s, French artist
Philippe Derome
Philippe Derome
Philippe Derome is a French figurative painter.- Biography :Philippe Derome grew up in Boulogne-Billancourt and in Villeurbanne. In 1956 he settled in Paris where he studied for two years with Paul Colin. From 1960 to 1970 he was privileged enough to be part of the sophisticated and artistic...
uses the black cut silhouette in his portraits of black people. In the 21st century, American artist
Kara Walker
Kara Walker
Kara Walker is a contemporary African American artist who explores race, gender, sexuality, violence and identity in her work. She is best known for her room-size tableaux of black cut-paper silhouettes, such as The Means to an End--A Shadow Drama in Five Acts.-Biography:Walker was born in...
develops this use of silhouette to present racial issues in confronting images.
Shadow theatre
Originating in the orient with traditions such as the shadow theatres of
Indonesia
Indonesia
Indonesia , officially the Republic of Indonesia , is a country in Southeast Asia and Oceania. Indonesia is an archipelago comprising approximately 13,000 islands. It has 33 provinces with over 238 million people, and is the world's fourth most populous country. Indonesia is a republic, with an...
, the
shadow play
Shadow play
Shadow play or shadow puppetry Shadow puppets have a long history in China, India, Turkey and Java, and as a popular form of entertainment for both children and adults in many countries around the world. A shadow puppet is a cut-out figure held between a source of light and a translucent screen...
became a popular entertainment in Paris during the 18th and 19th century.
In the Paris of the late 19th century, the shadow theatre was particularly associated with the cabaret
Le Chat Noir
Le Chat Noir
Le Chat Noir was a 19th-century cabaret, meaning entertainment house, in the bohemian Montmartre district of Paris...
where
Henri Rivière
Henri Rivière
Henri Laurent Rivière was a French naval officer and a writer, chiefly remembered today for his role in advancing the French conquest of Tonkin in the 1880s...
was the designer.
Movies
Since their pioneering use by
Lotte Reiniger
Lotte Reiniger
Charlotte "Lotte" Reiniger was a German silhouette animator and film director.- Early life :Lotte Reiniger was born in Berlin-Charlottenburg, German Empire, on June 2, 1899...
in silent films, silhouettes have been used to dramatic effect in many movies, including many of the opening credit sequences of the
James Bond
James Bond
James Bond, code name 007, is a fictional character created in 1953 by writer Ian Fleming, who featured him in twelve novels and two short story collections. There have been a six other authors who wrote authorised Bond novels or novelizations after Fleming's death in 1964: Kingsley Amis,...
films. The famous opening sequence of the television series
Alfred Hitchcock Presents
Alfred Hitchcock Presents
Alfred Hitchcock Presents is an American television anthology series hosted by Alfred Hitchcock. The series featured dramas, thrillers, and mysteries. By the premiere of the show on October 2, 1955, Hitchcock had been directing films for over three decades...
features a silhouetted profile of
Alfred Hitchcock
Alfred Hitchcock
Sir Alfred Joseph Hitchcock, KBE was a British film director and producer. He pioneered many techniques in the suspense and psychological thriller genres. After a successful career in British cinema in both silent films and early talkies, Hitchcock moved to Hollywood...
stepping into a
caricature
Caricature
A caricature is a portrait that exaggerates or distorts the essence of a person or thing to create an easily identifiable visual likeness. In literature, a caricature is a description of a person using exaggeration of some characteristics and oversimplification of others.Caricatures can be...
d outline of himself. A scene from
E.T.
E.T. the Extra-Terrestrial
E.T. the Extra-Terrestrial is a 1982 American science fiction film co-produced and directed by Steven Spielberg, written by Melissa Mathison and starring Henry Thomas, Dee Wallace, Robert MacNaughton, Drew Barrymore, and Peter Coyote...
showing the central characters on a flying bicycle silhouetted against the full moon became a well-known movie
poster
Poster
A poster is any piece of printed paper designed to be attached to a wall or vertical surface. Typically posters include both textual and graphic elements, although a poster may be either wholly graphical or wholly text. Posters are designed to be both eye-catching and informative. Posters may be...
.
Harry Potter and the Deathly Hallows - Part 1
contains an animated sequence in silhouette illustrating a short story
The Tale of the Three Brothers
that is embedded in the film. The sequence was produced by
Ben Hibon
Ben Hibon
Ben Hibon is a Swiss animation director. Hibon was born in Geneva, Switzerland where he completed studies in Fine Art. He moved to London in 1996 to study Graphic Design at the Central Saint Matins College of Art and Design, followed by a Masters Degree at the same school.Hibon created in-game...
for Framestore, with artwork by Alexis Lidell.
Silhouettes have also been used by recording artists in
music video
Music video
A music video or song video is a short film integrating a song and imagery, produced for promotional or artistic purposes. Modern music videos are primarily made and used as a marketing device intended to promote the sale of music recordings...
s. One example is the video for "Buttons" by The Pussycat Dolls, in which
Nicole Scherzinger
Nicole Scherzinger
Nicole Prescovia Elikolani Valiente Scherzinger is an American singer-songwriter, dancer, record producer, model, and actress. Scherzinger is perhaps best known for being the lead vocalist of the Pussycat Dolls....
is seen in silhouette.
Michael Jackson
Michael Jackson
Michael Joseph Jackson was an American recording artist, entertainer, and businessman. Referred to as the King of Pop, or by his initials MJ, Jackson is recognized as the most successful entertainer of all time by Guinness World Records...
used his own distinctive silhouette both on stage and in videos such as "
You Rock my World
You Rock My World
"You Rock My World" is a song by American recording artist Michael Jackson from his tenth, and final, studio album Invincible . The song was released as the lead single from the album in August 2001 by Epic Records. The lyrics pertain to being in love and trying to gain a woman's affection...
". Early
iPod
IPod
iPod is a line of portable media players created and marketed by Apple Inc. The product line-up currently consists of the hard drive-based iPod Classic, the touchscreen iPod Touch, the compact iPod Nano, and the ultra-compact iPod Shuffle...
commercials portrayed silhouetted dancers wearing an iPod and earbuds.
The cult television program,
Mystery Science Theater 3000
Mystery Science Theater 3000
Mystery Science Theater 3000 is an American cult television comedy series created by Joel Hodgson and produced by Best Brains, Inc., that ran from 1988 to 1999....
features the three main characters of the series watching a movie as silhouettes at the bottom of the screen.
Photography
Many photographers use the technique of photographing people, objects or landscape elements against the light, to achieve an image in silhouette. The light might be natural, such as a sunset or an open doorway, a technique known as
contre-jour
Contre-jour
Contre-jour, French for 'against daylight', refers to photographs taken when the camera is pointing directly toward a source of light. An alternative term is backlighting....
or it might be contrived in a studio; see
low-key lighting
Low-key lighting
Low-key lighting is a style of lighting for photography, film or television. It is a necessary element in creating a chiaroscuro effect. Traditional photographic lighting, three-point lighting uses a key light, a fill light, and a back light for illumination...
. Silhouetting occurs when there is a
lighting ratio
Lighting ratio
Lighting ratio in photography refers to the comparison of key light to the fill light . The higher the lighting ratio, the higher the contrast of the image; the lower the ratio, the lower the contrast.Light can be measured in footcandles...
of 16:1 or greater. The exposure is set for the background, usually with an aperture at 9-11 and a shutter speed around 120-200.
In graphic design
To silhouette is to separate (mask) a portion of an image so that it does not show. For instance, a background.
Fashion and fitness
The word "silhouette", because it implies the outline of a form, has been used in both fashion and fitness to describe the shape of the human body. Advertising for both these fields urges people, women in particular, to achieve a particular appearance, either by
corsetry
Corsetry
Corsetry is the craft of making corsets and corset-like garments and accessories most of which incorporate stays. It is also a subfield of fashion that deals with those garments and accessories and it is common term used for those garments and accessories...
,
diet
Dieting
Dieting is the practice of eating food in a regulated fashion to achieve or maintain a controlled weight. In most cases dieting is used in combination with physical exercise to lose weight in those who are overweight or obese. Some athletes, however, follow a diet to gain weight...
or exercise. The term was in use in advertising by the early 20th century. Many
gym
Gym
The word γυμνάσιον was used in Ancient Greece, that mean a locality for both physical and intellectual education of young men...
s and fitness studios use the word "silhouette" either in their name or in their advertising.
Historians of
costume
Costume
The term costume can refer to wardrobe and dress in general, or to the distinctive style of dress of a particular people, class, or period. Costume may also refer to the artistic arrangement of accessories in a picture, statue, poem, or play, appropriate to the time, place, or other circumstances...
also use the term when describing the effect achieved by the clothes of different periods, so that they might describe and compare the silhouette of the 1860s with that of the other decades of the 19th century. A desirable silhouette could be influenced by many factors. The invention of
crinoline
Crinoline
Crinoline was originally a stiff fabric with a weft of horse-hair and a warp of cotton or linen thread. The fabric first appeared around 1830, but by 1850 the word had come to mean a stiffened petticoat or rigid skirt-shaped structure of steel designed to support the skirts of a woman's dress into...
steel influenced the silhouette of women in the 1850s and 60s. The posture of the
Princess Alexandra
Alexandra of Denmark
Alexandra of Denmark was the wife of Edward VII of the United Kingdom...
influenced the silhouette of English women in the
Edwardian period
Edwardian period
The Edwardian era or Edwardian period in the United Kingdom is the period covering the reign of King Edward VII, 1901 to 1910.The death of Queen Victoria in January 1901 and the succession of her son Edward marked the end of the Victorian era...
. See advertisement left.
Identification
Because silhouettes give a very clear image they are often used in any field where the speedy identification of an object is necessary. Silhouettes have a many practical applications. They are used for traffic signs (see pic below). They are used to identify towns or countries with silhouettes of famous monuments or maps. They are used to identify natural objects such as trees, insects and dinosaurs. They are used in forensic science.
Military usage

Silhouettes of ships, planes, tanks, and other military vehicles are used by soldiers and sailors for learning to identify different craft.
Journalism
For interviews, some individuals choose to be videotaped in silhouette to mask their facial features and protect their anonymity, typically accompanied by a dubbed voice. This is done when the individual may be endangered if it is known they were interviewed.
Sports shooting
Metallic silhouette
Metallic silhouette
Metallic silhouette shooting is a group of target shooting disciplines that involves shooting at metal cutouts representing game animals at varying distances. Metallic silhouette shooting can be done with airguns, black powder firearms, modern handguns, or modern rifles...
is a popular outdoor shooting sport using either rifles or handguns.
External links
GAP Guild of American Papercutters