 Movie camera
This article is about motion picture film cameras. See video camera

Video camera

A video camera is a camera used for electronic motion picture acquisition, initially developed by the television industry but now common in other applications as well. The earliest video cameras were those of John Logie Baird, based on the electromechanical Nipkow disk and used by the BBC in...


for cameras which record images electronically.
The
movie camera
is a type of
photographic
Photography
Photography is the art, science and practice of creating durable images by recording light or other electromagnetic radiation, either electronically by means of an image sensor or chemically by means of a light-sensitive material such as photographic film...
camera
Camera
A camera is a device that records and stores images. These images may be still photographs or moving images such as videos or movies. The term camera comes from the camera obscura , an early mechanism for projecting images...
which takes a rapid sequence of photographs on strips of
film
Photographic film
Photographic film is a sheet of plastic coated with an emulsion containing light-sensitive silver halide salts with variable crystal sizes that determine the sensitivity, contrast and resolution of the film...
which was very popular for private use in the last century until its successor, the
video camera
Video camera
A video camera is a camera used for electronic motion picture acquisition, initially developed by the television industry but now common in other applications as well. The earliest video cameras were those of John Logie Baird, based on the electromechanical Nipkow disk and used by the BBC in...
, replaced it. Many of these cameras today have become collectors items and there is a small but well organized group of fans of these devices who still use and maintain these cameras as hobby or a special interest, even if they went out of productions a long time ago. For professional purposes however, movie cameras are used and produced today, especially for the production of full feature movies. In contrast to a
still camera
Still camera
A still camera is a type of camera used to take photographs. Traditional cameras capture light onto photographic film. Digital cameras use electronics, usually a charge coupled device to store digital images in computer memory inside the camera...
, which captures a single snapshot at a time, the movie camera takes a series of images; "frame". This is accomplished through an
intermittent mechanism
Intermittent mechanism
The intermittent mechanism or intermittent movement is the device by which film is regularly advanced and then held in place for a brief duration of time in a movie camera or movie projector. This is in contrast to a continuous mechanism, whereby the film is constantly in motion and the image is...
. The frames are later played back in a
movie projector
Movie projector
A movie projector is an opto-mechanical device for displaying moving pictures by projecting them on a projection screen. Most of the optical and mechanical elements, except for the illumination and sound devices, are present in movie cameras.-Physiology:...
at a specific speed, called the "frame rate" (number of frames per second). While viewing, a person's
eye
Human eye
The human eye is an organ which reacts to light for several purposes. As a conscious sense organ, the eye allows vision. Rod and cone cells in the retina allow conscious light perception and vision including color differentiation and the perception of depth...
s and
brain
Human brain
The human brain has the same general structure as the brains of other mammals, but is over three times larger than the brain of a typical mammal with an equivalent body size. Estimates for the number of neurons in the human brain range from 80 to 120 billion...
merge the separate pictures together to create the illusion of motion.
History
One of the first motion-picture film cameras was designed by
Louis Le Prince
Louis Le Prince
Louis Aimé Augustin Le Prince was an inventor who is considered by many film historians as the true father of motion pictures, who shot the first moving pictures on paper film using a single lens camera....
in 1888. It still exists with the National Media Museum, England. Le Prince employed paper bands and celluloid film from John Carbutt and or Blair & Eastman in 1¾ inch width. The first motion picture camera that actually worked was created by Thomas Alva Edison.
On June 21 1889,
William Friese-Greene
William Friese-Greene
William Friese-Greene was a British portrait photographer and prolific inventor. He is principally known as a pioneer in the field of motion pictures and is credited by some as the inventor of cinematography.-Career:William Edward Green was born on 7 September 1855, in Bristol...
was issued patent no. 10131 for his 'chronophotographic' camera. It was apparently capable of taking up to ten photographs per second using perforated celluloid film. A report on the camera was published in the British
Photographic News
on February 28 1890. On 18 March, Friese-Greene sent a clipping of the story. Friese-Greene gave a public demonstration in 1890 but the low
frame rate
Frame rate
Frame rate is the frequency at which an imaging device produces unique consecutive images called frames. The term applies equally well to computer graphics, video cameras, film cameras, and motion capture systems...
combined with the device's apparent unreliability failed to make an impression.
Georges Demenÿ
Georges Demenÿ
Georges Demenÿ was a French inventor, chronophotographer, filmmaker, and gymnast.-External links:* digitized by the...
, employee with Etienne Jules Marey, constructed the Beater Movement in 1893. The film width is 60 mm.
Max Skladanowsky
Max Skladanowsky
Max Skladanowsky was a German inventor and early filmmaker. Along with his brother Emil, he invented the Bioscop, an early movie projector the Skladanowsky brothers used to display the first moving picture show to a paying audience on November 1, 1895, some two months before the public debut of...
conceived his own make of camera in 1894-95, but more interesting is his "Bioscop" projector, the first duplex construction in practice. Green, part designer for Prestwich, also designed a duplex projecting machine. This 1896 wide-film projector can be seen at the South Kensington Science Museum.
The
Lumière
Lumière
-Characters:*Lumière , one of the two main characters of the 2002 anime series Kiddy Grade*Lumiere, a character in the Disney version of Beauty and the Beast-Places:*Lumière, a restaurant in Vancouver, Canada...
Domitor camera was originated by Charles Moisson, chief mechanic of the Lumière works at Lyon in 1894. They shot on paper film of 35 millimeter width. In 1895 the Lumière could buy celluloïd film from New-York's Celluloid Manufacturing Co. This they covered with their own Etiquette-bleue emulsion, had it cut into strips and perforated. It is not known which recipe they used for positives.
Then an ever increasing number of cine cameras came up. The makes and brands would be: Birt Acres (1894-95), the Latham Eidoloscope by Lauste (1895), the Marvin & Casler Bioscope by Dickson (1895), Pathé frères (1896) with ratchet claws, Prestwich (1896), Newman & Guardia (1896), de Bedts, Gaumont-Démény (1896), Schneider, Schimpf, Akeley, Debrie, Bell & Howell, Leonard-Mitchell, Ertel, Ernemann, Eclair, Stachow, Universal, Institute, Wall, Lytax, and many others.
The first all-metal cine camera is the Bell & Howell Standard of 1911-12. One of the most complicated models is the Mitchell-
Technicolor
Technicolor
Technicolor is a color motion picture process invented in 1916 and improved over several decades.It was the second major process, after Britain's Kinemacolor, and the most widely used color process in Hollywood from 1922 to 1952...
Beam Splitting Three-Strip Camera of 1932. With it, three colour separation originals are obtained behind a purple, a green, and a red light filter, the latter being part of one of the three different raw materials in use.
The most popular 35 mm cameras in use today are
Arriflex
Arri
-History:Arri was founded in Munich, Germany as Arnold & Richter Cine Technik in 1917, named after founders August Arnold and Robert Richter. They produce professional motion picture equipment, digital and film cameras and cinematic lighting equipment...
,
Moviecam
Moviecam
Moviecam is a motion picture equipment company specializing in movie camera systems for 35 mm film. Originally started in Vienna as an in-house project of Fritz Gabriel Bauer and Walter Kindler's Moviegroup film production company in the late 1960s, the amount of research and development needed to...
(now owned by the
Arri
Arri
-History:Arri was founded in Munich, Germany as Arnold & Richter Cine Technik in 1917, named after founders August Arnold and Robert Richter. They produce professional motion picture equipment, digital and film cameras and cinematic lighting equipment...
Group), and
Panavision
Panavision
Panavision is an American motion picture equipment company specializing in cameras and lenses, based in Woodland Hills, California. Formed by Robert Gottschalk as a small partnership to create anamorphic projection lenses during the widescreen boom in the 1950s, Panavision expanded its product...
models. For very high speed filming,
PhotoSonic
Photosonic
Photosonic is a light-sound concept originally used for the first time by Jacques Dudon for his 'Photosonic Disks', then adopted by VJ/music producer for his 'Photosonic Guitar'. The term stands for a synesthesia experience, and color sound music....
s are used.
Technical details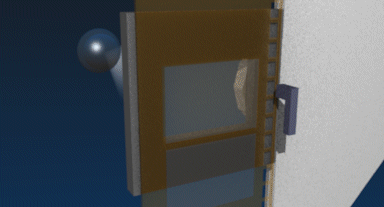 Most of the optical and mechanical elements of a movie camera are present in the
movie projector
Movie projector
A movie projector is an opto-mechanical device for displaying moving pictures by projecting them on a projection screen. Most of the optical and mechanical elements, except for the illumination and sound devices, are present in movie cameras.-Physiology:...
. The requirements for film tensioning, take-up, intermittent motion, loops, and rack positioning are almost identical. The camera will not have an illumination source and will maintain its film stock in a light-tight enclosure. A camera will also have exposure control via an iris aperture located on the
lens
Photographic lens
A camera lens is an optical lens or assembly of lenses used in conjunction with a camera body and mechanism to make images of objects either on photographic film or on other media capable of storing an image chemically or electronically.While in principle a simple convex lens will suffice, in...
. Also, there is a rotating, sometimes mirrored shutter behind the lens, which alternately passes the light from the lens to the film, or reflects it into the
viewfinder
Viewfinder
In photography, a viewfinder is what the photographer looks through to compose, and in many cases to focus, the picture. Most viewfinders are separate, and suffer parallax, while the single-lens reflex camera lets the viewfinder use the main optical system. Viewfinders are used in many cameras of...
. The righthand side of the camera is often referred to by camera assistants as "the dumb side" because it usually lacks indicators or readouts and access to the film threading, as well as lens markings on many lens models. More recent equipment often has done much to minimize these shortcomings, although access to the film movement block by both sides is precluded by basic motor and electronic design necessities.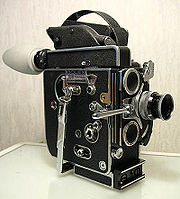 The standardized frame rate for commercial sound film is 24 frames per second. The standard commercial (i.e., movie-theater film) width is 35 millimeters, while many other film formats exist. The standard
aspect ratio
Aspect ratio (image)
The aspect ratio of an image is the ratio of the width of the image to its height, expressed as two numbers separated by a colon. That is, for an x:y aspect ratio, no matter how big or small the image is, if the width is divided into x units of equal length and the height is measured using this...
s are 1.66, 1.85, and 2.39 (anamorphic).
NTSC
NTSC
NTSC, named for the National Television System Committee, is the analog television system that is used in most of North America, most of South America , Burma, South Korea, Taiwan, Japan, the Philippines, and some Pacific island nations and territories .Most countries using the NTSC standard, as...
video (common in North America and Japan) plays at 29.97 frame/s;
PAL
PAL
PAL, short for Phase Alternating Line, is an analogue television colour encoding system used in broadcast television systems in many countries. Other common analogue television systems are NTSC and SECAM. This page primarily discusses the PAL colour encoding system...
(common in most other countries) plays at 25 frame/s. These two television and video systems also have different resolutions and color encodings. Many of the technical difficulties involving film and video concern translation between the different formats. Video aspect ratios are 4:3 (1.33) for full screen and 16:9 (1.78) for widescreen.
Multiple cameras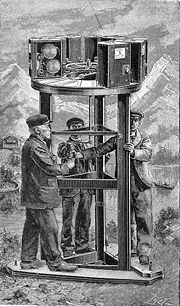 Multiple-camera setup
Multiple-camera setup
The multiple-camera setup, multiple-camera mode of production, or multicam is a method of filmmaking and video production. Several cameras—either film or professional video cameras—are employed on the set and simultaneously record or broadcast a scene...
s may be used and synchronized. Both of the films is projected simultaneously, either on a single three-image screen (
Cinerama
Cinerama
Cinerama is the trademarked name for a widescreen process which works by simultaneously projecting images from three synchronized 35 mm projectors onto a huge, deeply-curved screen, subtending 146° of arc. It is also the trademarked name for the corporation which was formed to market it...
) or upon multiple screens forming a complete circle, with gaps between screens through which the projectors illuminate an opposite screen. (See
Circle-Vision 360°
Circle-Vision 360°
Circle-Vision 360° is a film technique, refined by The Walt Disney Company, that uses nine cameras for nine huge screens arranged in a circle. The cameras are usually mounted on top of an automobile for scenes through cities and highways, while films such as The Timekeeper use a static camera and...
) convex and concave mirrors are used in cameras as well as mirrors.
Sound synchronization
One of continuing problems in film is synchronizing a sound recording with the film. Most film cameras do not record sound internally; instead, the sound is captured separately by a precision audio device (see
double-system recording
Double-system recording
Double-system recording is a form of sound recording used in motion picture production whereby the sound for a scene is recorded on a machine that is separate from the camera or picture-recording apparatus....
). The exceptions to this are the single-system news film cameras, which had either an optical—or later—magnetic recording head inside the camera. For optical recording, the film only had a single perforation and the area where the other set of perforations would have been was exposed to a controlled bright light that would burn a waveform image that would later regulate the passage of light and playback the sound. For magnetic recording, that same area of the single perf 16 mm film that was prestriped with a magnetic stripe. A smaller balance stripe existed between the perforations and the edge to compensate the thickness of the recording stripe to keep the film wound evenly.
Double-system cameras are generally categorized as either "sync" or "non-sync." Sync cameras use crystal-controlled motors that ensure that film is advanced through the camera at a precise speed. In addition, they're designed to be quiet enough to not hamper sound recording of the scene being shot. Non-sync or "MOS" cameras do not offer these features; any attempt to match location sound to these cameras' footage will eventually result in "sync drift", and the noise they emit typically renders location sound recording useless.
To synchronize double-system footage, the clapper board which typically starts a take is used as a reference point for the editor to match the picture to the sound (provided the scene and take are also called out so that the editor knows which picture take goes with any given sound take). It also permits scene and take numbers and other essential information to be seen on the film itself. Aaton cameras have a system called AatonCode that can "jam sync" with a timecode-based audio recorder and prints a digital timecode directly on the edge of the film itself. However, the most commonly used system at the moment is unique identifier numbers exposed on the edge of the film by the film stock manufacturer (KeyKode is the name for Kodak's system). These are then logged (usually by a computer editing system, but sometimes by hand) and recorded along with audio timecode during editing. In the case of no better alternative, a handclap can work if done clearly and properly, but often a quick tap on the microphone (provided it is in frame for this gesture) is preferred.
One of the most common uses of non-sync cameras are the spring-wound cameras used in hazardous special effects, known as "crash cams". Scenes shot with these have to be kept short, or resynchronized manually with the sound. MOS cameras are also often used for
second unit
Second unit
In film, the second unit is a team that shoots subsidiary footage for a motion picture. Its work is distinct from that of the first unit, which shoots all scenes involving principal actors...
work or anything involving slow or fast-motion filming.
Home movie cameras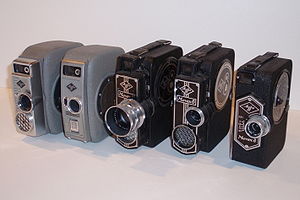 Movie cameras were available before
World War II
World War II
World War II, or the Second World War , was a global conflict lasting from 1939 to 1945, involving most of the world's nations—including all of the great powers—eventually forming two opposing military alliances: the Allies and the Axis...
often using the
9.5 mm film
9.5 mm film
9.5 mm film is an amateur film format introduced by Pathé Frères in 1922 as part of the Pathé Baby amateur film system. It was conceived initially as an inexpensive format to provide copies of commercially-made films to home users, although a simple camera was released shortly afterwards.It...
format. The use of movie cameras had an upsurge in popularity in the immediate post-war period giving rise to the creation of home movies. Compared to the pre-war models, these cameras were small, light, fairly sophisticated and affordable. An extremely compact 35 mm movie camera
Kinamo
was designed by
Emanuel Goldberg
Emanuel Goldberg
Emanuel Goldberg was born in Moscow and moved first to Germany and later to Israel...
for amateur and semi-professional movies in 1921. A spring motor attachment was added in 1923 to allow flexible handheld filming. The Kinamo was used by
Joris Ivens
Joris Ivens
Joris Ivens was a Dutch documentary filmmaker and committed communist.-Early life and career:...
and other avant-garde and documentary filmmakers in the late 1920s and early 1930s.
While a basic model might have a single fixed aperture/focus lens, a better version might have three or four lenses of differing apertures and focal lengths on a rotating turret. A good quality camera might come with a variety of interchangeable, focusable lenses or possibly a single zoom lens. The viewfinder was normally a parallel sight within or on top of the camera body. In the 1950s and for much of the 1960s these cameras were powered by clockwork motors, again with variations of quality. A simple mechanism might only power the camera for some 30 seconds, while a geared drive camera might work for as long as 75 - 90 seconds (at standard speeds). Even today there is a market among collectors for these types of camera, as the engineering and materials were of a very high standard and no battery is required. While film stock and the ability to process it exists, these cameras can still be used.
The common film used for these cameras was termed
Standard 8
8 mm film
8 mm film is a motion picture film format in which the filmstrip is eight millimeters wide. It exists in two main versions: the original standard 8mm film, also known as regular 8 mm or Double 8 mm, and Super 8...
, which was a strip of 16 millimetre wide film which was only exposed down one half during shooting. The film had twice the number of perforations as film for 16 mm cameras and so the frames were half as high and half as wide as 16 mm frames. The film was removed and placed back in the camera to expose the frames on the other side once the first half had been exposed. Once the film was developed it was sliced down the middle and the ends attached, giving 50 feet (15.2 m) of Standard 8 film from a spool of 25 feet (7.6 m) of 16 mm film. 16 mm cameras, mechanically similar to the smaller format models, were also used in home movie making but were more usually the tools of semi professional film and news film makers.
In the 1960s a new film format,
Super8
Super 8 mm film
Super 8 mm film is a motion picture film format released in 1965 by Eastman Kodak as an improvement of the older "Double" or "Regular" 8 mm home movie format....
, coincided with the advent of battery operated electric movie cameras. The new film, with a larger frame print on the same width of film stock, came in a cassette which simplified changeover and developing. Another advantage of the new system is that they had the capacity to record sound, albeit of indifferent quality. Camera bodies, and sometimes lenses, were increasingly made in plastic rather than the metals of the earlier types. As the costs of mass production came down, so did the price and these cameras became very popular. This type of format and camera was more quickly superseded for amateurs by the advent of video cameras, although some professionals continued to make use of its visual characteristics alongside larger format film and video cameras.
See also
Digital movie camera
Animation camera

Animation camera

An animation camera, a type of rostrum camera, is a movie camera specially adapted for frame-by-frame shooting animation or stop motion. It consists of a camera body with lens and film magazines, a stand that allows the camera to be raised and lowered, and a table, often with both top and...



Multiplane camera

Multiplane camera

The multiplane camera is a special motion picture camera used in the traditional animation process that moves a number of pieces of artwork past the camera at various speeds and at various distances from one another...



Camcorder

Camcorder

A camcorder is an electronic device that combines a video camera and a video recorder into one unit. Equipment manufacturers do not seem to have strict guidelines for the term usage...



Eyemo

Eyemo

The Eyemo is a 35 mm motion-picture film camera which was manufactured by the Bell & Howell Co. of Chicago.-Background:Designed and first manufactured in 1925, it was for many years the most compact 35 mm motion-picture film camera of the hundred foot capacity...


and Filmo

Filmo

Filmo is a series of 16-mm movie equipment made by the Bell & Howell Company. The line included cameras, projectors and accessories.-History:...



History of cinema
Konvas

Konvas

Konvas is the general name of portable 35mm motion-picture cameras that was manufactured in the USSR by KMZ , known as ZENIT camera makers, and later on, MOSKINAP Konvas is the general name of portable 35mm motion-picture cameras that was manufactured in the USSR by KMZ (KRASNOGORSKIY...



Debrie Parvo

Debrie Parvo

The Parvo was a 35mm motion picture camera developed in France by Joseph Jules Debrie, in 1908. The camera was relatively compact for its time. It was hand cranked, as were its predecessors...



Prestwich Camera

Prestwich Camera

Prestwich Camera was a cine camera eventually fitted with external magazines capable of holding up of film.Several types of "Prestwich Camera" were manufactured in the late 19th century. One of the earliest designs of this type held of film—more film than any other camera of the age.According to...